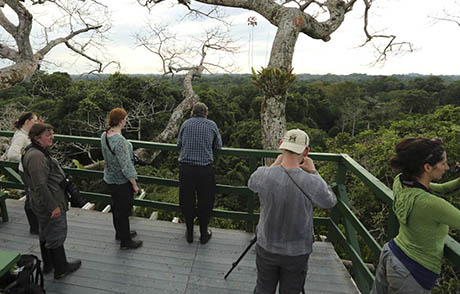 Today will begin with an early breakfast, after which we will leave the lodge and make our way to a 36m. tall canopy tower to experience the rainforest in an entirely new way. This is the best way to see the world that exists high above the forest floor.
We will be exploring from Napo Wildlife Center's second tower, which is located a 30-minute walk away from the lodge deep in the terra firme forest. As you climb up the 12-floor tower, you will be able to see the forest from many different levels. Finally, guests will emerge on top of an enormous Ceiba tree.
This immersive experience includes flocks of colorful tanagers that fly through the canopy and bright Blue-and yellow Macaws soaring past. In nearby trees you can watch Spider Monkeys search for fruit and experience two species of large toucans making their early morning and afternoon calls. The entire life and ecosystem of the forest canopy will open up right before your eyes. Birds that cannot be seen when you are exploring from the forest floor will suddenly be right next to you, and seemingly oblivious to the fact that they are being watched.
Since this is an up close and personal look at the life high up in the forest's trees, the canopy tower opens up a whole new exciting world for guests to explore Lunch will be served back at the lodge. Hikers will really enjoy our afternoon trek through a terra firme trail, in the primary forest, which allows us to explore deep inside the forest interior. This trail opens up the possibility of finding lizards, colorful manakins, or even the unique and native Golden mantle tamarin monkeys. Afterwards, take time to discover the lake and many creeks in a dugout canoe, and don't forget to be on the lookout for a Giant otter family that you may run into on the way.