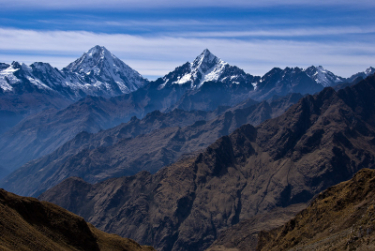 Completing Day 2 and beginning Day 3 certainly deserves a pat on the back! We begin early again, waking up at 6:30am to begin what is commonly felt to be the most beautiful day of the whole Inca Trail. We hike for 2 hours along what we like to call "Inca flat" (gradual inclines) and begin to enter the jungle, known as the Cloud Forest. As we walk we will have the opportunity to see the majesty of Salkantay, the second highest snow-capped mountain in the Sacred Valley, and a fantastic panoramic view of the Vilcabamba mountain range. Towards the end of the Inca flats we begin to make our way up to the last peak at Phuyupatamarka (3600 meters) from where we'll have great views overlooking the Urubamba River. Down the valley we get our first views of Machu Picchu Mountain but the site itself is still hidden from view. From Phuyupatamarka it´s a 3 hour walk down a flight of steps to our last campsite, close to Wiñay Wayna (Forever Young). Wiñay Wayna is the most spectacular Inca site on the trail after Machu Picchu and the most popular campsite because of its proximity to Machu Picchu.
During the descent we visit 2 Inca ruins, Phuyupatamarka (Town in the Clouds) and Intipata (Terraces of the Sun). We arrive at our campsite around 1:00PM to have lunch and then relax for the entire afternoon so that you're relaxed and ready for your final day at Machu Picchu. At around 4:30PM your guide will give you a short orientation and you will visit the Inca ruins of Wiñay Wayna, spending about an hour and a half there. We will explain the significance of the site and combine all the information given during the trek so you're fully prepared for your visit to Machu Picchu the following day.
We like to spoil our guests as we enjoy our last feast with the porters and chefs. It's an Inca Trail tradition to organize a ceremony in the evening to introduce the team to the tourists once again and to thank them for the great job done (if you wish to provide tips for them then you can do so at this time). It is advisable to go to bed at a reasonable time in order to get up in the early hours of the morning to arrive to Machu Picchu at the crack of dawn in the hopes that the weather will give us a beautiful sunrise over the ruins at Machu Picchu.
Meals: Breakfast, Lunch, Dinner
Walking Distance: 10 km (5 hours)
Campsite Altitude: 2,600 meters high above sea level (chilly weather)
Considered: Easy day (downhill only)
Area: High cloud forest
Weather: Warm and very humid
MEALS
Breakfast, lunch & dinner