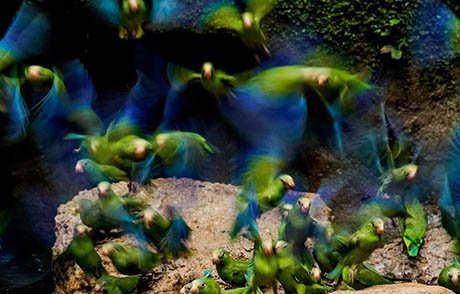 On this alternative bird watching tour, you will spend your days exploring the many clay licks (or "saladeros") that can be found on Napo Wildlife Center lands. Hundreds of parakeets and parrots flock to these clay licks, since the minerals found in the clay aid in digestion. From the clay licks we should be able to see and listen to these majestic birds. This is truly a wonderous spectacle like no other. You will also be able to take exciting canoe rides around the lake and creeks that surround the lodge. On the water you can hear the melodious song of Silvered and Plumbeous Antbirds echoing through the forest.
Birds that we will be looking to find include the relatively unknown Zigzag Heron, the native Point-tailed Palmcreeper, the Orange-crested Manakin, and the stunning Long-billed Woodcreeper. We may also be lucky enough to see the many species of monkeys and the Giant River Otters that call this forest home.
We will also visit the local community of the river-edge forest. This community built its own local lodge, and here we will be able to look out for many other bird species like Turquoise and Magpie Tanagers, Rufous-headed Woodpeckers, and Swallow- winged Puffbirds.
Finally, this tour will include explorations of the many islands in the Río Napo, which vary in age and support an array of avifauna that are distinct from those found only a few hundred yards away on the "mainland." Some of the Islands' unique species that we hope to encounter include the Black-and-white Antbird, the Olivespotted Hummingbird, and three species of spinetails. We will also be able to see the more usual river bird species such as Capped Herons, Collared Plovers, and Yellow-billed Terns. All nights will be spent at the Napo Wildlife Center lodge.