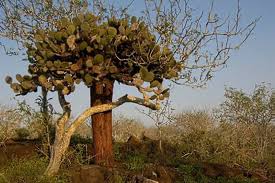 (Opuntia Cactaceae)
Prickly Pear Cactus is the common name for plants of the Galapagos Princkly Pair Cactus (Opuntia Cactaceae) cactus family. Native to the tropical and subtropical regions of the United States, Baja California and the Sonora Desert region of Mexico these plants have spread out throughout the world's tropical regions.
Besides being an endemic cactus it is also the most common cacti in the islands. With its yellow flowers it grows like a shrub, except on islands where herbivores are a threat then trunks can grow to 5 ft tall. The Prickly Pair Cactus is the staple of the Land Iguanas & Tortoises' diet. Their flat jointed stems covered with small stiff hairs and spines identify the cacti. The yellow flowers develop into an orange-red thorn-covered fruit.
The Prickly Pair has developed into 14 separate types ranging from the Opuntia Echios variation Gigantea which grows to 40 ft. (12 m) in height, to the Opuntia Echios variation, Barringtonensis found on Santa Cruz whose truck measures 4 ft. (1.25 m) in diameter.
These Galapagos Cacti provide the habitat and food source for many of the birds and animals on the islands including 2 species of Finch, Iguanas, Doves, Tortoises, and Mockingbirds.
To see them live check out our tours here. If you're lucky you may even get to see them being munched on by some cute iguanas like this: