Activities
Birdwatching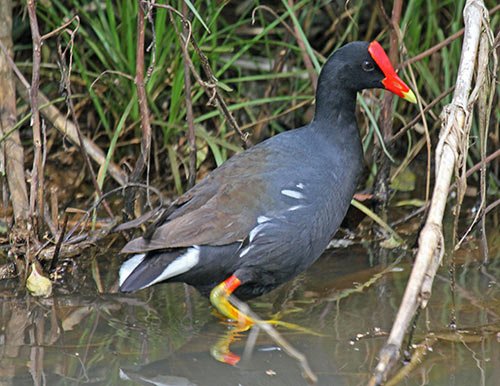 The Archipelago is considered as a true bird-watching paradise for all visitors, it doesn't matter whether you are an expert bird-lover, an ornithology passionate or if you are traveling with your family as every visitor site is crowded with land and sea birds and dozens of different species that are not afraid of human presence, most of them are endemic to the Galapagos and are living proof of how evolution has worked its magic in this paradise. Along your tour you will be able to observe and identify marvelous species like the 13 Darwin's Finches, the Flightless Cormorant, Frigate birds, Waved Albatrosses, Small Penguins, Tropical Bird and other magnificent species that harmoniously fill with live the blue skies and the ocean waters! Make sure to bring your binoculars, a birding guide book (if you like) and plenty of memory for your cameras at all times.
Sea Kayaking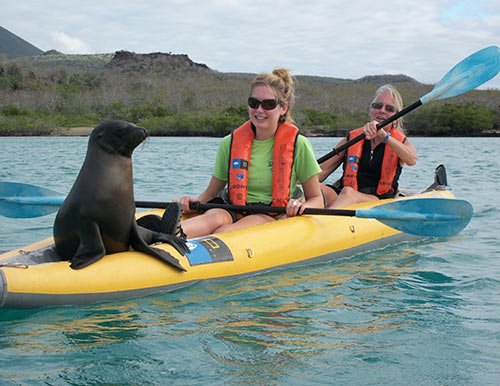 There is no better way to get close with the untamed wildlife than enjoying a stroll on board a safe sea-kayak! Encounter with playful & curious sea-lions, pelicans, sea-turtles and sometimes even penguins and blue-footed boobies. With almost every First and Luxury class cruise, you will surely have access to sea-kayaks during your journey and your experienced guide will surely tell you which are the best sites to enjoy this wonderful activity and enjoy the marvels around.
You can also rent sea-kayaks and even guided tours if you are enjoying a land-based program from the populated Towns in Santa Cruz, Isabela and San Cristobal and enjoy the fantastic natural life and landscapes at the Islands' main Bays. If you are enjoying hotel nights you can also as the establishment to see if they have sea-kayaks available for guest.
Scuba Diving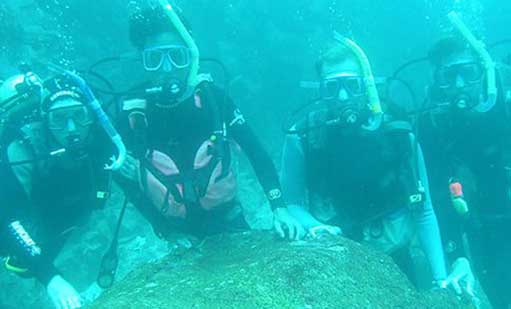 Listed as one of the top diving spots in the world, diving in The Galapagos is an adventure of a lifetime. The most renowned sites for Diving are Darwin and Wolf Islets, located far and isolated in the Northernmost part of the Archipelago; due to their location, these amazing sites are only reachable by a couple of live-aboard full-diving 8-days cruises that have license to visit these islands for a memorable diving experience!
It is relevant to mention that within the Marine Reserve, only experienced open-waters divers with valid PADI License are allowed to take diving cruises or programs as the water currents can be challenging and demand good experience to ensure full enjoyment of your tour, always looking at passengers' safety and well-being.
There are also land-based diving programs that consist on taking daily-trips to the best nearby diving locations on Santa Cruz and San Cristobal Islands; these program include hotel overnight and are guided by professional bilingual dive-masters; these programs are more affordable and can be operated in 4, 5 up to 8 days.
The unparalleled richness of the Galapagos underworld includes: Whale sharks , White Tipped & Hammerhead sharks, Garden Eels, Sea Lions, Humpback Whales, schools of colorful Reef fish, Corals, Sea-turtles, Rays and much more.
Snorkeling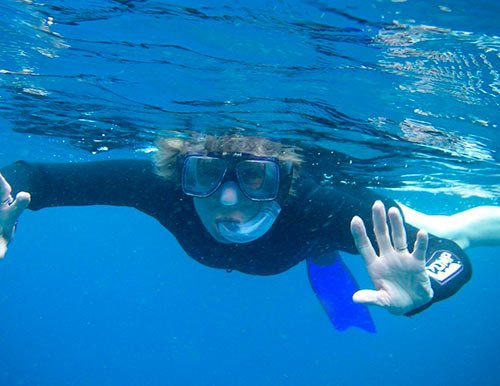 Snorkeling has to be the most popular activity during a tour or boat-tour as it is suitable for guests of all ages and it allows you to discover the marvels of the underwater of the Galapagos: Sea-turtles, Rays, School of reef fishes, playful sea-lions, Marine Iguanas and even Penguins can often be spotted on shallow waters, allowing the visitor to enjoy the biodiversity of the Marine Reserve. This fun activity is perfect also to enjoy with children (not younger than 8 years-old) and all cruises have well-designed itineraries that include snorkeling in almost every Island visited during a naturalist itinerary.
First & Luxury class cruises include complete equipment for all guests on board (snorkel, fins & mask), while Midrange and Economy class cruises have this equipment available for rent on board (in cash) at reasonable prices. Some Luxury class cruises include wet-suits while others of less category has them for rent on board. You can also snorkel in amazing sites when taking an adventurous land-based program so whatever your budget is for your tour, disregarding the number of days, you will always enjoy a good dip in the water to explore the enchanted and live-filled Pacific Ocean.
Surfing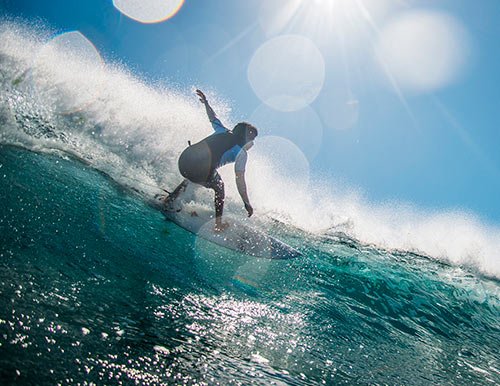 In the last few years, this adrenaline-filled activity has become very popular among visitors and locals, mostly because the enchanting and pristine beaches of the inhabited Islands have the best waves that offer quite a challenge to the eager surfer. The permitted surfing sites are mainly located in Santa Cruz and San Cristobal Islands like: Tortuga Bay, Tongo Bay, La Carola and Loberia Beaches; note that to surf in some sites you need a permit to perform this sport in compliance with National Park Regulations; remember that preservation and sustainability is number one priority to converse our natural paradise unharmed.
Experts surfers claim that the best time to surf in the Galapagos is between December and May, when sunny weather and tall weaves are fit for world-class surfing. From June to December, weather is cooler and winds are stronger, but it is always the best time to enjoy the waves in the Archipelago
Hiking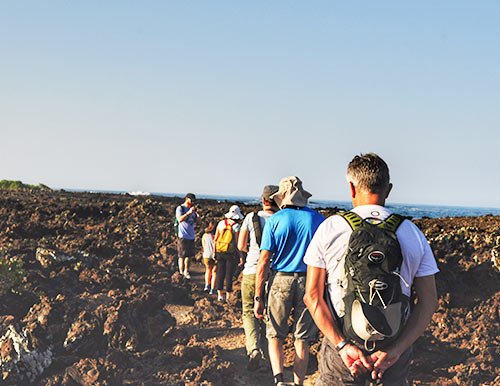 Few to no places are open to "free hiking" in the Galapagos, though you can find a few self-guided adventure trails in Santa Cruz and San Cristobal like Tortuga Bay or Isla Lobos; although it is best recommended to hire a day-tour or land-package or best if you can book a sailing cruise because when you are accompanied by a licensed guide within a pre-established tour, you will be able to hike in the most amazing places to discover untamed wildlife, learn about the location history and geology.
Remember that you'll be hiking in uneven terrain, mostly volcanic, dirt and sandy in some points so make sure to bring good hiking shoes, a lot of drinking water, walking stick if needed, hat and sunglasses; also try not to wonder off as it's easy to get lost in some locations.
Beach Time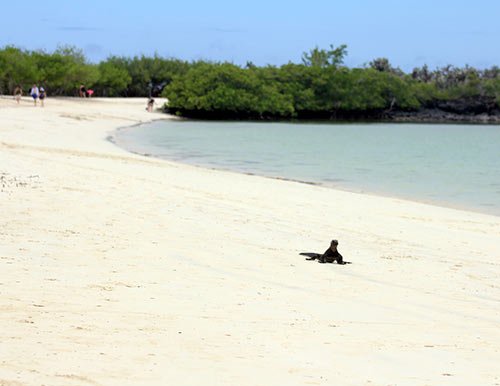 It you want a good relaxing time after your tour or cruise, Galapagos also has the most wonderful and pristine beaches to enjoy in Isabela, Floreana, Santa Cruz and San Cristobal Islands. There are some amazing beaches to enjoy like Isla Lobos, Tortuga Bay, Puerto Villamil, Playa Mann and much more where you can enjoy a sunbath, the clear Pacific Ocean waters, a nice shore run or walk, always surrounded by wonderful birdlife that definitely complete a breathtaking natural scenery. You can even arrive to some beaches by riding a bike from the Town and in some beaches, surfing, sea-kayaking and paddle-boarding is feasible.