If you're craving to have a South American adventure with plenty of wildlife sightings, there's one place that comes to mind—Galapagos Islands.
Galapagos Islands is a province of Ecuador. This volcanic archipelago can be found in the Pacific Ocean, making it a perfect hideaway for those looking for a beach paradise. You'll get to be friends with seals and land iguanas. Don't worry. They're completely harmless as long as you leave them be.
And because the landscape is ideal for treks and walking adventures, you will never run out of hills and peaks to explore when you visit the islands. It's one of our favorite activities in the area, so we're gladly sharing it with you if you plan to visit Ecuador anytime soon.
Here are nine of the best hikes in the Galapagos Islands:
Santa Cruz Island
Santa Cruz Island is the default go-to of tourists when they visit the archipelago. It's well-known for its sandy beaches and lagoons with tortoises and marine iguanas to swim with you.
Tortuga Bay is one of the highlights of the place where you can take a hike to the beach. It's an hour walk at a lovely hiking trail where you can find the most exotic kinds of cactus you'll ever see in your lifetime.
You can also take the walking trail at Dragon Hill, where you can spot Galapagos flamingos and land iguanas.
San Cristobal Island
San Cristobal Island has an exciting hiking trail that takes you to the top of Tijeretas. It's the perfect place for birdwatching, especially if you wish to see the Great Frigate and different boobies species like the blue-footed, Nazca, and red-footed.
Geologically speaking, this island is the oldest among the other islands, making it an exciting stop when you visit Ecuador. It's a pretty popular spot for tourists because you have plenty of different activities that you can do here.
Hiking in San Cristobal is one of the best. They're considered to be reasonably easy hikes, but the sights are impressive. You can choose to visit Cerro Brujo, Pitt Point, or Lobos Island if you're in the mood for some hiking.
You can take all three trails but don't forget to bring hiking poles. Have mercy on your legs, please.
Santa Fe Island
If you're looking for a more thrilling trail, you can always go to Santa Fe Island. This is where you can find rocky paths and steep ravines, all while admiring the surrounding forest filled with Opuntia cacti, more commonly known as the prickly pear.
Galapagos hawks will make your trip to this island more attractive because they tend to hover above the area.
Now, the adventure in Santa Fe doesn't end when you spot these large hawks. Seeing the yellowish Santa Fe iguana will make the trip complete.
Sierra Negra Volcano, Isabela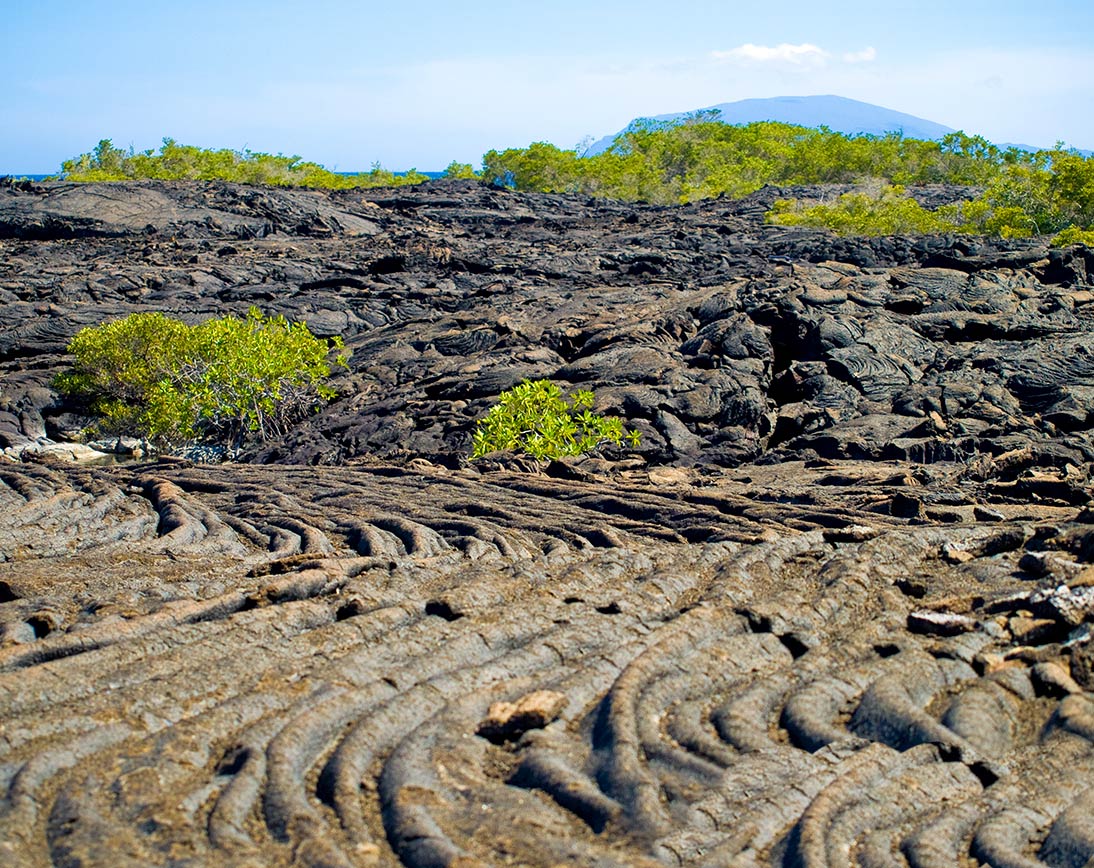 Sierra Negra is one of the many active volcanoes in the Galapagos Islands. It's a great hiking site for those who aren't afraid of rocky terrain.
It will take you about three to four kilometers of hiking before you reach the caldera. Once you get the rim, there's nothing else on the horizon but the caldera's 6-mile diameter. It will leave you breathless and mesmerized by the fact that this beauty in front of you erupted last in 2005.
You can still see remnants of its last eruption by the lava field and craters down below.
Bartolome Island
Like Sierra Negra, Bartolome Island is also volcanic. But unlike Sierra Negra, there is no known recent eruption of the volcano because it's now considered extinct.
Despite its being defunct, Bartolome Island still feels very much like a volcano because of its shape and peak. You can easily climb it up, though the steps may be steep.
You can walk through lava fields and experience what it feels like to be exploring an ancient volcano. You can check one of our Galapagos tour options that includes a visit to the central islands.
North Seymour Island
North Seymour Island is another haven for bird watchers. Like San Cristobal, North Seymour is also home to the blue-footed boobies that Galapagos is known for.
It's one of the most uninhabited islands in the entire Galapagos archipelago. If you're looking for activities away from the crowd, take a boat ride to North Seymour and hike through the island's black basalt stones.
Sullivan Bay, Santiago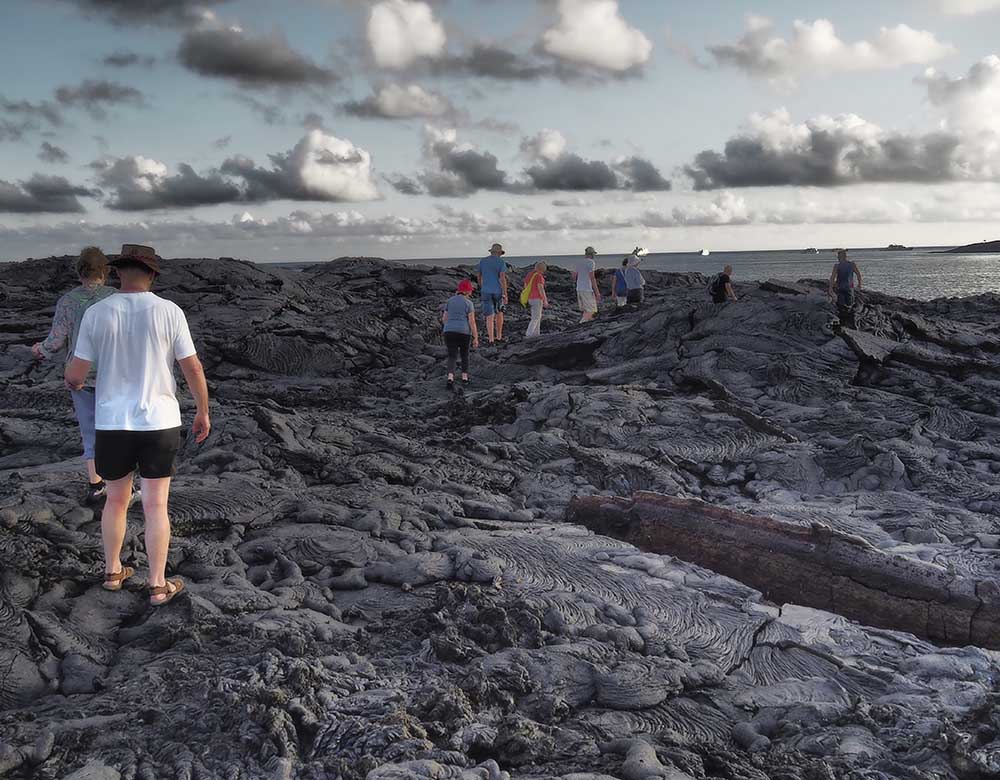 If you're looking for the most pleasing display of pahoehoe lava, you need to go straight to Sullivan Bay on Santiago Island. The trail is composed of a blackened lava flow, which will make you feel like you're walking in a burst of volcanic sunshine.
There's nothing quite like Sullivan Bay because of its geographic features. To hike through its uneven terrain means a lot, most especially if you're a fan of the earth's origins.
Delight yourself in the abundance of wildlife in this area—Spot a lava heron, lava lizard, lava gull, and other species native to Galapagos.
South Plaza Island
South Plaza Island is the smallest in the archipelago, but it's the most colorful.
The warm tones of the vegetation field create a nice contrast with the Galapagos Opuntia Cacti colors. You can finish the trail quickly even when you have to go through rough terrain. Just the sight of the beastly but cute animals roaming around the area is enough reason for you to continue hiking.
Cerro Dragon
Spend your entire day hiking around Cerro Dragon, where you can experience three different natural environments. It's an exciting trail with equally fascinating displays of flora and fauna.
You might come across iguanas during the hike. After all, the area is named after them, so that shouldn't surprise you.
Conclusion
Charles Darwin had a ball of a time when he went here sometime in 1835. I'm pretty sure you'll also enjoy your trip to the Galapagos.
The key takeaway from this story is that no matter how many iguanas you've seen in your lifetime, it doesn't compare to the iguanas you'll see in the Galapagos in just one trip.
They'll be everywhere in your hike, so might as well say a cheerful hello. They will probably stare at you as if judging you, but who cares?