Explained by expedition cruise specialist Andre Robles from Voyagers Travel
In the dawn of the COVID19 pandemic, it seems many people want to escape into nature and enjoy a totally different type of vacation. An adventure away from it all, surrounded by wilderness and the possibilityh to take part in life-enriching experiences. Many travelers have asked us for social distancing, remote places and of course intimacy to enjoy quality time with family and friends. The first thing that comes to our mind is to offer a
Galapagos cruise
. The second is to offer a
Galapagos yacht charter
if they are traveling in a group. A boat based trip to these islands is an unmatched experience like no other in the world, affording guests with an unparalleled approach to nature and wildlife.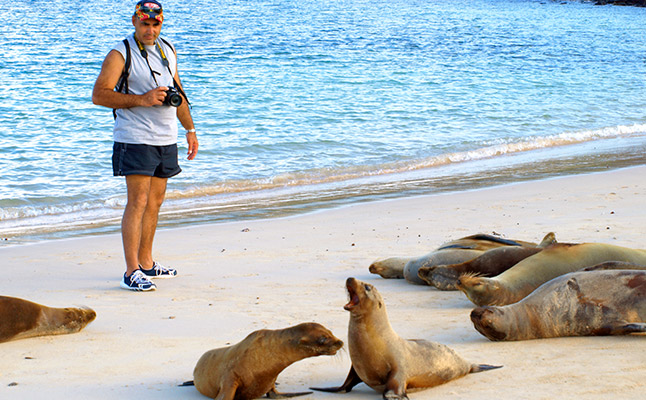 Galapagos luxury yacht charters
provide travelers the ability to enjoy a more intimate cruise experience when customizing the itinerary to suit the group's interests and abilities and save money. The elegant design of Galápagos charter yachts, usually features a huge sundeck, jacuzzi and spacious cabins each with private balcony. The daily
tours
provide an exclusive encounter with wildlife with onsite briefings from the very best naturalist guides. All of our Galapagos cruises focus on supplying a comfortable platform to invite travelers out exploring the landscapes and the exceptional wildlife of the islands throughout daily guided shore trips and hikes to the best visitor sites. Most cruises begin and end in Puerto Baquerizo Moreno, Santa Cruz or even Baltra Island. The length of your cruise may be the most crucial element in choosing your trip to Galapagos. A trip to Galapagos is a once-in-a-lifetime experience for most, and we understand how important it is that every detail of your trips comes off flawlessly.
Diference between cruises and hotel based Island hopping trips
On land-based trips, you stay in eco-lodges or hotels in the port cities around the islands of Isabela, Santa Cruz and San Cristobal. Every day you will board a day trip boat or a bus to visit the Park sites that are close enough for a day tour. Remember you must backtrack everyday to your
hotel
. On the other hand on a liveaboard cruise program you sleep on board, navigate by night and wake up every day at a different island for your guided excursions.
Who are yacht charters for ?
Our Galapagos Islands cruise luxury charters are best for small groups of guests, most vessels carry 16 guests only. The Galapagos islands are home to a vast array of endemic species of fauna and flora which you can spot from your private balconies on board cruises such as the
Natural Paradise
yacht and spacious
Alya catamaran
.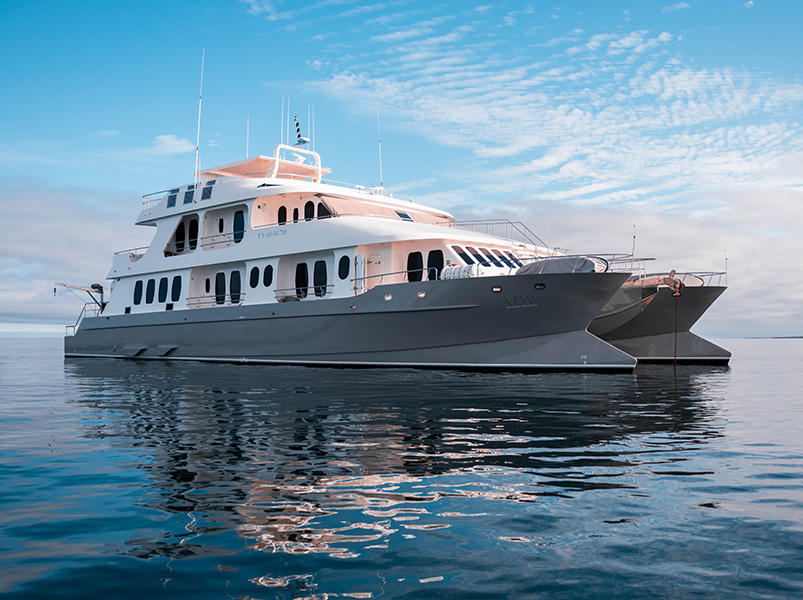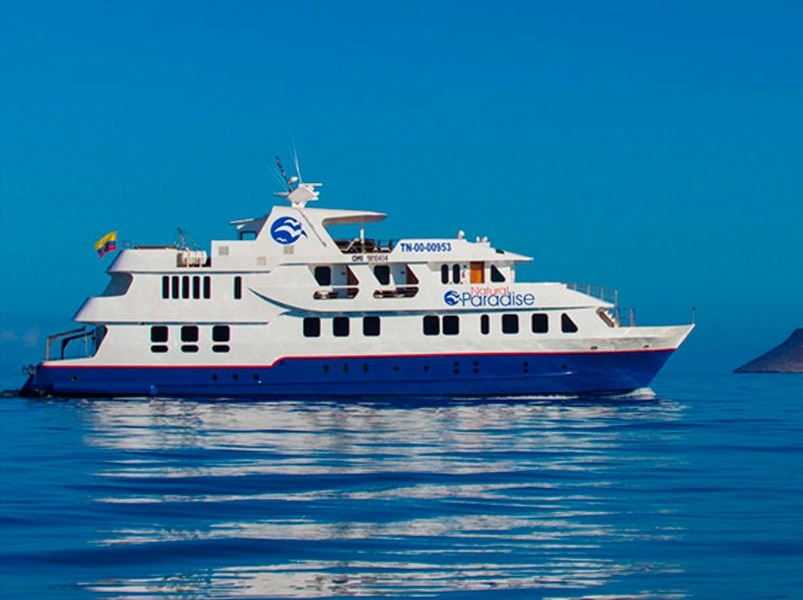 Our selection of luxury Galapagos cruises is hand-picked and personally inspected to bring you only the best boats and adventures out there in the Galapagos Islands. Truly a paradise to ponder, walk alongside untamed wildlife & captivate your every sense, the islands are all waiting to enchant you. As you step off your zodiac onto your first Galapagos Island you will be thankful you decided on a luxury escape from voyagers.travel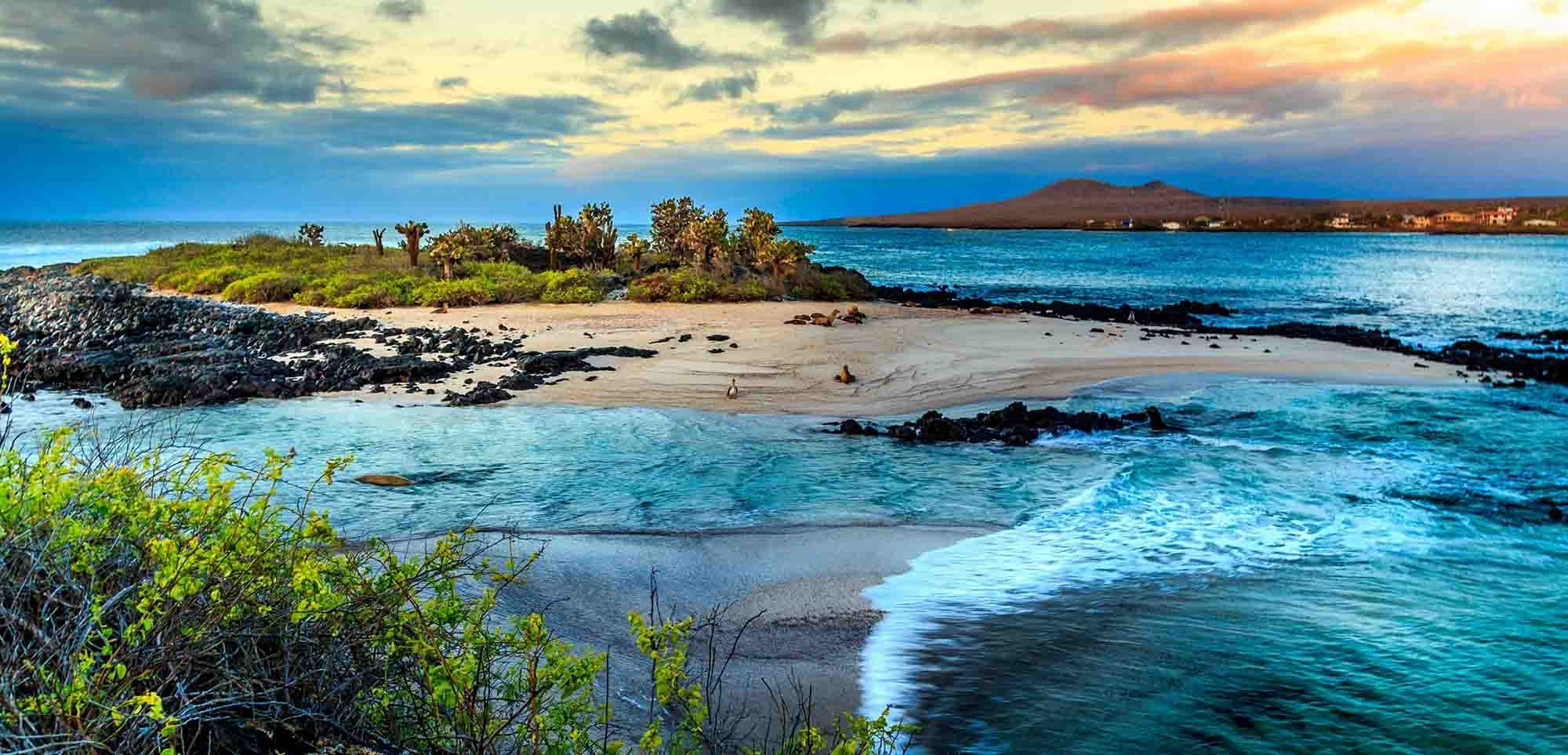 Who does voyagers.travel work with in the Islands?
Among the first companies to provide
Galapagos cruises
, Voyagers Travel Company has curated a fleet of 63 yachts and small ships along with a vast expertise in guiding visitors around the islands. Our luxury Galapagos cruise ships and yachts are available for charter. Long gone are the days when travelers where put on cramped sailboats with shared bathrooms. Fast forward to the present day and the islands feature full grown fleets of yachts, boats, catamarans & cruises that offer guests an adventure of a lifetime.
Perfected through the years, Galapagos cruises offer an all inclusive experience which range from short to long itineraries, covering most corners of the islands. The company also offers
hotel based programs in the Galapagos
, luxury hotel stays in Quito's old city and a choice of lodges from the Andes highlands and Amazon basin near the city of Quito, but far away from the world hum.
Andre Robles, managing director for Voyagers Travel Company, talks with Nori Quintos head editor at National Geographic Traveler, about the many travel services his Quito-based tour operation offers in Ecuador and the Galapagos. Vistors looking for an exclusive experience can buyout a private Galapagos luxury vessel, expedition yacht or ship. Cruising the Galapagos islands is undoubtedly the smartest means of getting to understand the Archipelago. Galapagos cruises appeared because of limited access to the more remote islands in the archipelago, making it difficult to offer land based excursions. En suite cabins on a luxury vessel will probably be bigger than a standard craft and may feature private balconies. Please reach out by email or on the phone for more information about a Galapagos
luxury cruise
.