Floreana Island is one of the islands in the Galapagos archipelago with the most fascinating stories as it is one of the oldest islands used by pirates as a place to rest after looting the coasts of South America. It is one of the smallest islands, but with more diversity of animals as it is almost a virgin island, and you can find much more fauna and flora than on other inhabited islands. It has a population of 130 which is quite small compared to the other islands in the cluster.
History of Floreana
Floreana Island was the first island to be inhabited first by pirates, who setup sleeping quarters in the caves that remain in the highlands. You can visit them, it is amazing to see how they lived so many years ago. Many of these pirates passed through the Galapagos to stock up on the most famous species of these islands, the giant tortoises, for consumption of their fat and meat. After the pirates the first inhabitants of the island were Dr. Ritter and his wife, the island was the most controversial in the international press of the early twentieth century. Several books have been written about Floreana and its secrets, among them the most famous Floreana, mailing list, by Margret Wittmer, which tells the story of the island in which the German Wittmer family was the first successful colony to inhabit. Several foreigners made unsuccessful attempts; among them, Norwegians, Americans, and other Germans, Rolf Wittmer being the first native born on the island.
Puerto Velasco Ibarra is the main point of entry and the tourist center of the island. Sea lions and marine iguanas often greet visitors who arrive by boat at the island's dock. Travel by boat or tour bus from this island to the island's coastal and highland attractions. Cruise along the north coast to Punta Cormorant, where you can spot sea lions, sea turtles, and flamingos in a lagoon. Visit Post Office Bay, where there is a makeshift mailbox made by early whalers and pirates on the island. Near here is a lava tunnel, which can be accessed by going down a ladder.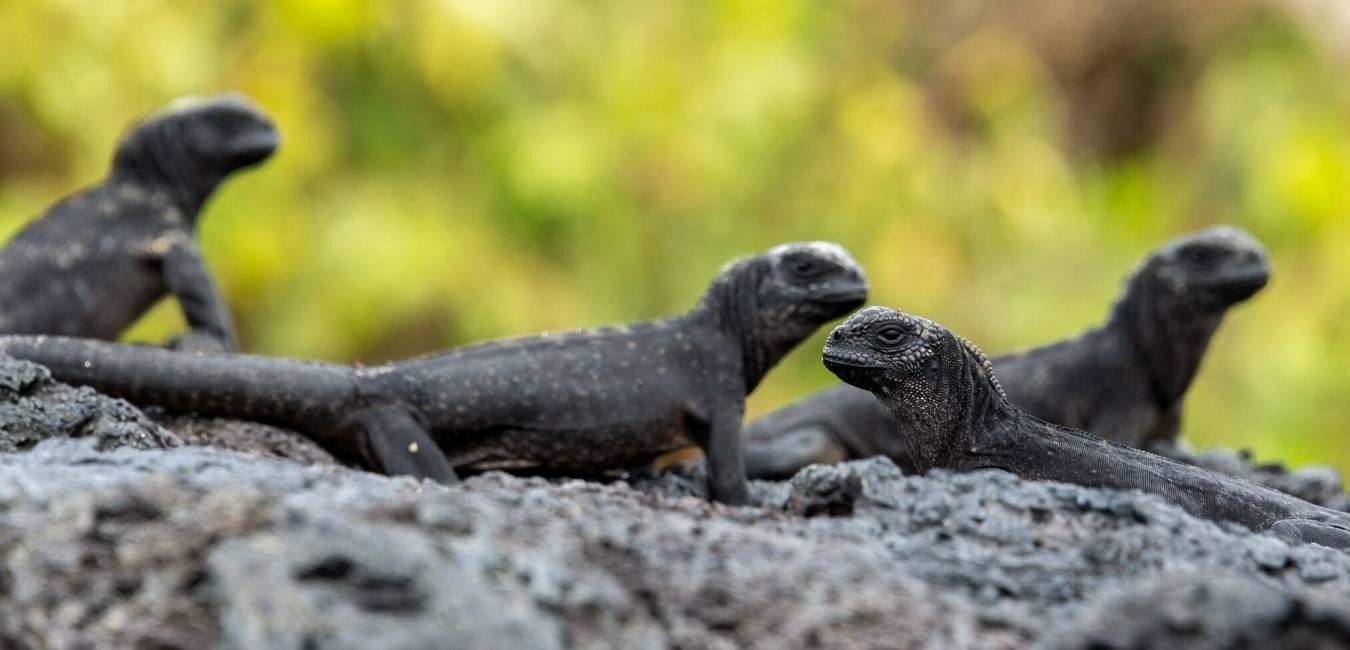 Walk along the path that leads to a volcanic tuff called Mirador La Baronesa. Take in the view of the red mangroves, Post Office Bay, and Pajas Hill, which overlooks the interior of the region. The name of the viewpoint is a reference to the Austrian Baroness Eloise Wehrborn de Wagner-Bosquet, who disappeared under mysterious circumstances in 1934. Nearby are the ruins of her former home. Head to the center of the highlands and visit Alieri Hill, which is home to nearly 50 different plant species. Peek inside pirate caves and get up close to giant tortoises at Asilo de la Paz.
Keep reading this article so you can find how to get to these tourist attractions and how much it costs
What can you find in Floreana?
Here you will find a variety of fauna such as pink flamingos, sea turtles, and marine iguanas and at certain times of the year, Galapagos penguins are swimming next to you. Many times you can see orcas, whales, and dolphins far from the coast. All these species choose to live on Floreana because of its microclimate, their adaptation to it's unique environment and the small tourist visitation. Since the island is so small that it does not host many tourists and remains in a natural state. If you go to this island expect to have a very relaxing vacation and away from the world as it is an ideal place to rest without noise from the outside. Here you can hear only the sea and the animals. It is incredible for people who want to see stars, here you can see them so clearly that you think you could touch them.

Where to stay?
In Florena as we told you it is a small island so the hotel options are not very varied, but there are very good hotels, like the black beach house hotel and hotel Wittmer that are in front of the beach. The price is very similar between all the hotels on the island ranging from $30-$45 USD. There are other hotels like Floreana Lava Lodge, Cactus, Etc that are not in front of the beach but are very close to it. These hostels that we have mentioned can be booked though Voyagers travel, you can contact us here: https://www.voyagers.travel/contact-us .
What to do in Floreana?
In Floreana, many activities are free like going to the famous beach called "Loberia" which is a 15-minute walk from the center of Puerto Velasco Ibarra, the only town on the island. Here you can spend the day if you bring your food and plenty of water because there are 2 small beaches where you can snorkel. It is a very safe beach because the sea is very calm and here you can see a lot of sea turtles and fish.
Another free activity is to go hiking to the tourist attraction "octopus road" this route is very nice because the road is made of lava rocks is a 30-minute walk where you will find endemic species of Galapagos as nesting turtles, sea lions, blue-footed boobies, Marine iguanas and a lagoon where you can see the famous pink flamingos of Floreana. It is a very easy route to do, but you have to wear sneakers and carry water, we recommend to do it at 4 pm as the sun goes down so you do not get sun burned because in this area there are no places where you can rest under the shade. The walk is worth it as you will find small hidden beaches where you can sit and watch the sunset before you go back to town. So, do not stay without doing this activity.

One of the favorite free activities is to climb the straw hill where you climb to an area named "Cerro Alieri" and you can see the island from its highest point. This hill is 15 minutes walking from the center of town and you can do it in 1 hour and a half, this trail has a path made of wooden stairs and very easy to do. After that you can walk to the "asylum of peace" where you can see the island's turtle hatchery, the first house of the island's settlers and the caves where the first habitants and pirates lived. This tour can occupy you half a day or 4 hours. It is a tourist site where you can take your food and water to eat while you are with the view of these caves. If you are looking for places to eat you can go to the restaurants on the island, which are a bit limited in variety but quite good. They also have their kitchen and you can cook there. Prices start at $10 and up. There are also 2 grocery shops on the island where you can buy food if you decide to cook.
The paid activity that you cannot miss if you go to Floreana is to visit the most famous place on the island, which is the tour to Post Office Bay, since the 17th century, whalers and pirates who sailed the waters of the Pacific used a barrel as a post office so that letters could be collected and delivered to families and loved ones. Recipients were mainly in Europe and the United States, taken by the ships that were on their return trip. Just outside the bay there is a sunken crater called "Corona del Diablo", a submerged volcanic cone, interesting coral formations can be observed and visitors can snorkel with sea lions, manta rays, sea turtles and even hammerhead sharks.

This tour includes walking from the center of the island with a local tour guide along the path of volcanic stones with the explanation of the history of Floreana for about 2 hours. Upon arrival at the post office bay, you guide will take you to the beach where you can eat a fruit and see endemic birds of the island. You can also snorkel and visit the post office where the pirates left the letters. Then the guide will take you to visit the viewpoint of the Baroness and her famous house. There is a beautiful beach that is surrounded by mangroves where there are a variety of marine species. This tour is quite complete since you snorkel in several iconic places in Floreana and you can explore on several guided trails through the main wildlife sites. If you don't know the history of the Baroness of Floreana, we recommend you read the book by Margret Wittmer since here she tells why this island is so famous and mysterious. Floreana is full of stories that make it so historically interesting, going to visit it is a dream.
How to get to Floreana Island?
To get to Floreana there are only 2 ways to do it: One is to go from Santa Cruz on a ferry that costs $30 to go and $30 to return. There is also the option if you want to stay a few nights in Floreana which we highly recommend, but you always have to ensure your return ticket with the travel agency of your choice in Santa Cruz. You also have the option of taking a day tour and return the same day to Santa Cruz which is very beautiful but quite tiring since the trip from Santa Cruz to Floreana is 1 hour and a half. The second option is to go from San Cristobal to Floreana, the value of the ferry is very similar, but there are not many options of agencies that go to this island since it is a very long trip, almost 3 hours by boat. We recommend that you bring cash since in the Galapagos Islands almost no one has to accept credit card payments.
Voyagers Travel also offers cruises onboard small liveaboard yachts. There are several itineraries and routes:
3 Night / 4 Day cruise including a call on Floreana island
6 day Galapagos cruise visiting Floreana and Espanola islands
8 day expedition to the East islands of the Galapagos archipelago