Galapagos are big on snorkeling. Unless you are sure you should skip this activity altogether, you will probably require a wetsuit.
If you visit the Galapagos and not experience what it is like underwater is not truly immersing yourself in the place. You may notice that the fauna in the Galapagos islands is not afraid of people, wildlife underwater is just as welcoming. You get to swim with sea-turtles, dolphins, sharks, rays, playful sea-lions and school of colorful fishes. You may also encounter friendly Galapagos penguins and marine iguanas. You don't want to keep yourself from getting into the water just because you feel a bit cold, so you can suit up!
Do You Absolutely Need One?
A tour guide will recommend that you get one (for rent on board or included in your tour package). But if you know how long you are going to stay in the water and the weather during which you are visiting the island, you can pick and choose. For example, if you land on a beach but not going to snorkel, you don't need one.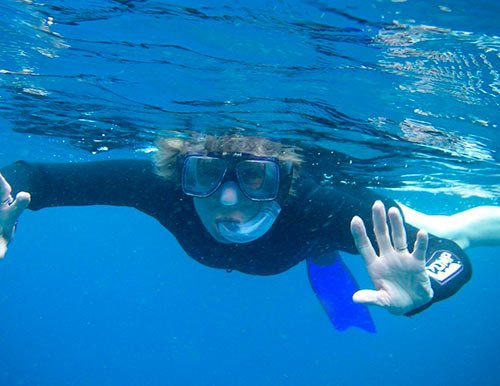 What most people don't know and the secret behind the myriad of wildlife on the Galapagos is that a lot of different currents meet around the islands. This means that water temperatures differ around various parts of the islands and during different parts of the day. When it comes to snorkeling, you want a different wetsuit in the cold season. It would be best if you also remembered that the deeper you go, the colder the water gets.
If you plan on staying in the water longer, a wetsuit comes very handy. You may not expect to, but the mesmerizing beauty of the Galapagos lure everyone to visit. If you are unsure, bringing or renting (if not included) a wetsuit couldn't hurt.
The Galapagos also offers sea-kayaking and if you are going to enjoy this activity, you won't require to wear a wetsuit at all (unless you really want to). Even if you fall off the board, you will not stay in the water too long as your cruise's crew will always be ready to assist you.
Colder Season
From May to mid December, the islands experience the Humboldt Currents, which means cold water. The surface water temperature during this time is 70 degrees Fahrenheit to 74 degrees Fahrenheit. The highest air temperature is 75 degrees Fahrenheit to 80 degrees Fahrenheit. The lowest air temperature is between 66 degrees Fahrenheit to 70 degrees Fahrenheit.

Warmer Seasons
From January to May, the months are more summery. Now the surface water temperature goes between 73 degrees Fahrenheit to 78 degrees Fahrenheit. The highest air temperature goes from 80 degrees Fahrenheit to 87 degrees Fahrenheit, and the lowest air temperature is between 70 degrees Fahrenheit, and the highest is 76 degrees Fahrenheit.

What Type of a Wetsuit Should You Get
Galapagos cruises offer wetsuits for rent or they may be included in your package (with most luxury class cruises), or you can bring your own for perfect fit. If you are traveling during the warmer months, you can easily wear a 3 millimeter wetsuit, which is what you need and which will not take up a lot of space in your luggage. If you are going to travel during the colder months, you will find a 5 millimeter wetsuit to be a better option.

If you are not an avid swimmer and do not see the need to buy your wetsuit, which you might never use after your trip, but still want to use a new one, buy it. Most people sell their unique and use wetsuits at the local market on the Galapagos. This is because it's difficult and costly for dive shops to buy wetsuits from dealers in the mainland. They will gladly take the wetsuit off your hands.
You may need an extra accessory depending on the activities you want to pursue during the trip. Wetsuits are made from neoprene, which is a light material and has air in it, which lets the user float. With a wet suit, it is quite difficult to dive down. The coral reefs are a sight that will take your breath away, and with the marine and climate crisis are becoming excessively rare. So if you are interested in adding another memory to your itinerary, you would have to invest in one weight belt.
Your Choice in Masks
If you have a mask of your own, you can bring it for extra comfort while snorkeling. Remember that most cruises include complete equipment: mask, fins and snorkel for this activity so may want to reconsider brining your own mask if it will take too much space in your luggage.
Most people don't know this, but a snorkeling mask leaks water when facial hair gets stuck around the suction rim. A beard does not get in the way of it, but sometimes mustaches do. A good idea is to get rid of the small part between your nose and upper lip so that you can place the mask directly on skin and not have to worry about it once you are underwater.

Snorkeling is a top activity and it attracts thousands of tourists to the Archipelago year-round. When it comes to Galapagos, with its tropical backdrop and waters abundant with sea life, you will find it is a grand way to be one with nature. It is an incredible feeling to peacefully swim with sea creatures who are not bothered or threatened in any way by your presence, playful sea lions that swim right to your face, and then storm out at the last moment. In some sites, you may even get to swim with sharks (like Hammerhead sharks) always accompanied by your experienced and friendly guide.
This amazing adventure is one of the top highlights of any trip to Galapagos, either on board a cruise or by doing a land-based tour, you will definitely find this spectacular activity offered almost on every day of your voyage on the very best oceanic live-filled sites within the Protected Marine Reserve so if you are an snorkel enthusiastic, make sure that you choose the best cruise option that offers more opportunities to snorkel, you will surely love it!
If you're ready to travel, click here to choose your cruise. For more info, check out our photo tips for snorkeling in the Galapagos and the top sites for snorkeling in the Galapagos.