The Galapagos Islands are the paradise we have on earth full of incredible fauna and flora that I had never seen before. It is one of those places that has to be on your list to know before you die. We thought it before and now that we have gone we recommend it even more, it is well known that it is a bit expensive, but totally worth it.
For travelers staying on Santa Cruz Island there are also several options of day tours.
Now let's talk a little bit about Puerto Ayora this is the main city on Santa Cruz island. It is one of the most visited ones, and we already know why, in every place you go you will see many sea lions that are the center of everyone's attention.
Here is a list of 10 things to do in Puerto Ayora for free!
1. Tortuga bay Beach
¡As known as the best beach in Ecuador! This beach is totally free to go just prepare some good walking shoes because there are 2.5 km of trail that is in very good condition where at certain points they have cabins for you to sit and rest, bring plenty of water and your best swimsuit because in these 2 beaches that Tortuga Bay has you will take many pictures and enjoy the unique landscapes that Galapagos has. The first beach is called "Playa Brava" where surfers enjoy surfing, it is a very long and white sand beach and the second beach is called "Playa Mansa" is ideal for tourists looking to sunbathe and swim quietly without any waves scaring them because this second beach is surrounded by mangroves which makes it very quiet. On both beaches, you will see many small sharks and iguanas. At the arrival of "Playa Mansa" you can find a path that takes you to see Playa Mansa in its entirety where you can take pictures of the iconic flora of these islands which is the cactus. If you plan to spend the day in Tortuga Bay we recommend you to bring food such as nuts, sandwiches or whatever you prefer to eat because there you will not find any restaurant to eat there so bring plenty of water or your favorite drink and food. We also recommend taking plenty of sunscreens because there are not many places to hide from the sun as an interesting fact we let you rent kayaks there where you can go through the mangrove and depending on the season you can see many sea turtles and snorkel with them.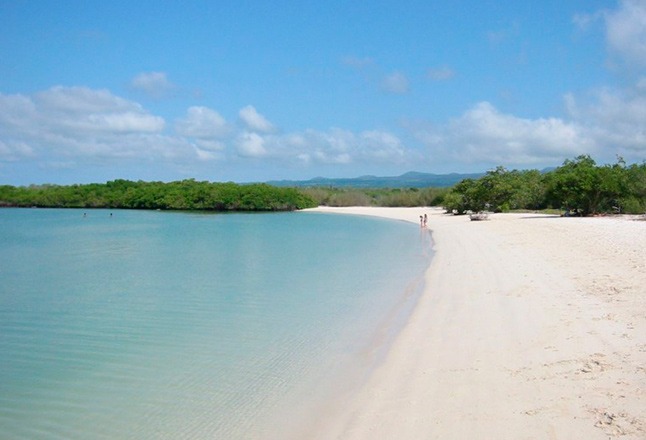 2.The fishermen's pier
Here more than a dock is a show because here are the fishermen who arrive every morning and afternoon with the catch of the day to sell and the best friends of the sea are there that is the sea lions where they give them a little of the fish they bring and many pelicans are also there. You can not miss it if you go to Puerto Ayora is quite a show! And it is very close to the center of Puerto Ayora you can walk there. A curious fact is that this is where they buy most of the fish for the restaurants on the island and you can even sit down to eat there where they have a variety of dishes starting with their iconic fish called "Pez Brujo" where they prepare it in many delicious ways, especially grilled or fried. especially grilled or fried. Also when it is lobster or Galapagos shrimp season you can choose to have the most requested dish called encocado which is prepared with coconut milk and the seafood or fish of your choice and the best of all is that everything is fresh.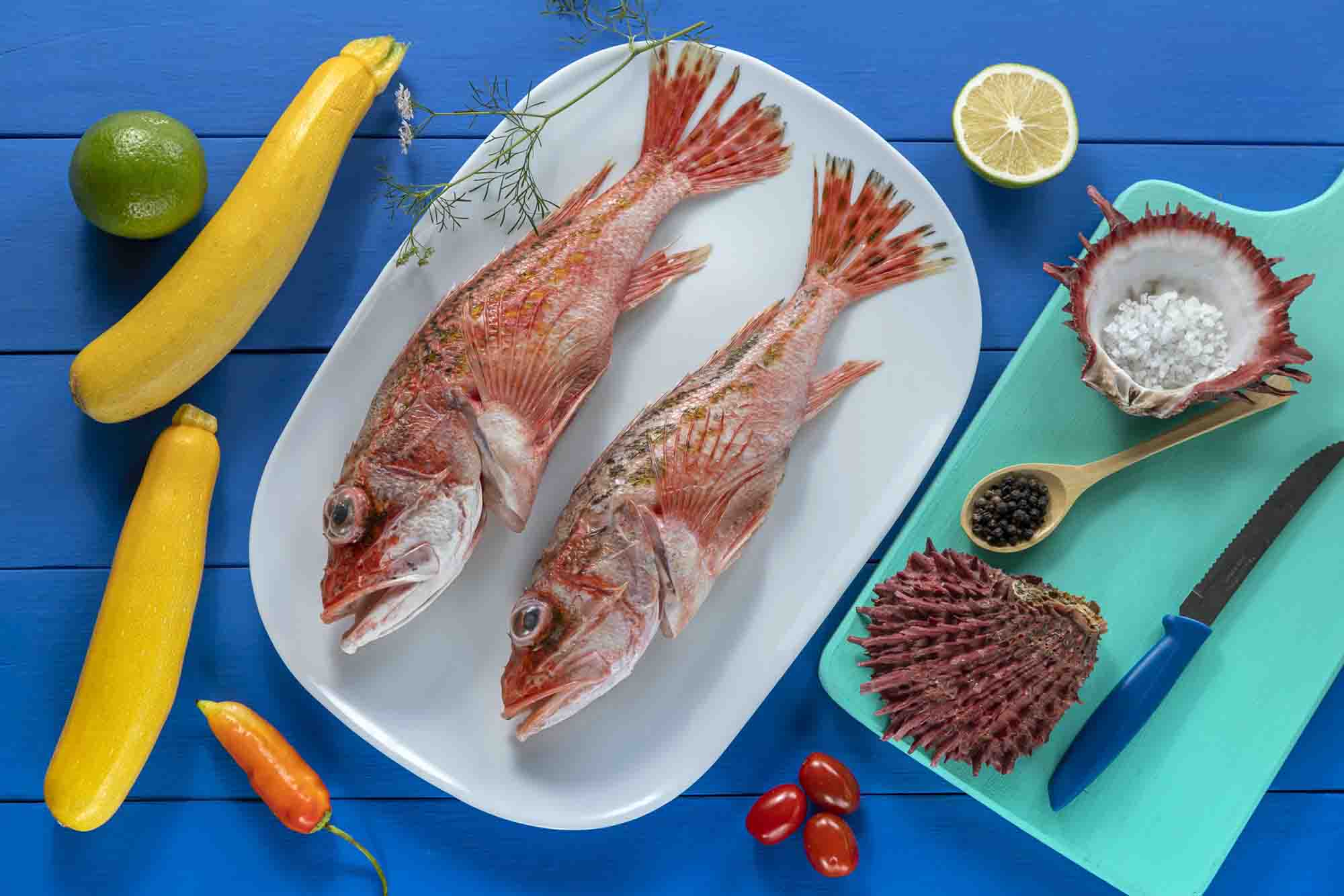 3.Ninfas Lagoon
Its transparent turquoise green waters are surrounded by a mangrove forest where you can see the different types of mangroves that Galapagos has surrounded by the cracking of the lava mantle of more than 15m high. In the sea, you will see different species such as fish, rays and hopefully sea turtles! The best thing is that it is very close to the center where you have walking access.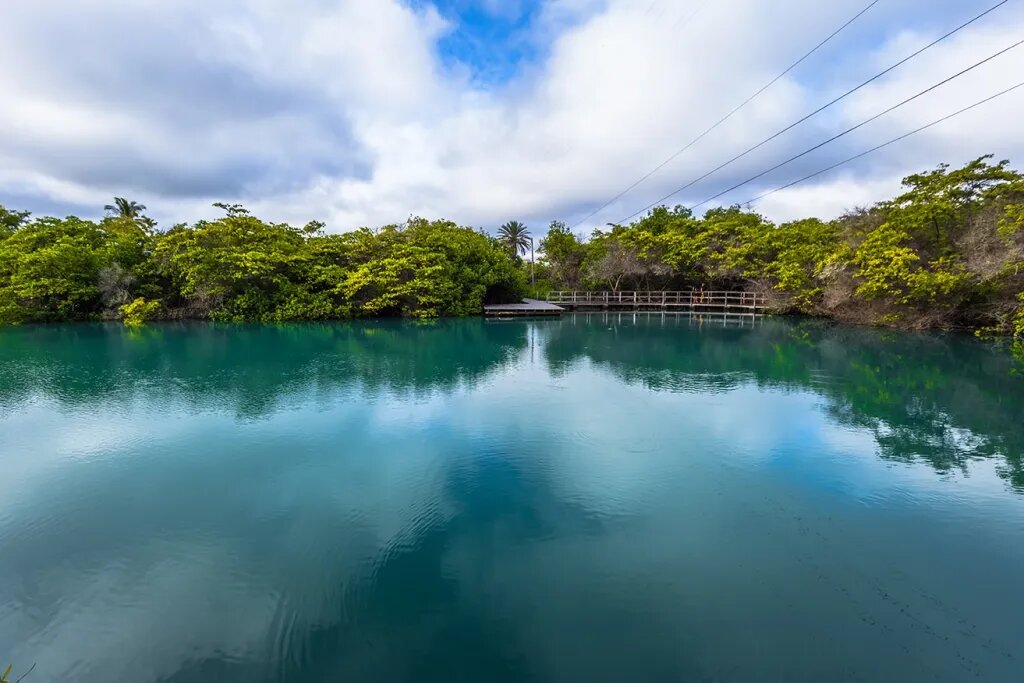 4.Malecon of Puerto Ayora
One of the most beautiful boardwalks we have visited because inside the boardwalk there is a park for children and a place where they give information about tours and information on the island. It is in the center of the bay and in front of it, you have a very big and varied supermarket. ¡In this place, you can find the life of Puerto Ayora where locals and tourists often play volleyball or basketball, besides being a very large boardwalk has several places where you can sit and watch the sunset while a sea lion is near you! Remember to always keep your distance from the wildlife of the Galapagos Islands as it is of vital importance not to have contact with them. On this boardwalk, you can enter directly to the dock where all the boats arrive and here at night you can see many small sharks and fish-eating seaweed just by getting close to the shore. In certain seasons you may even see rays feeding as the lights from the dock attract their attention and they are always nearby. Galapagos is well known for its large and diverse fauna so you will not regret visiting. The peak seasons are from March to August when it is sunny.

5.Playa de los alemanes
Access to this beach is free and it is a beach very close to the center of Puerto Ayora, but you must take a boat to cross to the other side of the island where the beach of the Germans is a very beautiful beach and ideal if you are traveling with children because it is very small and the sea is very calm there. The cost of the boat that transports you to the other side is $0.50 cents per person. On this beach, the water is very clear and you can snorkel and see sea turtles and some fish. For us one of the best beaches after Tortuga Bay.

6.Samay Latin art
A dream place if you are an art lover is a gallery where you will find many ethnic pieces from Galapagos. This gallery has been open for more than 20 years and its creators are complete artists, each piece is unique. Did you know that the name means Spirit or soul and that is what its creators want to represent in each piece they have to make? In this gallery, you can discover many Latin American and Galapagos artists.
7.Lonesome George Monument
This beautiful monument is located on the boardwalk of Puerto Ayora and is a monument to the famous and iconic giant tortoises of Galapagos but specifically is a monument to the tortoise "Lonesome George" this was the last known specimen of one of the species of a giant tortoise. Here you can take pictures with this monument which is free and is a must-stop if you visit Puerto Ayora.


8.The Angelique art gallery
One of the best art galleries we have visited! It is an experience to visit this place not only for its beauty but also for the attention of its owner, she is there to help you with everything. She has a unique art that combines it with the fauna, flora, and landscapes of the Galapagos which makes her art unique in the world, she herself decorated the entire store, and the best part in every corner of the store is her brand of art. It is very easy to get there on the way to the boardwalk is a store that stands out a lot among everything!
9.Monument to the Galapagos fisherman
This monument is located on Darwin Avenue, almost in front of the fishermen's port. This monument was made to thank those fishermen who every day go out fishing to bring food to the island since the Galapagos does not have its own food supply and has to bring everything from the mainland, but many years ago they survived practically on fishing and the fruits of the island.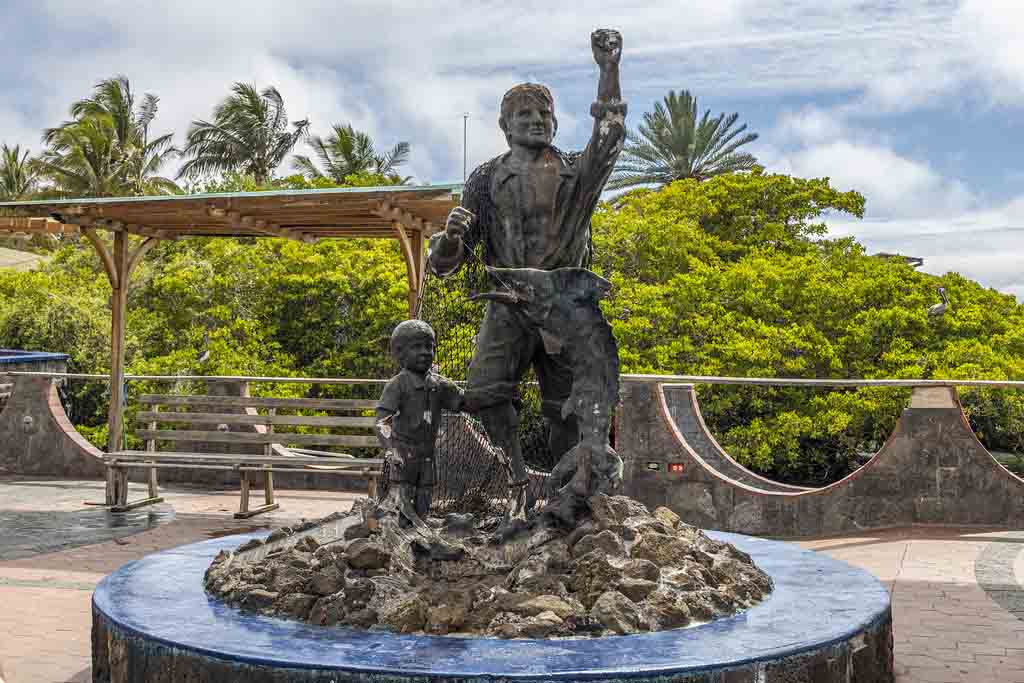 10.Ceramic Art Mural
A secret spot that is a bit hidden at first glance, but it is a mosaic mural with images of the Galapagos fauna where you can take lots of pictures, and best of all, ¡it's free! In this secret spot you can sit and watch the sunset because it has a direct exit to some rocks in front of the sea where you can sit and watch the sun go down. There are also some very colorful benches decorated with mosaics where you can sit and talk or read a book very relaxed because it does not have many visitors. This place is located in front of the Charles Darwin monument.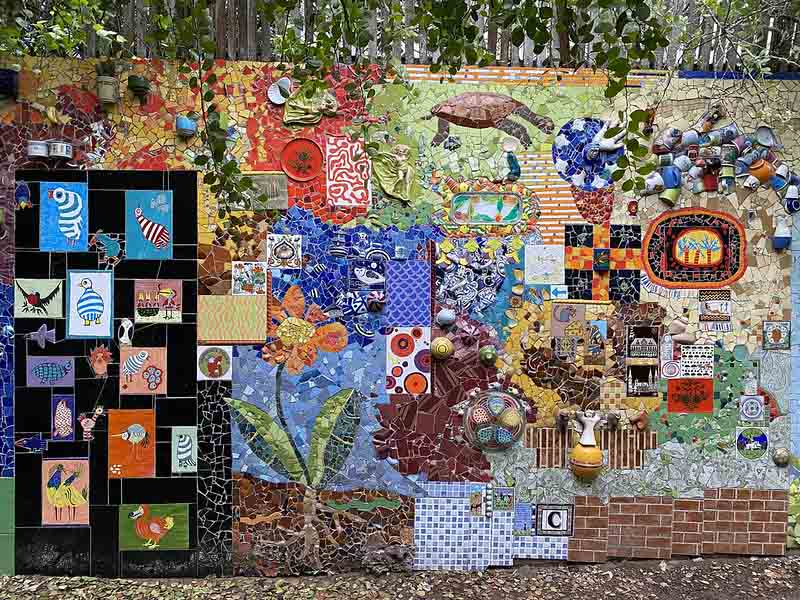 I hope these 10 places you can visit for free in Puerto Ayora will help you to have a much more incredible experience in Galapagos where I tell you that you will not regret visiting.
At the following page we have several recommended hotels for your stay: Click here
Hope you enjoy the Galapagos islands.