The Galapagos Islands has to be one of the most special Archipelagos in the whole world! If you didn't know, archipelago means a grouping of Islands, and The Galapagos archipelago has a whopping 13 major islands, with many smaller ones sprinkled between. When you start to plan your trip, you will quickly feel like it is difficult to decide which islands to visit, since it is virtually impossible to see everything in one trip, unless you stay the whole allotted 3 months. However, I think anyone who has gone can attest to the fact that any trip to The Galapagos you decide to take will be the experience of a lifetime.
A highly recommended area for the best trip in Galapagos would be the western side of Isabela - the largest island in the archipelago - which normally includes a stop to Fernandina Island, a personal favorite. Fernandina is a very special island in The Galapagos because it has an active volcano, has no inhabitants living here, and only has one visitor point which is called Punta Espinoza. The pristine nature of this magical place puts it very high on the list of things to do in Galapagos for travelers, so I knew I had to go there no matter what.


As I did a bit more research I learned that Fernandina Island is the third largest, and the youngest, island in The Galapagos. I also learned that it is the most westernly island in the whole Archipelago! And with that information I was absolutely hooked, for me there's something extra special about being on the edge of such an incredible place.
Since the entire western side of Isabela island is remote, and largely uninhabited, the only way you can reach it is by taking a cruise where Fernandina is on the itinerary. At first I was hesitant because I am not usually one for cruises, but after reading some accounts I decided that I would give it a try. Now, after this experience I can confidently say that a Galapagos cruise is really unlike any other, and truly is one of your best options for visiting The Galapagos Islands since it lets you get to unique hard-to-reach places that you can not see with day trips.
I ventured out on one of the 6 day cruises that takes you to various stops and was particularly impressed by the stop at Punta Espinoza on Fernandina Island. Both the geology and the wildlife are really unlike anything I have seen in the world, or even on the other stops on the cruise for that matter.
Voyagers Travel offers several itineraries that include visits to Fernandina Island. You can choose from 4, 5, 6 and 7 night routes that cruise along the western waters of the archipelago, here are a few suggestions for inspiration:
Galapagos 5 day cruise visiting the western islands of the archipelago
Galapagos 7 cruise with visits to Fernaninda Island
Galapagos 8 day cruise visiting Fernaninda and Isabela Islands
On the day of the trip I woke up to a beautiful clear sky, a good omen surely! In the morning after breakfast we disembarked from our boat to a dinghy and headed towards the intriguing rocky mass that is Fernandina. We could see the western border of Isabela across the channel, but my eyes stayed locked on the island ahead. The dinghy brought us to a long dock, one that we were told can only be accessed during high tide, and with anticipation we climbed out of the boat to see what awaited us ashore. From the thriving wildlife to the lack of man-made noise and infrastructure, stepping onto Punta Espinoza makes you feel like you have gone back in time.
Our guide explained to us that no one lives here, partially due to protections but mostly since the volcano here, called La Cumbre Volcano, is still active, with the last eruption recorded in 2009. We were surprised to hear that Fernandina is considered one of the most active volcanoes found in the Archipelago, with 13 recorded eruptions since the park was formed! It added a bit of adrenaline to the trip, knowing we were literally on top of such a powerful force of nature. And though this place is void of human life, we quickly found out that plenty of other amazing creatures make this island their home.
Once we were all off of the boat we got a quick briefing that there were going to be three activities today: two walks and snorkeling. Camera in hand, I started to walk along the first small trail with the group. As we moved along the peninsula our guide let us soak in our surroundings. The recent volcanic activity here means there is very little plant life, but instead an alien-like landscape of sand and black lava rock in all kinds of odd forms. We saw a few sea lions playing in the water, which never gets old despite them being on almost every island, but then we saw something really exciting - massive colonies of marine iguanas! At first glance it almost looks like the lava rocks are moving, since the marine iguanas are the same stark black color, which is great camouflage for while they hang out on land. This made it tricky to get pictures, but it didn't stop me from trying.


I was blown away learning all about these weird creatures which are endemic to these islands and the only marine iguana in the whole world. Our guide explained how marine iguanas have an amazing capacity to hold their breath while they dive in harsh currents looking for tasty seaweed below the surface! This diet helps them to live on sandy and rocky islands with little vegetation, because all their food comes from below the water!



Just when I thought it couldn't get any better in terms of wildlife, our guide pointed out some shapes near the water… Galapagos penguins! There were 4 sitting calmly among the lava rocks by the water, probably warming up in the sun. I noticed that one was much fluffier brown while the other 3 looked more like the classic black and white penguin, though smaller. After asking the guide I learned that the juveniles have these fluffier brown feathers, and as they mature they get the sleek black and white feathers which are much better for swimming quickly through the water to catch fish.


Towards the very edge of the peninsula we saw the other endemic flightless bird that lives here, flightless cormorants. I was really shocked because they looked just like other cormorants I had seen, and they were even standing in the classic wings-stretched-out position, but when I looked through my camera lens I noticed that their wings looked like small nubs where all of the feathers had fallen off! I guess with the plentiful fish here they lost the ability to fly over time. Though the penguins might be a bit cuter, the flightless cormorant was my favorite animal I saw on the trip, probably just because it is so odd.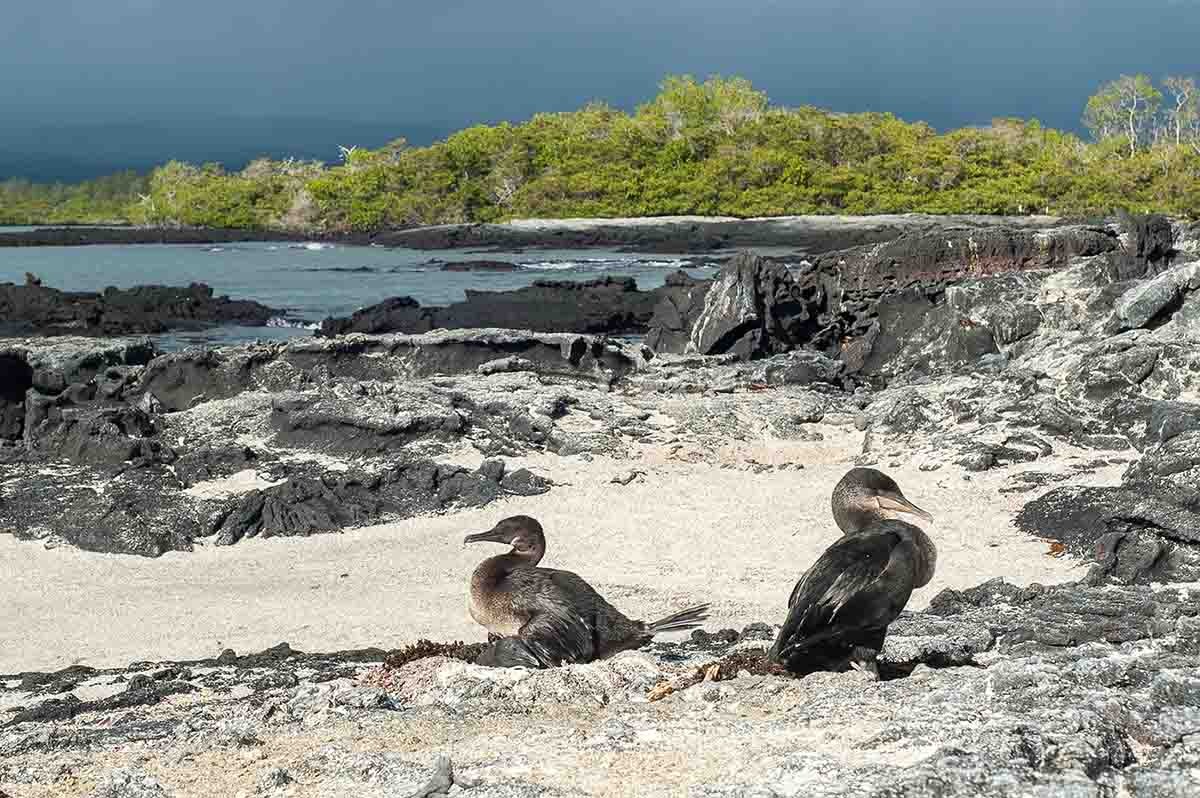 Once we headed back to the start point, we were given the option to rest and sunbathe or head on a walk to the interior of the island to check out some unique lava structures, which I accepted with haste. It is important to note here that you really must have good walking shoes and a hat for this part (check our packing suggestions for a Galapagos trip), as the terrain can be a bit rough and the sun can get quite intense as mid day approaches. The path takes you along hardened lava flows, and though there isn't much vegetation I was amazed by the lava cactus - which are the extreme survivors of these tough conditions. Some small lizards zipped past us as we walked but I didn't get a close look at them. The trail ends with a huge wall of what is called "aa" lava from a previous eruption. If you are able to do the longer walk it is definitely worth the trip!
We headed back to the start and still had time for a quick snorkel before we had to be back on the boat. We hurriedly put on our goggles, flippers, and life vests and started to swim. There were many colorful fish to look at, and as I floated admiring the underwater life I couldn't believe my luck when I saw a seahorse swim right by me! I really never thought I would see one in real life, but I was told afterwards that they are common in this spot. Unfortunately, that day the penguins did not join us while we swam, but everything else was so incredible I wasn't really bothered. We then packed up everything and went back to our boat to head on to our next adventure, though I wasn't sure what could beat that amazing day.
Out of everything it is hard to say what most impressed me, but I think the pristine nature of Fernandina Island and the work of the rangers in the area was really special. Everything is so well cared for, there is no garbage on paths, the animals live a healthy natural life, with little human interruption, and this island is left to flourish void of our influence, except for this one little magical stop called Punta Espinoza that I was so lucky to enjoy on my trip.
Voyagers travel also offers trip planning services for other areas of Ecuador and South America.