When it comes to exploring the astounding beauty of nature in all its glory, not many places can come close to the Galapagos Islands.
With unique natural landscapes to see, wildlife encounters and adventure activities to participate in, the Galapagos Islands are recognized time and again as one of the top experiential tourism spots in the world. That is why, whether you are planning a romantic getaway or a family vacation, considering Galapagos will allow you to enjoy one of the planets natural wonders with your loved ones.
So what exactly is so special about the Galapagos? What type of things can you do on the islands? And what kind of preparations do you need to make before you leave? Seeing that the information is scattered all over the web, we took it upon ourselves to answer these burning questions for you in one complete blog post.
How Many Islands Does the Galapagos Have?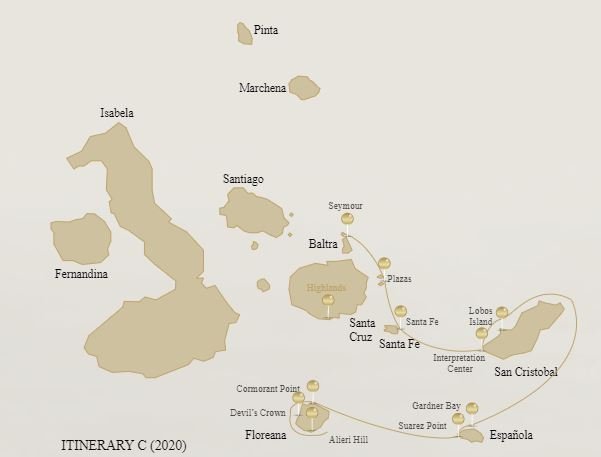 As an archipelago, the Galapagos comprises 19 islands. In addition to these islands, it also has various smaller formations called islets, and finally there about 600 + rocks.
While some of these islands are open to visits for tourists, others are only known among the Galapagos park scientists and are limited to scientific investigation.
Either way, all of these islands are home to picturesque sights that stem from nature itself. The magnificent wildlife that's native to the islands only enhances their charm further.
What are the Names of the Various Galapagos Islands?
Out of the 19 islands in the Galapagos archipelago, 13 are considered as major islands, with the remaining 6 falling under the label of minor islands.
Due to their facilities and visiting sites, the major islands are the most popular locations among tourists. But the minor islands also have plenty of wildlife to see and have endemic species that cannot be found anywgere else within the archipelago.
The 13 Major Galapagos Islands
Isabela.
Santa Cruz.
Baltra (South Seymour).
Floreana.
Marchena.
Santa Fe.
Pinzon (Duncan).
Pinta.
Santiago.
Out of these islands, only the first five have permanent human population within them. The remaining islands don't have any humans living on them, but they still entertain day tours and related activities with ease.
The 6 Minor Galapagos Islands
Plazas (comprises 2 different yet close islands).
Daphnes (comprises 2 different yet close islands).
Rabida.
Darwin.
Wolf Island, which is one of the least visited locations in Galapagos, is sometimes also considered one of the minor islands. But due to its niche appeal to oceanic wildlife enthusiasts, its status as a minor island remains somewhat disputed. For Scuba divers it is one of the top liveaboard diving sites on the planet.
How Large are the Galapagos Islands?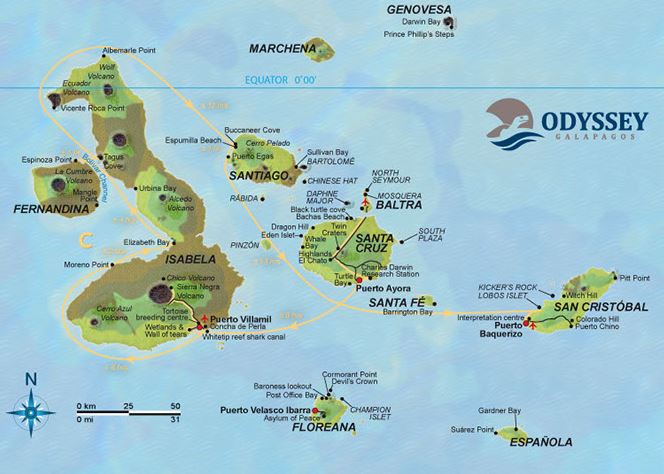 Altogether, the Galapagos Islands hold a total land area of about 3,093 square miles (8,010 square km).
This land mass is scattered across the oceanic area of around 23,000 square miles (59,500 square km).
Around 97 percent of the land in the Galapagos Islands is part of the Galapagos National Park. Baltra (South Seymour), which is home to a military base, is the only island that remains free of that status.
The Galapagos Islands are also considered a UNESCO World Heritage Site.
Where are the Galapagos Islands Located?
The Galapagos Islands are located about 600 miles from the coast of South America. This marks their location in the eastern Pacific Ocean, right along the equator line.
The Galapagos Islands are a part of Ecuador, which is also the closest country to the archipelago in South America.
This means that if you are hoping to visit the Galapagos, you will need to follow the rules and regulations set by the Ecuadorian government.
How to Get to the Galapagos Islands?
The easiest and fastest way to get to the Galapagos Islands is by airplane. But even though the archipelago has two airports that regularly cater to commercial flights, they do not entertain international flights.
This is why, your best bet is to fly into Ecuador at first, where two international airports can help you land in South America. These airports are located in the following locations:
Quito, Ecuador: Mariscal Sucre International Airport.
Guayaquil, Ecuador: José Joaquin de Olmedo International Airport.
From there, you can take a flight to either of the two Galapagos airports that are located on the islands of Baltra and San Cristobal.
Is Galapagos Safe?
The Galapagos Islands are very safe to visit. You can make a trip to the islands any time throughout the year without worrying about your and your loved one's safety.
For additional information, you can check out the latest travel advisory warnings from your own country's State Department. This ensures that you are able to follow all safety protocols and precautions before you depart to vacation in Galapagos.
What Can You Do in Galapagos?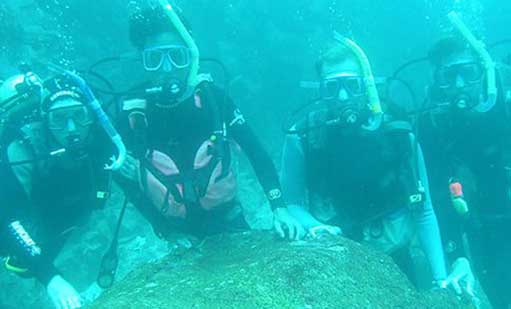 The Galapagos Islands are home to some of the planets most unique wildlife, endemic species that showcase adaptation to the unique volcanic environment, but also sandy beaches and sparkling blue waters. But they also hold lush green lands and endemic flora within them. This means that you have plenty of reasons to put the bustling worries of the world at bay and just enjoy the calm that the island life has to offer.
Apart from being able to lounge under the sun, you can also take part in various other activities such as hiking, snorkeling, and scuba diving. You can also enjoy the native cuisine and go on once in a lifetime quests such as visiting peguins at the equator, walking along 100 year old giant tortoises, climbieng into a lava tunnel or just marveling at the rocky formations that have formed around the islands. Since the islands literally emerged from under the water due to volcanic activity before becoming habitable to flora and fauna, these formations have a lot more to offer than just a random mound of earth.
What is the Weather Like?
Despite being right at the equator, the Galapagos Islands don't have typically tropical weather. The archipelago doesn't struggle through consistent or torrential rains. Instead, it maintains a sunnier warmth most of the year, especially through the period between January to June.
With that being said, the water around Galapagos is often colder than other warm archipelagos. This often makes way for refreshing breezes and also causes light rains through December to June.
This makes Galapagos a wonderland for those who want to escape to a location that's full with extraordinary sights and natural warmth, but which doesn't pose many challenges in tolerating the weather.
How Can You Explore the Galapagos Islands?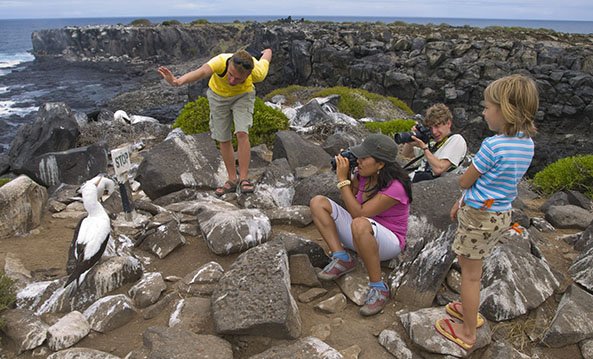 Due to Galapagos' status as a National Park and a World Heritage Site, it is required that you visit the islands with a certified naturalist guide.
This makes sure that you are able to learn about the beautiful wildlife that's spread across the archipelago properly. But it also ensures that you can explore the island in a manner that's safe for your traveling party and the environment alike.
What Kind of Wildlife Can You See in Galapagos?
While enjoying the natural sights and basking under the sun are major reasons why you should visit Galapagos, it's seeing the endemic flora and fauna that really makes the visit worthwhile.
Some of the magnificent wildlife that is exclusive to Galapagos includes but is not limited to:
Galapagos Tortoise. Perhaps the most famous icon of the Galapagos Islands, this native tortoise can only be found in the archipelago itself. You can most easily see this species in a special conservation center called the Charles Darwin Research Station in Puerto Ayora.
Galapagos Fur Seal. If you are fond of watching adorable seals get from one place to the other on documentaries and short social media videos, then these fur seals will take that cuteness to a whole new level. With their distinctive fuzzy fur, these mammals can be easily spotted across various shores of the islands.
Galapagos Sea Lion. Much like the fur seal, these adorable critters of the ocean are native to Galapagos. Due to their love of sunbathing and playtime, they can be seen lounging and often lightly barking throughout the seashores. Being the smallest species of sea lions, they are one of the most popular wildlife to spot on Galapagos.
Galapagos Penguins. The mere mention of penguins often brings about imagery of the arctic. But the Galapagos penguins differ themselves from that generic label and actually love the sandy beaches and colder waters of the Galapagos – much like their other tropic penguin cousins. They can be seen around the archipelago and have distinctive color patterns that set them apart from other species.
Marine Iguanas. When you think of iguanas, you usually think of sandy glass cages. But nature puts these Galapagos iguanas apart from their land siblings and allows them to swim them in the ocean. You can easily spot them across various beaches in Galapagos. If you take a dive into the ocean, these reptiles may say hello to you there as well.
Flightless Cormorant. Taking a leaf out of the book of marine iguanas, the cormorants in Galapagos also go against their global siblings and cannot fly like them. Due to sporting this uncanny feature as an island bird, they have become a prime example of evolution and pose a very interesting sight for those who love wildlife or science.
Galapagos Finches. If you happen to enjoy the vivid colors and beautiful feathers of our avian friends, then you wouldn't want to miss the Galapagos Finches. Holding different species of birds under their name, the Galapagos Finches are fascinating to watch and learn about.
Apart from other endemic wildlife such as the Galapagos batfish and Galapagos dove, you can also easily spot other creatures such as land iguanas, seals, turtles, sea lions, manta rays, flamingos, and frigates.
Some of these animals such as the Galapagos tortoise can be seen across designated spots around the islands. Whereas, others such as sea lions can be seen more easily. If you decide to go snorkeling or scuba diving, then you can see the sea creatures up close.
How Much Does It Cost to Go to Galapagos?
The answer to this question usually depends upon where you are traveling from. While your home location doesn't affect the tourism expenses such as accommodations and recreation at Galapagos, the difference in airfare is something that you can't ignore.
For instance, if you are traveling to Galapagos from New York City, U.S., then you can expect upwards of $800 for a return ticket that includes one stop in Ecuador. The better experience you want, the higher the cost will go.
But that's not all. When it comes to choosing a hotel, you can expect to spend anywhere from $40 to $950 per night. Sometimes, the prices are even higher depending upon the type of experience you want to have.
When you factor in the mandatory costs such as the various fees that are charged by Ecuadorian authorities, you can expect expenses that go upwards of $100. This includes the entry fee to the Galapagos National Park – which is essentially the whole archipelago except for Baltra. Factoring in the prices for meals and other tours can add anywhere from $50 to $300 at the minimum per day.
You can also book a liveaboard cruise which include allmeals, excursions, island transport and accommodations. These packages often range in between $300 – $1500 USD per night / per person.
This is why, it's important that you check your expenses right before leaving. This gives you an exact idea of how much a trip to Galapagos will cost you.
How to Prepare for a Trip to Galapagos?
Since Galapagos is an archipelago, you should pack light and breezy clothes that are comfortable for you to wear in a relatively warmer climate. This means that t-shirts, shorts, sandals, and sneakers are all good choices.
At the same time, do not forget to pack hats and sunglasses to give yourself some much needed shade from the sun. This would also call for your preferred brand of sunblock as well as a few first aid items to take with you.
Since the winds can get pretty breezy, it is also a good idea to get some warm clothes. Windbreakers and jackets as well as warm pants will go a long way for colder nights. Sneakers and hiking boots will also come in handy for when you go birdwatching or exploring different trails.
If you are a diving aficionado and have scuba diving and snorkeling gear with you, packing your suit and smaller equipment will be a good idea. Otherwise, you can rent this equipment from a local shack at Galapagos.
In a nutshell: pack light. But at the same time, keep various weather conditions in mind. This helps in keeping you safe from making expensive clothing purchases at the last minute.
What are Some Last Minute Tips to Keep in Mind?
To keep your trip fun and painless, make sure that you make all arrangements such as accommodations and tour bookings before you travel to Galapagos. This makes sure that you don't run into unnecessary issues and have as much fun as possible.
Most importantly, if at any point you have any questions, you can reach out to one of our travel planners to discuss them in detail. This prepares you for a problem-free trip and ensures that your Galapagos experience is as enjoyable as possible.
If you're ready to travel, click here to choose your trip.
Need more info? Check out our blog.