Attractions on San Cristobal Island
San Cristobal Island is one of the four inhabited islands in The Galapagos and is found on the far East side of the Archipelago, or grouping of islands that makes up The incredible Galapagos Islands. San Cristobal airport makes this an easy island to start your trip or to save it as the last island you visit before heading back to the mainland. Though most people focus on day trips from San Cristobal for things like snorkeling at Leon Dormido, the Island itself holds a bunch of treasures that you can reach by land, one of which is the lovely Puerto Chino.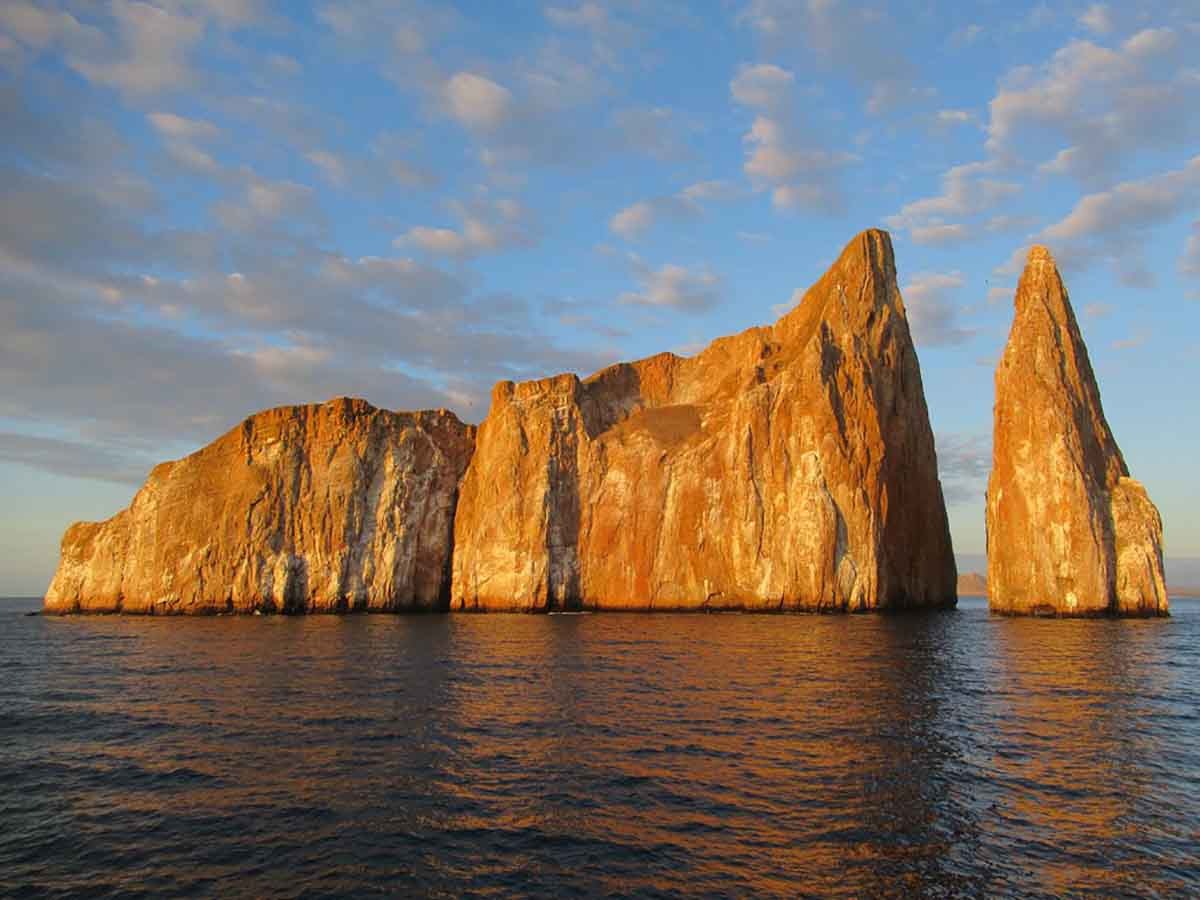 Getting to Puerto Chino
Puerto Chino is a small cove that is located at the Southeast tip of San Cristobal, about a 30 to 45 minute drive (24 Kms) East from Puerto Baquerizo Moreno, which is the capital of San Cristobal, and the administrative capital of The Galapagos. You can easily contract a taxi to take you there or you can walk or bicycle to it if you have a good fitness level and more time, and you would like to say you "crossed an entire island" in less than a day. You can learn more about taking trips around the islands in our Galapagos Islands vacation guide.



After a friend told me that Puerto Chino beach was an absolute must-see in San Cristobal, and I learned there is even a song written about this place - one called "Camino a Puerto Chino" by the band Arkabuz - I decided to make it my destination on my final day in The Galapagos Archipelago. I decided to go with taking a taxi, not just because I wanted more time to enjoy the destination, but so I could also get them to spend the day taking me to a few different interest points on the island. In the end I got to visit El Ceibo Treehouse and El Junco Lagoon, and still enjoy the entire afternoon at Puerto Chino itself. If you are interested in this route, there is also a possible stop at the Galapaguera to see the center for Giant Tortoises of this island, but I skipped this one as I wanted more time on the beach that day – here is a guide to the nicest beaches in the islands. It cost about $60 for a round trip with the taxi to see a bunch of great sites. It was a great way to spend the day, and was a more affordable option than some of the boat tours. If you decide you would like to go straight to Puerto Chino in a taxi, I was told the ride would cost about $40 instead.


I arrived at a small parking lot and got out of the taxi. The driver and I agreed on a time that I would be back so that we could head back to town, though I think he may have just rested there waiting for me to return. There is a sign pointing out the trailhead which will lead you on the walk to Puerto Chino, which takes about 15-20 minutes and is probably just as enchanting as the cove, as the song I mentioned earlier might suggest. The walk is a little under 1.5 Km, is relatively flat and is not difficult terrain, making it quite accessible for anyone. It is important to note that there are no bathrooms out there, so make sure you stop at one of the other points along the way or in town before you head out for the day. Here is a guide to the best treks in Galapagos.
Walking around the area
Once I started the walk I felt like I was in a surreal place. A stone walkway carved its way through low-lying shrubs, cacti, small trees, and of course black lava rock. At about half way you can see a glimpse of the ocean in the distance, but make sure you keep your eye out for birds flying amongst the stubby vegetation, or reptiles, such as the Galapagos Lava Lizard – more about Galapagoss Reptiles - that could be found scurrying along the path or warming themselves on the rocks. There is essentially no shade here until you get to the beach, so it is really important to have already put on sunblock and be wearing a hat and appropriate clothing. Along the same lines, make sure you have a good sized bottle of water to keep you hydrated along the way - I know I finished mine by the time I got back to my taxi at the end of the day. Last, since I was here in the dry season – a guide to Galapagos seasons - I didn't experience problems with bugs but I have heard the rainy season comes with a decent number of biting flies, so repellent is also recommended.

When you are about to arrive, the coolest little natural arch of trees awaits at the end of the trail with a sneak peak of white sand and turquoise ocean water between the leaves. Ducking under the woody guardians of the cove, I was greeted with a beautiful beach of white sand, patches of lava rock, a beautiful calm ocean, and a hill of lava rock and shrubs to the right. It is said this hill gave the cove its name, as the mound resembled a kind of "chinese hat," hence "Puerto Chino" – not be confused with Chinese Hat Island.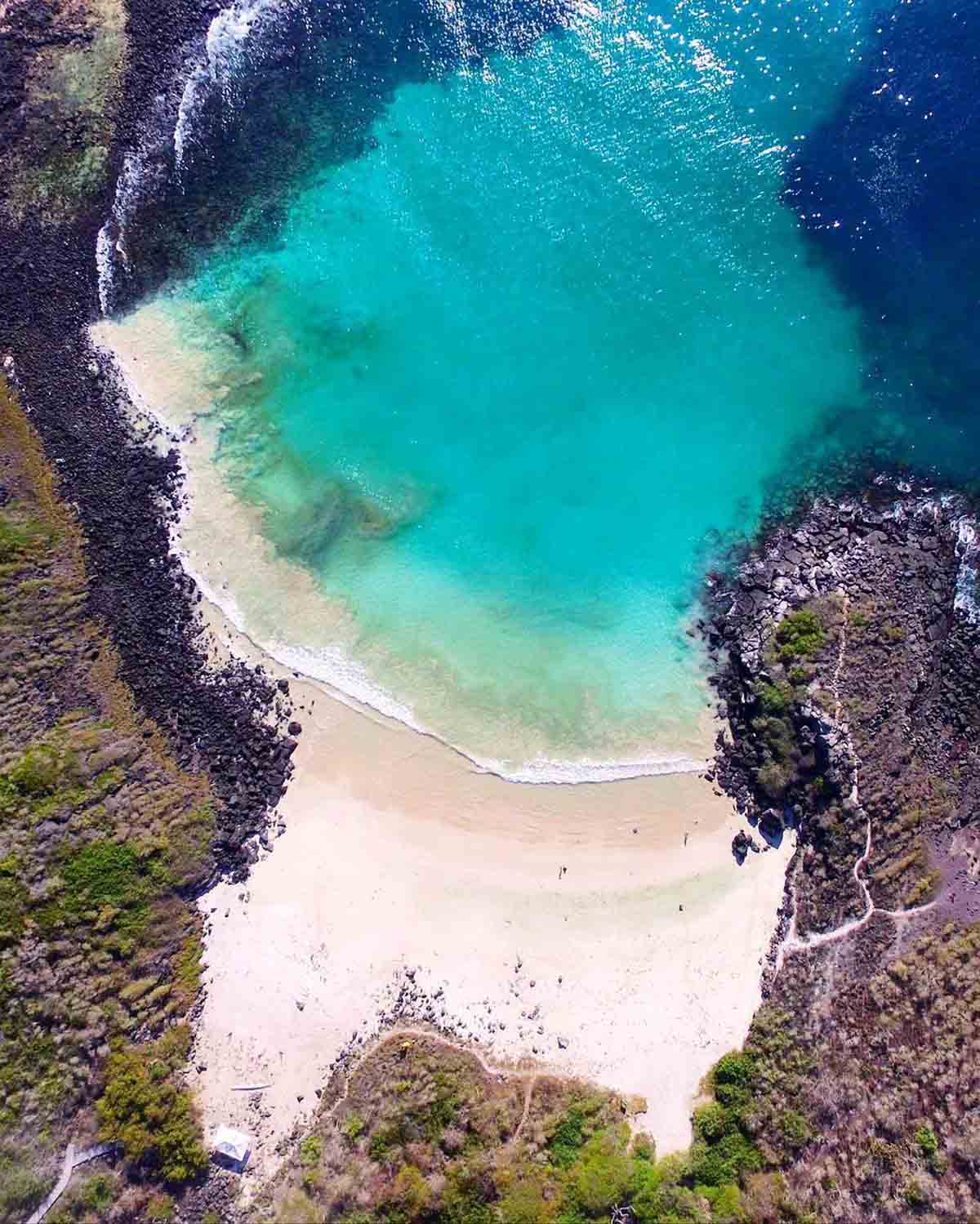 The beach and surrounding areas
When I arrived the entire cove was almost totally empty except for 3 other travelers who were sunbathing in the warm sun and some sea lions by the water's edge. There was a perfect spot to the right of the trail head with driftwood underneath a small tree so I set up my towel and got ready for a swim. There were four sea lions sharing the beach with us, going in and out of the water. Though I am not sure if they were hunting fish or only playing, it was a really fun thing to watch! Two of them seemed to be younger sea lions, not babies but definitely not adults either, and they were much more playful, seemingly inviting the humans to join them. I made sure to enter the water to the far side of the beach, not to intrude in their space, but once I got in the water I was delighted that they would swim within only a few meters of me, doing graceful spins and turns under the water, making my paddling look quite clumsy in comparison. This would have also been a wonderful place to snorkel if I had brought a mask, but I think it was just as enjoyable to enjoy the sights above the water for the day.


Finally tired from swimming, I decided to see what else I could find in this beautiful little cove. I decided climbing up the hillside would give me the best view, so I dried my feet and put on my shoes so I could get to the top with ease. If you decide to visit here definitely don't forget good shoes because there is plenty of lava rock to scurry around, just like most of the other hikes in The Galapagos. The hill isn't very large or difficult to climb but it was fun to walk and scramble up to the top.

Hiking up the Hill
As I ventured onwards I took a quick moment to look off the left side of the cliff and am I ever glad I did! Just off the side was a Brown Pelican that seemed like it was sitting on a nest! I made sure to keep my distance but enjoyed the close up view of this large and elegant bird before going a bit further up towards the top. Near the end of the hill the shrubbery stops and there is a mound of lava rocks. A sign warned me to not go out any closer to the edge, possibly because it is unstable and probably so as not to not disturb more nesting birds. It didn't matter anyways, because what I could see from this point was plenty enough. This spot offered a beautiful view of the ocean, coastline, and the sea lions who continued to play below. And if that weren't enough, a handful of Nazca boobies were resting on the rocks.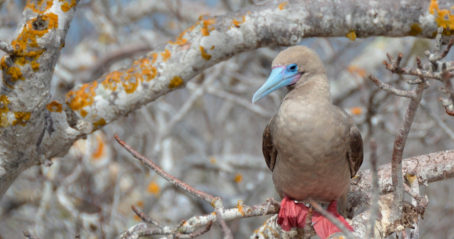 Though I had read (Galapagos birding guide) that there were three types of Booby in The Galapagos, The Blue Footed Booby, The Nazca Booby, and the Red Footed Booby, I hadn't been lucky enough to see anything other than the blue ones so far. I quietly watched the birds for a short while, enjoying their stark black and white plumage, quite different from the Blue Footed Booby, but with the same characteristics, the large webbed feet and their slender beak that is perfect for catching fish for example. Once I felt that I had spent long enough visiting the habitants of this bird-filled hilltop I went back down to the beach for a quick sunbathe before I had to go back to my taxi and get to town for something to eat.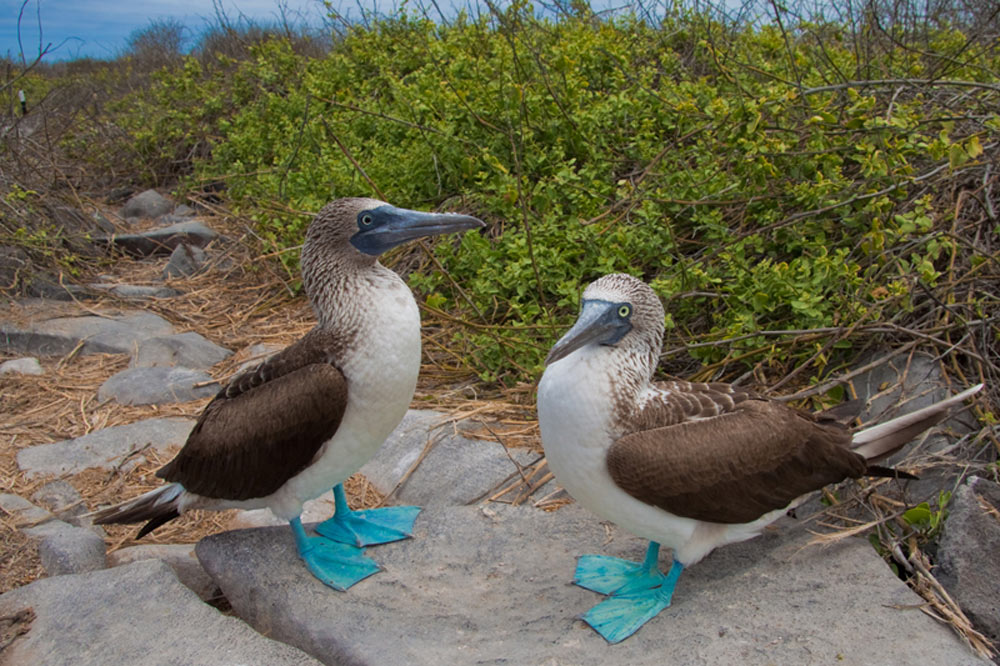 After all of the sights in the Galapagos Archipelago, I think Puerto Chino on San Cristobal was one of my favorites. From the unique pathway to the very quiet and calm nature of the place, my exciting interactions with sea lions, and bird sightings, it was a very special way to end my trip.