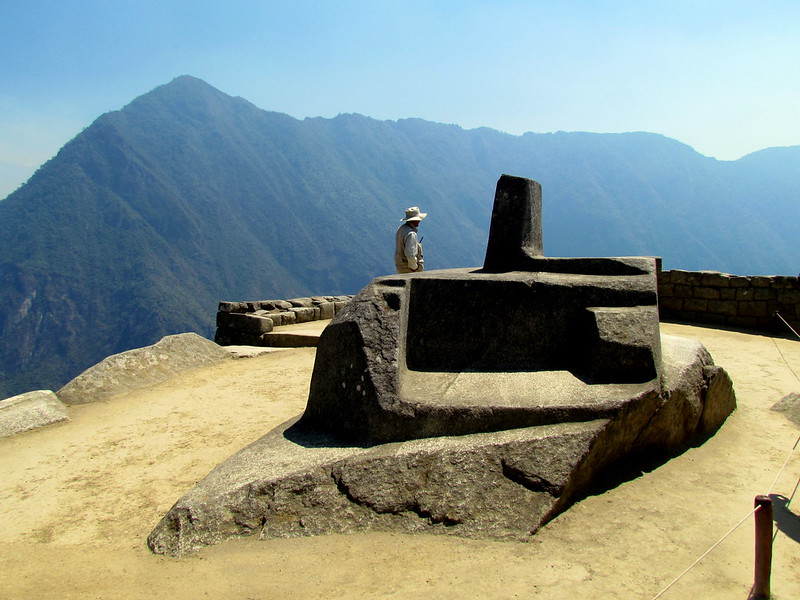 Your trekking team will wake you up early with a hot drink to help you start the day. You will get ready for today's activities and enjoy your last breakfast prepared by your trekking chef. The day´s hike will begin with a 2 hour, downhill path, with views of Machu Picchu, until Hidroelectrica Station. The most impressive part of this area is the natural 300 meters high waterfall, which generates electricity for the region of Cusco. From Hidroelectrica Station, you will then continue to the famous Intiwatana (sundial rock). According to history, this Inca stone used to work with the legendary sundial rock in Machu Picchu during the winter solstice, which was the beginning of a new farming season for the Incas.
Following the Intiwatana, you will continue to the path on the train tracks. The hike along the train tracks will be approximately 3 hours and will lead to the town of Aguas Calientes, located at the foot of the valley of Machu Picchu. This part of the hike will be interesting as it was the trail used by the American professor, Hiram Bingham, when rediscovering Machu Picchu.
On his way to Machu Picchu, Hiram Bingham met with local farmer Melchor Arteaga, who eventually guided him to Machu Picchu. On your trek, you will hike past Melchor Artaega´s farm. Here you will see many species of flora and fauna, the national bird called cock of the rock, Tucanes, Oropendolas, Parrots, and Orchids. Finally, upon your arrival in Aguas Calientes, you will enjoy your packed lunch.
You will then go to your hotel to enjoy a hot shower, and a visit to the famous hot springs (10 soles, not included), of Aguas Calientes. In the evening, you will enjoy your final dinner with your trekking chef and say goodbye.
Walking Distance: 14 km
Aguas Calientes Elevation: 2,000 meters
Weather: Hot
Accommodations: inti punku (or similar)