Getting there By Plane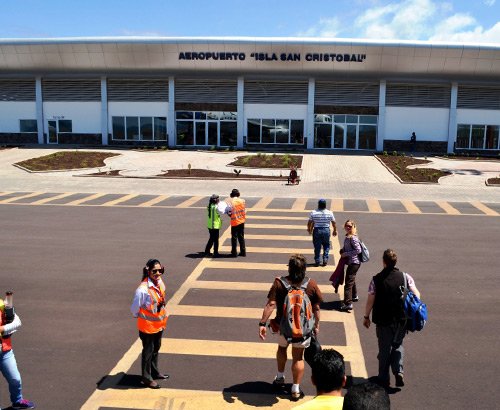 Getting to the Enchanted Islands from mainland Ecuador is easy, with daily Galapagos flights from both Quito and Guayaquil arriving into the main airports of Baltra and San Cristobal. From both of these airports, public transportation to the main settlements and tourist spots is easy to find.
The island of San Cristobal hosts the capital of the province of Galapagos, Puerto Baquerizo Moreno and public transport connects the two by road, whilst getting from Baltra airport to the largest town of Puerto Ayora (on the island of Santa Cruz) by public transport is also possible by road and by ferry, taking little over an hour. The public transport is inexpensive and well-suited to tourists.
TAME, Avianca and LAN Airlines are the three main carriers serving the routes, and their prices vary depending on the season. Flights during the peak months of July, August and December are more expensive but not especially costly, with the price of a return flight hovering in the region of $450-590, whilst flights during off-peak months can be anywhere between $400 and $510 return.
The airport at Isla Baltra closes every couple of years for renovation and updating and during this time flights are operated from the San Cristobal airport but this doesn't affect flight availability. It's often cheaper to fly from Guayaquil than from Quito, although going to Guayaquil when you're closer to Quito could end up costing you more than the difference in the fare anyway, and it's worth taking into consideration the ease of flying straight from Quito rather than traveling to Guayaquil first.
Ecuadorians get around a 50% discount on fares, and Galapagos Islanders get nearly half price fares on top of that. Students who hold an ISIC card can get a 15% discount on flights with TAME and 20% discount on flights with Avianca. When buying your ticket, be aware that you must have booked return transport from the island in order to be allowed through border control.
Private flights also operate but they're more expensive and they only fly to Baltra, as San Cristobal doesn't have an overnight parking area for planes.
Island-hopping at the Galapagos by plane is really easy, as the company Emetebe flies between the islands of Isabela, Baltra and San Cristobal daily, in both directions. Foreign tourists pay $158 one way, or $260 return, and have a very reasonable luggage allowance of 10kg. The company requests that you book your tickets at least 48 hours in advance.
Contact us by phone 1-866-725-3255 if you need assistance with your Galapagos flight reservations
Get the complete information about the Galapagos flights
Getting there By Boat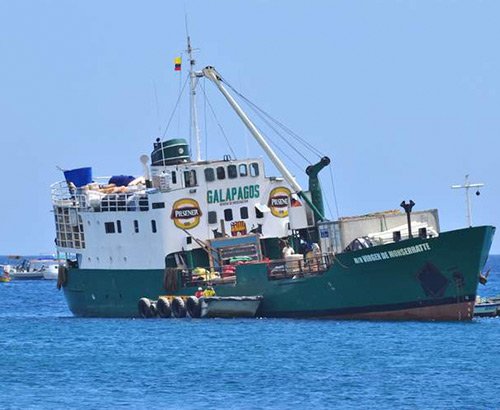 Boats navigating to the Galapagos archipelago regularly depart from Guayaquil. It takes 3 or more days by sea to reach the Islands. The boat sailing to the Islands from mainland Ecuador usually lacks the comforts found on cruise ships and touring yachts, most likely it is a cargo boat.
Finding boats or a cruise to the Galapagos islands from the mainland is about as tricky as it comes. There are cargo boats that go to the islands, charging about $150.00 one way, making it just as expensive or more than a flight, remember 3 days at sea imply other expenses as food and drinks. If you're in for the romance of it, great! If you don't have much time or money, take a regular flight – and enjoy cruising from one Island to another when you get there.
For information on sailing to the Islands from mainland Ecuador call Acotramar (04-401-004, 04-401711) or Transportes Maritimos and Fluviales (04-566-449) for more information regarding schedules and costs.