They call it the 'Argentine capital of trekking', but it could well be the capital of adventure or active tourism in general. Although this town is small and was born just over 30 years ago, it is surrounded by the wildest nature of the Andes. Mountains, glaciers, lakes, rivers... I'll tell you everything to do in El Chaltén and its surroundings!
I visited El Chaltén during my trip through South America and it was one of the places that I liked the most. There I made some solo trails and I loved its surroundings, from the vertical walls of the Fitz Roy and Torre hills to the landscapes formed by the Las Vueltas river. It is a relatively small town, but very touristy and full of backpackers, athletes, and nature lovers. Essential on a route through Patagonia!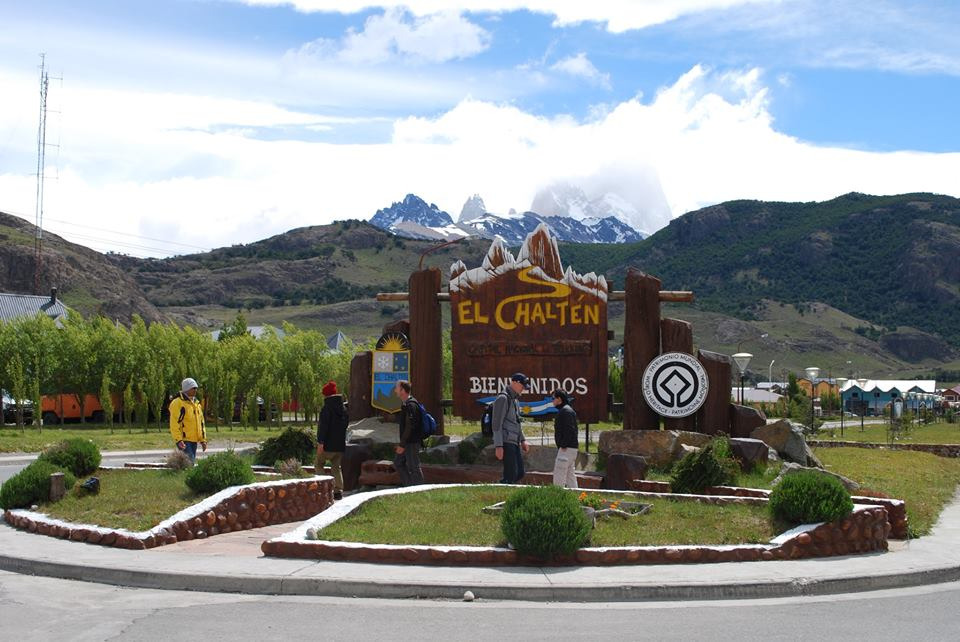 Where is El Chalten
El Chaltén is a town located in Argentine Patagonia. It was founded very recently, in October 1985, during a dispute with Chile over the border territories in which it was decided to create a settlement to defend the sovereignty of the place.
Despite being such a young town, it has quickly become a very touristic place and it does not stop growing, with a population of about 3,000 inhabitants. The reason for this development is its spectacular surroundings, as it is located within the Los Glaciares National Park, next to one of the best-known mountains in all of the Andes: Cerro Fitz Roy.
El Chaltén is known as the Argentine capital of trekking, and its surroundings are perfect for hiking. There are many routes to explore its glaciers, hills, lagoons, and waterfalls, so if you decide to travel alone to El Chaltén, don't forget your hiking boots. You are going to use them a lot!
Check out the main trekking routes in El Chaltén and its surroundings.
Accommodation in El Chalten
El Chaltén is a very touristy place, so there is an accommodation of all kinds. You will find many hostels, hotels, inns, cabins...
There are also many campsites, both in town and along the trails. If you travel with a tent, you will surely be interested in reading this, as there is a path that connects the Fitz Roy and Torre trails. What many people do is the Fitz Roy trail, sleep in one of the campsites at the base of the hill and, the next day, go to Laguna Torre.
In my case, I did the trails on different days, returning to sleep in town. I stayed at the Cóndor de Los Andes hostel and I quite liked it. It is tiny, but very cute, with a common area with a fireplace, although the room was a bit small. It has a kitchen to be able to cook and thus not spend so much on restaurants and various services, such as laundry. In addition, it is well located near the bus terminal and the main streets of the town.
Guided tours of Argentenian Patagonia that include visits to El Chalten and it's surrounding areas are offered by Voyagers travel, here are a few itineraries that go through this area:
8 day end of the world (Patagonia and Ushuaia) with a visit to El Chalten
Discover Argentina 9 days including Patagonia and Iguassu
12 Extensive visit of Southern Argentina including Patagonia
Activities to do in El Chalten
Glamping
Glamping is a way of staying that is gaining more and more followers every day. The idea is to combine the experience of camping in the open air with the comforts and luxury of the best hotels. So you get the best of both worlds; you get in touch with nature, enjoying and becoming part of the environment, without sacrificing convenience and comfort.
In El Chalten, the best place to go glamping is ChaltenCamp. Located in the middle of the Patagonian native forest, this site has eight domes (something like bubble hotels, but cooler) with impressive panoramic views of Mount Fitz Roy, a private bathroom, and a warm decoration that is in harmony with the surroundings that will make your stay something truly memorable.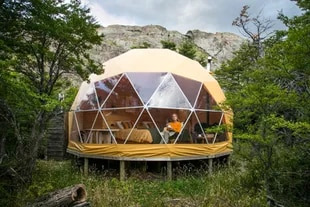 Rafting on the Las Vueltas River
If you've ever wanted to go whitewater rafting on a glacial tributary river, El Chalten gives you the opportunity to do so. If after doing several walks you want to "rest" your legs, rafting on the Las Vueltas River can be a good way to get your daily dose of adrenaline.
Tour companies in the area will take you to the Las Vueltas River to experience class III and IV rapids with Fitz Roy as your backdrop, so things can get quite exciting! As you would expect, you will be provided with all the necessary equipment, from life jackets and neoprene boots to helmets and of course the oars.
If you like adventure, this is undoubtedly one of the best things to do in El Chaltén.


Horse ride
Horseback riding is a fun activity anywhere, but in Patagonia it is something that reaches another level.
Throughout the region and in El Chalten specifically, you can ride a horse on many public and private lands enjoying the wide open spaces and stunning views.
El Chaltén is one of the most beautiful places to ride a horse, so there is no better place to enjoy this activity. Most horseback riding takes place at Estancias around El Chalten, either on the way back to El Calafate or at an Estancia along Route 41, which starts in the town of Los Antiguos, on the Chilean border, and ends at the mythical Route 40.
You can book tours directly from El Chalten or choose to stay at one of the Estancias and book a horseback ride directly with them. Voyagers travel offers a fully guided tour itinerary along Ruta 40.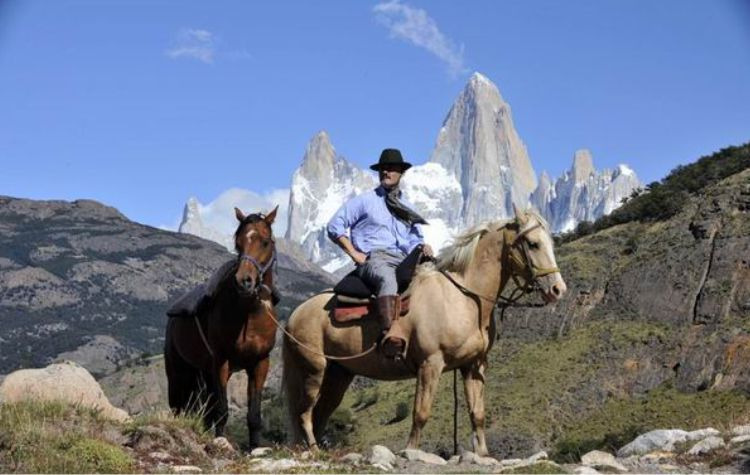 Ice walk
If you want to do a different type of trekking, putting on some crampons and walking on the ice of a huge glacier can be an absolutely incomparable experience.
This region of Argentina is full of glaciers that you can walk on an excursion. The most popular is the Perito Moreno Glacier, a mass of ice of more than 600 square km and 60 meters high that will leave you speechless as soon as you see it.
Voyagers travel offers fully guided visits to Perito Moreno glacier as seen in this suggested 4 day itinerary.
Now, there are other less touristy options that you can take advantage of if wish to avoid the crowds and see something different, Voyagers travel offers custom tour options – contact us for more details. The most popular from El Chaltén is the Viedma Glacier, which is located in the lake of the same name. Its deep blue cracks and the imposing landscape that surrounds it make this activity one of the best things to do in El Chaltén.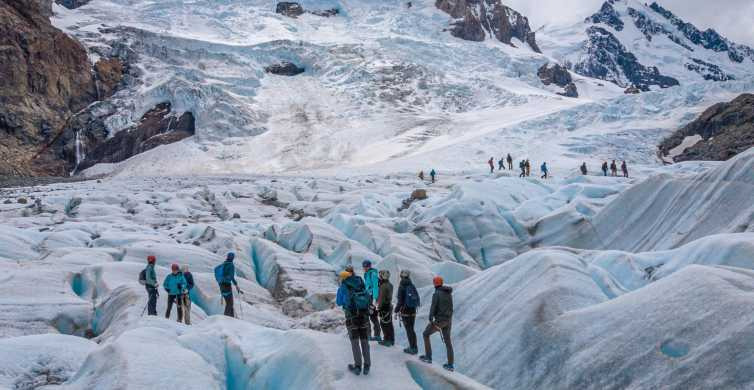 Fly fishing
Patagonia is a very popular destination for a fishing trip, offering endless fly fishing options, and the waters around El Chalten are no exception.
Whether you find a fishing lodge to stay at, hire a guide for the day, or simply buy a license in town before heading out on your own, you should definitely try to catch some rainbow trout in the local waters.
The Lago del Desierto and the aforementioned Río de Las Vueltas are good options for fishing on the outskirts of the city from November to May.
Visit the petrified forest La Leona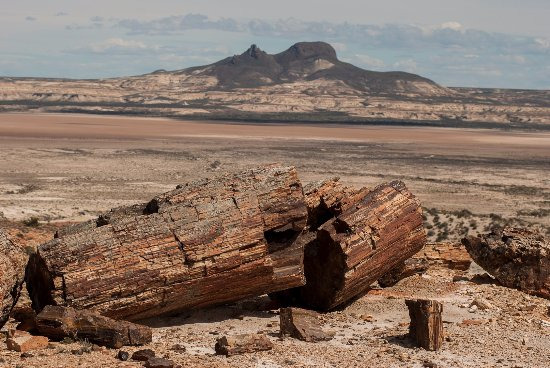 Halfway between El Chaltén and El Calafate, just off Route 40, in a private ranch, is La Leona Petrified Forest, a place where you will find dinosaur fossils, rock formations, and petrified trees in the middle of a moonscape.
If you decide to visit this destination, you can take an easy walk of about 12 km through the area, learning about the forests, the volcanoes, and the dinosaurs that once existed in that extension of land that today is a desert.

You'll hear all about the geology and paleontology of the area, and some tours even include a stop at the historic Hotel La Leona, which has hosted countless famous guests.
Visit the El Chorrillo waterfall
A popular walk to do in El Chaltén is the one that will take you in just over an hour (round trip) to Salto El Chorrillo, a natural waterfall in the heart of Argentine Patagonia.
Along the way, you'll find wildflowers, forests, and air that gets more humid as you get closer to the falls. It is an easy and popular hike if you have already done the bigger hikes around El Chalten. Also, the lake is a great place for a picnic.
The water is rumored to be drinkable and many fun-loving hikers even jump in for a swim in the summer months (in winter we don't recommend it because hypothermia is not cool at all)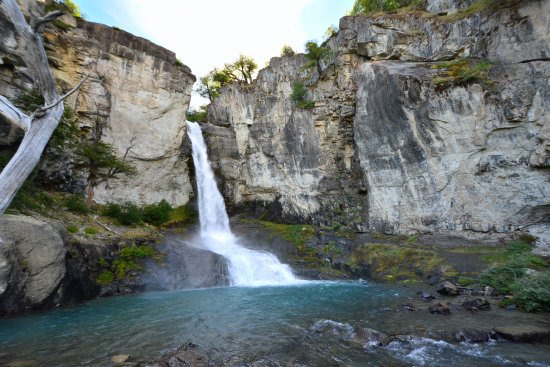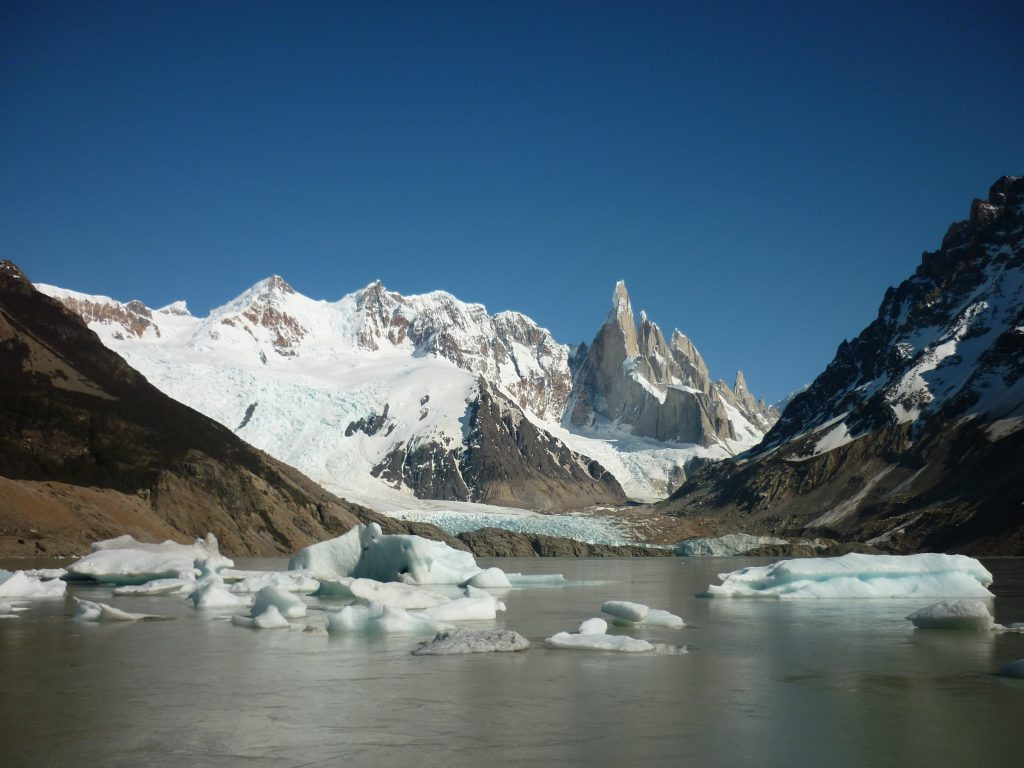 Another of the most popular activities to do in El Chaltén is to go on an excursion to Laguna Torre. This route, which is about 18 km long round trip, is much easier than Laguna de Los Tres and has an incredible view of Laguna Torre, Glaciar Grande, and Cerro Torre.
If you are not sure about being able to complete the Laguna de Los Tres trail, we recommend doing this other one, since the landscapes are also very cool, but the difficulty is considerably lower
Much of the trail here is flat, saving a few small inclines, so seven hours is more than enough time to complete the trail at a steady pace. That said, you can do it in 5 if you're a fast hiker.
Those who do not want to do the entire trail, they can choose to walk only to Mirador de la Torre, which is only 3 km from the trailhead.
Los Cóndores and Las Águilas viewpoints
Another easy hike, but perfect for when you want to get out of town for some views. Los Cóndores and Las Águilas viewpoints are ideal for a half-day adventure or a warm-up hike.
This walk takes you through meadows and forests to Lake Viedma, where you can see the glacier and, as the names of the viewpoints suggest, spot eagles and condors flying overhead (because the place is so cool, but creativity in naming it a bit loose :P).
It is a good trail for those who are not willing to hike to Fitz Roy or Laguna Torre, as it is relatively short and you can choose to go to one or both viewpoints.
So far we have come up with this review of the ten best activities to do in El Chaltén. We hope you liked this article and it helps you plan your visit to the National Capital of Trekking in Argentina. If so, be sure to share it!