A Sacred Valley Travelogue
Starting off at dawn I headed to Chinchero, in a car with a driver. The full day driving tour took about nine hours but it seems to have passed in a jiffy.
On my way I saw scenic mountains scattered over with flowers and bushes, and the large indigenous community who travel from Cusco to the sacred lands of the Inca Valley, for trade, private reasons or for pilgrimage, or who grow crops, since the soil around Chinchero is reputed to be Peru's best.
Here are the details of a full day trip around the Sacred Valley, at Voyagers Travel we can also offer itineraries that cover the main attractions in Peru and include a visit to the Sacred Valley:
4 Day Cusco and Sacred Valley Tour - https://www.voyagers.travel/peru/tours/cusco-sacred-valley-tour
9 day Peru Tour including a visit to the Sacred Valley - https://www.voyagers.travel/peru/tours/peru-inca-voyage-9-days
16 day vacation visiting Peru and Galapagos - https://www.voyagers.travel/peru/tours/peru-sacred-valley-and-galapagos-journey-16-days
Chinchero Market and Weavers
Chinchero is the Center of Peru's weaving industry, and it was a free-of-charge, tip-based, demonstration of weaving skills that drew my attention in the first place.
Upon arrival in the town, I headed to the Interpretation Center of Andean Textiles for the weaving workshop that exhibits the ancient craft of Peruvian weaving. The art has been kept alive for centuries by the generation of industrious Chinchero weavers and has truly become one of the region's main attractions.
The weaving class itself was a one of its kind interactive experience, helping one learn the art of ancient Incas while mastering its rudiments.
Especially memorable were the parts of the demonstration where weavers showed how they create different colors and proceed to make them into a cloth and the weavers' artful use of the traditional tools to give the cloth its unique texture.
What followed next was the textile cooperative section where I was shown how the wool is washed, dyed, and spun: for example, I saw a brand new Alpaca jumper, made right at the site…
What is more, I and fellow travelers were offered mate drinks, which the weavers shared with us.
But for sure one of the main reasons to visit Chinchero is the fact that you can purchase authentic Peruvian textile wares at wholesale prices: so it was after stocking up on good bargain original Inca Valley cloth that I proceeded on my journey to my next Inca Valley destination, Moray.
Keep in mind that Chinchero is not just a place to see weaving demonstrations but also home to a stunning centuries-old Catholic prayer house, situated on the main square in a place once home to the magnificent palace of Tupac.
You can also find here a bustling market, where on Saturday villages from surrounding areas come to barter and exchange local goods. Head to the market if you are in need of local craft or goods, but don't forget that fruit and vegetables can go high during your journey ahead.
Also, you may want to know that the town is believed to be the birthplace of the rainbow, according to the local folklore, while the region's official banner is the rainbow flag, emphasizing the diversity of the tribesmen.

Maras Salt Pools
It took me and my driver about half an hour to get to Maras, one of the Sacred Valley's main landmarks.
The ride took me through a scenic flower-dotted mountainscape and ended up in the scenic salt terraces of ancient Maras, known as one of the world's largest and top-quality salt extraction sites.
It is not just a vast reserve of choice pink salt among other varieties, it is also one of the most word ancient sites thanks to natural springs of saltwater and unique local know-how: each plot is ascribed to a local household, which keeps the traditional craft of salt extraction tight within the communal bounds.
After taking time to commune with the scenic nature of the site; walking around the mesmeric terraces and buying some prime-quality quinoa, a local staple much prized for its nutritional benefits, I jumped into the car, rented for the day, and headed to Moray, an even more significant Inca Valley landmark.
Bear in mind that you can have a slap-up portion of local fare at Macha Mecha Restaurant: head here to delight in the authentic Inca Valley cookery.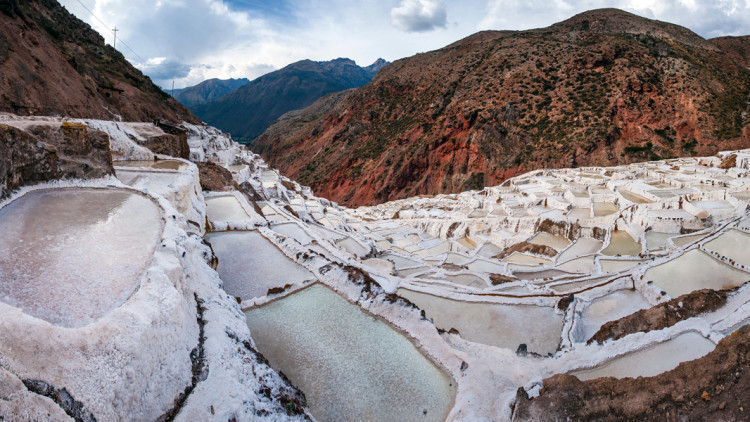 Moray Ruins
A veritable off the beaten track locale, Moray is situated somewhat away from top Sacred Valley touristic sites.
I arrived here by noon, and the lighting was gorgeous. It seemed that I was standing by a bowl filled with liquid gold…
The structure is shaped in the shape of a Roman amphitheater but it is nothing of the kind.
It used to be an experimental farm where thanks to systematic soil grafts new species of crops like potatoes were found.
It is thanks to the scientific acumen of the capable Inca agriculture mavens that Peru has the world's most diverse potato offer, and prides itself on being the motherland of this, now cosmopolitan crop.
Keep also in mind that even during the rains the terraces never flood, bearing witness to the engineering genius of the ancient civilizations and pointing to the presence of a vast network of underground drains.
What is more, the different levels of the former farm offer different climatic conditions, making it one of the miracles of Inca culture which may well be more complex to design the more famed landmarks like Machu Picchu.
Then I went for a small hike along some of the many hiking trails crisscrossing the area, but one should be forget that one can go trekking for longer distances, for example by hiking from Maras to Moray Ruins.
The trailhead of this stunning Sacred Valley hiking route is situated at Media Luna, and leads you through Maras Salt Mines, Maras town and into the Moray Ruins area.
Note that there is no public transport back to Maras but that it is easy to hop on a bus from Maras: you can catch a bus back to Cusco or on to Urubamba, a great gateway to and hub in the Inca Valley.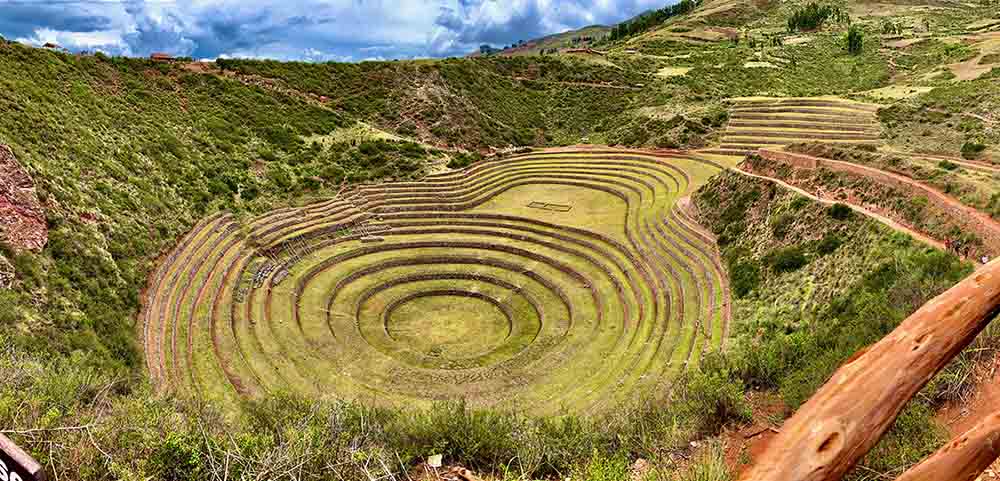 Road back to Cusco
Me and the driver took a stroll around the locale strewn with bundles of local travellers and talked to locals; then before it got late we had to return to Cusco.
On my way back I regretted not making it a multi-day trip and now I plan for a new trip but this time for about a week into the region.
Whereas many tourist operators offer booking a tour of the area in a van or boost your experience even further with ATVs' rides or drone shooting, I found a lesser known option.
On my second trip I'm going to hike on HUCHUY COSCO, 18km, medium-diff, running through Chinchero, and it's hinterland, and go hiking into the mountains, some of the best and most ancient treks in the most preserved region of the former Inca Empire.
Like this I can have more time to myself and will feel free to explore the local communities.