We reveal the best Peru experiences, from trekking to Machu Picchu to viewing rainbow mountains, as Peru celebrates its 200th year of independence from Spain.
1. Machu Picchu Inca Citadel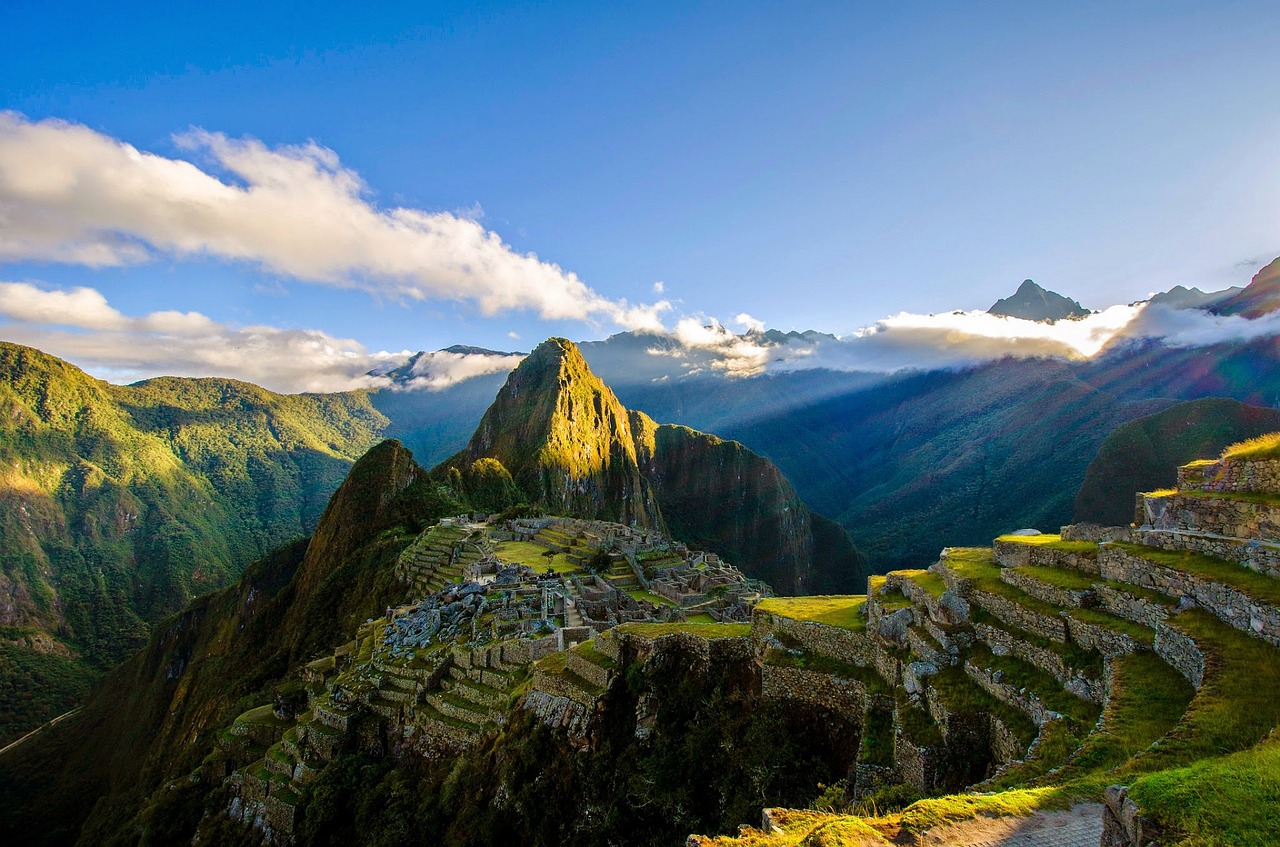 The majestic Inca City is perched on a ridge 300m above the Urubamba River. It is the highest ruined city in the world. The stunning backdrop of tall, lush, and often cloud-shrouded mountain peaks is almost as impressive as the ruins.
You can see why the Incas chose Machu Picchu to build their city from the vantage point of the caretaker's house.
Hiram Bingham discovered Machu Picchu in 1911. He believed, until his death, that it was the "Lost City of the Incas," first recorded by Spanish soldiers in the 1500s. Historians now believe that the true lost city of Incas is at Espiritu Pampa. This ruin was discovered by Hiram Bingham, but it was not considered significant.
Machu Picchu is only as good as the journey. It's impossible to not be inspired by the beauty of the landscape in any case. Trains depart from Cusco, Ollantaytambo or Urubamba to AguasCalientes.
Aguas Calientes is the town below Machu Picchu. From there, you can take a bus to Machu Picchu. It takes about 20 minutes along a treacherous switchback road. Although it is possible to hike up the road to the site this is not recommended.
New admission rules have been put in place for Machu Pichu as of January 2020. You must be accompanied by a guide and follow a specific tour route. Also, you must arrive at the park at a certain time.
High season is June-August, but the two months to the east and west of that are good weather and offer a great time to visit with less crowds.
2. Hike the Inca Trail to Machu Picchu
While there are several ways to get there, most commonly being by train and bus, one of the best ways to see Machu Picchu is by hiking the Inca Trail. You can see Machu Picchu from the exact same path that the Inca used over 500 years ago. This hike is great for history buffs, athletes, and anyone who wants to see Machu Picchu sunrise. If you have specific dates for your Peru trip, it is important to plan ahead. Permits for the 4-Day Inca trail can sell quickly.
There's also the shorter 2-Day version of the Inca Trail that involves no overnight camping if that's not your style! This is a great option for those who want to add adventure activities to their Peru trip but not overdo it.
Keep in mind that the Inca trail is closed for maintenance every February when you plan your Peru trip. Even if you're planning a trip to Peru in February, there are many alternative hiking options available for you to enjoy.
3. Take a Lima Food Tour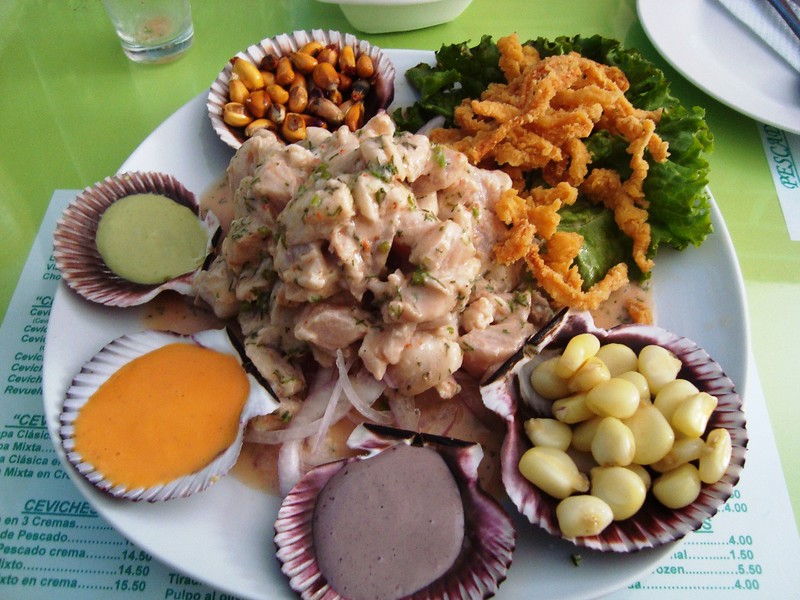 Ask any Peruvian, and they will tell you that the best thing to do is eat in Lima. You can combine sightseeing in Lima with tasting traditional Peruvian cuisines by taking a food tour.
A food tour is a great way to get to know Lima and the best places to eat throughout your trip.
Exquisito and Lima Gourmet will provide you with delicious Peruvian dishes such as ceviche, lomo salado, causa and craft beer. You'll discover hidden treasures of the city as you travel from famous Peruvian landmarks to the next, and you'll also learn about the places you visit.
4. Rainbow Mountain: Hike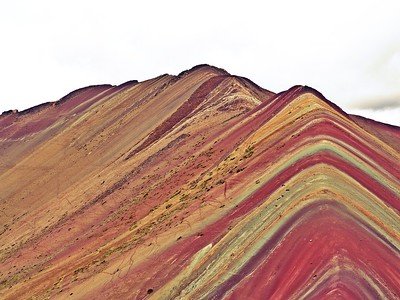 One of the most popular things to do in Peru is to hike up to Rainbow Mountain. The trek is over 17,000 feet and takes you along a dirt path through the imposing peaks of red rock and green. This beautiful route takes you past villages made from stone and shimmering streams to reach a mountain scene of rainbow-coloured mountains that you won't forget.
This mountain's amazing colors are due to an earthy mixture of minerals that gives it its unique rainbow stripes.
It is important to note that Rainbow Mountain is part the majestic Andes. It sits at 5200m (17060 feet) above sea level. It is just 200m (656 feet) higher than Mount Everest's basecamp at 5400m (17716ft). This means that everyone should take extreme precautions to avoid altitude sickness when hiking Rainbow Mountain.
Visit the nearby Red Valley or Valle Rojo in Spanish after you have seen the Rainbow Mountain. It's not as touristy than Rainbow Mountain, but it's absolutely stunning.
Even though things are slow right now due to the pandemic there are options. You can opt to hike Palccoyo's more tranquil, but equally breathtaking, brother Palccoyo.
5. Huacachina and the Desert


Huacachina in Peru is a village that was built around the Oasis of America, a natural lake located in the middle of the desert. It is a stunning location that you should add to your list. The lake is surrounded by massive dunes and has many hotels, guesthouses, and restaurants. This is a great place to relax for a while.
Most people don't know Peru has a desert before they visit it. A huge desert covering 188,700 km is not uncommon. It is one the most beautiful deserts I've ever seen, and it is great fun to ride its slopes. Nothing was more satisfying than climbing up a dunes to watch the sun set.
Snowboarding is something we love so much that we decided to learn sandboarding when we visited the highest sand dunes anywhere in the world. It wasn't as easy as snowboarding. Although it is more difficult to create edges, once you get the hang of it it can be a great thrill.
This is the best thing to do in Peru if you want to make your heart beat faster! The dunes are so high that I was afraid we would flip on our dune buggy ride! This was one of the most thrilling, heart-pounding rides we have ever experienced. Although dune-buggy tours can be taken at any time of the day, it is best to do them in the afternoon to enjoy the sunset over the desert. You can hold your breath, buggies carrying up to 20 people will smash the dunes from every angle while expert drivers slide and skid you back down the other side.
6. Arequipa, Peru's Hippest City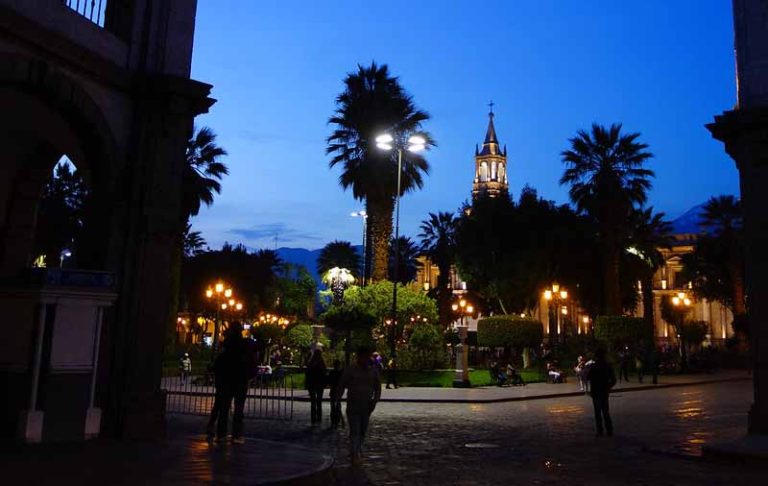 Peru's second largest city, Arequipa, doesn't receive as much attention as it might seem.
Arequipa, also known as "white city"
, is full of colonial history. The Plaza de Armas is the central square. It features the cathedral, porticoes and other important neoclassical structures.
You can follow a grid-like pattern of streets through the historic center. You'll find 49 blocks that are the original Spanish layout. There are also churches, mansions and offices. These were built after Arequipa was established in 1540. It's easy to just wander around Arequipa if you are looking for things to do. There are many great places to eat, drink and explore the Callejon del Solar area. The main landmarks can be found around the central square.
One of the most interesting activity is visiting the Santa Catalina Monastery, where you'll learn how the girls were anything but humble! You will also find Santuarios Andinos here, a small museum that has a dark secret. It contains the mummified remains and human sacrifices of young victims who were offered to the city from the high peaks. Juanita, a 550-year-old ice maiden, is one of the most well-preserved and poignant of all the nearby mummies. It takes approximately 15 hours to get from Lima to Arequipa by bus, but it is very safe, comfortable, and reasonably priced. You can also fly for two hours. It takes about ten hours to get by bus from Cusco.
7. Cordillera Blanca: Go trekking
The Cordillera Blanca or "White Range" in English is one of the most spectacular places to hike in Peru. The mountain range includes 80 peaks, 15 of which are over 6,000m.
The 4-day Santa Cruz trek is the most popular in the area. The trek offers breathtaking views, including a view of a mountain thought to be one of the Paramount Pictures logo peaks. Other than the Santa Cruz, there's plenty of other hikes like the Laguna 69 for 1 or the challenging Huayhuash Trek for 8-12 days. We completed the Laguna 69 and Huayhuash trails during our trip to the region. We endured altitude sickness, long days of hiking, and were ultimately rewarded with an unforgettable experience that will last a lifetime.

Although the area is remote, Huaraz, a small town, holds the key to this stunning place. Huaraz is located 10 hours by bus from the capital of Peru, Lima. Despite its stunning views, the town is often populated by locals from the surrounding villages rather than international tourists. It is not often possible to make it, but those who do are usually more adventurous travelers making Huaraz or the Cordillera Blanca a great place to explore in Peru.
8. Swimming with the sea lions at Palomino Island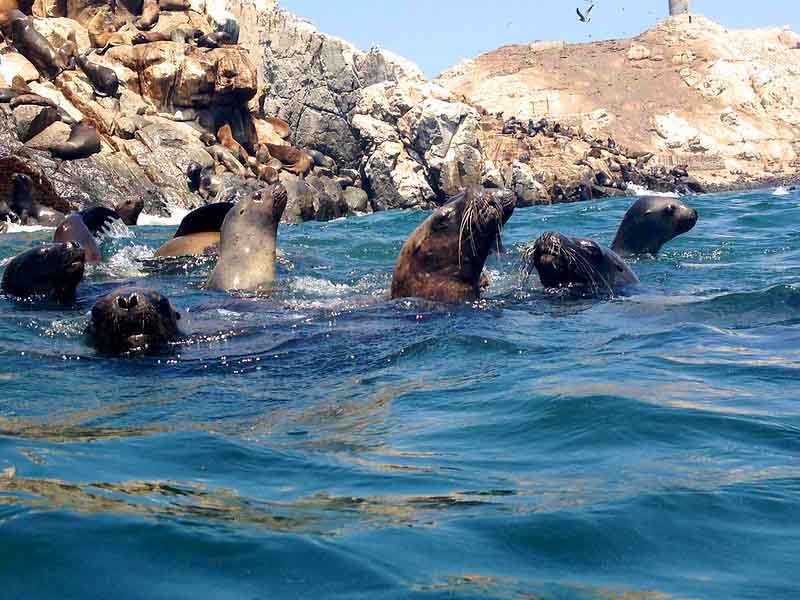 Is an incredible wildlife opportunity to seek out in Peru. You can find this bucket-list experience not far from Lima, Peru's capital. Palomino Island is located just off Lima and boasts thousands of sea lions.
Eco tours take passengers to the island to view the famous residents. Palomino Island is known as the "Little Galapagos of Lima" because of its abundance of sea lions. Visitors to Palomino Island will also be able to spot many other species of sea birds, penguins and more.
The highlight of Palomino Island, however, is the chance to swim in the open sea with wild sea lions. The boat trip to the island off the coast offers the opportunity to snorkel with these curious and friendly marine mammals. These sea lions are a friendly bunch and are happy to interact with visitors. Palomino Island's sea-lion population is not fed, and strict rules have been set up for visitors to ensure that this activity remains non-invasive and eco-friendly.
This allows for a wonderful wildlife experience, which can be enjoyed right from Lima. Every day, boats depart from Callao. The tour takes between 3 and 4 hours depending on which operator it is. Nature-lovers who are interested in swimming with sea lions at Palomino Island may find this a wonderful half-day excursion to take right from the capital.
9.Visit Kuelap Ruins
We now move on to the next set of ruins in Peru. Even though we are not back on the beaten path, these ruins are just as impressive as Machu Picchu. Chachapoyas is the nearest major town to Kuelap, located in the Andean rainforest on the border of the Amazon and this mountain range. It's a serious trip north of Lima. However, it is certain that only the most dedicated travellers make it there. But, it is certain that they will enjoy something Peru offers that no other tourists can experience.
The citadel once contained 400 structures, most of which were circular in shape and were home to approximately 3000 people. It is largely unrestored, which adds to its unique appeal. However, the surrounding vegetation is slowly reclaiming it. The imposing outer wall, which was actually two lines of defense, is still intact along with some of the buildings. Kuelap's large size (the citadel measured 600m (1968 feet) at each end), it is possible to spend an entire morning or afternoon there.
It is difficult to get to Kuelap. The citadel is in an isolated location, about a two-three-hour drive from Chachapoyas. There is no accommodation nearby. Book a tour starting from Chachapoyas. Our guide was fantastic and gave us many interesting facts about the site that we wouldn't have learned from a guidebook.
10. Discover the Amazon as it really is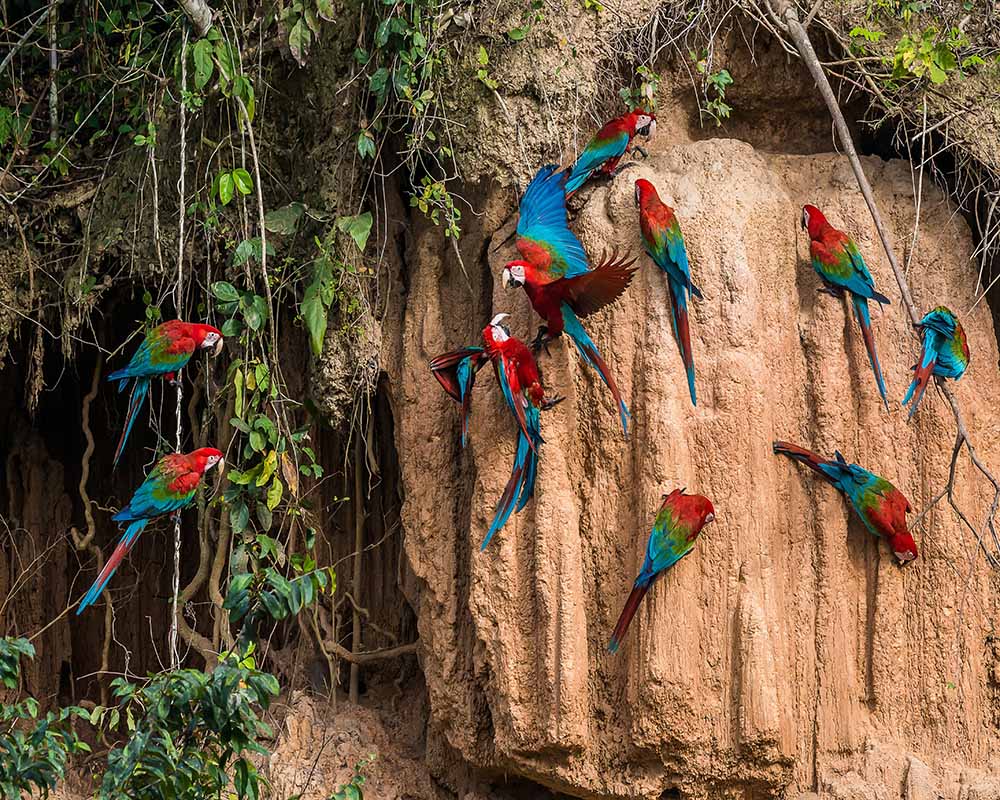 Peru is the country where the Amazon got its start, in Carhuasanta. It then winds its way down through the Andes to the Amazon basin on its other side. Peru is the only country in South America where you can see each form of it. The Amazon jungle's Peruvian section is perhaps the most prolific and diverse. Manu National Park, which is home to over 1,000 bird species and more than 200 mammal species, is among the most biodiverse areas of the world.
You can meet caiman, paddle canoes down tranquil watersways, and be lulled by the all-encompassing "symphony" of green. You can either explore the river on your own or help out with a volunteer project.
You can sleep in a treehouse, fish for piranhas, discover a new species, or take a luxury cruise down the Amazon River for a chance to see a rare pink dolphin! It doesn't matter how you experience it, make sure to get a window seat because the view from the top is breathtaking!
11. Spend a day spotting Condors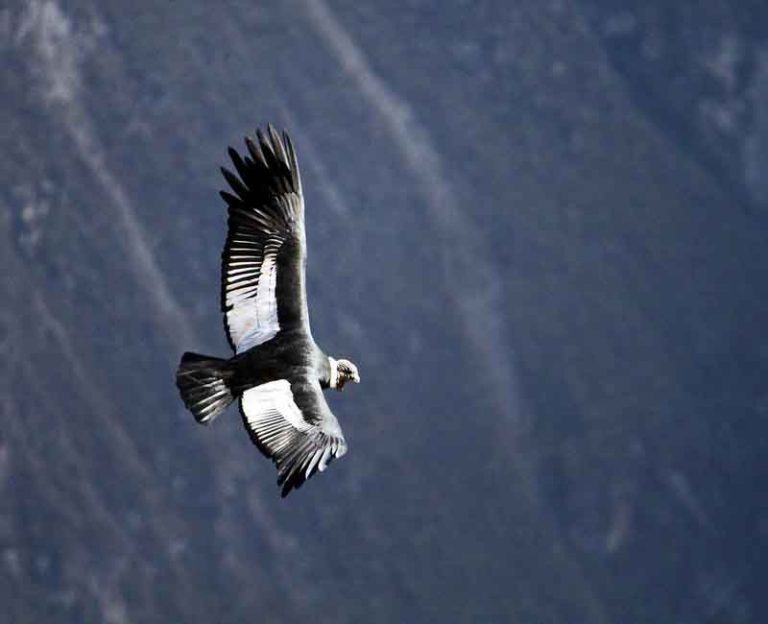 The Amazon's source is found in the far south of Peru, where you will find ice mummies and misty volcanoes. Colca is also a deep canyon where condors rule.
Go to Cruz del Condor viewpoint. The best place to see these magnificent birds on morning's thermals is at Cruz del Condor viewpoint. As they glide, turn and dive, you can watch them as they climb up above your head, before slowly making their way down the canyon's length, disappearing from view.
The Colca Canyon is a place of extraordinary beauty. The beauty of the landscapes and mountains is breathtaking. This area is well-known for its traditional villages and indigenous cultures.
There are many day trips from Arequipa that will take you to the most popular tourist spots. Walking is the best way to explore the Colca Canyon. It takes 3 days to hike the Colca Canyon Trek, which is quite strenuous and will take you to the canyon's bottom.
The Colca Canyon is twice the depth of the Grand Canyon so it's easy to imagine the steep and long descent you will face on your first day. You can stay in small guest houses in the villages. Before you start hiking out on the third day, I recommend that you spend some time exploring rural life in the canyon. It's steep and tiring, but the views are well worth it. It should be on everyone's Peru bucket-list.
12. Explore Cusco's historical heritage
The Plaza de Armas is the heart of the tourist area and home to several of the top things to do in Cusco. There are many shops and restaurants in the historic square, some with balconies upstairs to take in the views. Two of the city's most iconic buildings can also be found here. Although it was built on an Inca site, many of the buildings surrounding it are Spanish colonial in style. On the other side is the Cusco Cathedral. It is best known for its famous Last Supper painting. However, it has a Peruvian twist: they are eating guinea pork. The plaza is also surrounded by the Iglesia De la Compania de Jesus.
You'll find the statue of Jose Gabriel Tupac Amaru in the Plaza de Armas. He was executed there after leading an uprising against Spanish conquerors. The famous 12-angled stone is located around the corner of the cathedral. You should be able to see it because you will probably find a lot of people taking pictures of it. This particular stone is known for its unusual, but perfectly-fitted sides, which sit inexorably in the foundation of the building.
Most tourists are tempted by Macchu Picchu and the Inca trail just over the hills to leave Cusco as quickly as possible. This stunning colonial city has even more to offer for those who are willing to stay a few extra days.
A Boleto Turistico del Cusco pass gives access to 15 key historic sites. Next, head to Sacsayhuaman with its breathtaking views and then walk down to Cusco via San Blas, the artisan district, which has galleries and boutiques.
Next, head to the Sacred Valley (the valley of the Urubamba River), where you can visit historic Inca sites such as Pisac and Ollantaytambo. Visit the Chinchero Market on a Tuesday, Thursday, or Sunday if you are in the area. It isn't quite as touristy than the Pisac market, but it offers a chance to shop at the nearby textile cooperative. Maras's pre-Incan salt pans, or salineras, are well worth a visit. Check out our tours that include Cuzco and its surroundings.
13. Keep your head high and pierce the clouds

The Incas were the first to call the Chachapoyan "people of clouds" and their mountaintop hideaway, shrouded by mist and covered with jungle, was straight out of Indiana Jones' film.
Although the Chachapoyan left a remarkable collection of hilltop fortifications, roundhouse remains and sophisticated hilltop fortifications, it was their meticulous preservation of their dead that has fascinated archeologists as well as travellers.
Many caches of mummies were found high up in the cliffs or underground vaults. Make sure you have your wellies and a machete.
14. Read Between The Nazca Lines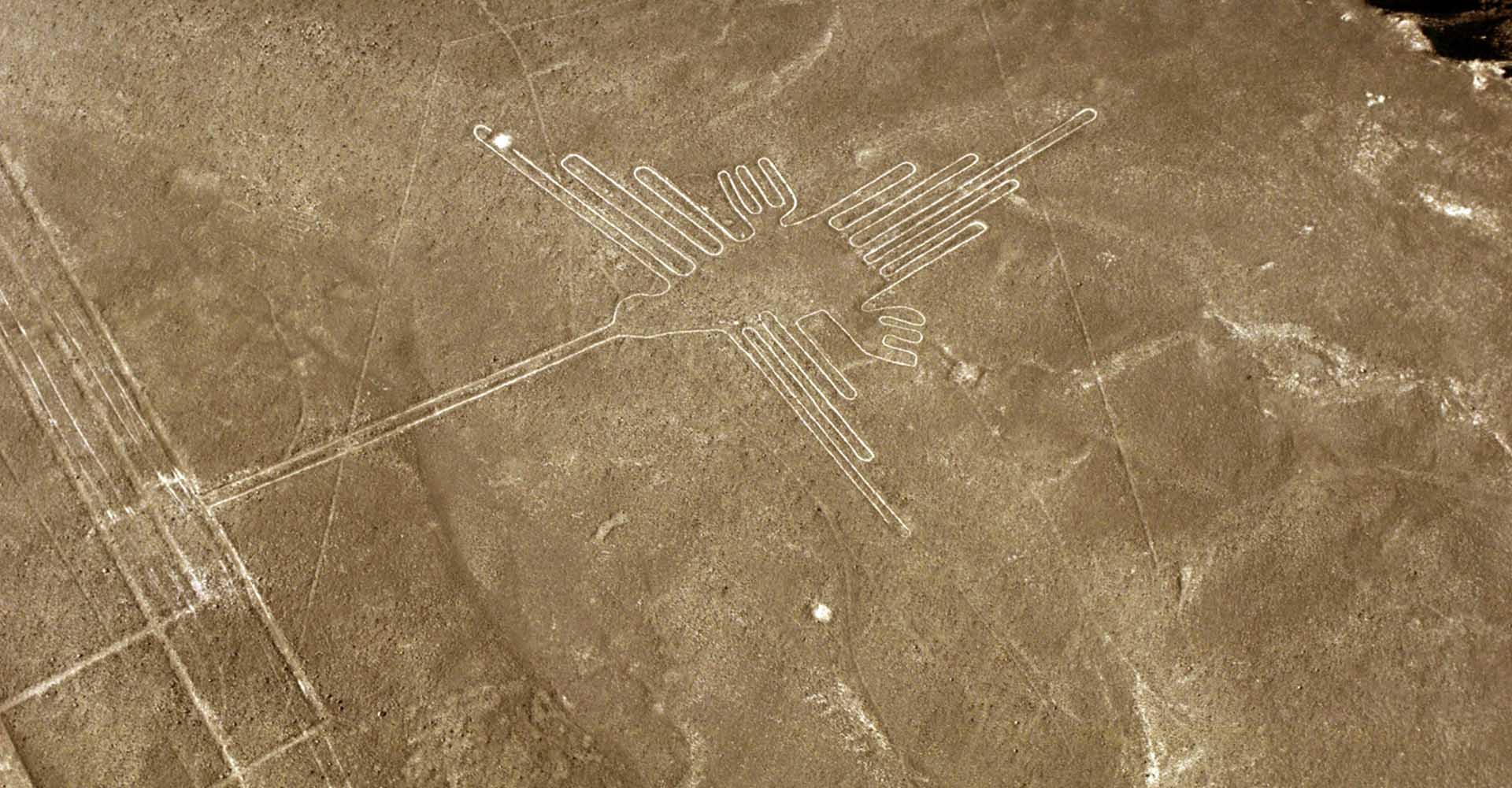 The Nazca Lines, which are large, detailed drawings that have been etched onto the barren landscapes of Peru's coast desert located around 400km south from Lima, are massive. Experts have long puzzled over the mysterious and mysterious figures of animals and people etched into desert dust. The lines were believed to have been created by the Nazca people. Although they predate the Incas by up to 2,000 years, the Nazca people's extreme environment has minimized erosion and preserved the lines. Carl Sagan, an American Astronomer, believed they were created by spacemen and woman. Take an aerial tour of the site to make your own decision.
15. White water rafting on the majestic Rio Apurimac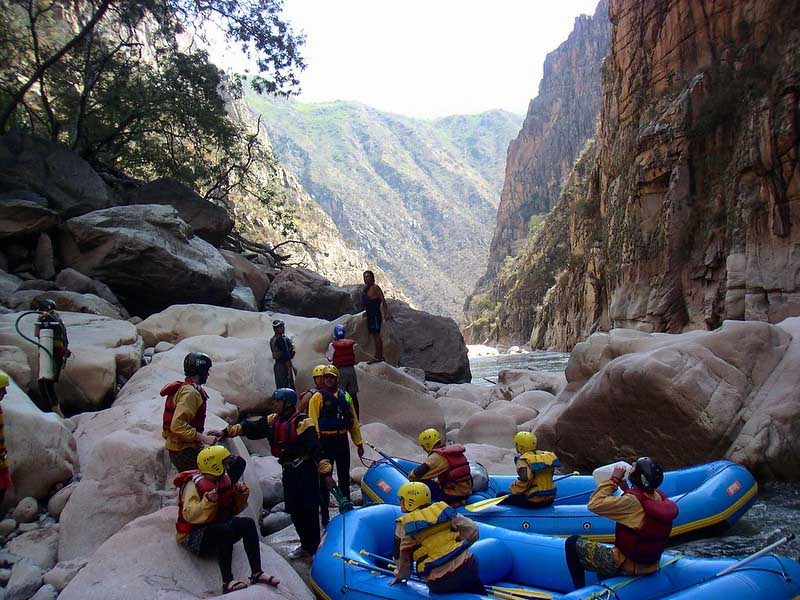 Peruvian white water rafting is thrilling and breathtaking. As rivers flow from the Andes, they become streams high up in the Andes. They grow in size and power as they travel towards the Amazon, carving through rugged mountains and amazing canyons.
The Rio Apurimac is a thrilling rafting trip. It cuts through a deep canyon just a few kilometers from Cusco. The rafting begins at 3,400m and proceeds at a slower pace through the more calmer sections of the river. Enjoying lunch on the sandy beach next to the river is the beginning of the adventure. Then comes the challenging rapids under the shadow of the cliffs.
16. Trek to Choquequirao's Lost City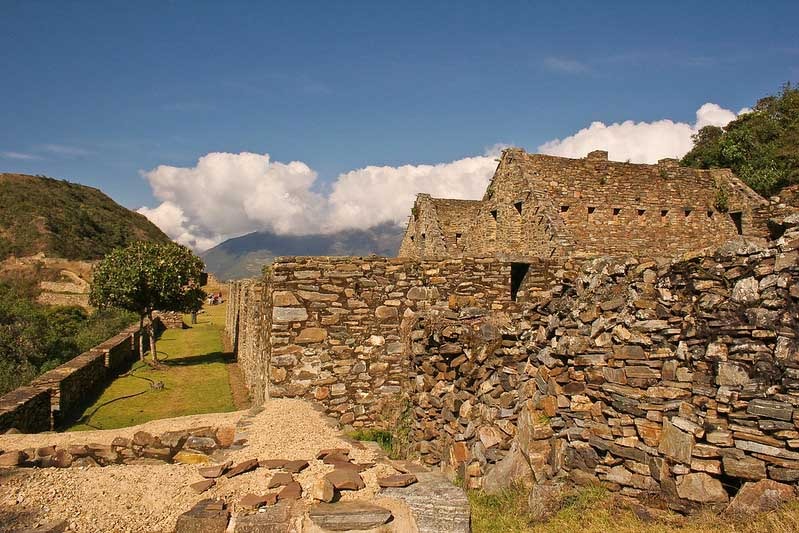 The Lost City of Choquequirao, which is larger than Machu Picchu and more remote, is one of the most beautiful places in Peru. It is perched high on a hilltop and looks out over vast jungle swathes to the majestic peaks below.
It was built in the same style as Machu Picchu on terraces and surrounded by stone. It is located at the confluence three rivers and requires a four-day hike to reach Choquequirao. It is often covered in clouds, with the jungle pressing in on all sides, but it is still mysterious, magical, and refreshingly undiscovered by tourists. The site is often explored by archaeologists.
You may also find an Incan treasure hidden in plain sight.
17. Take the train from Cuzco to Lake Titicaca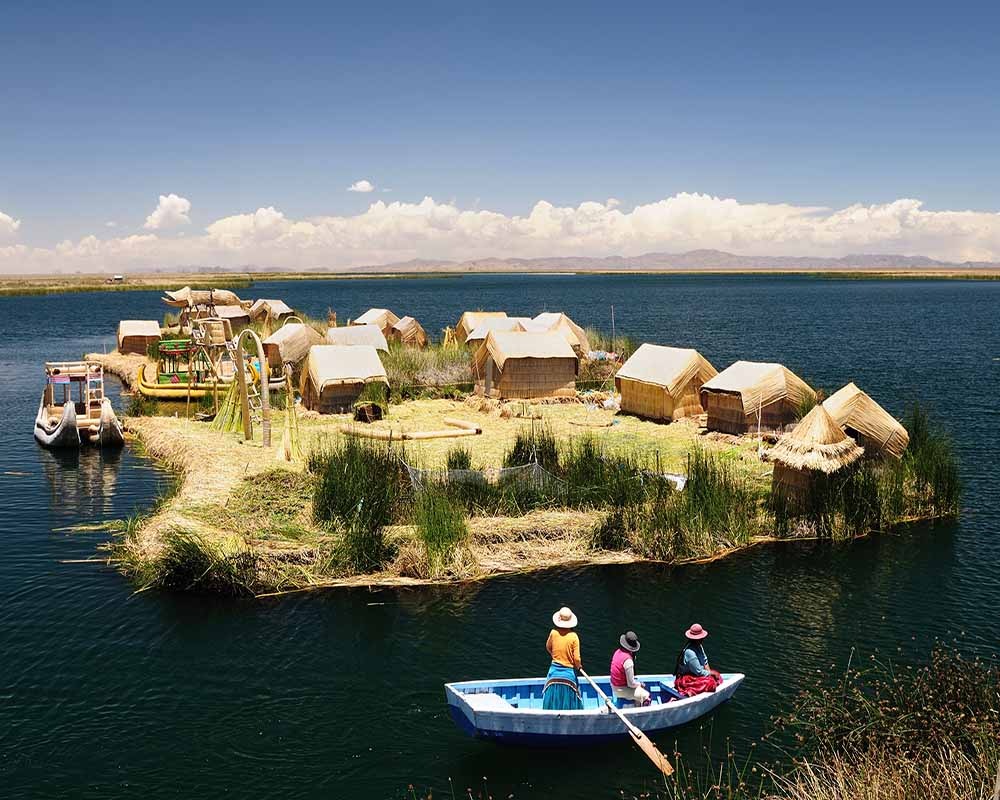 Lake Titicaca, the largest lake in South America, is also the most navigable lake in the entire world. It was believed to be the birthplace for the sun by the Incas. It is often rated by Peruvian travelers as their highlight.
Most famous are the man-made islands in the lake, made from totora Reeds. These islands provide floating homes for Uros Indians. You can also make boats, homes, and basic toys with the reeds. Puno is the ideal base for exploring the islands. Here you can take a walk on the unnervingly soft surface and see the old traditions of the local people.
You can experience a true treat by taking the Titicaca train across the Andean altiplano, between Cusco (and Lake Titicaca) for a truly unforgettable experience. Widescreen landscapes are expected, with llama-dotted plains as well as valleys sprinkled with Adobe villages. Check out our Sacred Valley and Lake Titicaca tour