To many hikers on the main trail to Machu Picchu, it has been a once-of-a-lifetime destination for many and now it is on main list for visitors. The most famous path, the Inca Trail, is the most famous hiking trail leading there but there are others and it is one of the hidden hiking gems that you're going to read about .
Salkantay Trek takes you through lush low-land jungle settings and high altitude alpine ground with stunning glaciers like that of Nevado Salkantay and features Peru's most holy sites, Machu Picchu and Llactapata to add to Salkantay itself and its environs with scenic Humantay Lake.

During my last stay in Peru in 2021, I had really itchy feet and went on a hike along the Salkantay Trek, but which, differently from Inca Trail, is less crowded and if you are reasonably fit can be done within a three to five day period.
Voyagers Travel offers organized adventures on the Salkantay trail and other amazing routes in the Peruvian Andes with all services included, private transport, experienced guides, porterage, catering and all the fine details, check out our sample programs:
Trekking log & personal experience
Bellow I will narrate a backpacker style experience on the Salkantay Trek as a solo traveler.
Day 1
Starting out from Cusco
I woke up early in the day. Having breakfast, I pulled on the backpack, and after a fifteen minutes ride or so arrived at the bus station, Arcopata, for the ride to Mollepata.
The shared van taxi ride takes about 2 hours and sets you back around 50 SOLES, with a private car costing as much as 300-400SOLES.
Mollepata-Soray Pampa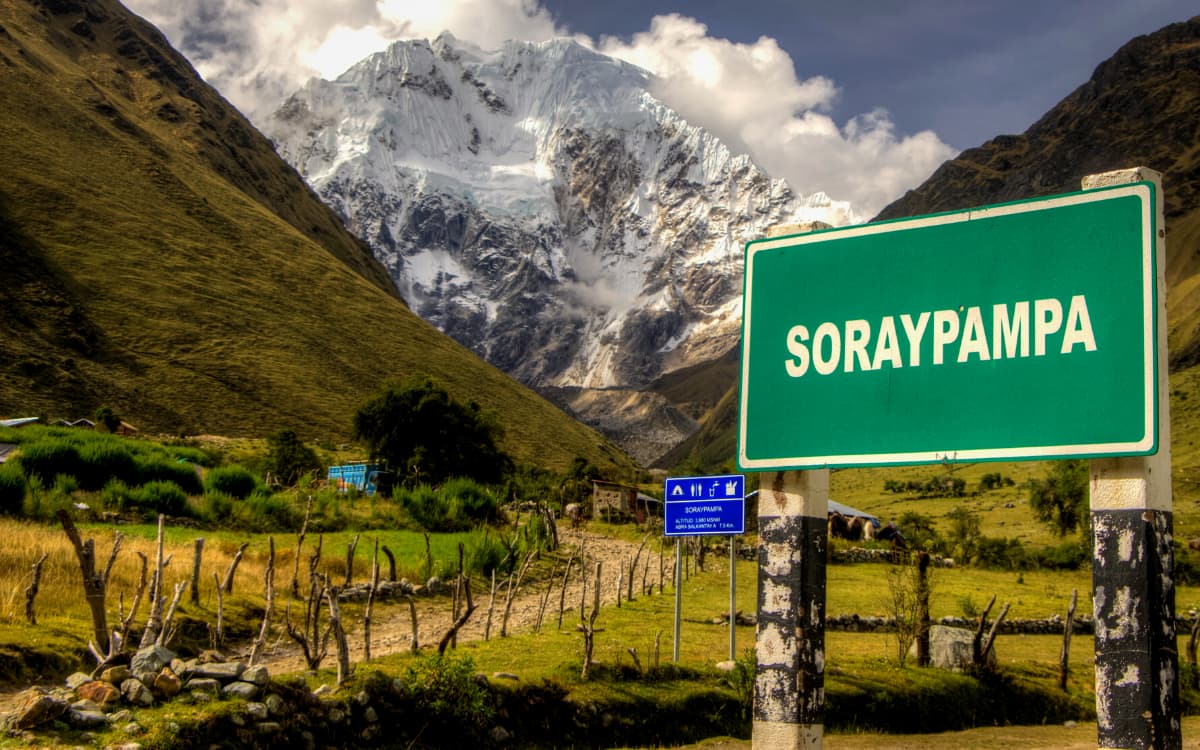 Upon arrival in Mollepata, I stocked up on snacks and water, because the widespread presence of local alpacas make it necessary to have stream or other fresh water purified before drinking.
After having breakfast at Mollepata, where you can start your hike off a trail head featuring some unpleasant terrain, I jumped on a shared taxi to Saya Pata, perched at an altitude of 3.200m high, on arriving there I started hiking the trek proper.
On the first section of the trek I chanced to see the panoramic view of the Salkantay Mountain, one of the world's hardest peaks to conquer: I will never forget that view.
I made my way to Soray Pampa right by 17.00-17.30.
Situated at 3,950-4,100m up high, it was here that I had dinner and went ambling around to take photos and get my rice crackers out before it got dark and I turnt in. I felt like I was fully acclimatising and short hiking and hot camomile tea in the thermos now put me to slumbers.
Day II
Humantay Lk+ preparation for the trek
The night was wet, and in the morning I started my adventure by heading up to the mountains to the stunning Humantay Lake, one of the most beautiful spots to visit in Peru.
Before entering the park you will have to cough up about 10 SOLES, but it is still much less than you would pay for a hike on the Inca Trail.
Take your hike to Humantay Lake slowly so that after an hour or an hour and a half ascent you will have an hour or two for a walk around and communion with nature at this one of the world's most beautiful high altitude lakes.
I returned to the camp to check on the victuals and gear for the journey and wait for a group of fellow hikers setting out the following day to Salkantay.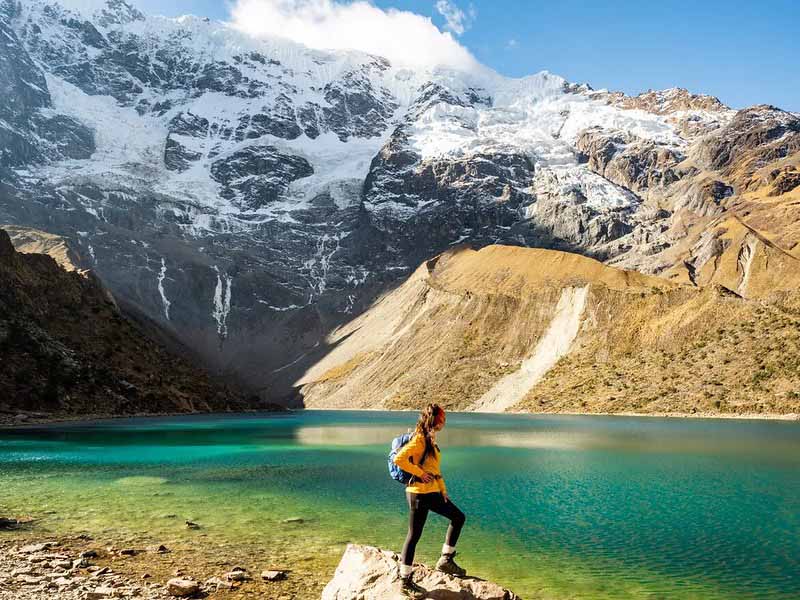 Day III
Having spent another night at Soray Pampa, also home to the Igloo styled cabins run by one of our partners, and serving as a hub for guided tours, I started my journey to the sacred land of Incas and Machu Picchu in company of a jovial crowd from Cork, Ireland and KL, Malaya.
I struck the tent and folded it into my rucksack and by midday I was panting and gasping as we approached the Salkantay Pass, the most challenging part of the journey: then my breath got completely snatched and as I was fighting for some air I saw opening before me a vista of mesmeric mountainscape and suddenly I felt invigorated by the crisp air of the mountains.
Then a rugged descent almost got me rolling my ankle and straining a muscle but I managed to keep on and keep my balance.
The pass having been crossed, next lied Huayra Pampa, a great place to have lunch after making through the pass: it is from here that you start walking through the jungle seeing huge jungle trees sticking their arms over mountain streams, and making the hiking trail truly lush and submerged in greenery and the bloom of bromeliads and orchids.
Despite sore feet, I soldered and did not pitch up for the afternoon at Huayra Pampa: I proceeded to Colpapamba to do as much exercise as possible.
I ended the day's journey at Colpapamba , where I got dinner and set up my tent for the night.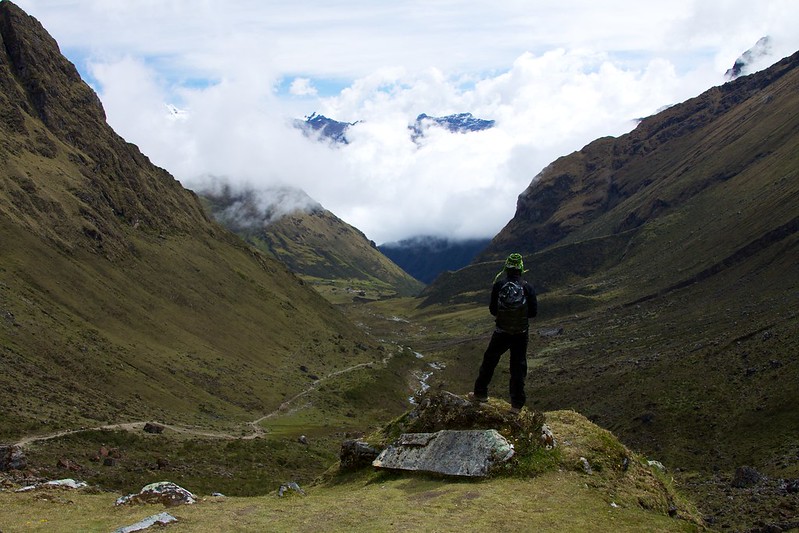 Day IV
I headed to la Playa early in the morning: this section of the trek is pullulating with sand flies and takes you through lush green jungle setting.
It also feels busier and there is a maze of side trails so better join a group at this stage of your journey to down land: I latched on to the same hiking group I did the previous day.
As you meander towards La Playa the trail breaks into two treks. If you stick to the right side of the rivulet, you will have to traverse a bridge, further down the road.
From there, the trail would carry you straight into La Playa.
The other option is to cross the river by a gondola. From here, the trail continues to La Playa. At the end of the stretch of the trail you can get over the river to get to the campsite.

Day V
I stopped for the night at La Playa and next morning the final leg of my journey began.
The goal of my journey was not so much the fabled ancient beauty of Machu Picchu or even the gob-smacking vistas of Salkantay Pass but the Inca karavansarai, Llactapata.
So it was with elevated heart that I was setting out on my journey, which after the strenuous exertions of the hike, aggravated with fruit fly bites, tempted me with a rich reward.
So on I trundled, for 35-40 minutes to Lucumamba, from where it took me two hours to ascend to the fire of my fancy, Llactapata, discovered only in 1911 and still considered a hidden gem of a site.
The scenic ruins tower over the landscape and what is more it is important that it is the site that served as a karavansarai, or a resting place.
It is from here that you see Machu Picchu for the first time.
The trail goes down steeply to Hidroelectrica Station, where I went trekking for 2-3 hours more.
From there one goes to Machu Picchu proper and can see it from up close if ascending the stew to the site.


After the completion of the track, and seeing the heart-snatching panorama of Machu Picchu , I felt like I ticked off one of the most important items on the bucket list.
The trek stretches for 70km depending on where you start and drop off and is one of Peru's most scenic treks. Even though the trailhead is at Mollepata, many join the hike at SORAYPAMPA or other small stations, with Humantay Lake hike being an add-on.
The trail ends at Machu Picchu, but I did a bit extra by climbing to the top of the site and then taking the most budget option of taking a bus to Santa Teresa, where I put up for the night, checked out stunning hot springs and from where I headed back to Cusco.
Extra time at altitude
Keep in mind that altitudes are high and crossing the Salkantay during your day one can be trying: so best leave it for day two or even three like I did by starting off at Mollepata or spending an extra week or so in Cusco, or doing easier paths like Humantay Lake on your day two starting your ascent to the pass straight away.
Budget
Be prepared to set aside as much as 700 USD for the experience, particularly if you need to rent or purchase the gear needed for the hiking trip, it was is roughly of a 5 day/5 night tour assisted guided tour.
Best time to visit
The best time to go hiking in Salkantay Trek Area is from April-to-September, with late winter and February being the wet season, but the trek remains open in contrast with Inca Trail.
How to hike
Even though it is crucial to keep hydrated you should sip on in small gulps and keep in mind that having a hike pole lightens the weight of the bags you are carrying.
It can seem like a regular tourist trip but it is not. The hike requires averages-to-advanced hiking skills and what is more takes you through fairly coldish rugged terrain.
So first and foremost don't forget that temperatures can be quite steep so bring along your duffle bag, a sleeping bag, a tent and a roomy backpack, with underwear, base layer clothing, trekking shirts and all things warm, good hiking boots and knife, torches, batteries, a small bottle of oxygen, some coca leaves, and all regular hiking paraphernalia, and don't forget to pack in your passport, and a lot of snacks and water to keep hydrated at a high altitude.
Also don't forget such things as toilet water and cash for visiting sites like Humantay Lake, where the entrance fee is 10 SOLES.


What is more, keep in mind that even though the area around the trail is abundant in water bodies, due to many Alpacas roaming around you'd better take along some Water-Filters or water-purification tablets to have access to drinking water whatever level your stocks are.
Keep in mind also that The trek is usually accomplished within a 5 Day /4 Night period; nevertheless, it is possible to go on a 4 Day / 3 trek or blend the Salkantay experience with the Classic Inca Trail hiking.
Each trip holds some surprises but it is for sure hiking around Salkantay that it is bound to grow into one unexpected adventure.
I was stunned to see two things on the trek: first the Salkantay Mountain, which is one of the region's highest and whose name means savage or untamed: it has been conquered quite little by international standards
Second, when I approached the Machu Picchu from up close for the first time I felt flabbergasted: from afar it looked exquisite but from as close to it as I was it looked imposing and intricate in its authentic Inca nuance.
Please note between Sayllapata and Salkantaypampa you will notice that the trail splits East and West, you will take the Western or left fork. Trekkers on the Salkantay / Inca Combo, an alternative route, take the East or right fork.
Also, the warren of trails at the descent from the camping site at Colpapamba may present difficulties if travelling on your own: while the trek to Humantay Lake can feel steep and the trail itself to the lake is covered in horse poo and can be quite crowded.
Finally, getting back from Santa Teresa can be tricky so there are alternative, more pricey options to get back to Cusco by either train or bus from other places around Machu Picchu such as Aguas Calientes.