Baños de Agua Santa literally translates to "Baths of the Saint Water" and it wasn't named like that by accident. Besides being "the adventure capital of Ecuador", where all the extreme sports meet up to have a party, Baños is also known for its hot springs and spas. What can be more relaxing after a long day of canyoning, rafting, paragliding, or rock climbing than soaking in the pool of volcanic water or having a massage taken with the view of the whole town extending below you?
I promise you that this panorama WILL take your breath away, because Baños is one of the most beautiful cities I've ever seen. Tucked away in an ever-green valley surrounded by Andean mountains with Tungurahua volcano watching over its citizens who call her Mama Tungu (a mother that sometimes gets angry with her children, the last eruption being in 2006). The town is full of waterfalls, one of the biggest being straight in the city center, and cut in half by a deep canyon of the Pastaza river, making the view even more dramatic.
And if that's not enough for you, you might be interested to know that it's also one of the best places in Ecuador to have a party (the Queen is undoubtedly Montanita). During the 2 years I've spent in this country Baños was probably the funniest spot and I kept coming back there. Leprechaun Bar became my favorite club ever - a small venue with 3 different music scenes, its name being an hommage to duendes (dwarves) who frequent the Baños area. People are very friendly and outgoing, they love sports, dancing and having a good time. I have to admit it is very touristic so it might get overcrowded (or so I've heard, being lucky to be there in the post-pandemic era) but it's definitely worth a visit. In this article, I will focus on its relaxing side, but check out my other article where I tell you all about The Extreme!
Voyagers Travel offers several guided tours around Ecuador, all of them customizable to meet your needs. Below are a couple itineraries that include a visit to Baños, check them out for inspiration and one of the expert travel planners at Voyagers can help you customize and book your vacation:
A trip to the Ecuador Amazon basin, overlanding from Quito to the lowland rainforest and back through Baños, 4 days or more:
https://www.voyagers.travel/ecuador/tours/amazon
Cross the entire Andes visiting the avenue of the volcanoes, including a visit to the cloudforest area around Baños (9 days):
https://www.voyagers.travel/ecuador/tours/ecuador-andes-to-coast-9-days
The Hot Springs
Piscinas de la Virgen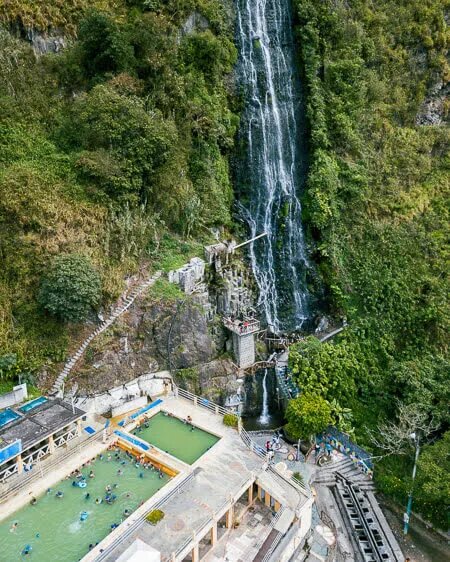 The most popular and frequented, both by tourists and locals, are definitely the Virgin Pools (the translation sounds weird but let's go with it). These hot springs have the advantage of being the most central and having an amazing view of the waterfall carrying the same name and towering over the venue. They consist of 3 main pools - one REALLY hot, one slightly more bearable, and one that is freezing cold. I was told that the best way to enjoy all the advantages offered by the healing, nutrient-filled water is to do the intervals of soaking in the hot springs interrupted by quick jumps into the freezing pool. Believe me, after 10 minutes in the volcanic water you will jump there voluntarily.



I have to admit that these are not my favorite hot springs in town. They are quite overcrowded, especially during the weekends and they seem a little bit run-down. Sometimes they are all that's left though, because they are open every day until 9 pm, as opposed to the other pools that usually close at 5 pm.
Balneario El Salado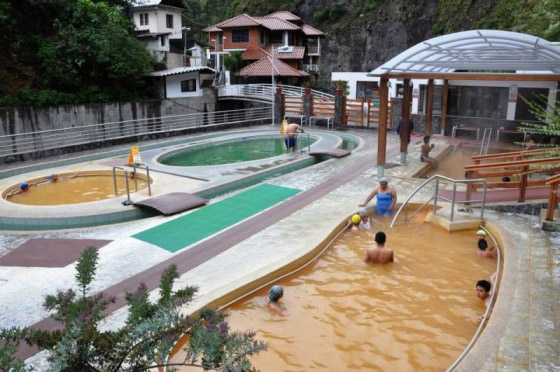 If you prefer to go somewhere calmer but still within the city boundaries you can take a walk or a quick taxi ride to the Salty Pools (maybe I should stop translating the names…?). They are much calmer and mostly filled with locals, but since the venue is much more spacious, people usually disperse and don't bother your relaxation. There is more pools here and they are bigger, but the hot springs are not as hot as the one in the Virgen, so if you're looking for some real sweating, this might not do it for you. The Salado Pools lie on the street with the same name and they are open every day but they close at 5 pm so check your watch before going!
Piscinas Santa Ana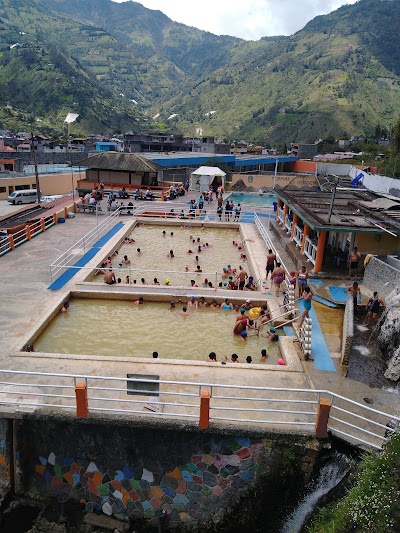 If you are in Baños over the weekend you should definitely choose Santa Ana Pools. They're only open from Friday to Sunday till 5 pm and to get there you have to take a 15 min bus drive/taxi ride in the Ulba direction, but the trip is totally worth it since these are the best hot springs in town. They are tenfold less crowded than the other two, plus the pools are literally in the garden, so you can be soaking all the healing power of the volcano while watching the birds in the trees and having a nice cold breeze on your cheeks. There is a big hot pool, but also a bunch of smaller ones that make you feel as if you were in a private jacuzzi. I used to go there all the time and occupy one of them with my friends staying for hours while talking, reading, or playing chess. Another advantage of the Santa Ana pools is that they are just in front of Samari, one of the best spas in town, so you can visit both venues in one day and achieve the ultimate relaxation.
The Spas
Samari Hotel and Spa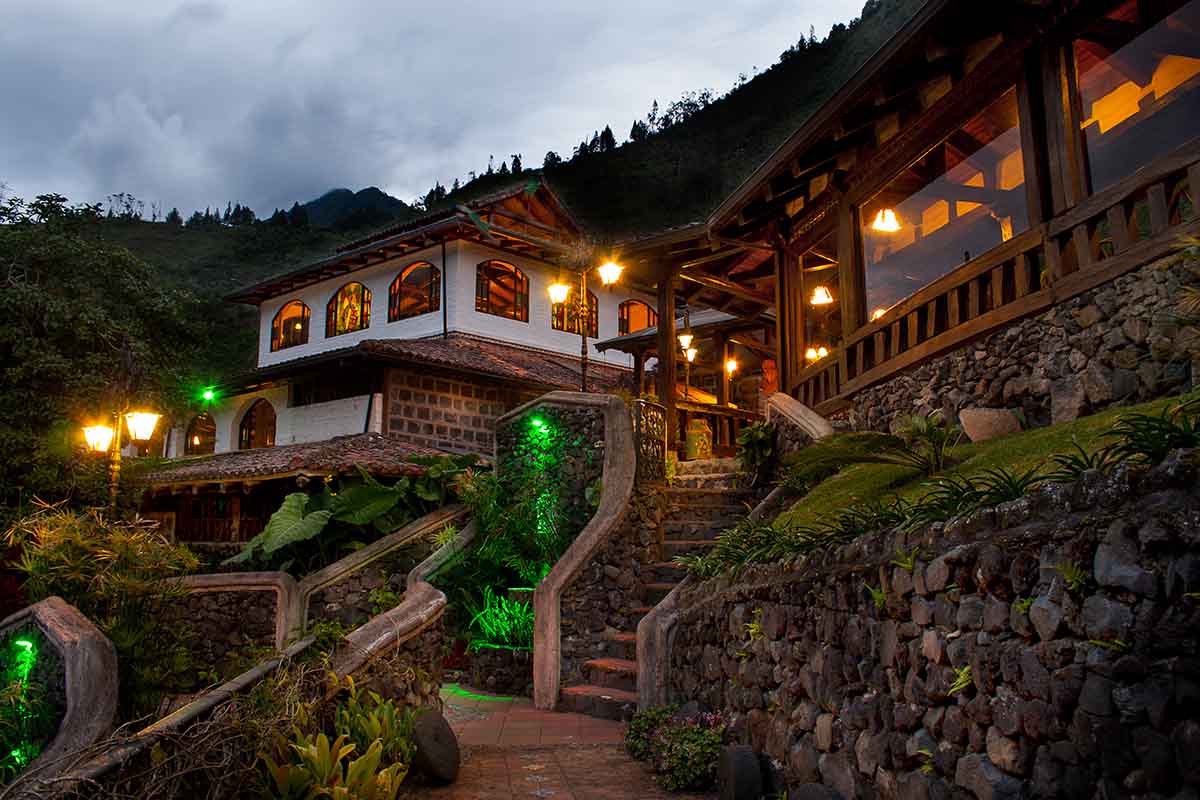 Samari lies on the territory that 300 years ago was occupied by a Jesuit monastery. The spa was created with great attention to detail, trying to preserve the historic feeling of the place. "Samari" means "feels like home" in Quechua and the owners go out of their way to make you comfortable in their venue. You will be accommodated in a private, chalet-type house that'll give you the historic ambiance with all the modern luxuries at the same time. The gardens, covering 4 hectares around the hotel, are absolutely magical and filled with fruit trees, flowers, rabbits, and birds, with a special hike designed according to the rules of Feng Shui for the guests. There's even a little open-air museum, where you can enjoy the collection of Ecuadorian antics, like the first wheelchair in Riobamba (you can ask for a guided tour in the reception).


Samari offers a huge array of treatments and massages not only to relax and rejuvenate your body but also to boost your health. They have facials with the use of native herbs, baths in lavender and chocolate, exfoliations with salt and honey, rosemary disintoxication, and scalp massage with verbena that'll help your hair growth. I believe everybody will find something interesting in their "spa menu". Additionally, there are Turkish baths, pools, and jacuzzi to relax in after enjoying an amazing meal in the Samari Restaurant, voted one of the best in the whole Baños!
El Refugio Spa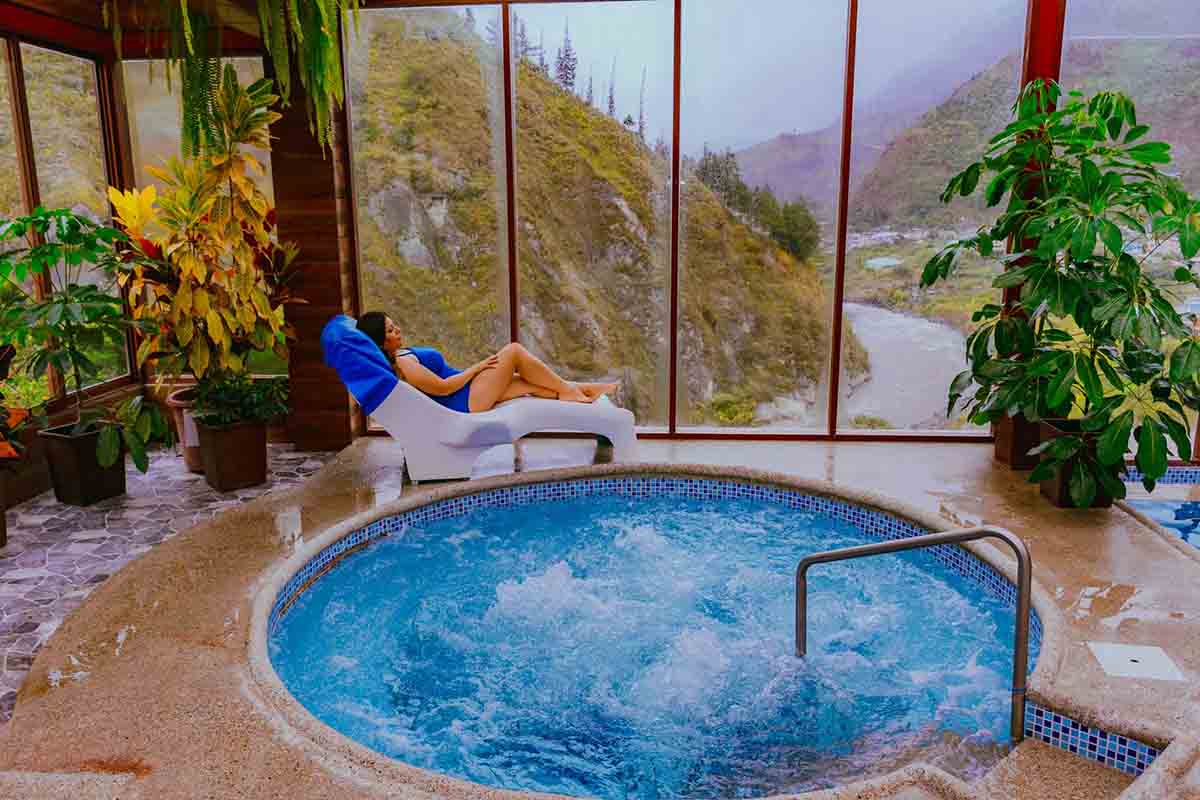 In walking distance from Samari, you will find another magical place adequately called "The Refuge". While Samari is undoubtedly the best spa in town it is also very pricey. For those who want to get pampered but have already spent their share on other Baños activities, El Refugio will be a great alternative. Unlike the other spas on my list, this one doesn't offer accommodation - they focus entirely on their treatments. They have the widest choice and arguably the best quality massages in the city. You will also find a wide variety of treatments that help blood circulation and overall health of the body, using sucking tubes, wax, and arcilla (a type of mud rich in nutriens).
The Refuge has its outdoor and indoor pools, sauna, and jacuzzi, but the best thing in my opinion is their "Ruta de la Sanacion". It's a beautiful private hike crossing through their property, full of flowers and peace, where you can disappear for a few hours to collect your thoughts and meditate. If you're staying at Samari you can still come here and enjoy the walk for 2$ - it's worth it!
Luna Volcan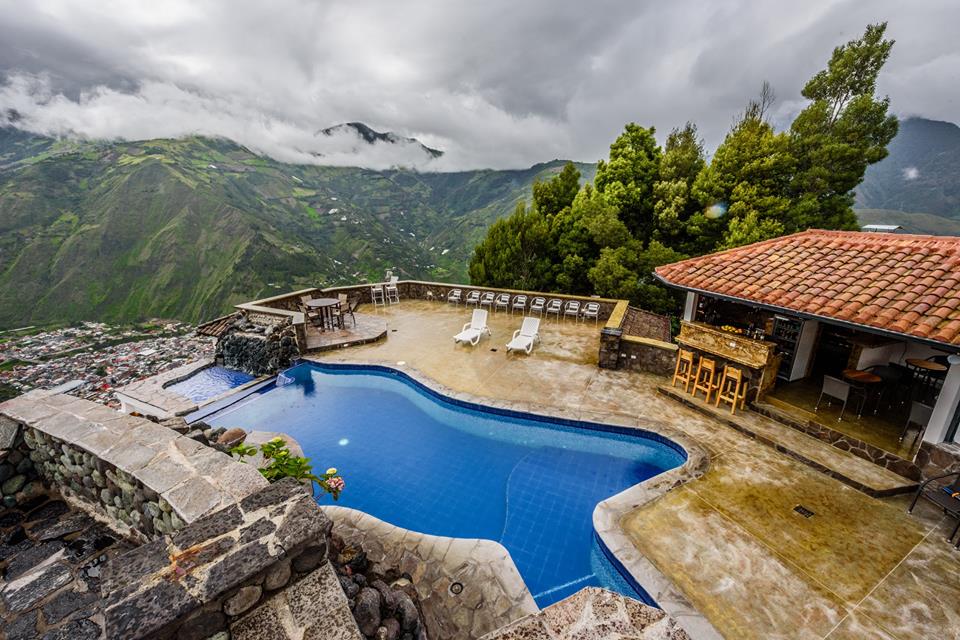 I feel I ought to mention Luna, as it is probably the most famous place of its kind in town, even though not my favorite. Previously called "Luna Runtun", this hotel and spa lie high up in the mountains on the road to the famous Casa del Arbol (The Treehouse). There's no doubt that the location and the views are supreme. From their pools and restaurant, you can enjoy the whole panorama of Baños, always spectacular, be it night or day. Their rooms are really fancy and Luna became a very popular spot among Ecuadorians for all the romantic occasions like proposals or honeymoons. This is actually one of the origins of their name - in Spanish "honeymoon" translates to "luna de miel".
It is a nice place if you wanna grab a glass of wine in a pool while observing the night falling over the town.
Miramelindo

I saved the best for last! I wasn't sure if I should put Miramelindo on the list since it actually lies in a very small neighboring town of Rio Verde, but I decided you should know about this heart-filling place, especially that it's only half an hour away from the city. The name of this hotel and spa literally means "look at me nicely", which is as cute as the whole venue. It's not as huge as Samari or as modern as Luna Volcan, but it has a soul and magic in it. Its owner, Manuel is one of the most intelligent people I've ever met, and having a conversation with him while enjoying your state-of-the-art meal is pure pleasure (seriously, go there even if only to try locro de papas). He is uncommonly knowledgable and passionate about the Baños area and the unique ecosystem it belongs to, so you can learn a thing or two from him if you're interested.
Miramelindo is a queer orange building with irregularly shaped walls covered by a mosaic made of broken plates. Its inside is full of random interesting objects and it makes you feel as if you've entered a fantasy novel. The interior transforms into the garden so smoothly that it's hard to notice when you go outside. The colibris are flying around you while you're taking a stroll on the premises, visiting the art room full of paintings and instruments, or crossing by the wooden bridge to access the pools. Each room feels more like a little house with its own chimney and windows that cover the whole wall to give you the best view of the Green River.
Baños del Agua Santa is one of the most incredible places I have ever visited and I hope you will fall in love with it too!