People tend to talk about "the Amazon" as if it was one place. Like a city, you can just go to and check off your list. Because of its sheer immensity, the Amazon jungle is impossible to just "visit". It has as many entry points and different ecosystems as you can possibly imagine. If you want to go really deep, like a tour of the Yasuni territory, it will require a good deal of planning and will set you back at least 4 days of your time. A trip to Cuyabeno is another option and the area is more accessible, if you are short on time you can visit for 3 days there. If you want to experience the Amazon, but you don't have the budget or enough time for the options above, your best bet is to go to Tena area - an Ecuadorian getaway to the jungle. Check out this 4 day tour of the Amazon for inspiration and ideas.
Although the city itself is not the coolest one out there, its surroundings are out of this world. The town is literally devoured by the tropical Amazon forest from all sides. You can stay in the city outskirts and explore it by yourself, which is the cheapest option. You can pay for a jungle tour of your choice and go with a guide who'll help you spot flora and fauna. You can go rafting or kayaking on the amazing Jatunyacu river, that'll make you feel as if you've entered Jumanji. Or you can go a step further, by simply taking a bus to where the wall of dense forest starts and the road ends, and ask the local Waorani community to take you even deeper in a canoe.
The last option is for those who're prepared for everything, and I might write more about it in another post. For now, let's focus on exploring the Amazon's outskirts from the safe base of Tena and all the wide range of options you have to choose from.
AN IDEA OF THE ACCOMMODATIONS IN THE AMAZON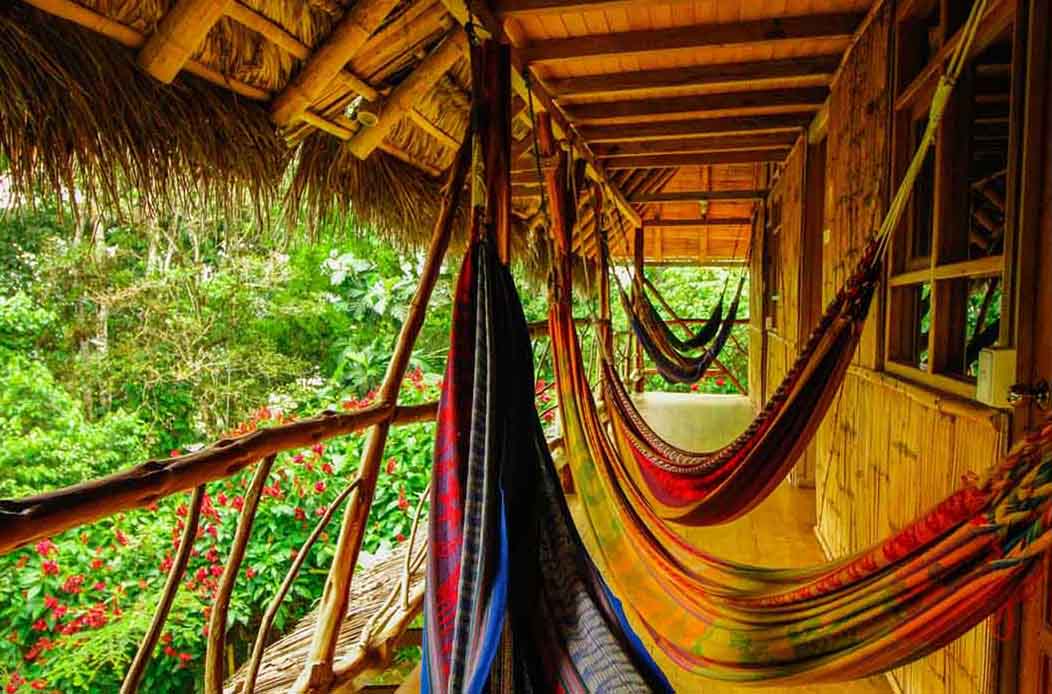 Hakuna Matata Amazon Lodge
First, where to sleep - always an important choice, that can make your stay dreamy or turn it into a nightmare. For me, there is one unquestionable king of accommodations in Tena – Archidona region, and that's Hakuna Matata Amazon Lodge. The lodge is well built and planned with private facilities, even hot water(life if you needed it), proper bedding and even gel pillows to stop humidity – also it is in an area without mosquitos.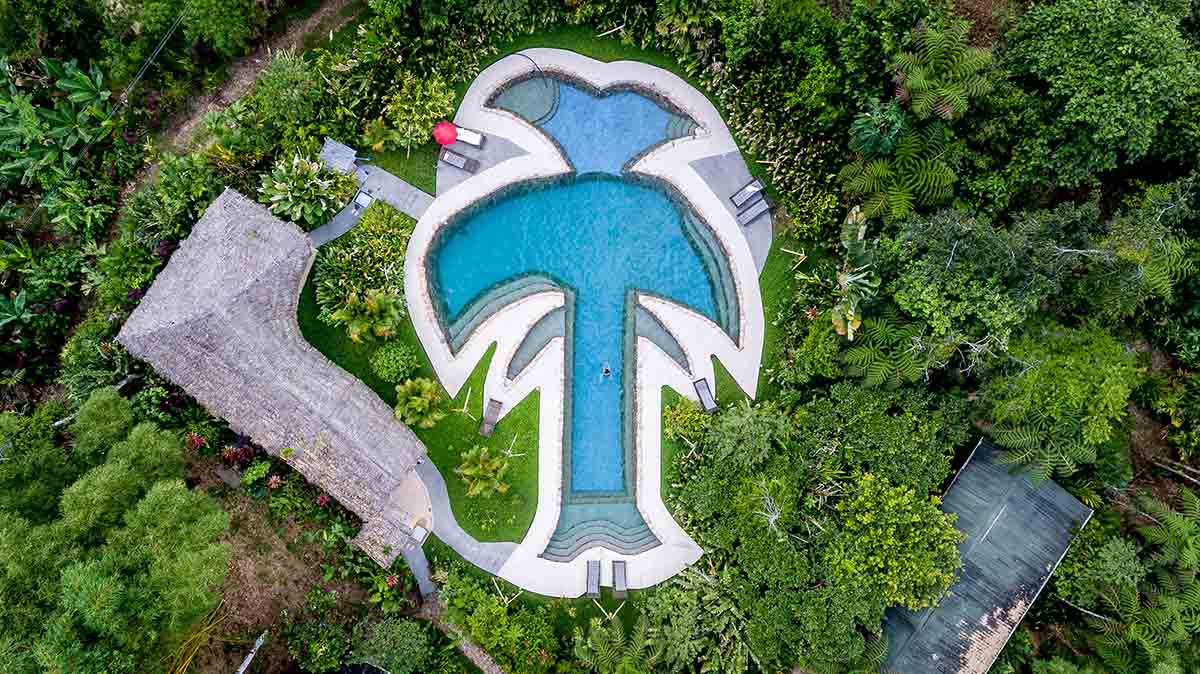 But, If you want to splurge a little bit they have amazing cabañas (small, wooden houses) with private bathrooms, and beds so comfortable you'll never wanna leave. The breakfast included in the price of the stay is delicious and served on a wooden terrace overlooking the forest, where you can enjoy the birds and tropical garden that surrounds the hotel.
One of the things I love about Hakuna Matata is that it is far away from civilization and away from towns, surrounded by tropical forest, yet it is close to trails, rivers and of course quiet.
Hostal Pakay
Another great option is Hostal Pakay, a cheaper property but also comfortable and well organized for exploring the Amazon area.

One of the best things however is the owner of the Pakay, Toni. He is a true man of the jungle. One of these people that you see and you know right away that he could definitely survive in the middle of the Amazon. He constructed the best part of the hotel himself, making it as environmentally friendly and sustainable as possible (LOVE the compost toilets). What's more, he is a rafting and kayaking guide too, and offers professional tours (whitewater, jungle walks, etc.) straight from the hostel. I ended up becoming friends with him and his workers (even though I destroyed their special granola jar) and I know that Pakay is a place I'll come back to many times in the future.

The hotel lies at the edge of town, so you have to take a taxi or walk around 20 min to get to the center. I personally loved that Pakay is far away from all the city noise, and immersed in the forest instead, but if you prefer something cheaper and more central, you can check out Hostal Zumag Sisa. Sometimes you can book it for under 10$/night and they have a cool rooftop terrace. On the other hand, if you want to splurge more and have a way of transport, you can stay at one of the lodges, like the Kuyana Amazon.
If you are on a budget, there are cheaper places that even have a dorm, that is just slightly more expensive than your usual 10$/night hostels and its quality is so much better (no squeaking bunk beds here!).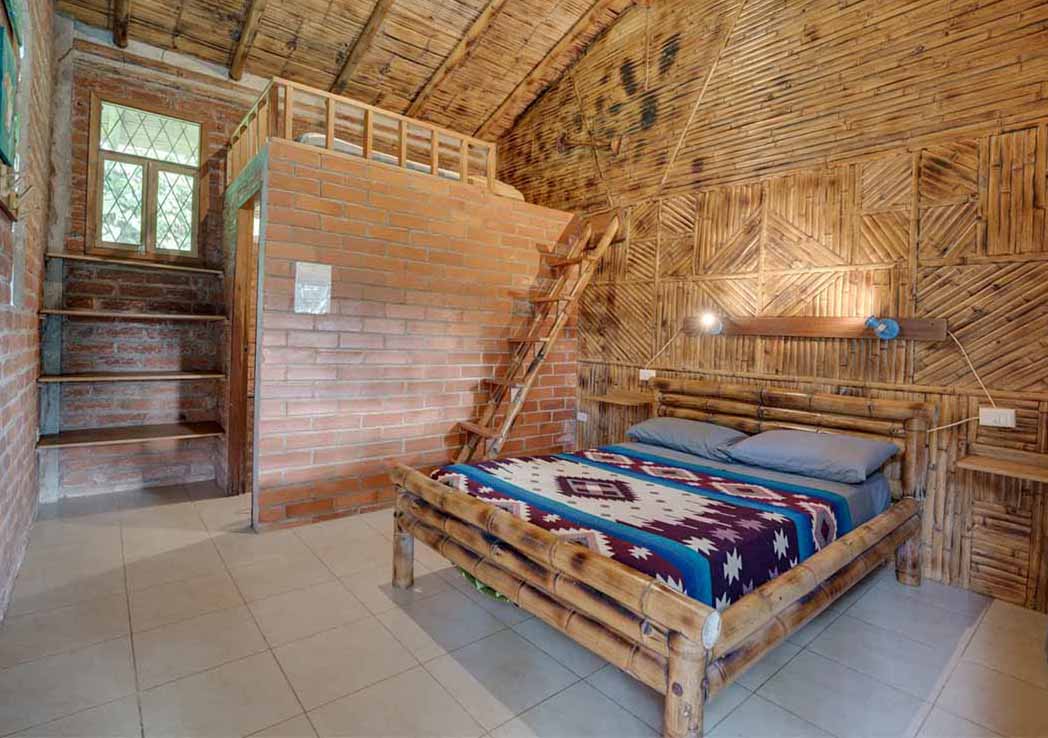 Voyagers travel offers several tour programs and full itineraries around Ecuador that include visits to the Amazon region both in the Tena and deeper parts like Yasuni, anything from lodge based visits to Amazon riverboat cruises. Here are a few itineraries to get you started:
5 day deep Amazon rainforest tour
5 day tour of the Amazon focused on the culture of native tribes
Ecuador's best nature combining Galapagos and the Amazon in a 13 day itinerary
Explore the Andes, Amazon and Galapagos on a 15 day tour program



BEST SPOTS TO EXPLORE AROUND TENA
Tourist offices in Tena are gonna try to sell you everything as a tour, but a lot of the trips they offer you can easily do by yourself. The best example is a "jungle tour" to Misauahalli, on which they just take you to a neighboring town famous for its monkeys and Kichwa tribes. You see the monkeys and the waterfalls by yourself and then take a boat to a chosen Kichwa community – of course if you want primary rainforest and spotting wildlife you should consider a guided tour package. Anyway, let's break it down, so that you'll know what is worth paying for and what is not.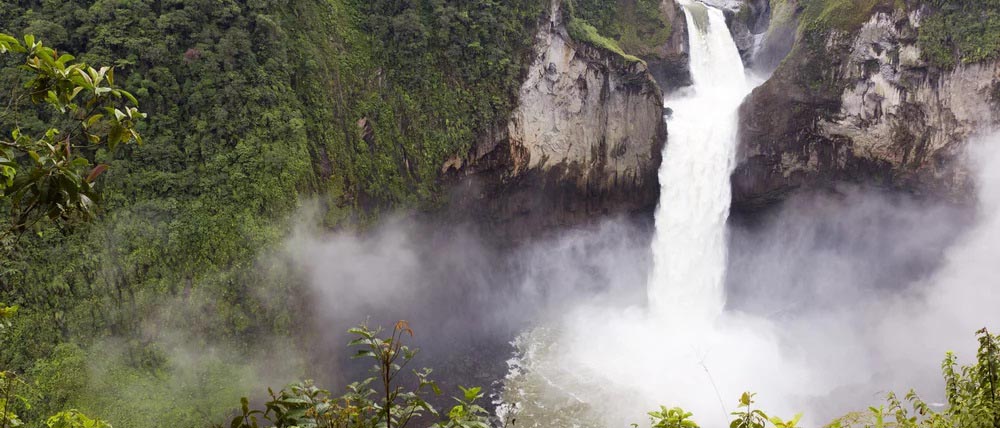 Waterfalls Overload
If you want your first day in Tena to be full of adventure and packed with natural pools of crystalline water fringed by waterfalls and picturesque hikes through the pristine forest, I have a perfect itinerary for you. And you can do it all by yourself! You can start by going to Cascadas Pimpilala. It's a well-known spot, so just ask at the main station and they'll point you to the right bus. You'll be on one of the best hikes I've ever been to. If you like rappelling, rock climbing, crossing underneath the waterfalls and that kind of stuff, you'll love it too. The trek leads from one cascade to another, through a tropical forest ripe with birdsongs. You will scramble up the rocks, climb falls with a rope, go over the fallen trees, and each time you'll manage to get to the top, a new amazing view will reveal itself. Some places may look a little bit "hardcore", so it's better to go with somebody, or if you are alone, you can hire a guide at the entrance.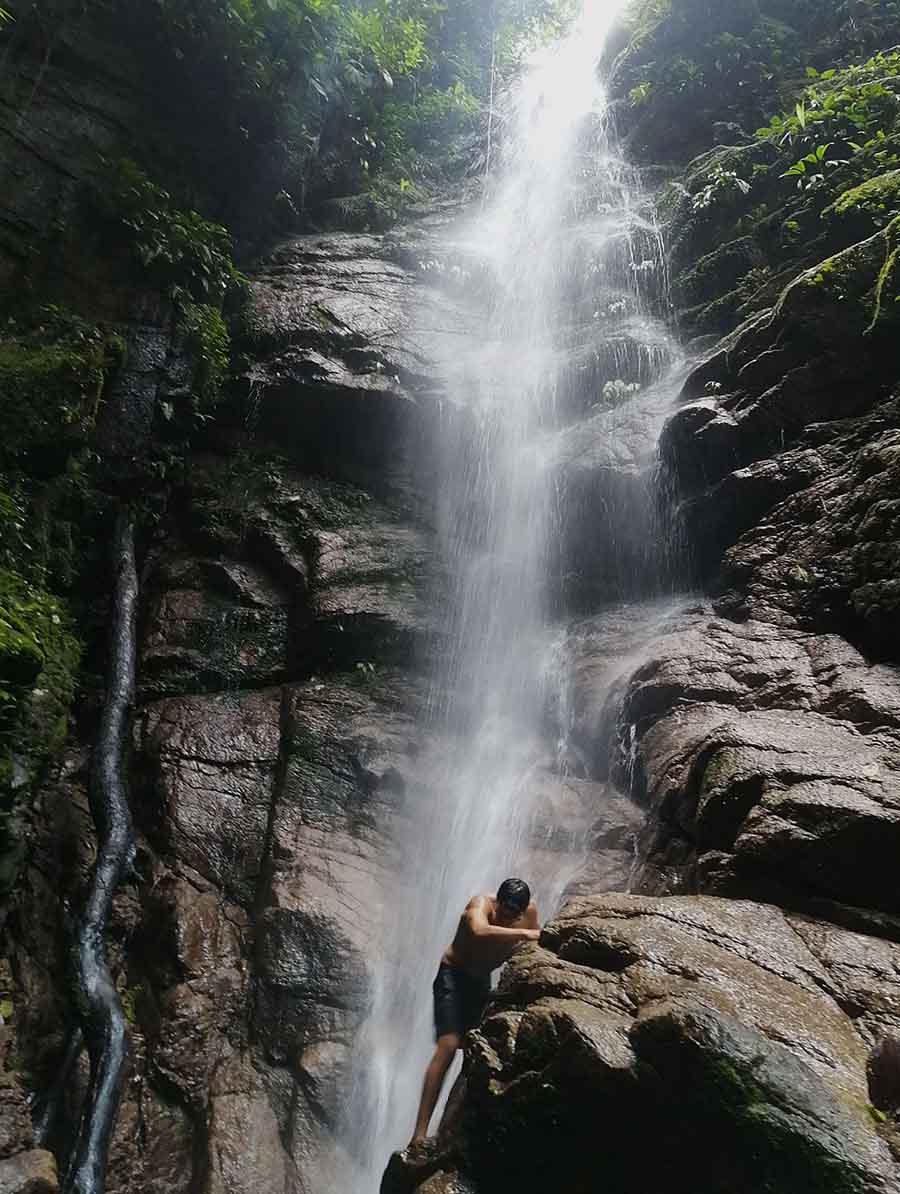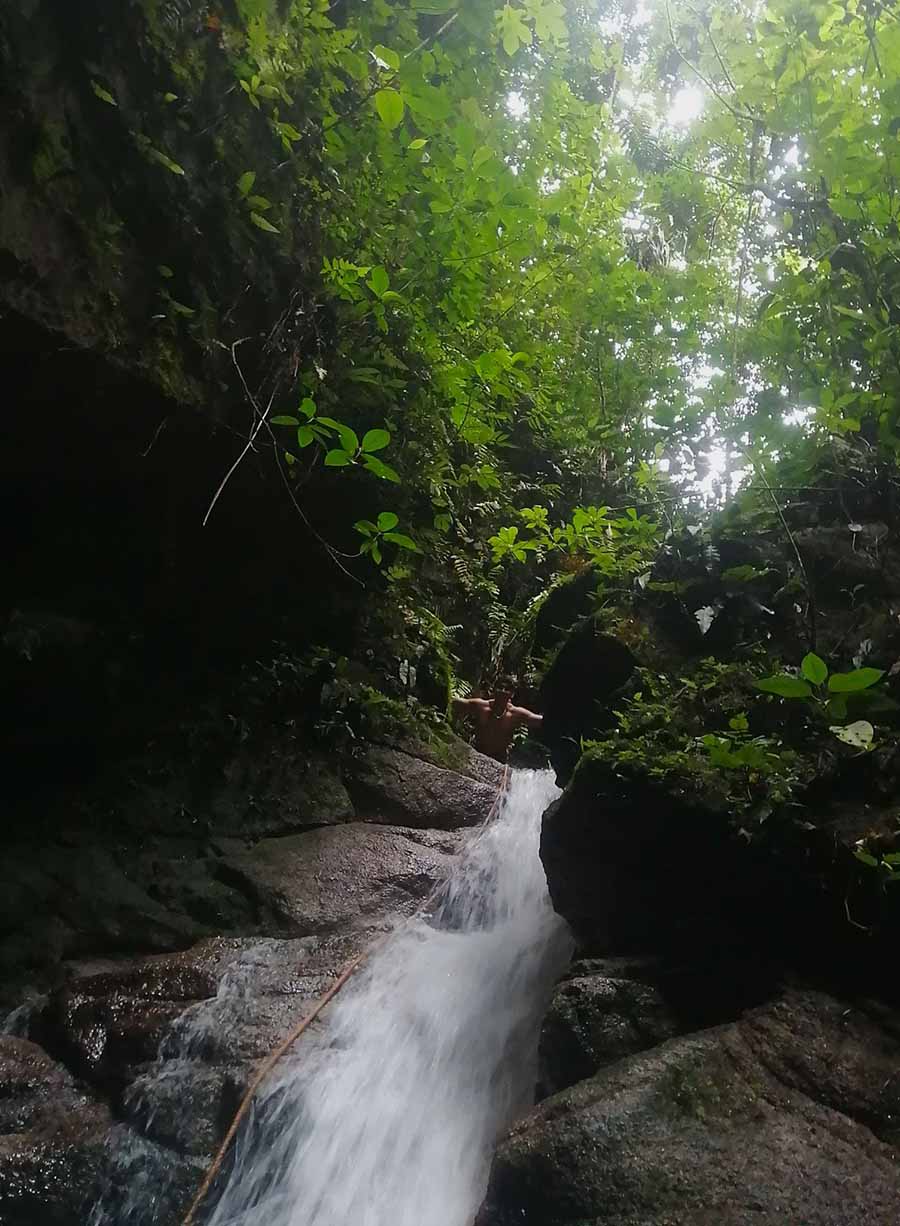 After this adventure, you can hike or take a bus to Laguna Azul (quite a tourist spot as well, you shouldn't have any problems finding it, especially since it's really close to Pimpilala). For a 2$ fee, you'll enter into a little paradise taken care of by its indigenous people, full of turquoise pools, waterfall jumping, and smooth white rocks creating a path that follows the river. I loved one pool especially, with sand that contained little pieces of gold and an overhanging rock from where you can jump into the water.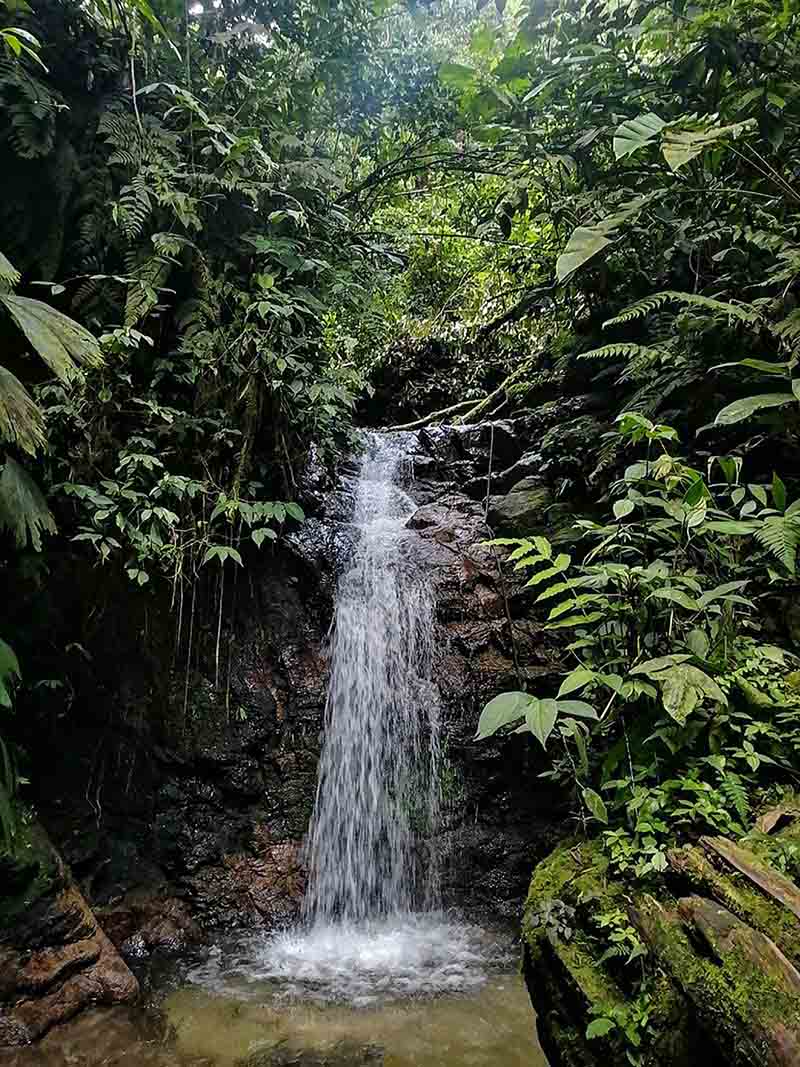 If you still have some forces left, just a short walk away, you'll reach 7 Cascadas (7 waterfalls). To get there you have to take a tarabita (cable car) and cross the canyon to the other side. It's a much less touristic spot - we didn't meet anybody there, except for a little sweet dog that accompanied us all the way through the hike. As the name suggests, you will trek through the forest from one beautiful waterfall to another. Some of them fall into the natural pools where you can swim. The last fall is a little bit harder to get to, but don't worry, just follow the sound of the crashing water and be prepared to get your shoes wet.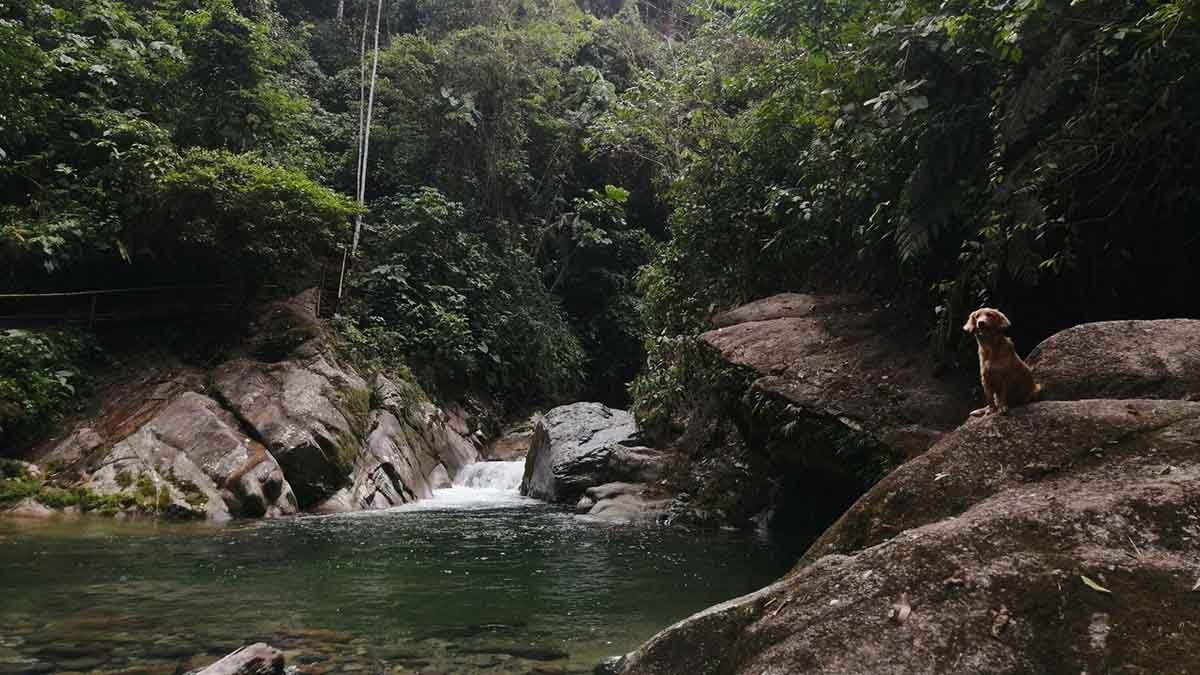 Puerto Misauhalli
This little jungle town got really famous for its monkeys, although rapid tourism development made some of them disappear and turned the rest into vicious thieves. You can get there by bus from the main terminal in Tena, it takes around an hour and costs a few dollars. You'll probably see monkeys right away, getting off at the main park, but you can also go to Monkey Beach, where they like to hang out - just ask the locals for directions. Once you're already in the "harbor" area you can find a boat that'll take you to a Kichwa community.



Now, you have to know that the indigenous people living in this area adjusted to the tourist demand, and what you'll see in their village is far from their everyday life. It's more of a staged performance aimed at entertaining you, nonetheless, it is interesting to see. They'll show you a traditional dance, clothes, and makeup, give you a taste of Chicha (an alcoholic beverage made from corn), and you'll have a chance to buy some of their art.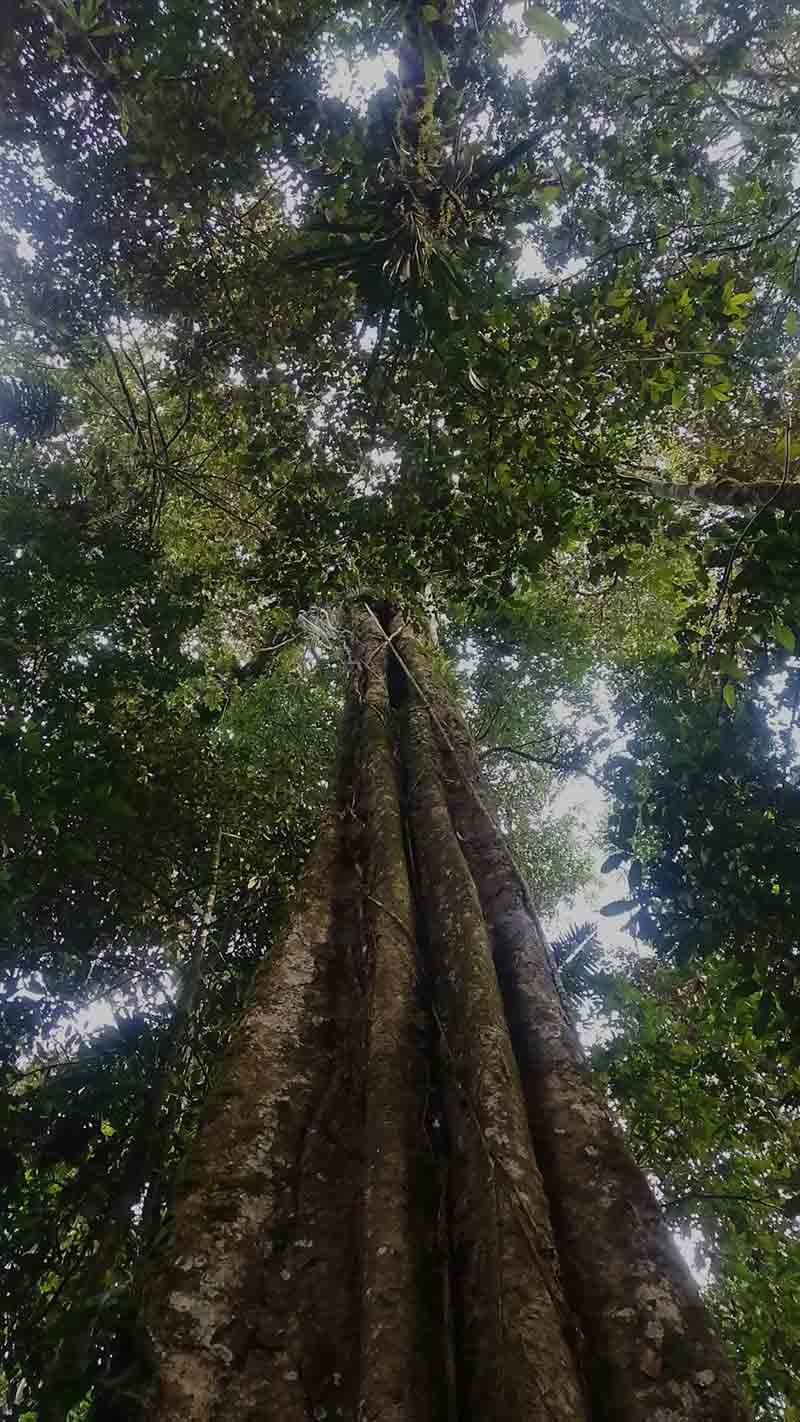 After coming back to Misauhalli you can either walk to a gigantic ceibo tree, one of the last ones left in this area or go to the Cascadas de las Latas. It's a beautiful and well-maintained forest hike full of pools, rivers, and falls, some of which create natural waterslides, so you'll have lots of fun there (pro tip: slide sitting on something, like a giant leaf, otherwise you'll burn a hole in your swimming suit). Don't forget to try chontacuros - a local delicacy, which is basically huge grilled worms.
Gran Canyon del Jondachi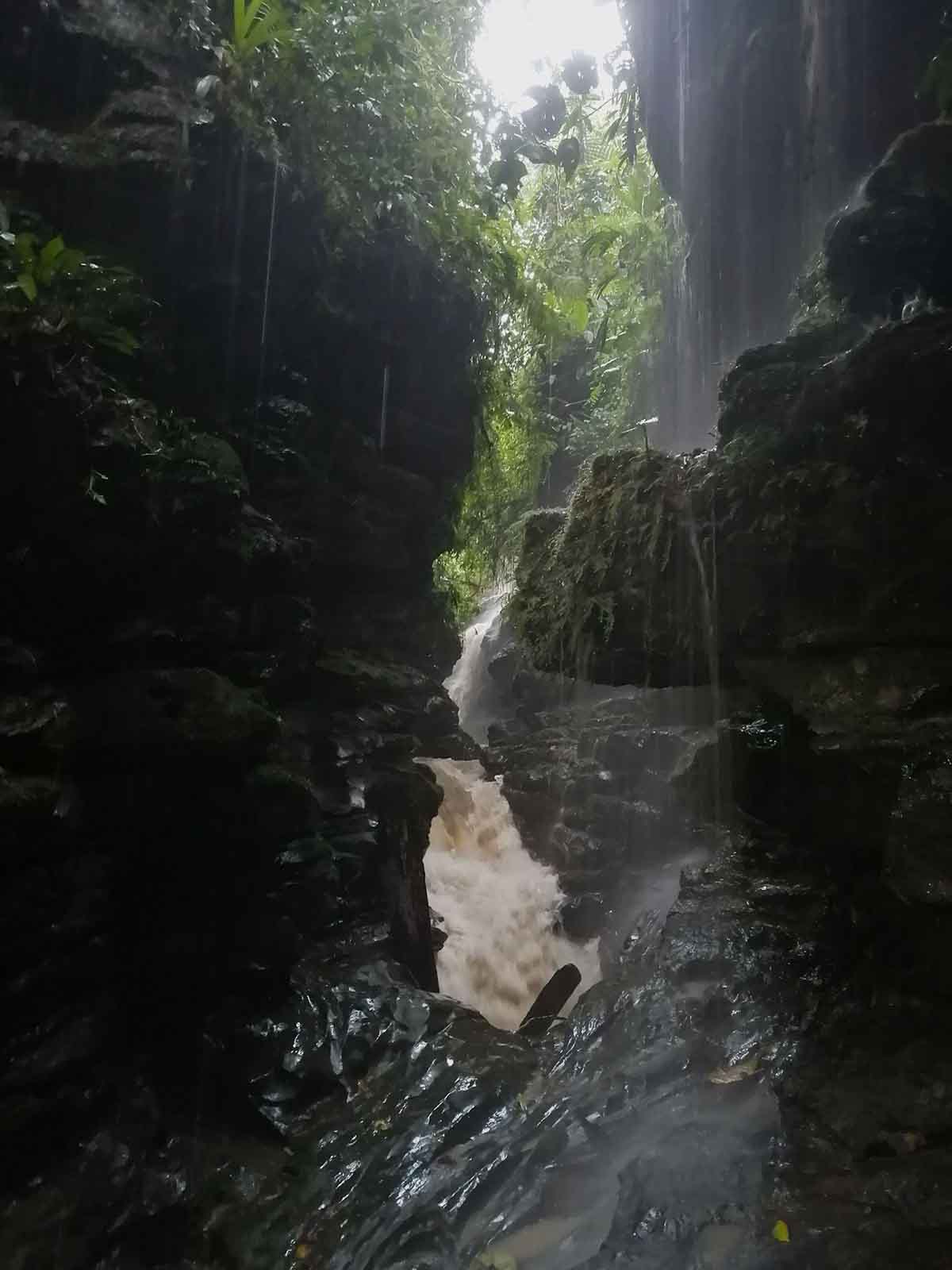 This is one of the most magical places I've ever been to and I often go back there in my memories. You can try doing it on your own, but you probably won't be able to follow the right path, so I recommend taking this trip with a tour guide. This hike is not for the faint-hearted as you will be following the canyon's edge threading on slippery rocks and blazing through muddy forest paths. At the end of the hike, you'll reach a rock shelf from where a 10m cascade falls to a big natural pool - one of the most amazing jumping spots I've ever been to. And if it wasn't enough, once you've jumped, there's a cave that will give you the opportunity to observe the waterfall from behind, where you can really admire its strength. On the guided trip you'll be taken to another cave as well, where you'll be shown all the weird, slimy life that teams inside of it and explained the process of preparing famous Ayahuasca medicine.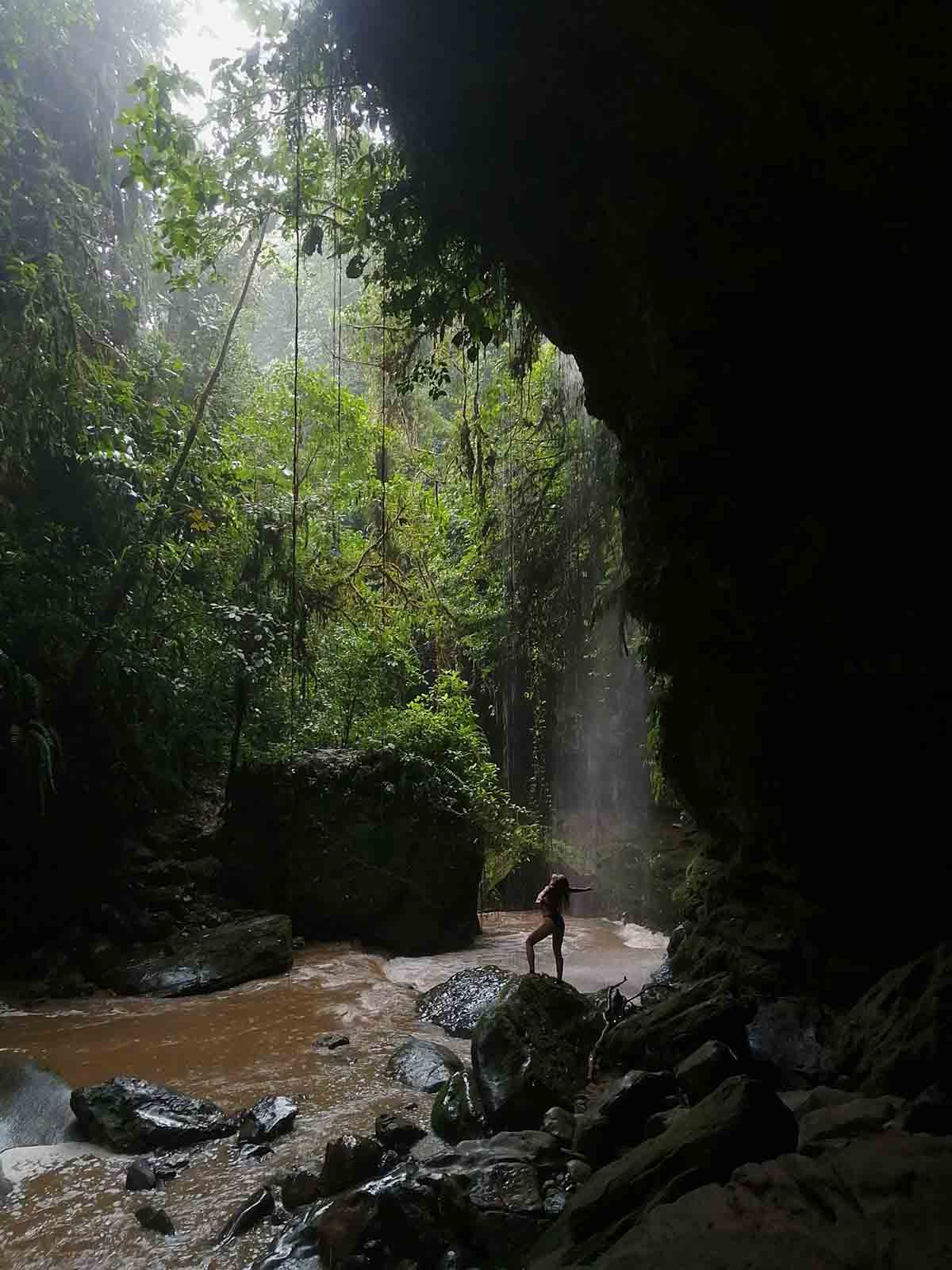 Jatun Sacha Reserve
This is an example of an activity you can do by yourself, but if it's the only jungle tour you'll take, if you are not part of an organized tour program, I recommend hiring a guide (if you can get Octavio from Hakuna Matata to go with you, you're golden). Jatun Sacha is a biological reserve where you can observe real jungle life while leisurely strolling through the forest jumping creeks and listening to the birds. There is a 30m high tower observatory that you can climb (just don't look down till you reach the top!). The views from there are breathtaking. Remember to take your binoculars with you, you'll be able to see tons of birds. You can reach Jatun Sacha by bus, but as I've mentioned it's a whole different experience when you have a knowledgable guide with you, that'll explain to you all the medicinal purposes of plants, take you to the biggest ceibo trees and help you spot the birds.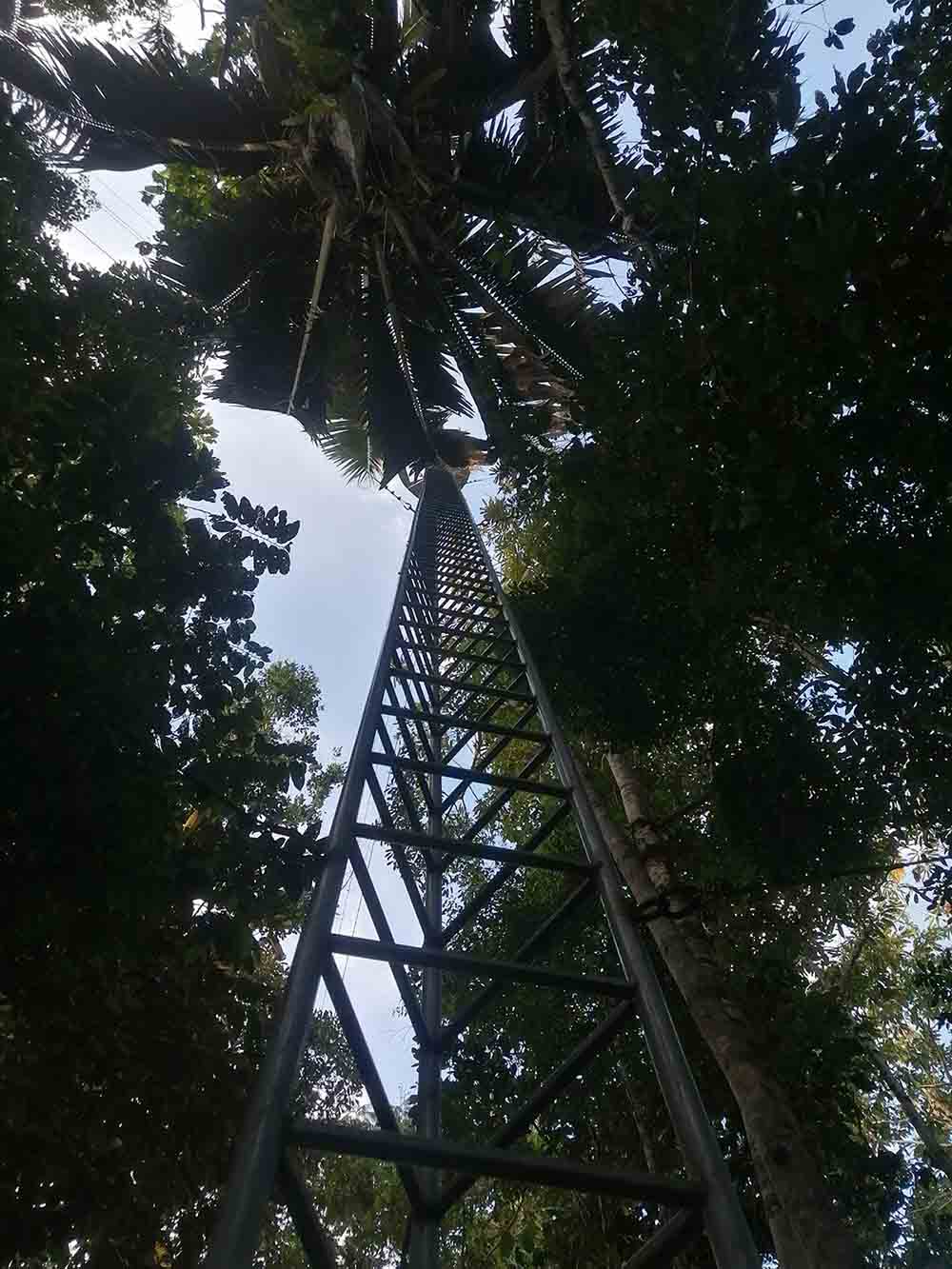 Rafting and Kayaking
Tena and its surroundings are covered by a complicated net of rivers and creeks, making it a mecca for kayakers and rafters. It is a crime to leave this town without taking part in a whitewater adventure, so if you are on a budget, please make sure you'll save the money for this. There's a wide variety of tours to choose from, but I recommend Jatunyacu ("Big Water" in Kichwa) as the overall best rafting experience in the area. The views are simply stunning, the water is clear and warm, the sun is almost always shining and there're plenty of waves and rapids so that you won't get bored.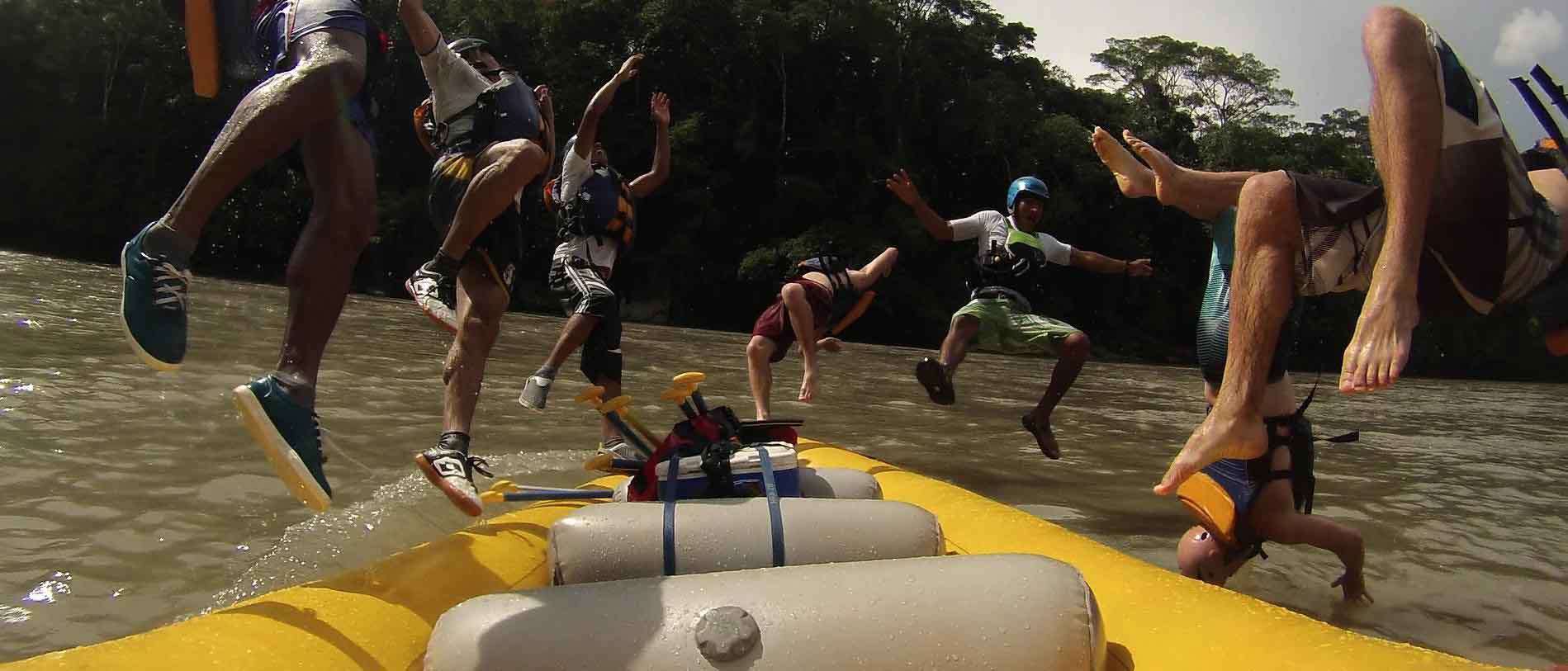 If you are searching for something more adrenaline-filled, you can go to the Rio Jondachi which is a level 4 and a completely different story. It's a canyon river, as opposed to a broad Jatunyacu, and it's best if you've had some previous rafting experience before going there, although it's not a requirement. If you're staying at a lodge it's best you take the tour directly with them. You can also go down the river in a kayak which is a thrilling experience. If you've never tried this sport before and you feel like it's for you, Tena is the perfect spot to start. It has rivers perfect for all levels and an amazing kayakers community.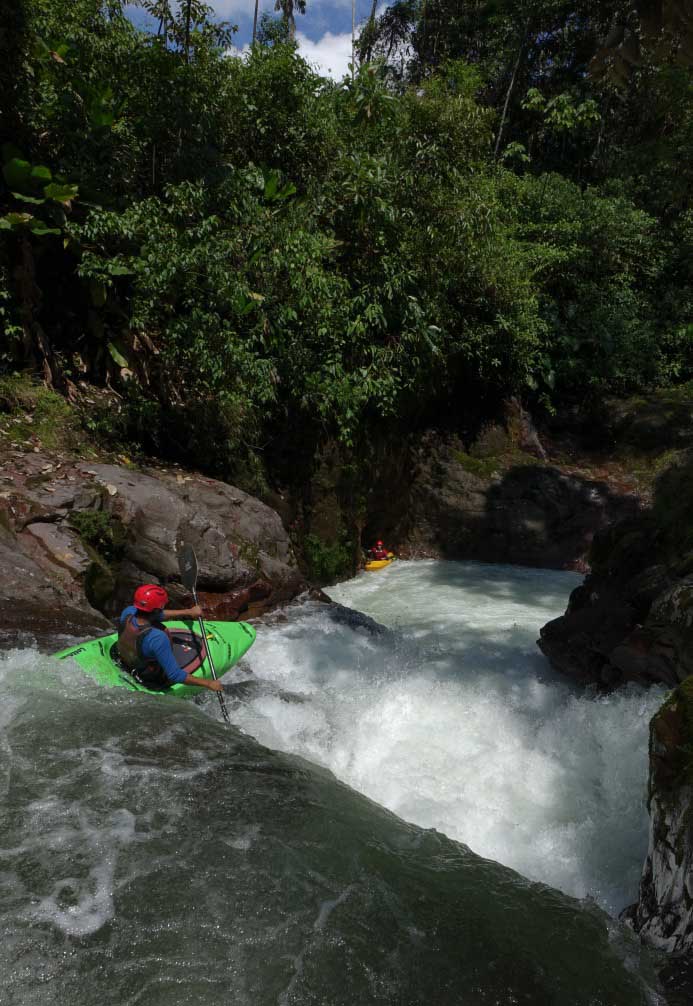 I love Tena and I could go on like this forever without ever running out of spots to visit, but I think after reading this you'll have a general idea of what to do. Now go, and welcome to the jungle!