For such a small town, Baños de Agua Santa for sure offers a lot of attractions. It is the second most visited destination in Ecuador, inferior only to the country's capital - Quito. "Inferior" only in numbers, cause as for me, it is the actual Number One, a place that everybody should visit at least once in their life. Although its official name refers to the thermal waters the town is abundant with, it is also known under the nickname "The Adventure Capital of Ecuador". If you are an extreme sports lover or just an outdoorsy person, you should reserve at least a few days for this beautiful city, where a new adventure awaits behind every corner.
Baños lies in a sweet spot between the high Andean mountains and the Amazon forest, making it perfect for exploring the best of both worlds. You can go for a jungle trip one or more days and then climb the 5023m high Tungurahua volcano the next one. If that is not enough for you, you can see the whole valley from a bird's perspective on a paragliding trip. Or try your strength in mountain climbing, scrambling up a vertical rock with impressive views of San Martin Canyon. When talking about heights we should not forget bridge jumping - the ultimate exam of your nerves.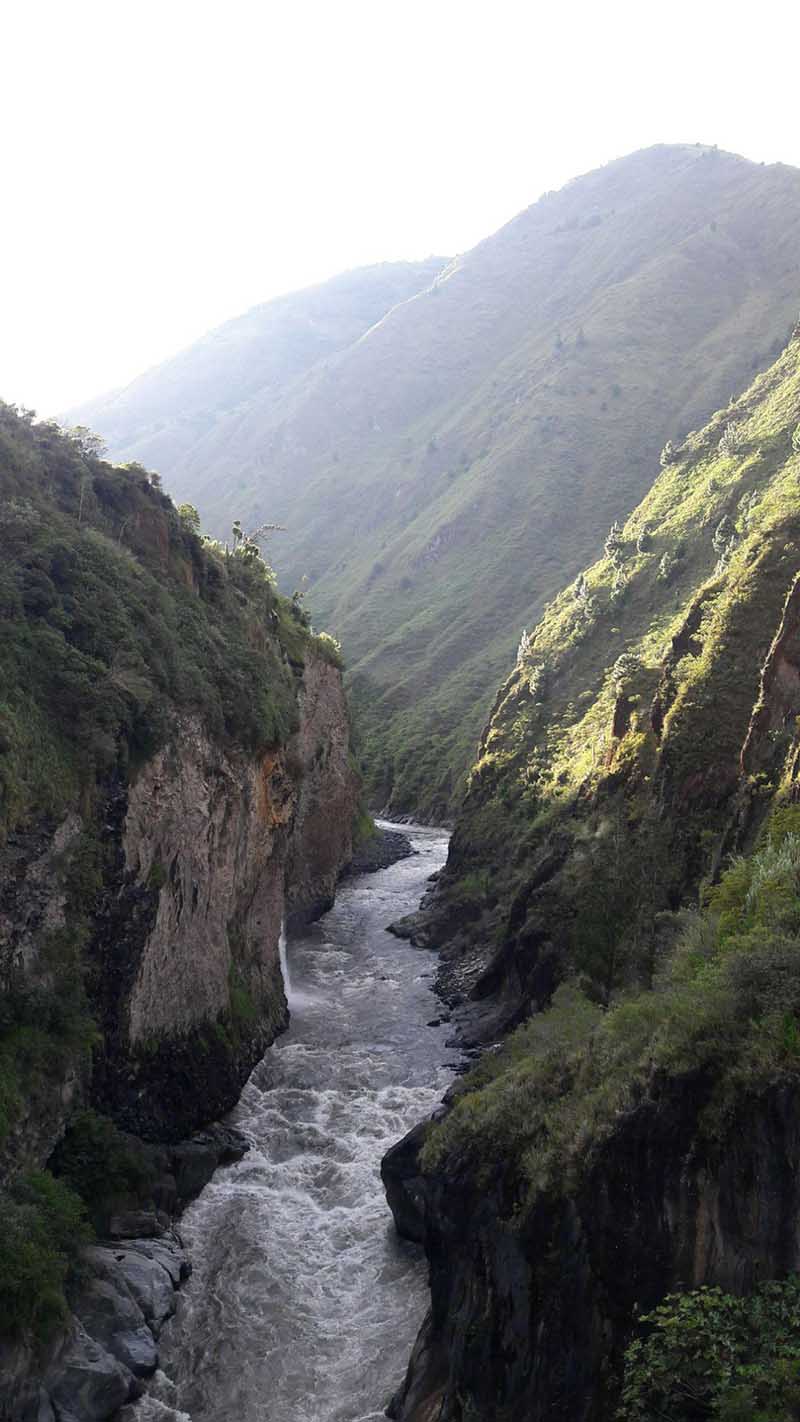 If you are a water person, you should definitely go rafting in the Pastaza river, or, if you are a real thrill seeker, take a lesson in whitewater kayaking, one of the most dangerous sports in the world. There's also canyoning, an activity that encompasses a little bit of everything - climbing, jumping waterfalls, canopy, and unforgettable semi-jungle ambiance. And if you don't feel that extreme today, you can always hike one of many trails around the Baños area, some more challenging than the others, but all of them absolutely stunning.
I could go on and on, but in order to make you as well-informed as possible before your trip to this little Adventure Paradise, I'll break it down for you, activity by activity, and describe each one in detail. Baños, with all its natural richness, has been growing more and more touristic in recent years and sometimes the sheer quantity of agencies trying to lure you inside their offices straight from the street can be overwhelming. As a person who's lived in Baños for around 6 months, I believe I can recommend to you the best guides and activities in town, cause let's be honest, not all of them are worth the money. I'll also include budget-friendly options for all my fellow backpackers out there!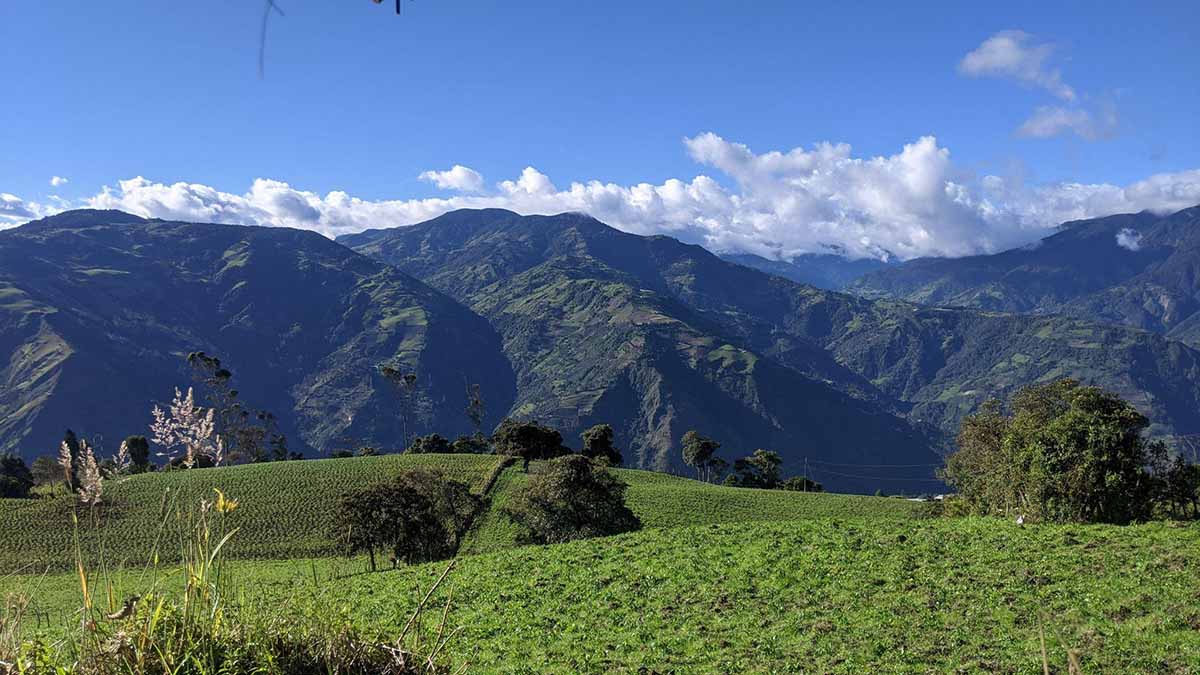 Accomodation in Baños
Let's start with the basics. Where do I sleep? Baños de Agua Santa is FULL of hotels, hostels, resorts, and any other type of accommodation you can think of. When you get off the bus at the main station you are immediately attacked by a group of enganchadores - people, who are trying to force their hotel cards into your hands and convince you that theirs is the best option available. Do not go with them. Most of these places are next to the station and are overpriced for no apparent reason, cause it's definitely not because of their quality.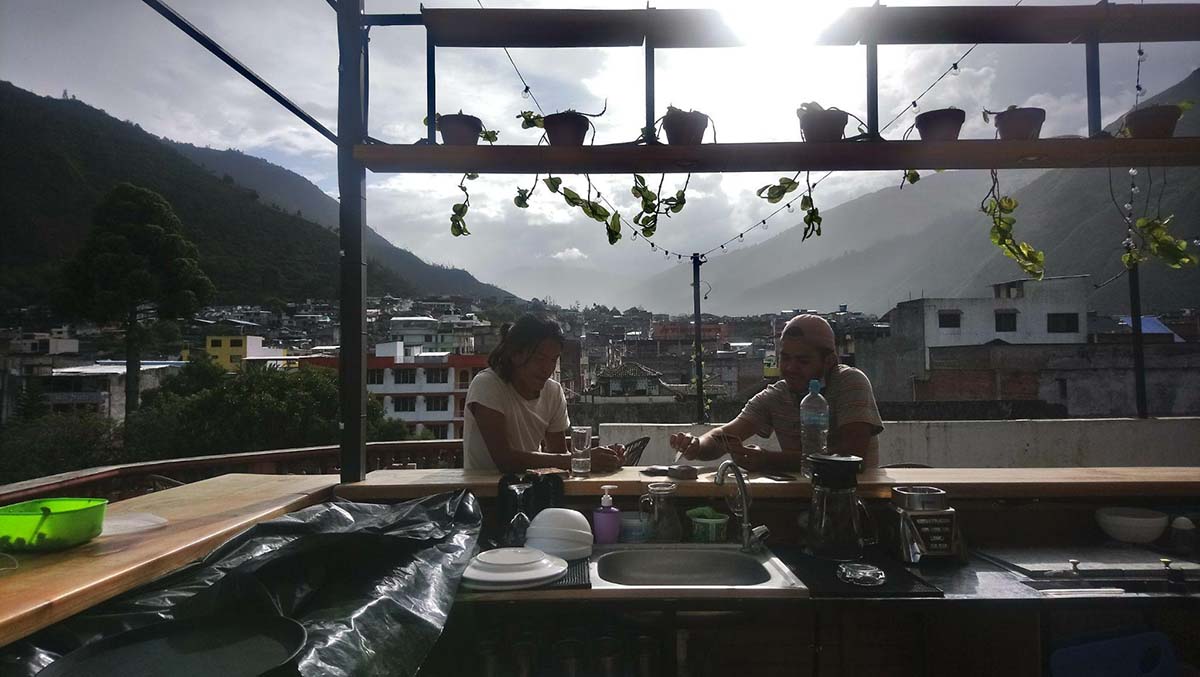 Depending on your budget and the amount of time you're planning to stay there's a lot to choose from. If you're in town just for a few days and want to stay somewhere central, the best option in my opinion is Santa Cruz Hostal. It has an indoor garden, and hammocks, it's really clean and lies in the very center of the city. Another option, more appropriate for party seekers, would be Erupcion Art Hostal which has a rooftop bar and a restaurant downstairs. Prices of both vary from 10 - 15$ per night in a dorm, depending on the season. Another hostel option, less expensive but less central as well, is Great Hostal Backpackers, which was becoming quite 'hip' when I left Baños. It has its own cool outdoor area, and a private bar with a pool table, and since it lies some 20 min walking from the city center, it is calmer and quieter during the night.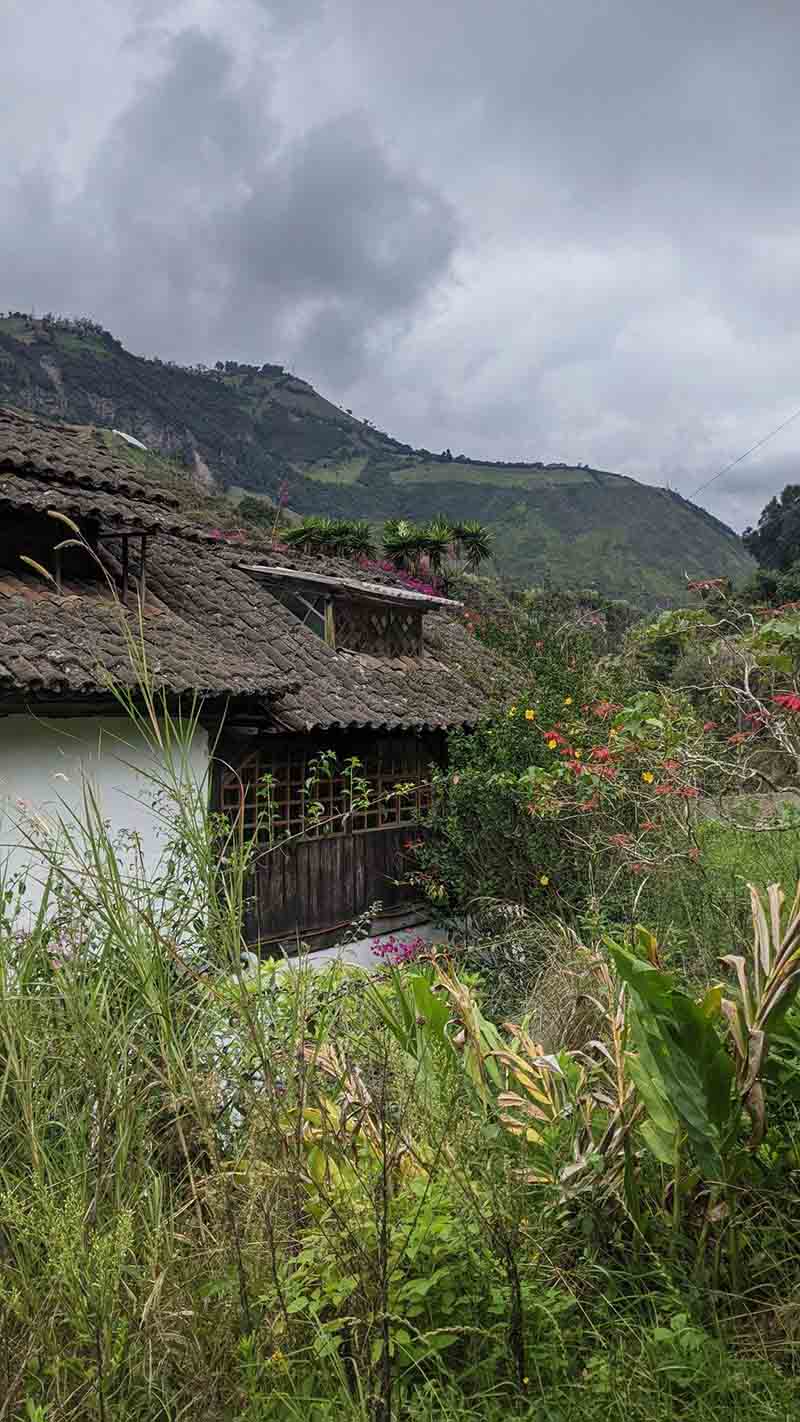 All of the options above have separate rooms in their offer as well, but if you are on a romantic getaway or simply want to be in a more private setting, closer to nature rather than the city, I recommend The Abby's Hideaway. It's one of my favorite spots in the area and I came back there time and again, eventually becoming friends with the owner, Carmen. Her property is really big and beautifully maintained, full of flowers, fruit trees, and birds. It has access to the river and the most amazing view of the canyon, which will stop your heart every morning while you go out into the garden with your morning coffee. You can either choose a big house down by the canyon, if you're with friends or family, or rent the cutest triangle-shaped cabaña (a little wooden house) that lies above and is perfect for couples.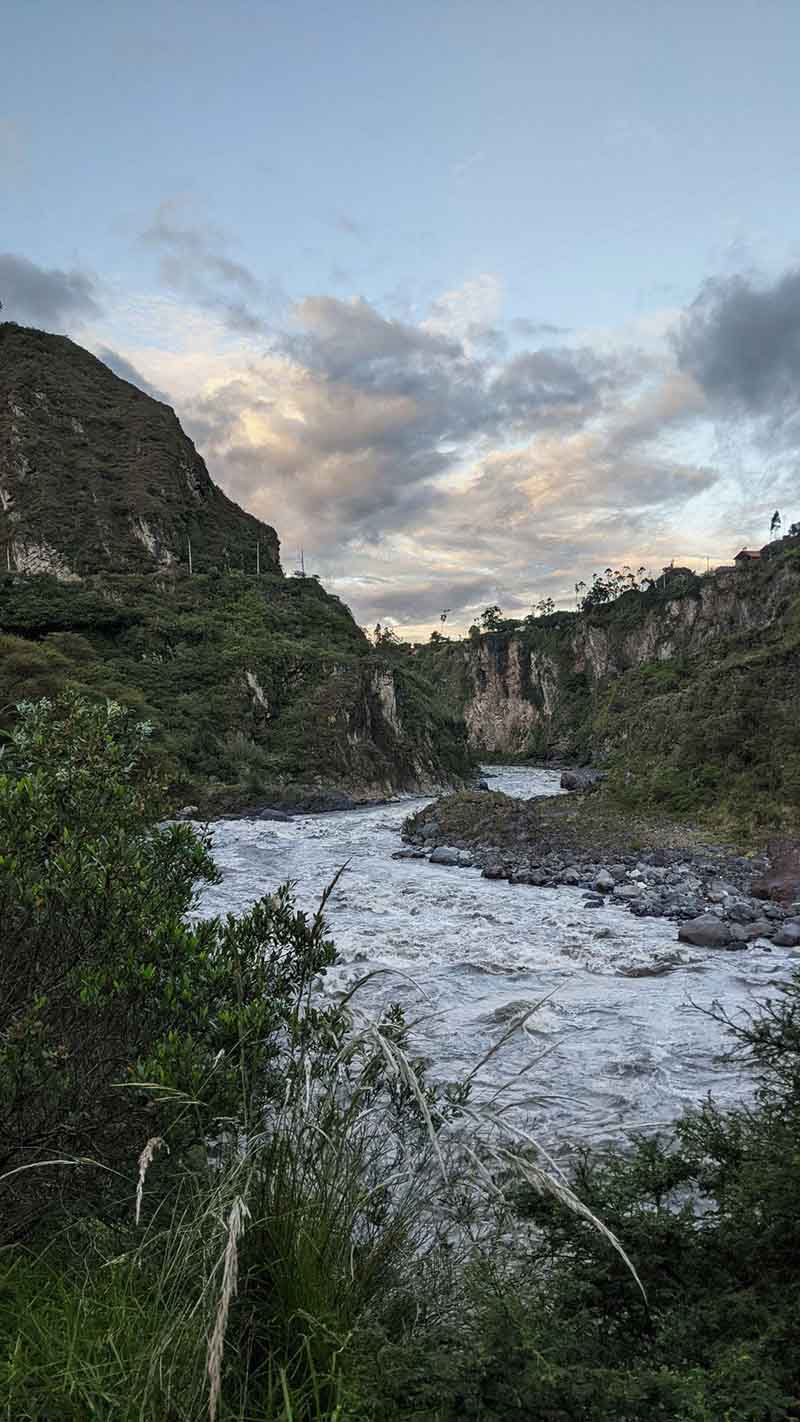 Voyagers Travel offers several roundtrip tours around Ecuador that include a visit to Baños. Here is one you can look at for inspiration:
Ecuador 9 day Andes to Coast Tour
Adventure Activities in Baños
Rafting
And now let's get to the good stuff, starting with rafting, the sport that Baños is famous for. Depending on the weather conditions and the water level you will be taken either to Alto (High) or Bajo (Low) Pastaza. Alto is closer to the city and more thrilling, and Bajo is more chill but the views are better, so each option has its selling point. The river is level 3+ and there is plenty of thrilling rapids conveniently divided by pools (stretches of calm water), so each time you cross through something "hardcore" there is time to recollect yourself (and all the people that might have fallen in, hehe).



I did quite a lot of rafting in the States and in Ecuador, and, with all due respect to the US, I think that the latter was way better value for the money. For once, all the guides are really well-trained plus there is always a security kayaker, something that in the States is not a given. The prices are much lower too - the same trip in California would cost me 150$, and in Ecuador cost 30$ (and the Ecuadorian lunch was SO much better).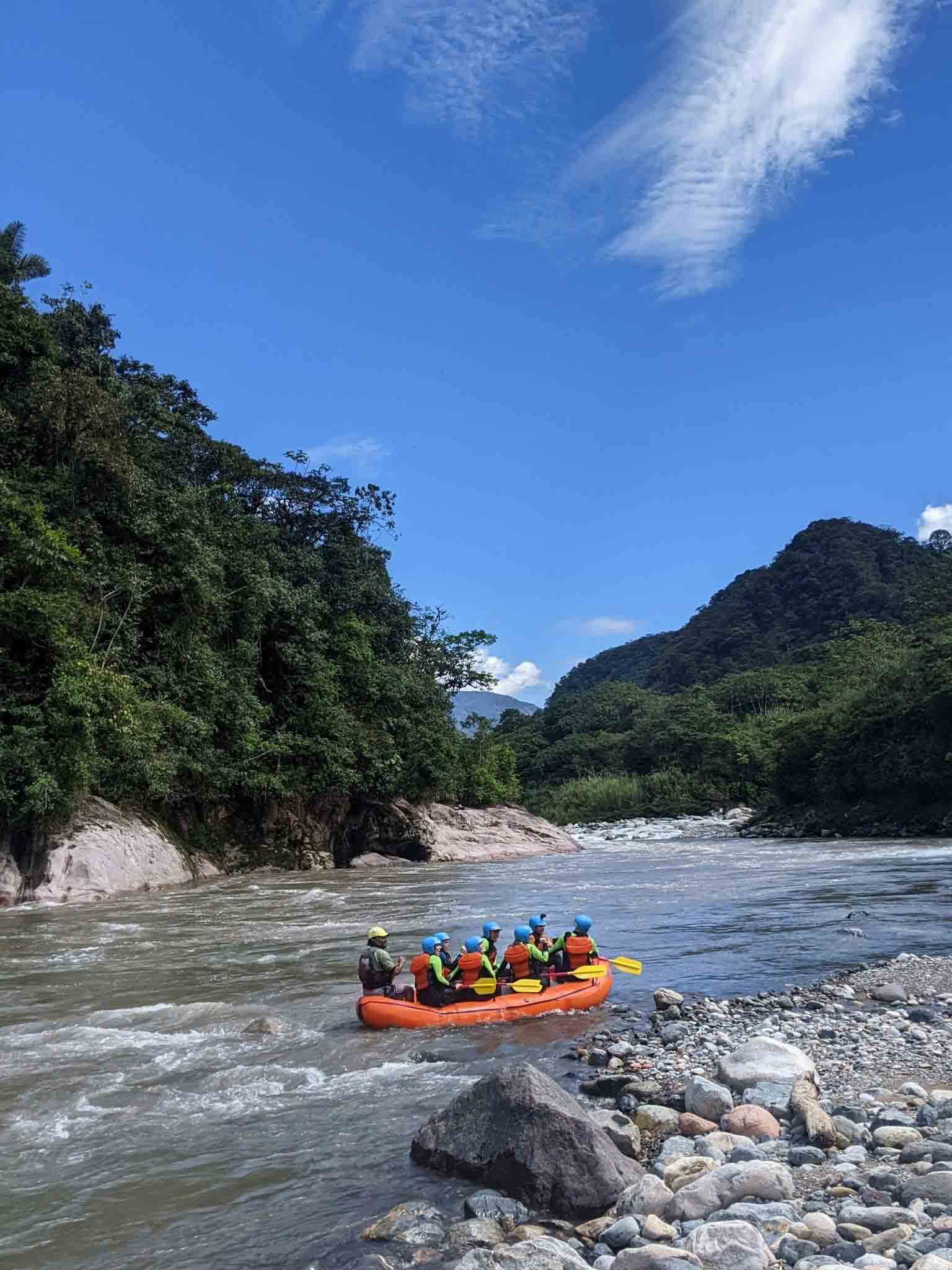 The trip starts around 8/9 am in the morning when you all meet at the agency chosen and collect your gear - wetsuits, helmets, and shoes. Then you drive around 40 min to the starting point where you are given all the river rules and instructions. You carry your boat to the water and off you go for 1.5h of pure fun, followed by a delicious lunch!
Please, do not resign from rafting because you're scared of the boat flipping or you falling into the water - it's all part of the fun! You will be under the supervision of highly trained professionals and as I've mentioned, there's always a security kayaker that is looking out for the swimmers. He is also responsible for taking photos, so if you're not busy drowning, you should always smile at him!
Kayaking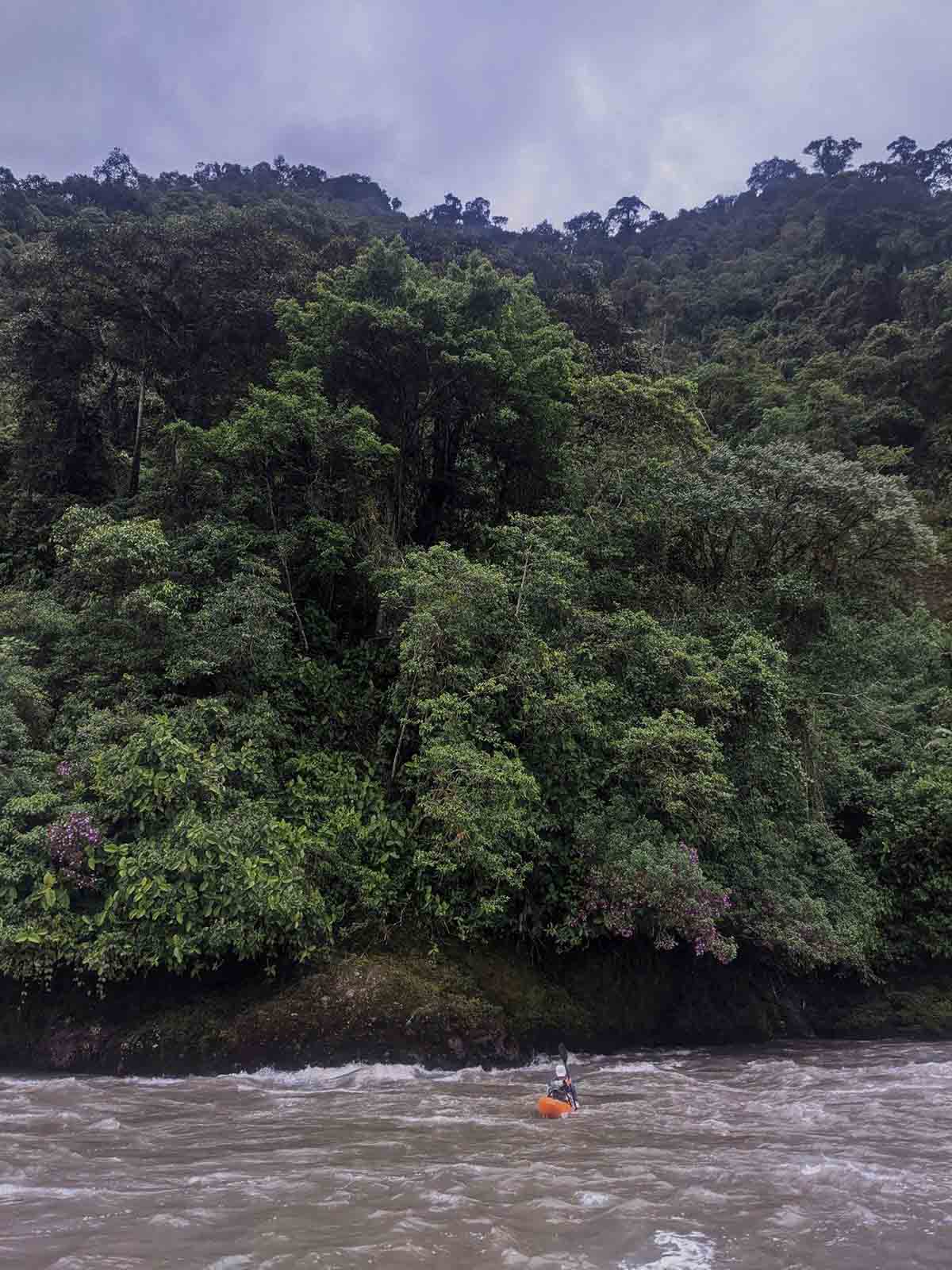 Whitewater kayaking has nothing to do with relaxed paddling through the lakes and broad rivers that I knew before coming to Ecuador. It's an extreme and dangerous sport for adrenaline junkies who don't mind having their heads underwater. I tried kayaking and it was a very educational experience for me, even though I found out I'm not a natural at it. Learning a "roll" (getting your kayak back in the correct position when you flipped) is a basic, something you have to know before even thinking of going to a real river and it is very hard to master, but SO rewarding when you do. Also, kayaking gives you an opportunity to see places you could have never accessed otherwise and enjoy the river on a whole other level. If all that sounds appealing to you, Voyagers Travel offers private kayaking lessons that'll give you a jump start for this sport. Although if you are thinking about taking up this sport seriously, I recommend going to Tena - the perfect spot for kayakers.
Canyoning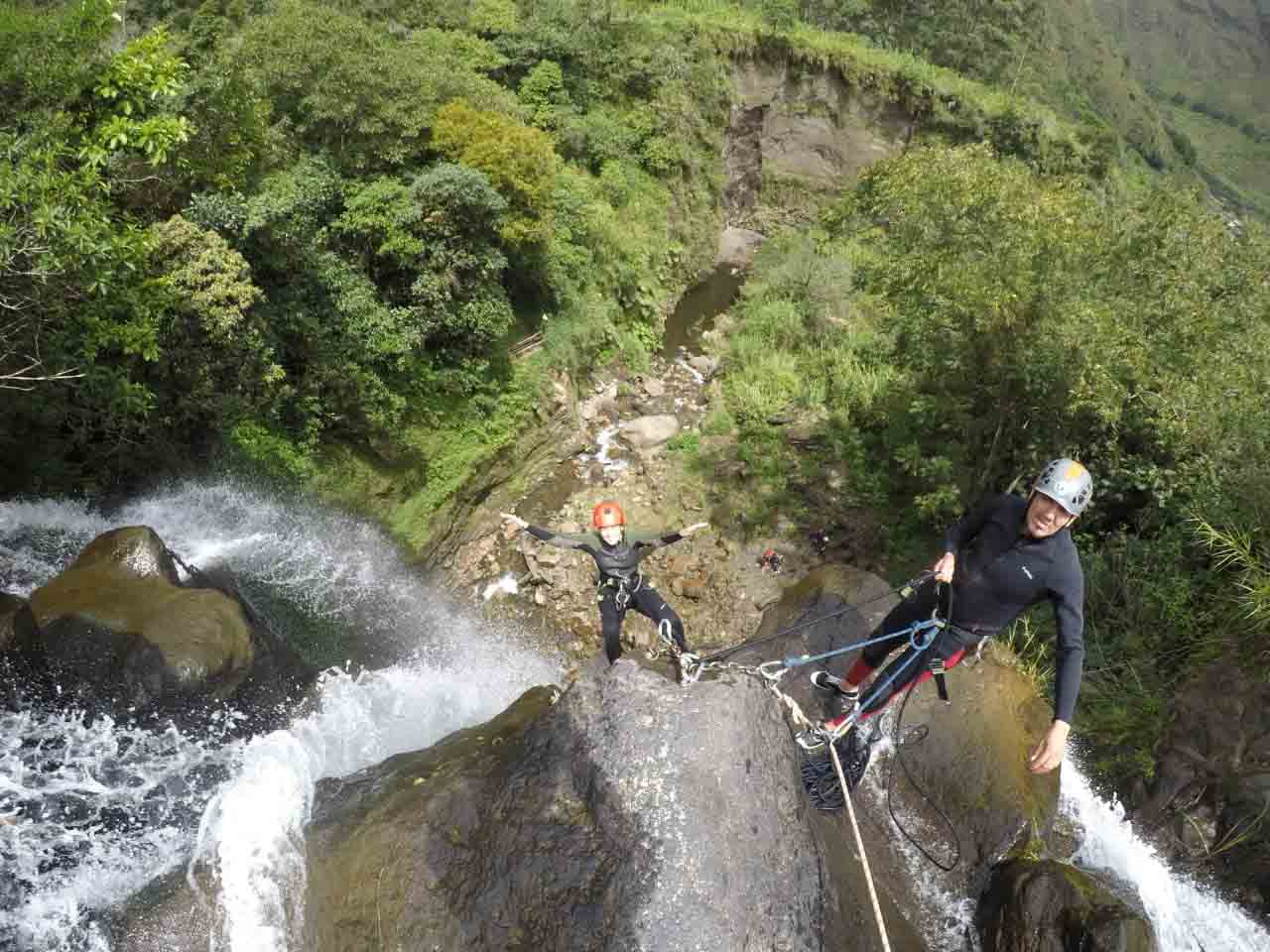 It's hard to choose "the best" activity offered in Baños since each one is special and amazing, but when I do think about it, canyoning always comes to mind. I have never heard of this sport before coming to Ecuador, so it was all new to me and turned out to be a love at first sight. There are a few different canyoning options in Baños: Shamana (25$, it's really easy, you're basically just being rappelled from place to place), Shamana Alto (100$, really hard, takes a whole day and requires a good deal of stamina) Rio Blanco (30$, it's really pretty, more mountainy than jungly on the contrary to Shamana), and Calla Hurco (60$, in my opinion, the best option available).
I cannot stress it enough - spent 30$ more and go to Calla Hurco. I know that Shamana and Rio Blanco are more affordable and they are pretty as well, but Calla Hurco is a whole experience. You will climb, rappel, jump waterfalls, see and ride a canopy made on a spot by the guides, and all this while enjoying a semi-jungle forest around you. If you are lucky to have a guide who's passionate about his job, he will show you all the hidden gems on the way - little rock climbing spots, small waterfalls, the coolest jumps, etc.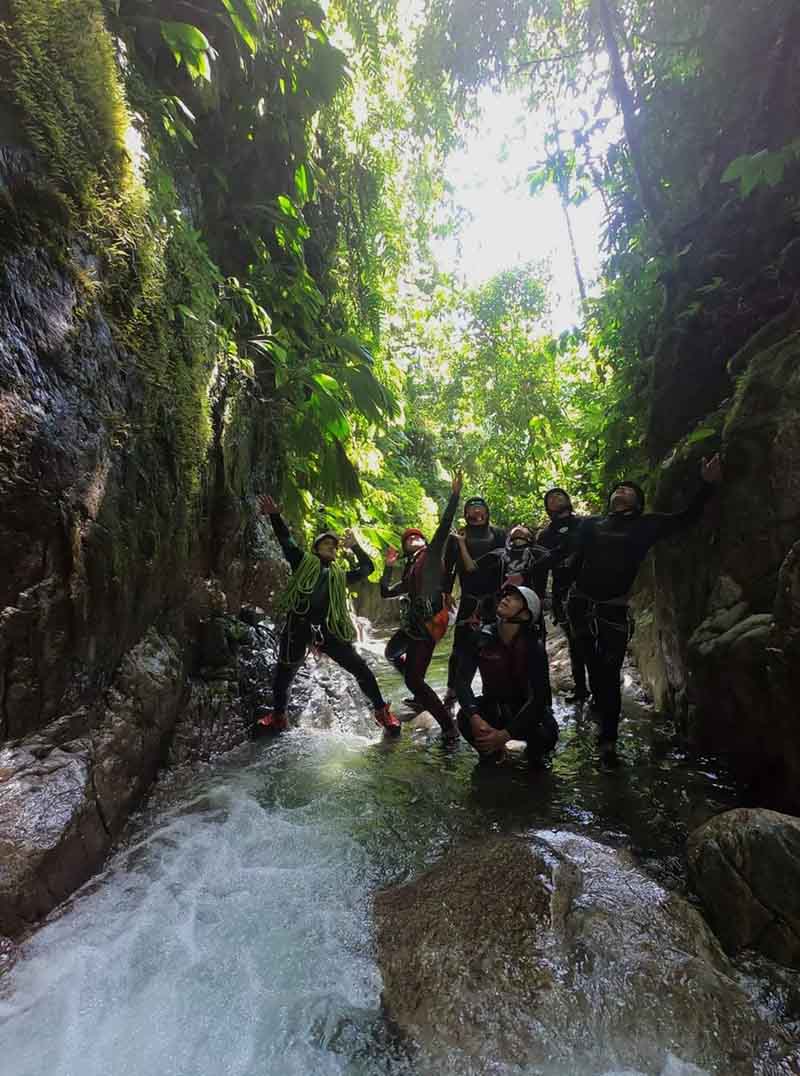 Rock Climbing
I've never been much of a climbing person. I would always go to one of these artificial walls and think: "But… What's the point?" I don't know if it's the beautiful setting or the fact that here I was climbing a real rock, but in Baños I suddenly fell for climbing. It's just such a precise sport, where all you need is proper technique and focus, rather than arm strength. I always thought it was the latter, and since my arms have the strength of spaghetti, I never thought I could be good at it. But with a proper trainer, good tips, and lots of practice, you'll be surprised at what you're capable of, even if you have never tried climbing before!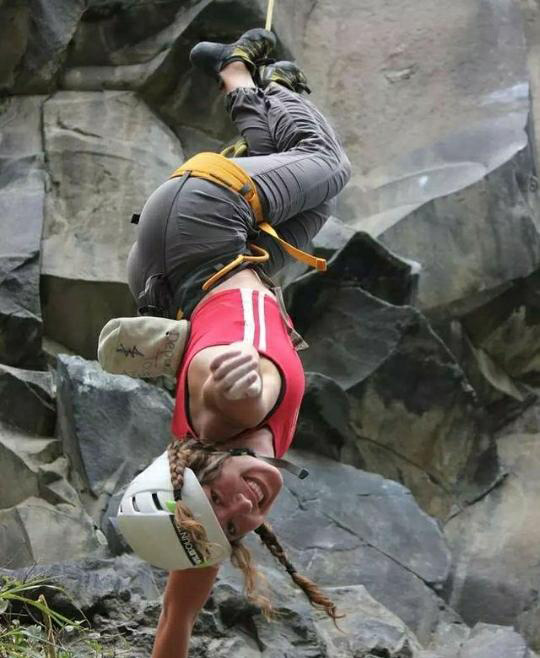 There are 2 main spots for this activity in Baños. Most of people go to San Martin Canyon, which is beautiful, but it gets overcrowded and in my opinion a little bit boring after a few hours. Another option is going down the road to the rock beneath the San Francisco Bridge.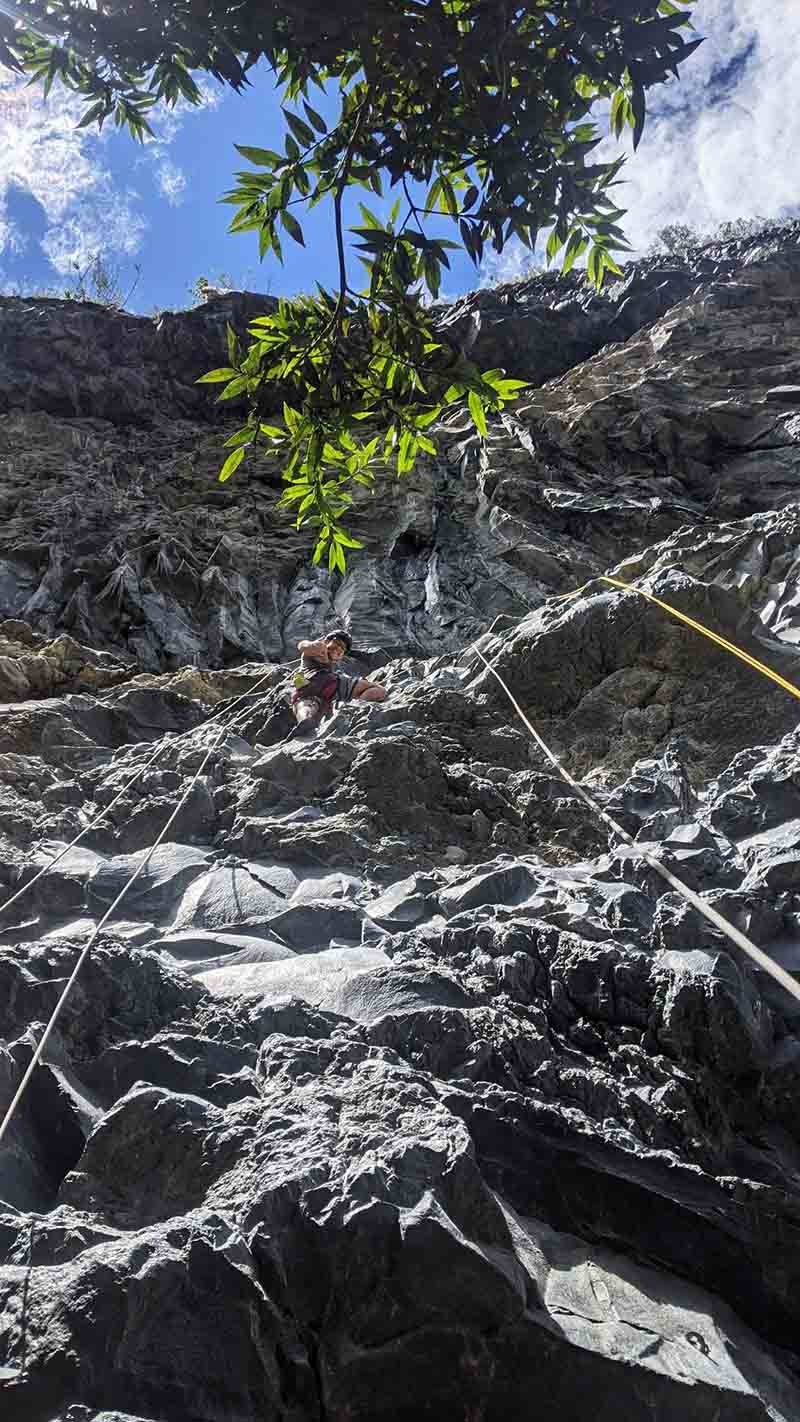 Bridge Jumping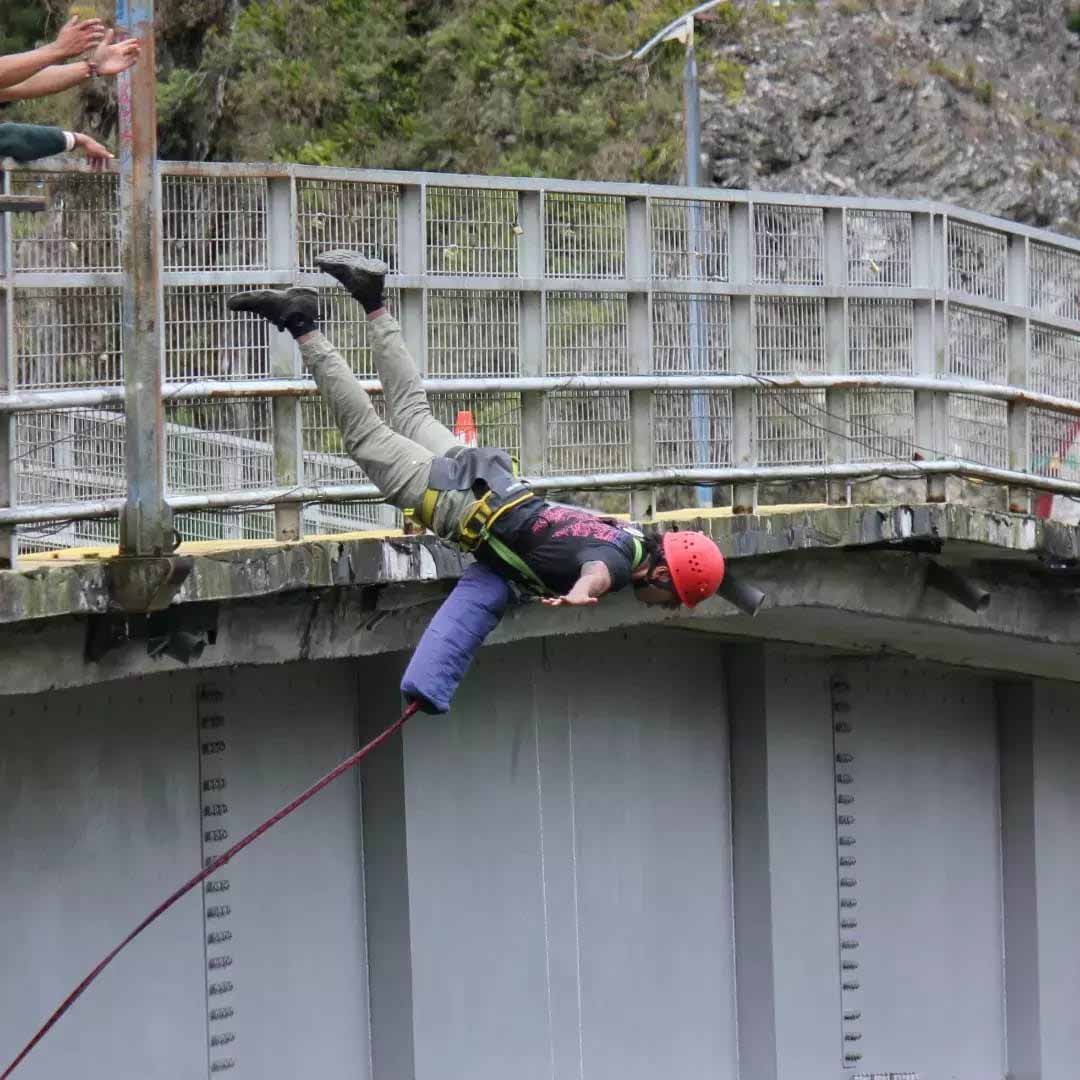 Speaking of the San Francisco Bridge, how do you feel about jumping from it straight into the abyss? Yes, I love it too! There are two puenting(bridge jumping) options offered in Baños. One is in Rio Blanco, which is ok if you are in that area anyway and want to give it a try, but Puente San Francisco is the real deal. I just want to explain that it's not bungee jumping, the security system works more like a swing. An absolute must for thrill-seekers and the views as you fly head down into the canyon is mind-blowing. I jumped more than 5 times but never stopped screaming.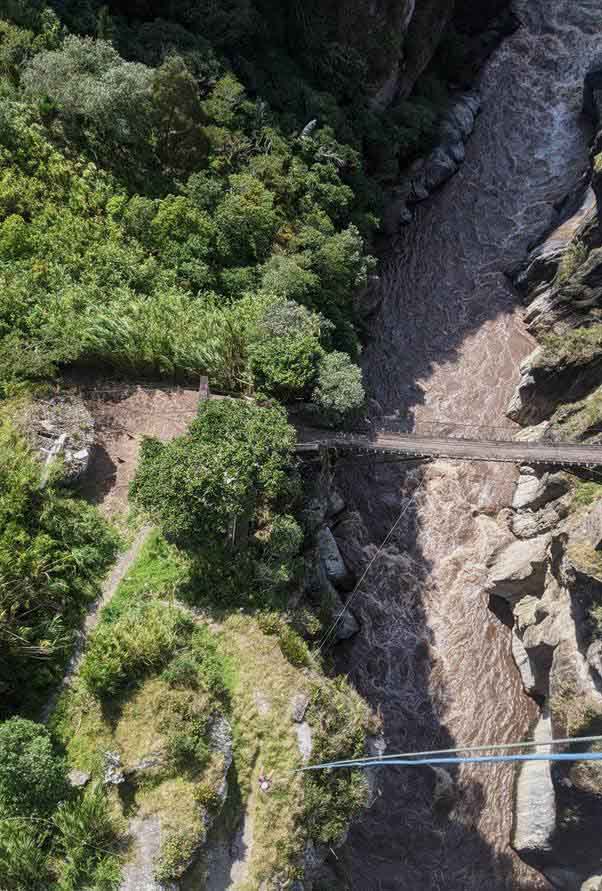 Paragliding
Now let's talk about a whole other type of flying. The first time I tried paragliding was at the coast and it was really beautiful, but cruising the air in the midst of the Andean mountains with the views of a cloudy Tungurahua volcano is another level. The starting point is in Niton, around 25 min drive from Baños. At this height it's impossible to predict the weather but if you're lucky you will see the whole valley and the volcanoes surrounding it. If you love the butterfly-stomach feeling of falling, like me, ask him to give you a few swirls and drops while in the air. The tour costs 60$, but it's really worth it!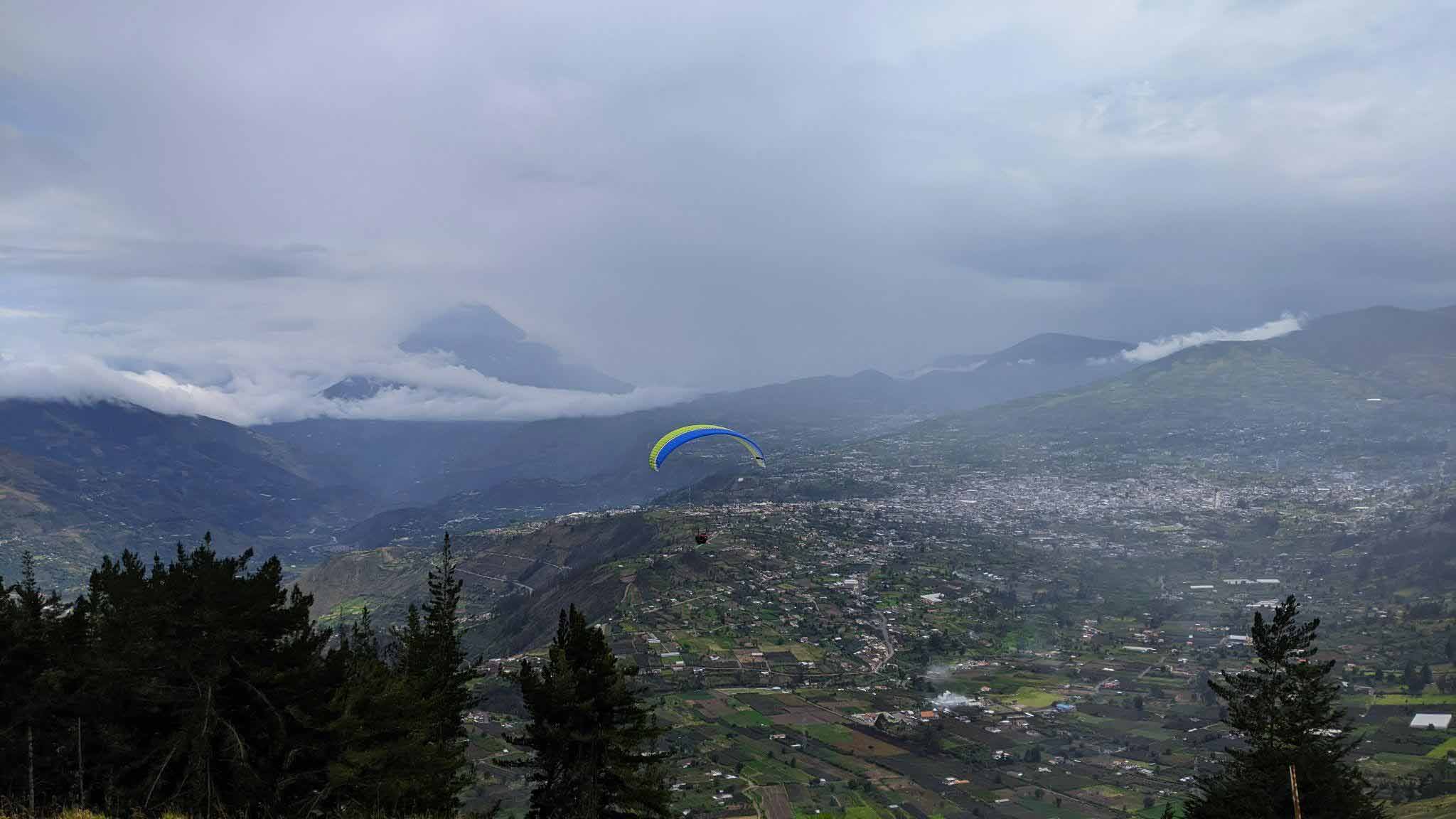 Volcano Climbing
Speaking of Tungurahua. How about climbing it? Mama Tungurahua, as the locals call her affectionately, is a 5023m active volcano that towers over Baños de Agua Santa. It takes around half an hour to get to the park entrance at 2800m. You can start in the early morning and attempt to climb the whole thing in one day. A more popular choice is to go in the afternoon, climb to the refugee at 3830m, rest until midnight, and climb the rest of the way during the night. That brings you to the peak just in time for stunning sunshine. Of course, there is no guarantee you'll get there since it all depends on the weather. On my first attempt, we managed to get to the height of 4500m, where we were stopped by a blizzard and our guide told us we have to go back. That should not discourage you though - it was an amazing and unique experience and it made me acquire even more respect for the force of nature and the force of my own body too.
Just please, be aware it is a strenuous hike and you should prepare for it with previous hiking in a high-altitude area. One of our 3-people group decided to stay at the refugee without even trying the climb to the top, because of the lack of preparation and the altitude sickness. The prices vary depending if there's a group that you can join or if it's going to be a private tour.

Hiking
You can easily prepare for Tungurahua without ever leaving Baños, by simply trekking around town. There are tons of amazing hikes around the area. To start with, you can take a leisurely trek on the city outskirts, called "Banco del Amor". Then you can proceed to something more difficult like "Cara del Perro" (The Dog's Face) or a neighboring "Piedra de la Luz" (The Rock of Light). These ones are slightly more demanding and it takes around 2h of a steep climb to get to the top. They take their names after the shape of the boulders that mark their peaks.




Piedra de la Luz is my favorite. It has the best views of the town, the trail is not overcrowded and you can camp at the top which is an unforgettable experience full of stars. Another good hike is the famous Casa del Arbol (The Treehouse) which starts right in the city center and takes you to 2660m (so a good 800m climb). At the top, there is a little park with a wooden treehouse and a swing that'll take you for a thrilling ride over the mountain edge. And the entrance fee is just 2$!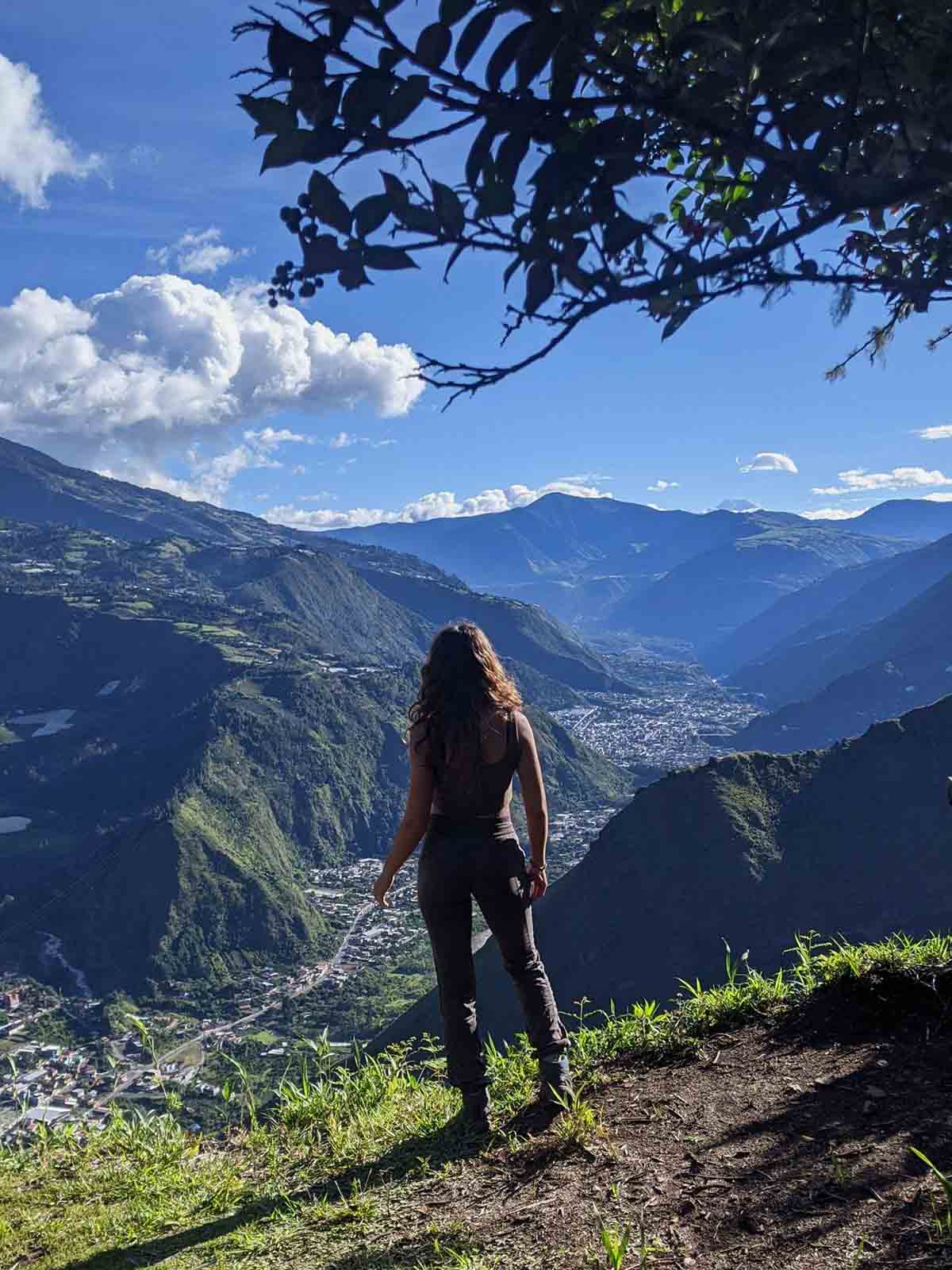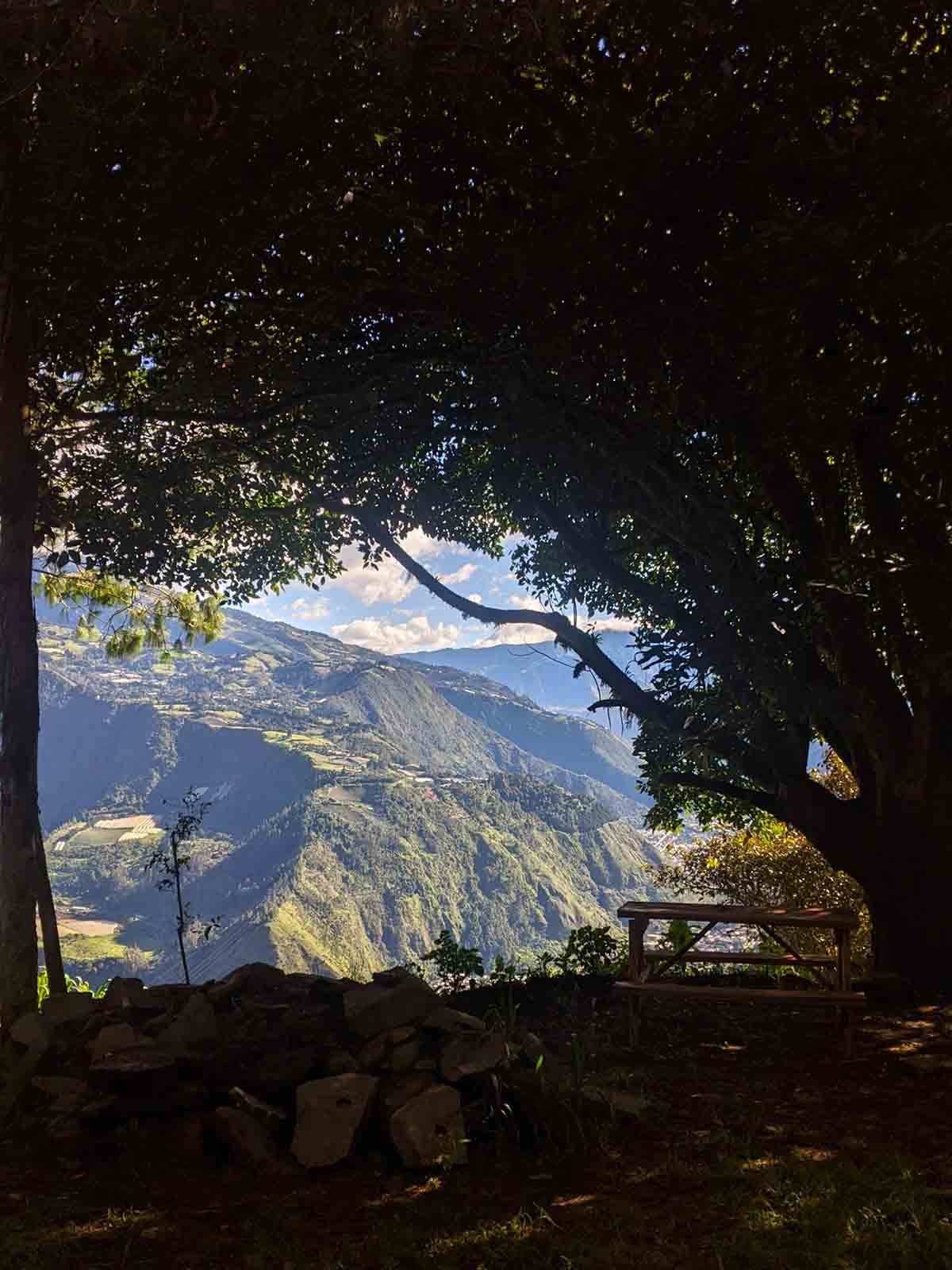 Ruta de las Cascadas
The Waterfall Route is one of the Baños best-selling tours, but to be honest I think everybody can do it on their own. The tour costs 30$, but it's better if you simply rent a bike for 10$/day (you can find them cheaper, but I recommend getting a good one) and then follow the road. It's practically impossible to get lost, but be careful because, for the most that you can admire on your way, there are a few spots where you should make a longer stop. The first is Manto de la Novia (The Bridal Veil) where you can trek to the bottom of the fall and have a coffee at a really cute little restaurant. The second is the famous Pailon del Diablo (The Devil's Cauldron) which is stunning beyond the adjectives. You'll have to pay around 2$ and take a short hike to get there but you HAVE to see it.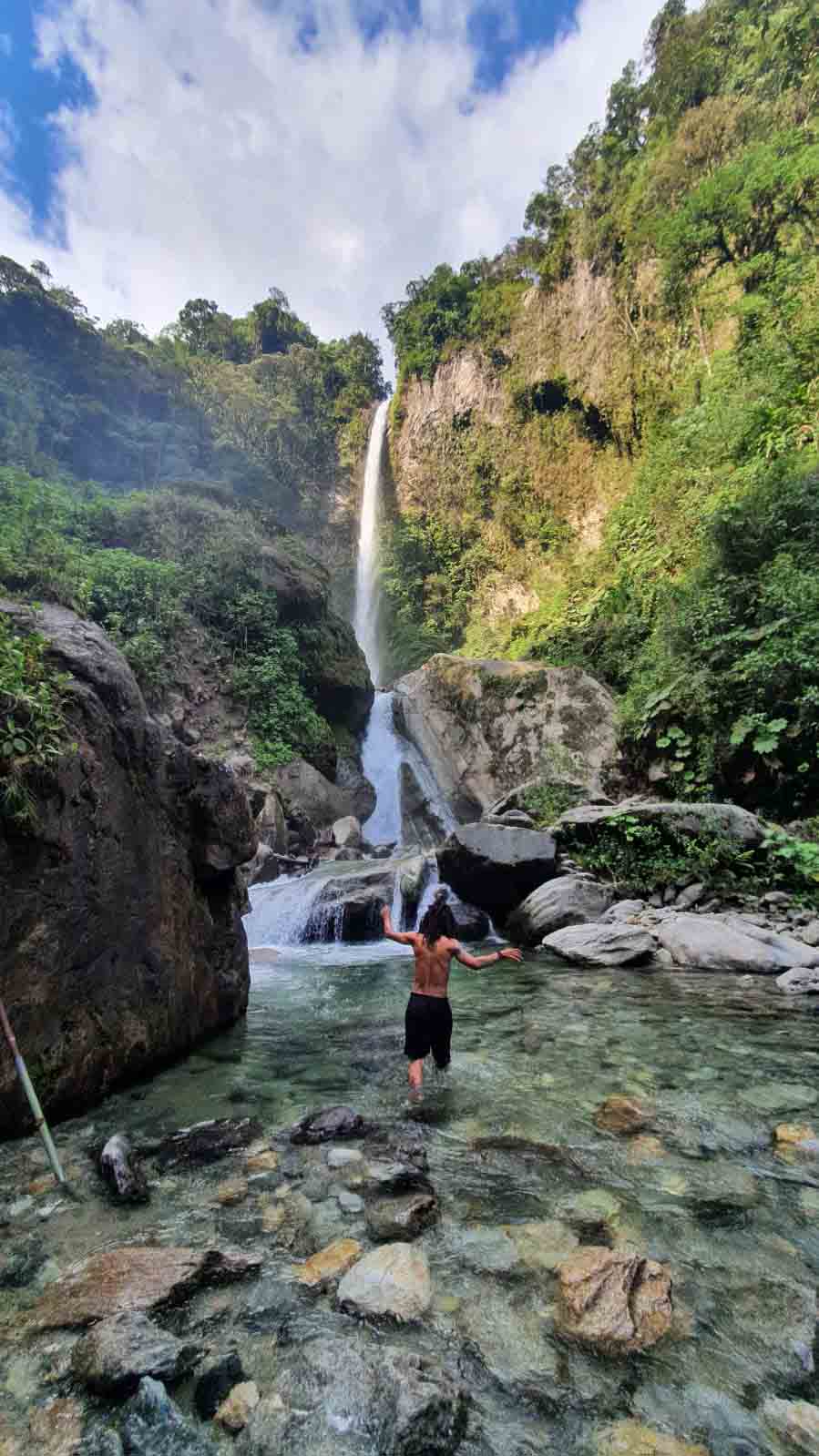 Most people stop at Pailon and go back, but I strongly recommend you continue around 10 min down the road and stop at the last waterfall, Machay. It's the least visited of the falls, making it more private and magical. It's not visible from the road, you have to take a beautiful hike through the forest full of birds and butterflies to get there. Once you're there you can bathe in the stone-cold water of the falls and explore the rocky shores of the river. Since The Waterfall Route is all downhill, cycling back might get really hard but don't worry! There are always special buses waiting at the Pailon del Diablo area, that recollect the bikers and take them back to the city for a few dollars.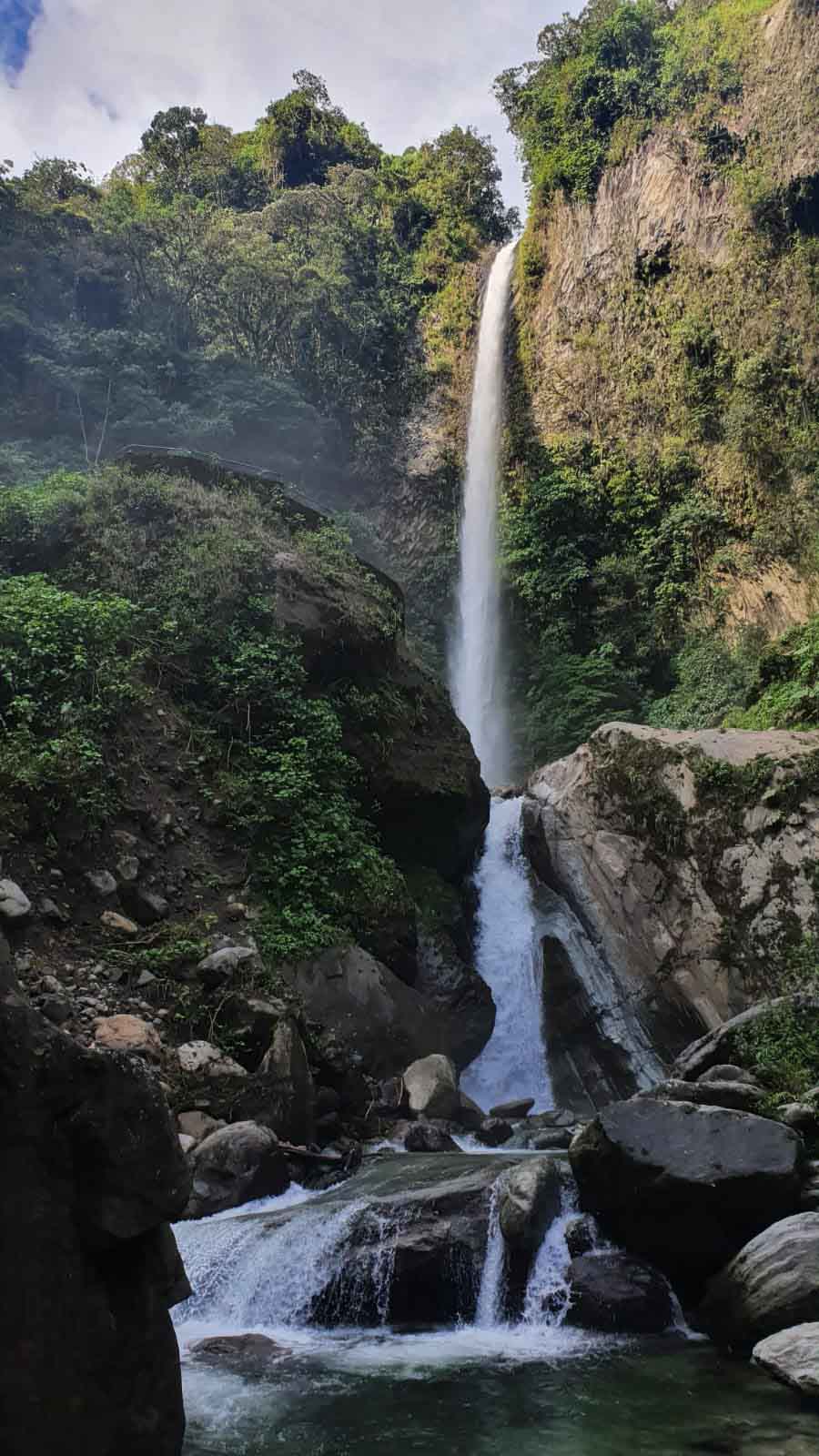 Canopy
The last thing I want to mention is the ziplining. There are two main options for that activity around Baños, the first being more chill and family-friendly (Canopy Punzan), and the second, being more adventurous and thrilling (Canopy San Martin). I think it goes without saying that I preferred the latter. It's actually a little adventure park rather than just a canopy. First, you have to zipline through the narrowing canyon entrance and land inside a surprising cave in the rock wall Then you have to cross a hanging bridge and climb another wall to get to the second canopy that'll take you back to the starting point. All very secure and professional, not scary at all, but it's better if you like heights. 20$ and worth it!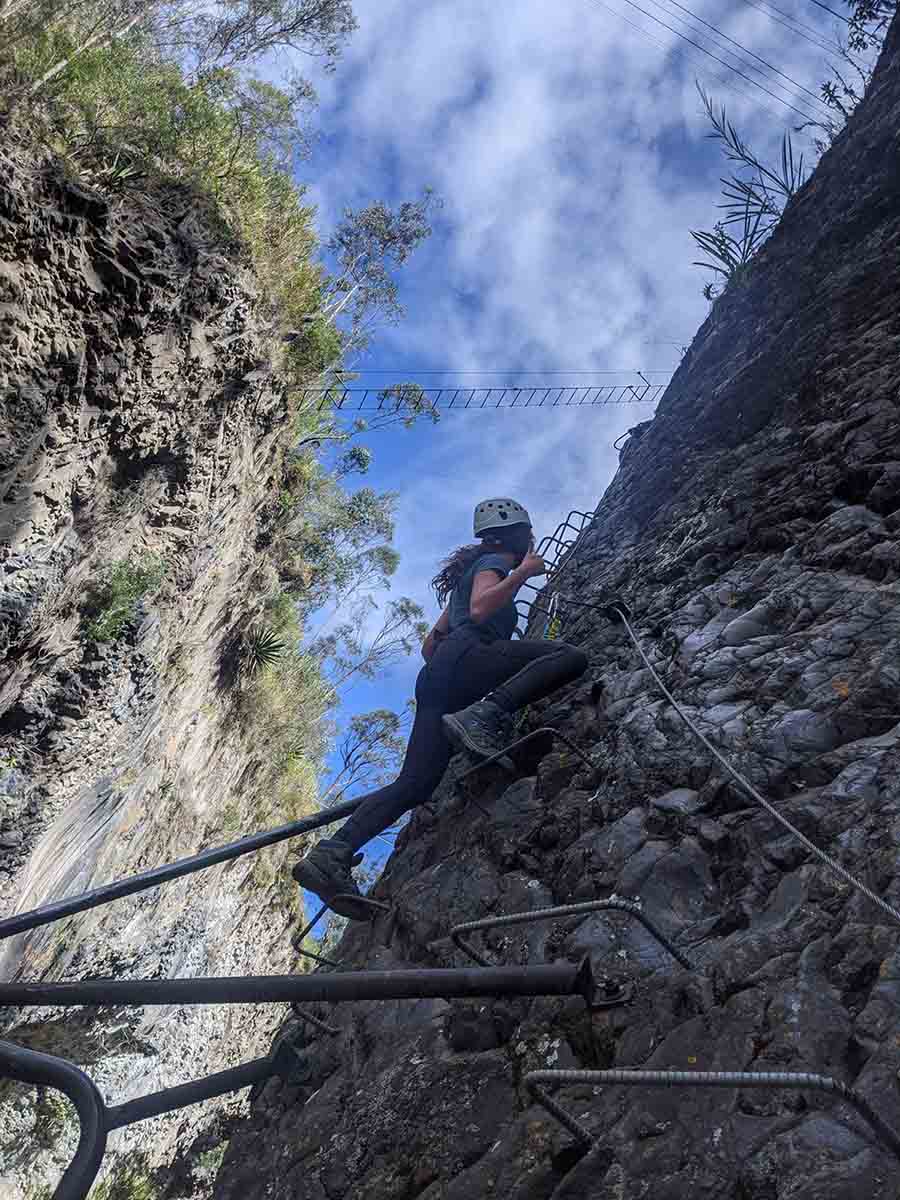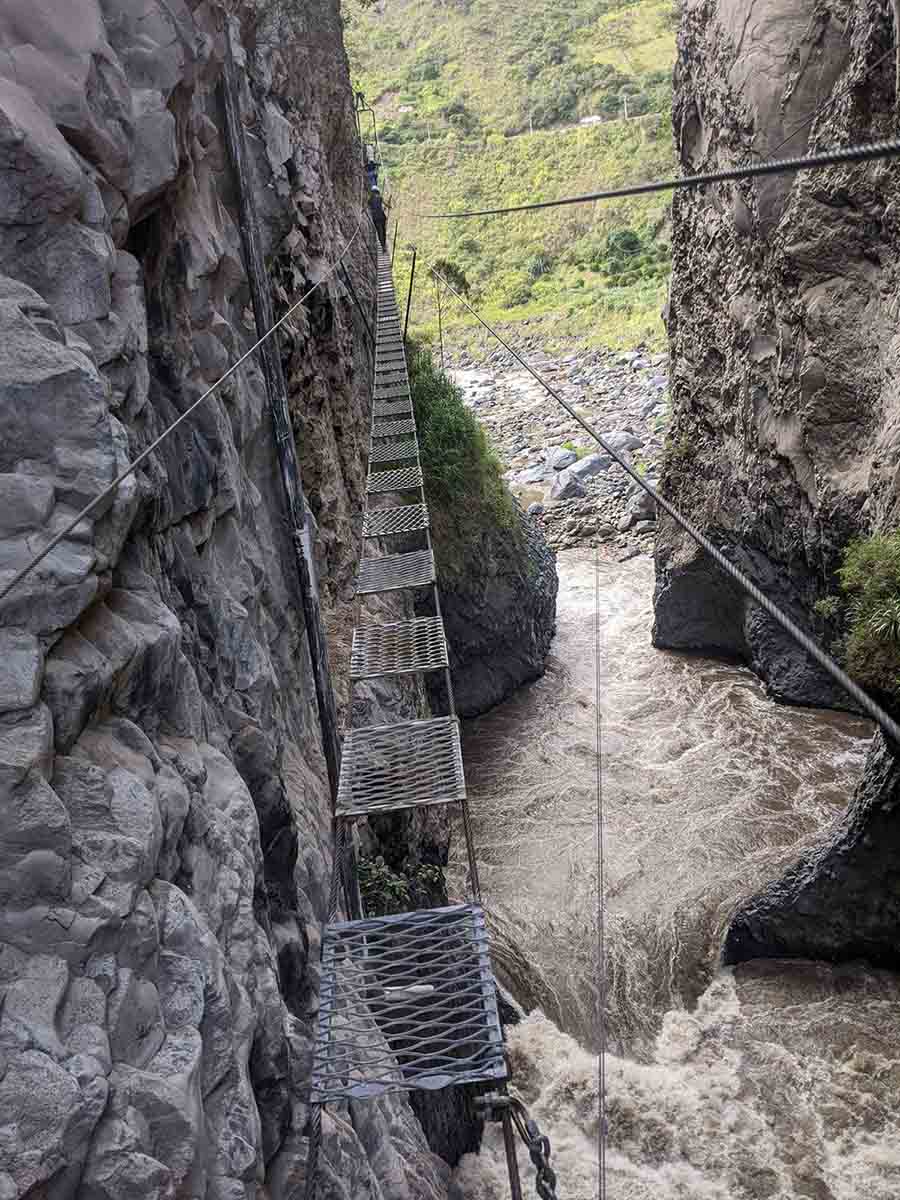 I could go on like this forever, but I think I proved my point: Baños de Agua Santa is the unquestionable Adventure Capital of Ecuador. Every outdoorsy person will find something they'll love here. And even if you are not a thrill lover you should visit it just because of its natural beauty, its thermal pools, cute cafeterias, cool bars, and awesome people. Just go there and see yourself!