I'm gonna be honest. I hate cities in general and any town larger than one million inhabitants immediately causes my deep aversion. Guayaquil, with its 7 million people, was not the first position on my "To Do" list. But, as it often happens in life, sometimes you just end up in places, and during my stay in Ecuador I ended up crossing through Guayaquil not once but 5 times – after all it is the gateway to the Galapagos Islands.
To my surprise, it was actually one of the many places in this country where I enjoyed returning to time and again. What's more, it wasn't half as bad as I imagined and there are some cool places to discover and things to do there. So if you're big cities fan or you just have a 24h layover before your flight to Galapagos Islands and wanna kill the time, here are some fun things to do in the infamous Guayaquil.
Tours that Include Guayaquil
Voyagers travel offers unique experiences around Ecuador including the city of Guayaquil and it's surrounding coastal lowlands. Here are a couple itineraries to look up when planning your visit:
Chocolate getaway Tour – 3 days from Guayaquil
The Route of the Sun Tour - 4 days from Guayaquil
Whale watching in Ecuador Tour – 4 days from Guayaquil
Charms of Southern Ecuador - 6 days from Cuenca to Guayaquil


Safety first
Ok, so I wasn't robbed but it doesn't mean you should walk wherever you want with your phone out, taking selfies. There are places where you should never go, like La Trinitaria or Guasmo. There are places where you should be cautious (I mean more than usual cause you should always be cautious). And you should never go anywhere alone after dark. Your best bet is to stay in the city center/north where it's the safest and where most of the nice places are to be found. If you want to go out at night, go with somebody and come back with an Uber - don't stop a random taxi on the street! They'll not only charge you more, they're actually much less safe than Uber.
It's really useful to have one of these travel pouches that you can hide under your clothes. Once I was mugged at the beach and they took my backpack but didn't notice my fanny pack where I had all my valuables. So basically they ended up stealing my towel, flip flops, and a pineapple pie. It was a good pie though…
When I was in Guayaquil I didn't have a phone with me and I kept all my money and document in a little pocket I sewed into my bra and that worked great. I don't want to freak you out - I don't think that Ecuador is a dangerous place. I think you can get robbed anywhere. It happened to me as easily in Poland or Italy as here. I just want you to be careful and try not to be a typical "tourist" hence, the easiest target. With that being said let's get to the fun part and to what you should do in Guayaquil!
Cerro Santa Ana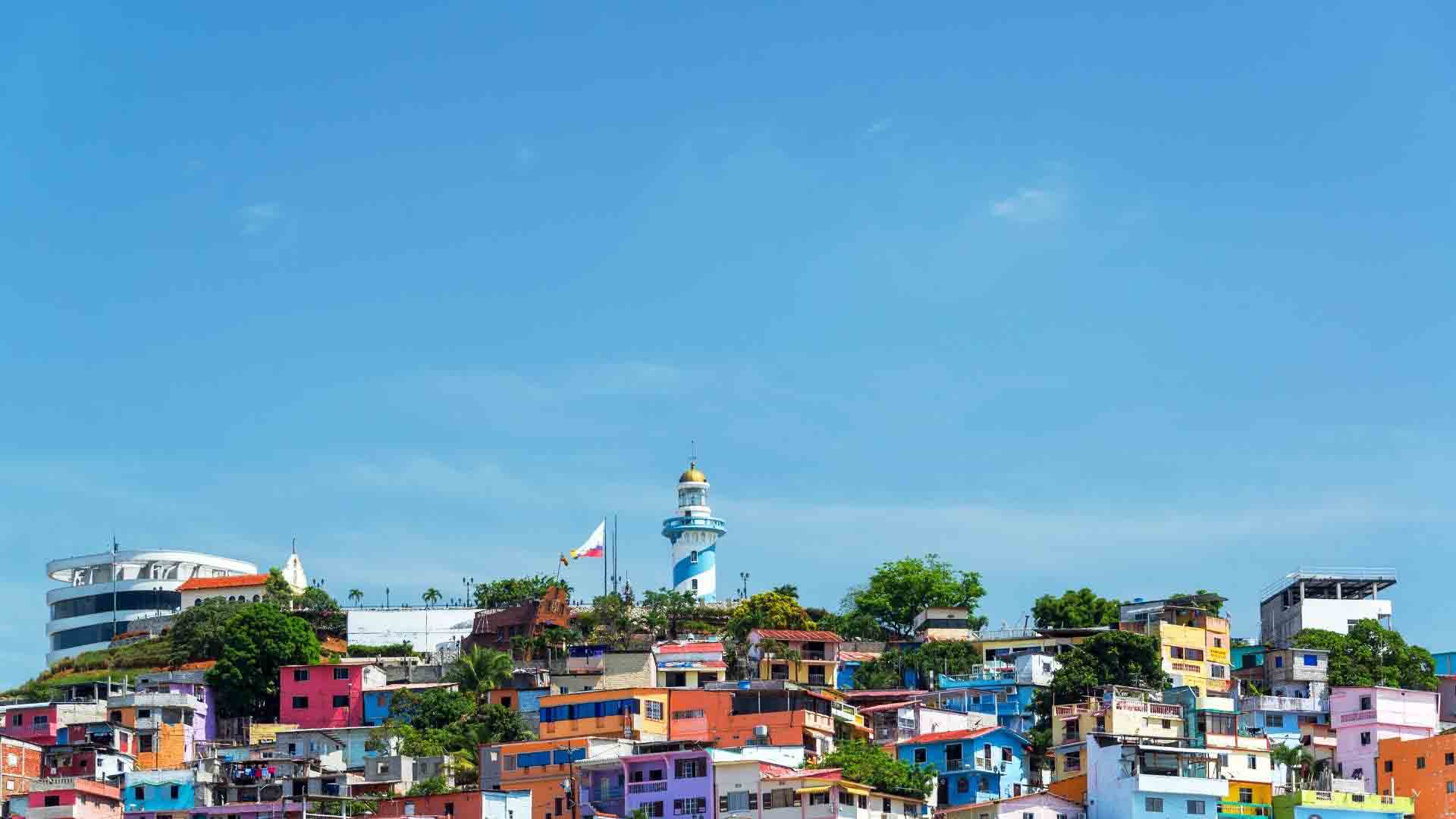 Let's start with the obvious. Cerro Santa Ana is one of these places that everybody goes to and when you finally go there as well, you immediately understand why. The 444 steps leading to the top of the hill are filled with colorful bars, restaurants, and art galleries. There are squares full of flowers and music and all that beauty is known under the name of Las Peñas - one of the most antique neighborhoods in Guayaquil. On the very top of the mount, there's a viewpoint where you'll find 400 years old Santa Ana church and a picturesque blue and white Faro (the lighthouse) from where you can enjoy the panorama of the metropolis. This neighborhood is also the best spot if you wanna grab a drink in the evening.
El Malecon 2000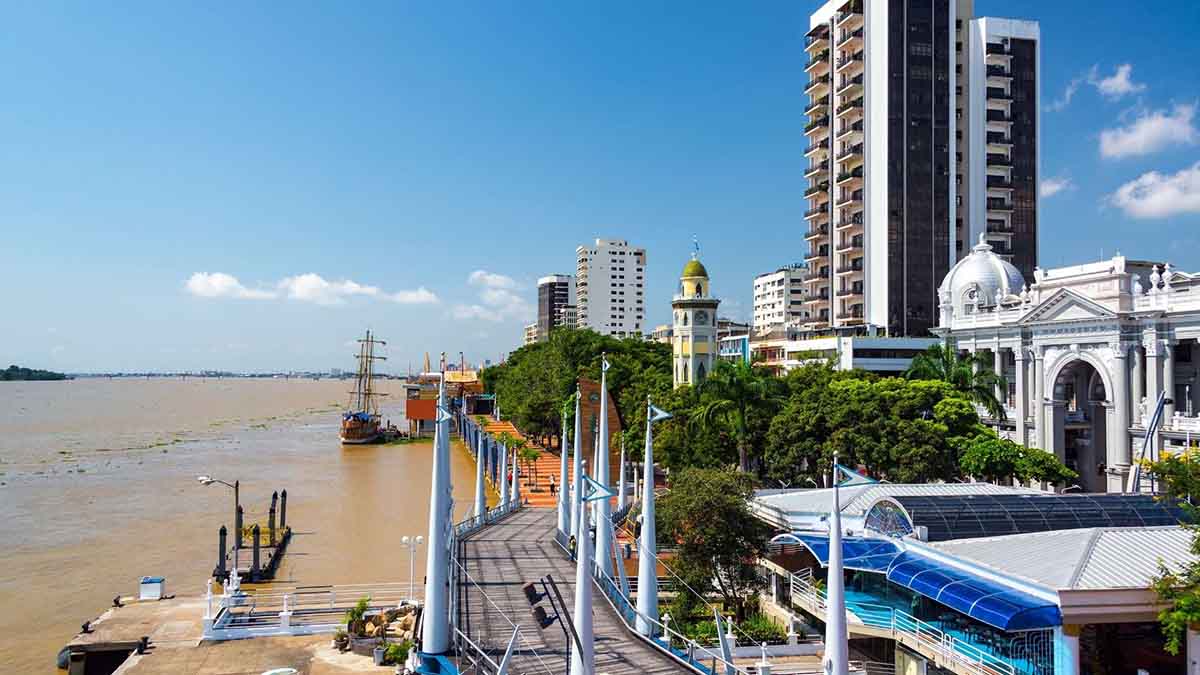 Let's get from the old to the new. I'm not a big fan of wide main streets full of touristic venues myself, but it is quite impressive how Guayaquil's government cleaned up this part of town. Before the huge revitalization project that started in 2000, this used to be one of the most dangerous and dirty places around and now it's the heart and soul of the quickly modernizing city. El Malecon is a seaside promenade covered with shops, restaurants, bars, parks, and playgrounds. It's also home to La Perla - the biggest ferry wheel in Ecuador. It costs only 5$ and you get a view of the whole city and its surroundings. As I've mentioned, streets like that filled with people and malls are not my thing, but I really enjoyed the ride on La Perla, especially since it's not ridiculously overpriced like the London Eye!
The Iguanas Park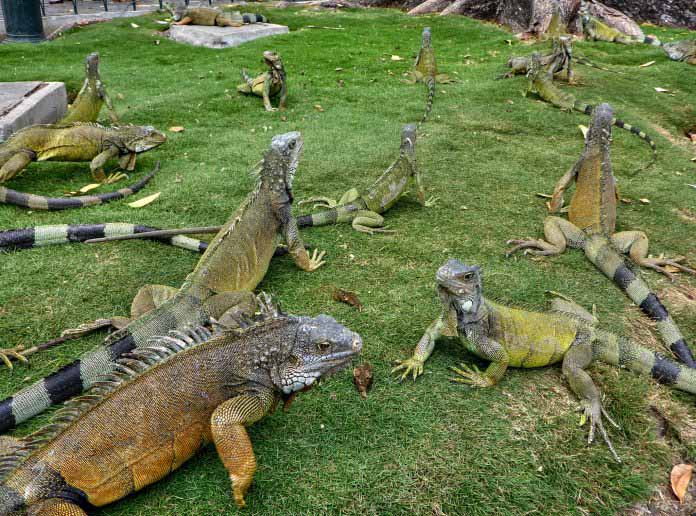 Another thing that might be called a staple but is really cool (especially if, like me, you didn't have a chance to go to the Galapagos Islands) is Parque Seminario, better known under its another name, Parque de las Iguanas. I heard the name and thought "Oh cool, maybe it's possible to spot an iguana there sometimes." Wrong. You don't have to spot anything. They're literally everywhere just waiting until you sit down on a bench so that they can pee on you from the trees (yes, that actually happened to me. no hard feelings though). They're truly incredible creatures that instantly make you think of dinosaurs and it was a really amazing experience to see them flocking around you like pigeons waiting to be fed.
Henry Morgan Pirate Cruise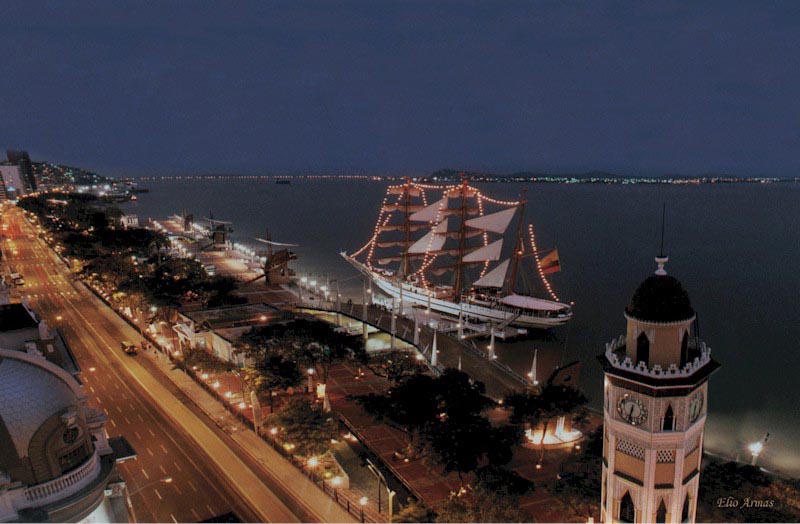 One of the things that I wanted to do but in the end didn't have enough time, for was taking a cruise on the Henry Morgan ship. I used to be obsessed with pirates, so when I heard there's a boat named after a famous Gaelic pirate that takes you on a "pirate sea cruise" and it only costs 7$ I was already naming my parrot and searching for my peg leg. It wasn't meant for me at that time, but if you're a fan of ships and not prone to seasickness this might be something interesting for you to try. I understand that during the cruise they tell you all about the pirate history of the city, which used to be attacked by those charming gentlemen a lot in the past. On the other hand, I can't vouch for this tour since I haven't taken it and heard some negative opinions about it too. Some of my friends said that the boat is usually overcrowded and the price may magically change once you get to the office.
Isla Santay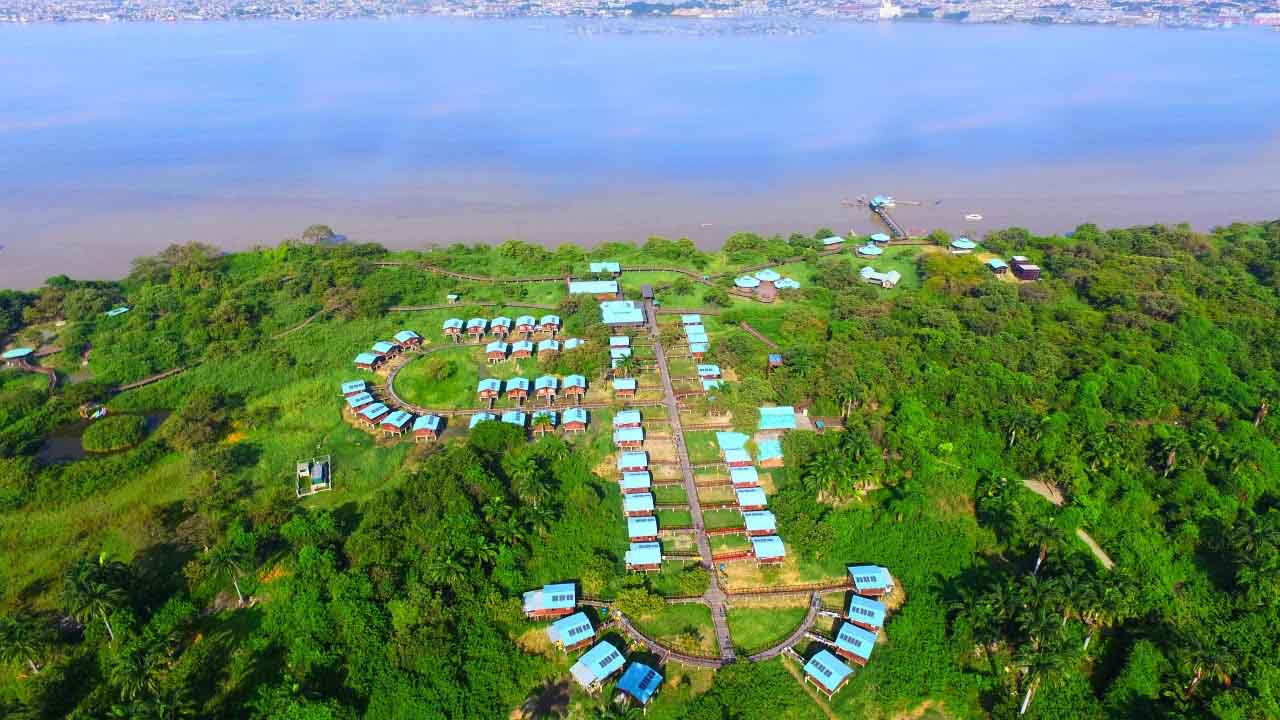 If you're going to spend more than a day in Guayaquil you might get tired of all the noise and people and smells around you. In such case, I have a solution for ya:: rent a bike and take refuge on an island! Isla Santay is closed for transport so there are no cars, no buses, and no motos. It's connected with the city by an 850m long bridge crossing the river Guayas and it's covered with a semi-tropical forest and manglar- a very interesting type of ecosystem, which is basically like the sea's nursery. That's where many species of plants and animals that are known to live in the deep seas commence their journey.


What's more, you can spend the whole day just spotting birds - there are more than a hundred of species on the island just flying around you so try to borrow some binoculars. My tip is to wake up early and stop in the Mercado Caraguay before going to the island to catch a glimpse into the local life and get some real Ecuadorian breakfast. My personal recommendation would be bolones de verde(balls made of green plantain stuffed with either cheese or meat and served with coffee) or encebollado (a thick soup made with fish and onion that's great for a hangover, in case you ever need it).
Cerro Blanco Natural Reserve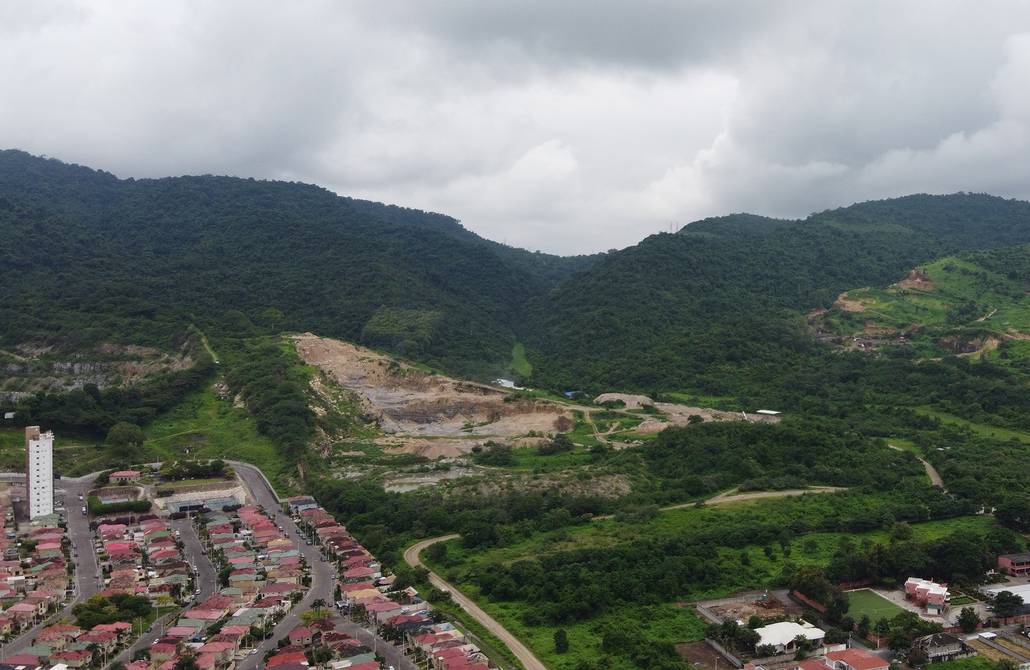 Together with Santay Island, my favorite thing to do in the area is this natural reserve created to protect the semi-tropical dry forest which used to cover all of the Guayaquil area in the past. It's home to more than 700 species, 20% of which is endemic to Ecuador and some of them worldwide, like the Jaguar. The forest is full of hiking trails, where you can easily spot birds and howler monkeys, screaming at you out of nowhere. If you have some time to spend you can also camp there which must be an amazing experience. Getting to the Reserve is really easy, it's just a 15 minutes ride away from Guayaquil in the Salinas direction.
Guayaquil's Museums

If you prefer to stay inside of the city there are also a lot of interesting museums to go to, some even for free. One of them is the Contemporary Art Museum (MAAC) for modern art fans, which you can find on the Malecon 2000. If you want to learn more about the history of the Guayaquil area and the whole Ecuadorian coast (that's more my cup of tea), I recommend you the Presley Norton Museum. I know, you're probably thinking: "What? Why not The Museum of History or something like that?" That's because most of the exhibits were donated by a private collector, Presley Norton. Another interesting thing to see if you're a history fan is Guayaquil Historical Park, where they tried to recreate the city as it was in the past. Most of the historic architecture in Guayaquil was destroyed when Ecuador gained independence from Spain and people didn't really want to look at anything Spanish anymore - including the buildings.
Guayaquil is the city of contrast. You can see the new and modern clashing with the old and historic. You can see the poor and the rich, the beautiful and ugly. Even if you're not a big fan of a metropolis like this, I think it's worth seeing and there's definitely enough going on to keep you busy for a few days.