Remember that the coastal waters of Ecuador, witnesses Humpback whales that travel thousands of kilometers every year to get away from chilly waters that are present in the Antarctic ocean. Ecuador's coastline is rich with food for the whales.
Though it is the Galapagos that are the unrivaled islands for their luxurious wildlife and rare species, these are an almost match in fauna and unparalleled in experiences.
Guests on daily boat tours can witness the first young male beasts arrive along the coast. Even though these whales are 16 meters in total length and can also weigh approximately 36 tonnes, it is breathtaking to watch the creatures effortlessly glide through the water surface. The spectacle that is jumping and the song of the male species can go on for approximately 20 minutes. It is a mating ritual to attract the opposite gender whales. Yes, it all plays a part in the grand circle of life and ties back to tourism as well.
The last whales in this yearly procession along Ecuador are females who are pregnant. They are traveling to warmer tropical waters for giving birth. You may not know that babies cannot live in the cold waters of Antarctica. Why? Well, baby whales do not yet have a certain protective thick layer that is necessary to swim in the lower temperatures. These pregnant whales are always near the end, owing to the extra weight they carry.
The gigantic whales stay near Ecuador's coastline for months. Here they regain their strength before they have to make their way back to the southern waters, and weather the cold once again. Humpback whales will spend all their time in Ecuador eating and resting. Here is a fun fact. One adult whale can easily eat 3000 pounds in a single day.
Ecuador has four top areas for watching whales
Puerto Lopez
At Puerto Lopez you can book a packaged tour specifically for watching whales. Let us talk about the trips. A standard tour costs approximately $20 since the coastal viewing portion is mainly a park. Remember that the wildlife is protected, even the migrating visitors that are these giant beasts are one reason that you cannot stay for more than 25 minutes.
Are you interested in more whale watching?
For watching whales make their way to the coast you can always go the beaches of Los Frailes or you can go to the coastal island of Isla de la Plata. The latter is famous for being dubbed as "poor man's Galapagos".
Why?
Because just like the Galapagos islands other than sighting the mammals, you can also engage with rare species such as the booby bird and even the waved albatross as well as certain species of turtles, sea horses, and many different beasts.
Add to the thrill of your whale watching adventure and book a snorkeling trip. Usually, it's always one part of a basic package since it is so popular.
Puerto Lopez is one of the best home bases for taking the sightseeing tour via boat.
There are about 10 different boats that take you for whale watching tours. The agencies are convenient to spot with offices right along the coastal area. You will also find great packages for many combined tours around Isla de la Plata along with whale watching.
If you happen to be in Quito, you can get here by simply catching the bus that goes straight towards Puerto Lopez. You are able to take a plane also to Manta and from there take a bus straight towards Puerto Lopez.
Salinas
Here is your chance to look at whales up close.
Salinas is where you find yourself the closest you can be to the humpback whales in their natural environment. A standard tour usually takes off from Guayaquil in the morning.
To get to Salinas, one must pass through the barren savannah on Santa Elena Peninsula. Here is where visitors get to witness pure Ecuadorian landscape. The drive goes on for at least two hours.
There is also a whale museum in Salinas, where you get to learn about the humpback whales. You can also see the mammals swim and thrash about in the water as they come splashing down on their backs, a phenomenon that scientists have yet to figure out the significance of.
Salinas is filled with resorts, however if you want to go off the beaten path it is recommended that you instead travel to Mompiche, about 7 hours from Quito and from the isle of Jupiter where you can camp out if you genuinely want to be one with nature in this trip.
For the trip, you can bring with you comfortable clothes, rain jackets, sunscreen, and binoculars. Most tours are in English for the benefit of American visitors.
Mompiche
The pacific coastline is a very popular place for whales. If you are lucky, you can spot them while dipping your toes in the fine sand of the Mompiche beaches. Whales are the most spectacular being in the Mompiche beach, but they are not the only sea creatures that have won over the visitors who come to Mompiche.
Groups of dolphins also pass around the excursion boats and display jumps from the water surface. Unlike the whales, the dolphins are friendly towards humans and curious beasts. They will interact with you more if you decide to take a swim with the marine life.
Once you arrive at Mompiche, you may notice that there are miles of unending beach. The good thing is you can ask around if anyone will take you on a boat tour and even negotiate the price.
The local people know the lay of the land and way around the water better, so it's an equally rewarding experience to go humpback whale watching from here. It is a great idea to take a whale watching tour as a group; that way you will get great discounts.
In the same package, you may get to go to the island of Jupiter. Here is your chance to finally swim in the sea water and scour through thick mangroves. The simplest way to get to the place is via a bus that takes you from Quito. It will take you 7 hours to arrive at Atacames and Esmeraldas, after which you will have to catch another bus towards Mompiche, taking an hour or so.
Machalilla National Park
This national park has the most secure beaches in Ecuador with areas of thick forests. The rules here are stricter than any other region that one might visit to interact with wildlife. This is a must–stop as the park is pristine and nothing like the others you may have seen around Ecuador.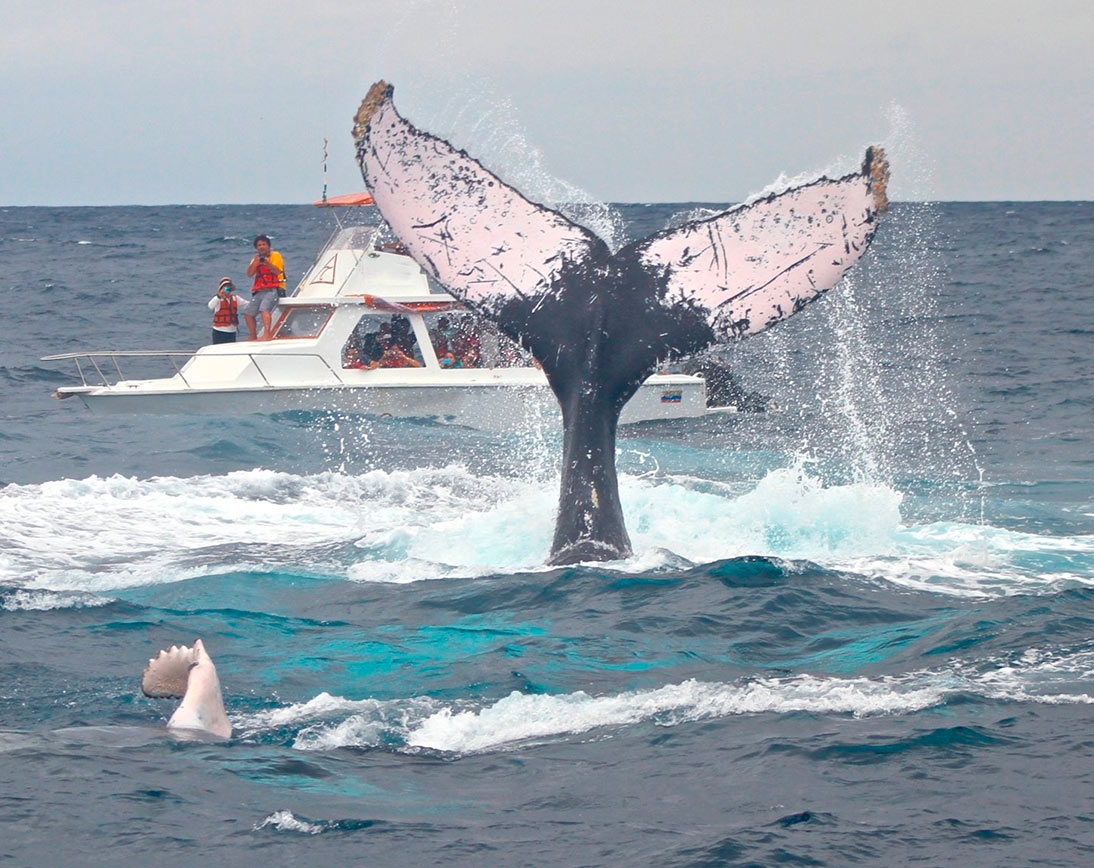 The park is situated on the north side of Puerto Lopez. Tourists can take day trips and have their accommodations in Puerto Lopez easily. The park covers more than 30 miles that are 48 kilometers. It hosts 3 biomes: cloud forest, dry forest, and sandy coast. The majority of Machalilla is a dry forest.
You will see whales show off and get some exercise as they propel their bodies up and out of the water and fall back on the surface. This is a memorable spectacle on the tour, especially if you have front row seats on the tour.
Humpback whales like to travel in pods, and you may see them trying to get your attention as they start sprouting geysers of water from their blowholes. The experience is mesmerizing and should make everyone's bucket list.
There is also a huge hot spring here.
Visitors also like to dip into the pristine mineral pools.
The bottom of the fresh springs is an excellent place for people to dig in deeper for a mud bath. If you want, you can lounge around the sandy beach. Do not miss out on visiting Playa Los Frailes, with lengths of beautiful glistening sand and warm water.
After you return from the ocean, you can always go hiking here. There is one clear hiking trail along the coastline. Remember to keep an eye out for the frigate birds, which is where the beach gets its name from.
With so many exciting things in store, whale watching here is an adventure that you do not want to miss if you are in the country. Make sure that you have waterproof clothing. The boats all usually have open tops, and when it rocks, you can get a bit wet.
Best Time for Whale Watching Season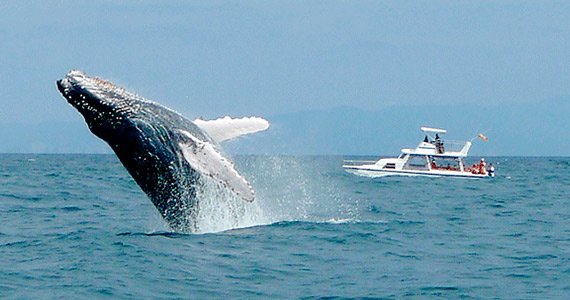 The number of whales you might see in Ecuador varies every year. However, scientists say it is somewhere between 400 whales at a time to 2600. The water is warm and rich in nutrients as well as plankton which the currents rush into the Ecuadorian coasts after mid–June. From mid–June through October is the best time to plan a vacation to Ecuador, so you can watch majestic whales, have food by the coast, as well as spot a tail or two of the humpback near the horizon.
The greatest thing about the much sought after whale watching tours of Ecuador is that they allow you to escape ordinary life, get closer to nature equally with preserved flora and fauna that are the real treasures of Ecuador.
The IFAW has created a guide for humpback whale watching. It is filled with exciting places you can visit and activities you should not miss out on. You can even have a family vacation here as most tours and cruises around Ecuador are child–friendly.
Take a trip out when you can. You are sure to love what the area has to offer you.
If you're ready to travel, click here to check out our whale watching tour.
Need more info? Check out our blog.