Located close to the South of Ecuador in the Andes region, Cuenca is one of the five most important cities of Ecuador, and it's considered The Athenas of Ecuador for its cultural diversity, architecture, art, and the authenticity of its streets. Add to this, delicious food, traditional fruit markets, clean streets, well-preserved historic downtown, and museums full of history that you will not want to leave it.
There is something to delight everyone, local and foreign, that even was declared one of the best cities for retirement on International Living Magazine and other portals.
Voyagers travel offers several tours that include Cuenca as part of the itinerary:
3 or 4 day avenue of the volcanoes tour from Quito to Cuenca
6 day tour visiting southern Ecuador starting in Cuenca
9 day tour from Quito crossing the Andes to the coast passing through Cuenca
Let´s explore this historical city and make a list of the things to must do there:
1. Tour Express Double Decker Bus
Begin the adventure with this! You can enjoy a tour on a double-floor bus. The route is approximately 1 hour and you take the bus in front of the main square. There is a lady with the tickets and the cost is around 10 usd.
You take a tour of the most important areas of the city and you have a stop at El Turi Hill, from where you can take landscape photos from this important viewpoint of the city. There is a guide that explains to you all about the streets and places that you are seeing during the tour. A great intro that will leave you craving for more.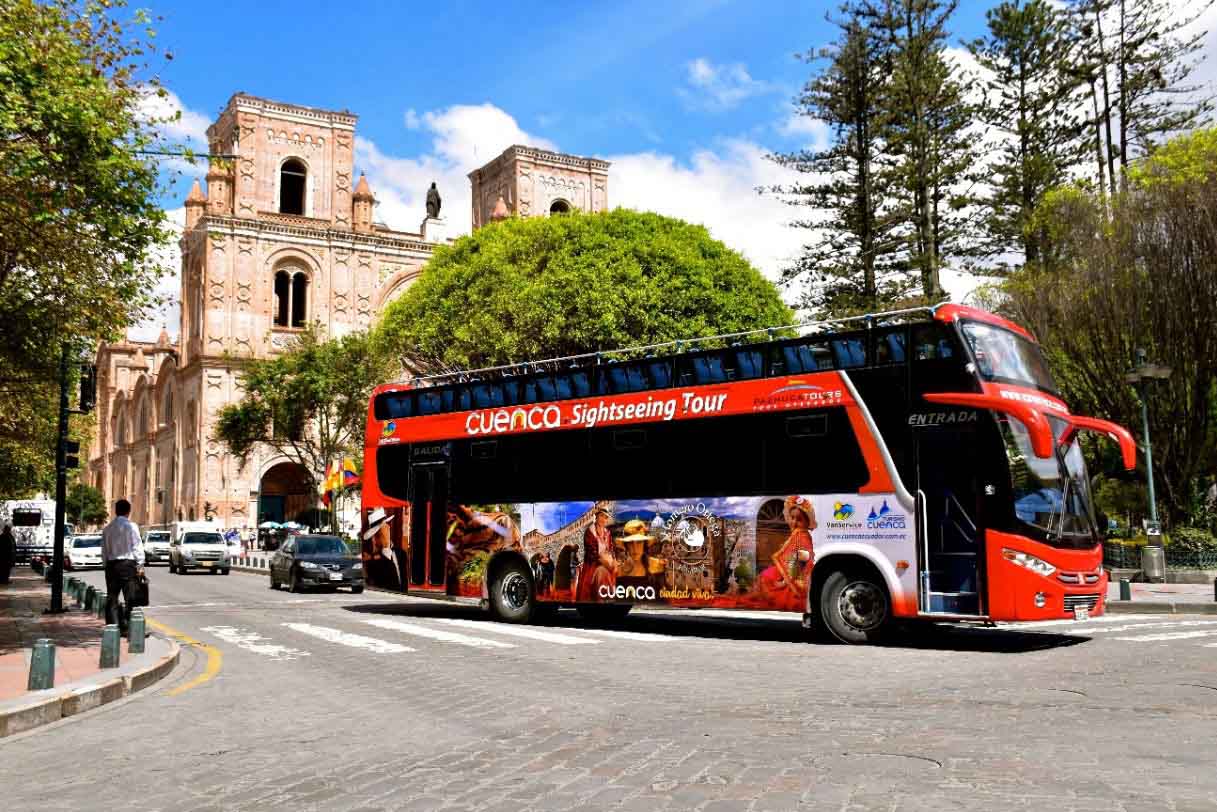 2. Visit The New Cathedral
The Cathedral had to be so big such as the town's faith, that's why the construction of this building took to Juan Bautista Stiehle around 100 years, the length of this catholic church is 105 meters and 43.5 meters in width.
Located in front of the main square, the Cathedral of the Immaculate Conception of Cuenca is one of the most iconic buildings in the city its construction begins in 1985. Especially on weekends, you will find local people there, because of the masses that are held, since the local population is largely Catholic.
If you enter the cathedral you can visit the towers and thus enjoy a fantastic view of the entire city. This is a must!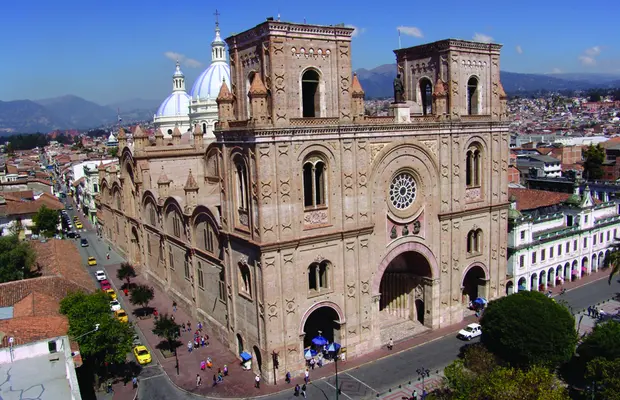 3. Flower Market
On the top of the 10 most beautiful outdoor flower markets according to National Geographic. You will find lovely flowers and roses with the special service of the local ladies.
This market combines flowers, a colorful place, local people, and a beautiful small church.
You should make an effort to try the "Aguita de Pitimas" drink and a sweet from the nuns of the church. Pitimas being a slang style abbreviation for a "Give Me a little more".
When you are there, walk a few steps and take a photo with the big letters CUENCA in Santo Domingo Square, you can take advantage and take a photo to remember that you were in the city.

4. 10 de Agosto Market
A place where you can feel the local activities, fresh fruits, and delightful local food such as: hornado (pork), cuy (guinea pig), and papas locas (potatoes with pork). On the second floor, you can find these delicious options, and even the cookers give out trial pieces of the pork for you to be sure that it is good for you before you buy.



Try a sweet fruit in one of the several small shops.
There are healer ladies that use ancient traditions and herbs to cure you of ills.
A place with local features that will show you an interesting part of the city and it's heritage.

5. The Old Cathedral of Cuenca
In one of its towers, you can find the phrase "this tower is more famous than the pyramids of Egypt" in reference to the use of the ancient tower as a key reference point for the French Geodesic Mission in 1736, which determined the meridian arc and the equator line that crosses the country giving the name to Ecuador.
This beautiful white church is called El Sagrario. It has existed from the foundation of the city, witnessing the growth of the population and its devotion, as well as cultural and religious manifestations.
Currently, it functions as a museum with works and objects from the colonial era; as well as a place to hold important ceremonial masses, cultural events and exhibitions.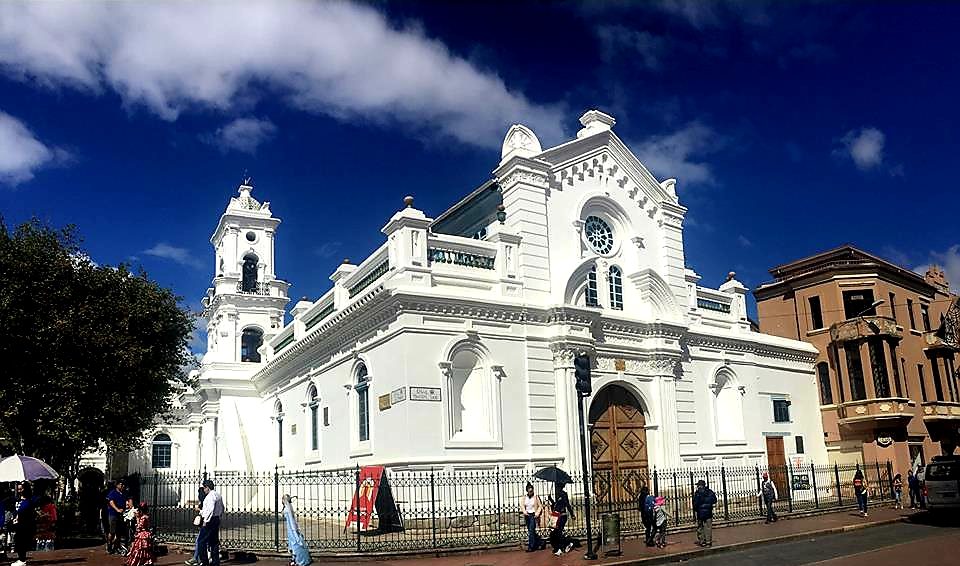 6. Turi Viewpoint
Let's take gorgeous photos!
At this point, you can have a unique view of the complete city, and you can visit the church there, with nice details of Spanish colonial art.
In the past few years, many entrepreneurs started to open restaurants with excellent service and food. There is a "swing" where you can take a photo overlooking the ravine.
If you take the tour bus, you have a stop in this place and you can stay there for about 5-10 minutes, but if you need more time, you can stay and wait for the next double decker tour bus.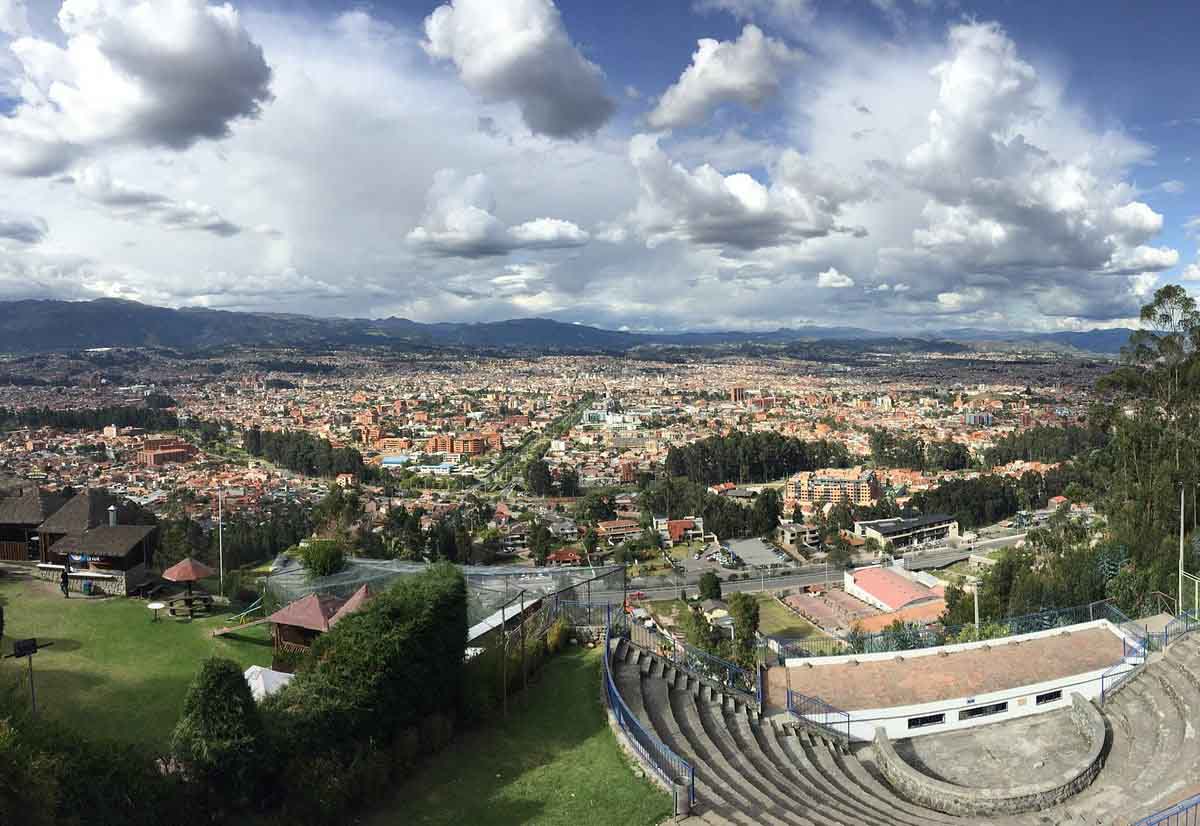 7. Pumapungo Archaeological Park and Museum
Cuenca´s Culture, nature, and history! That's what you are going to find here.
This is a lovely spot, where you have exposition and a natural area that shows part of the Incas and Canari´s legacy.
The exhibition halls have temporary themes. This museum has a very well-preserved center for birds and is complemented by the reserve and national ethnography room, where you can appreciate the enormous intercultural wealth.
You can visit inside a big garden with a natural setting of that time distributed in the way the Incas built.
A fascinating place!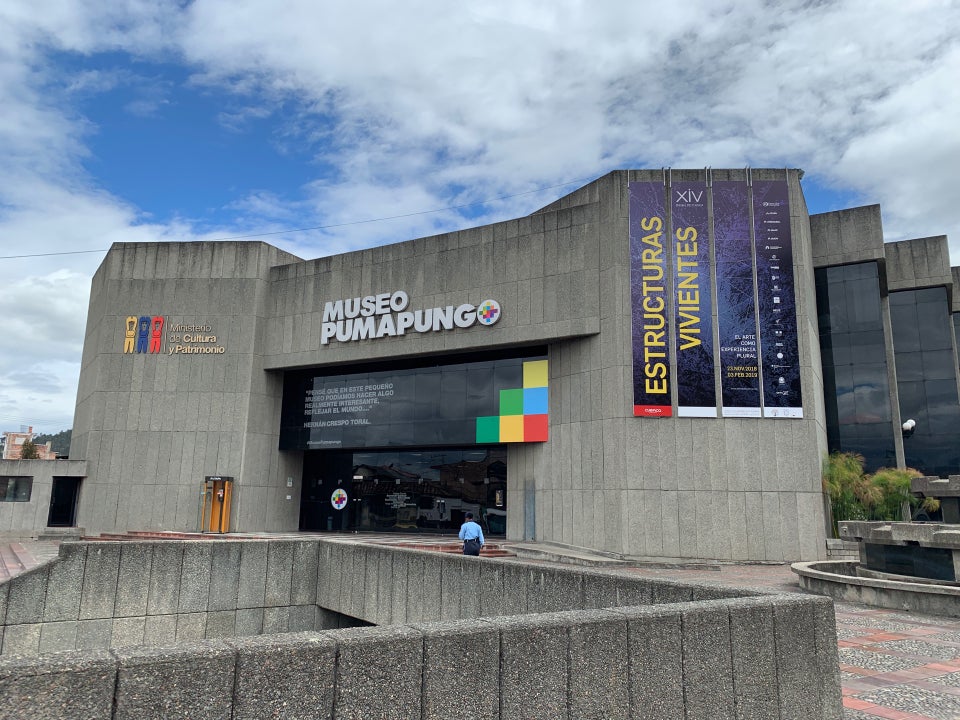 8. Historic Downtown
Here is where the history of Cuenca begins. Declared a World Heritage site in 1999 by UNESCO, this is a beautiful, well-preserved, exciting, and unique area.
You must walk to enjoy every corner. You will be able to observe a combination of colonial and republican architecture.

Here is the commercial and tourist activity point of the city.
Of course, this is a must and you are going to spend a lot of time in this sector because you will have a lot to see, eat and feel! Everything is close in this part of Cuenca and it's better to walk it.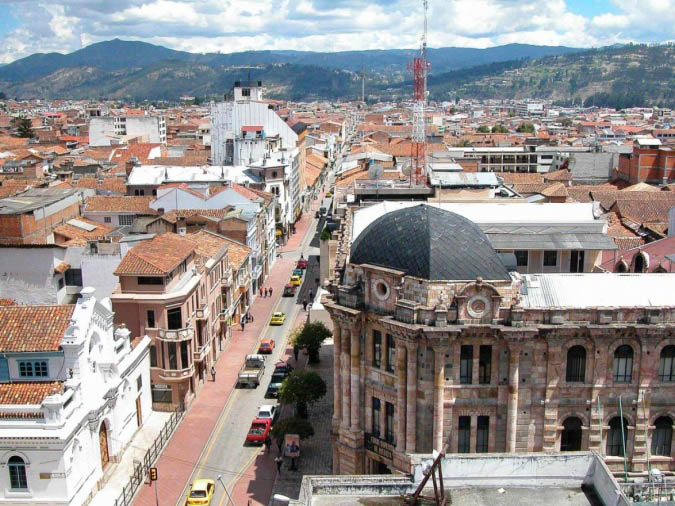 9. Las Herrerías Street
This neighborhood is traditionally known for its forged iron designs that you can find adorning the most important mansions around Cuenca. Now it is also a place where you can taste traditional small snacks such as tamales, quimbolitos, humas, and others.
Hot beverages such as morocho, yaguana, and more! This street is full of small restaurants with this type of food and is really close to the downtown and the front of the river.
It's better if you visit the street from 5 pm.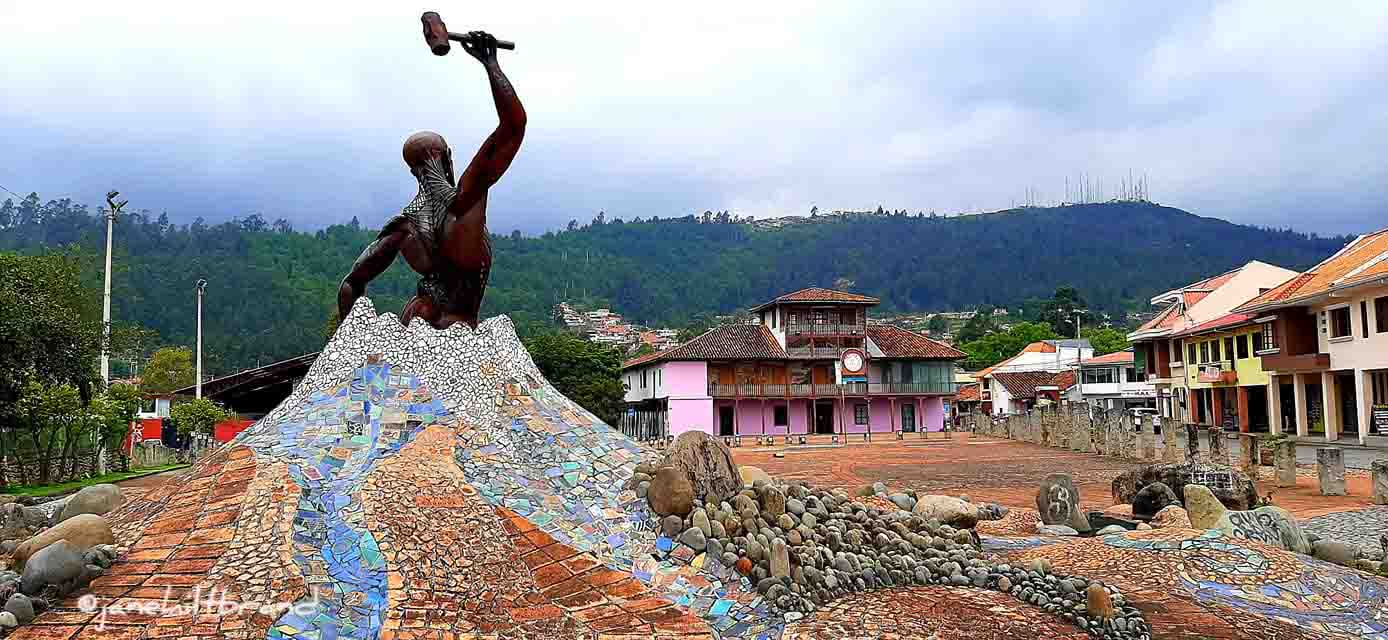 10. Calle Larga
To enjoy the nightlife! Restaurants, bars, discos and coffee shops with nice style and full of local and foreign people.
Walk this street and you will find several options to enjoy a snack or have a drink.
Let's meet new friends and have a perfect dinner in front of the river!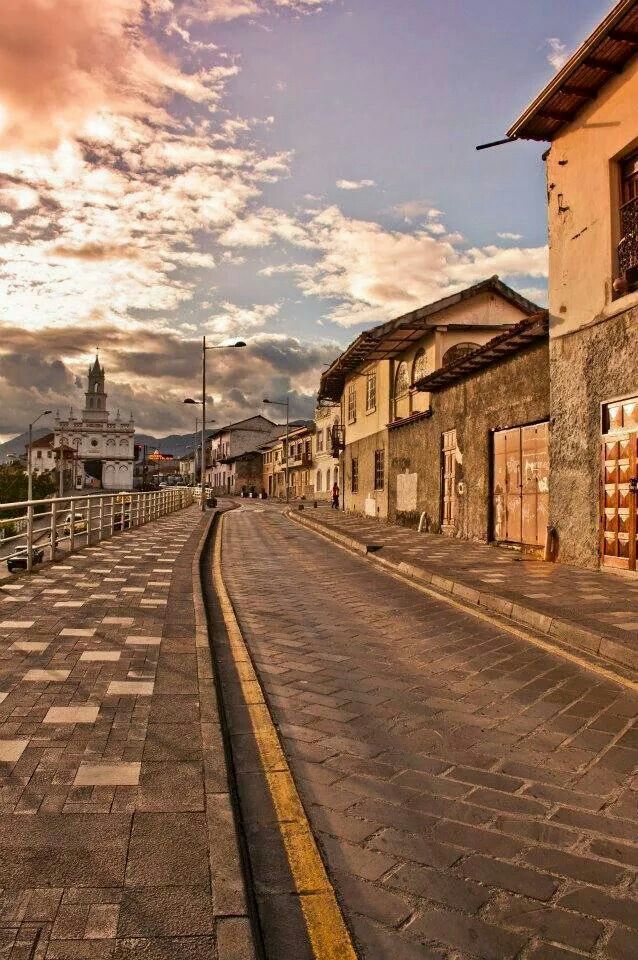 11. Todos Santos Church
An imponent beautiful white building that was one of the borders of the old city.
Located in the Todos Santos neighborhood, the great historical wealth protected in this place comes from before the Catholic religion reached Ecuadorian lands.
You finish the visit to the building and just walk 1 block and you can find the traditional bakeries and enjoy bread baked in a wood oven. Enjoy this bread sitting on the broken bridge, just next to the church.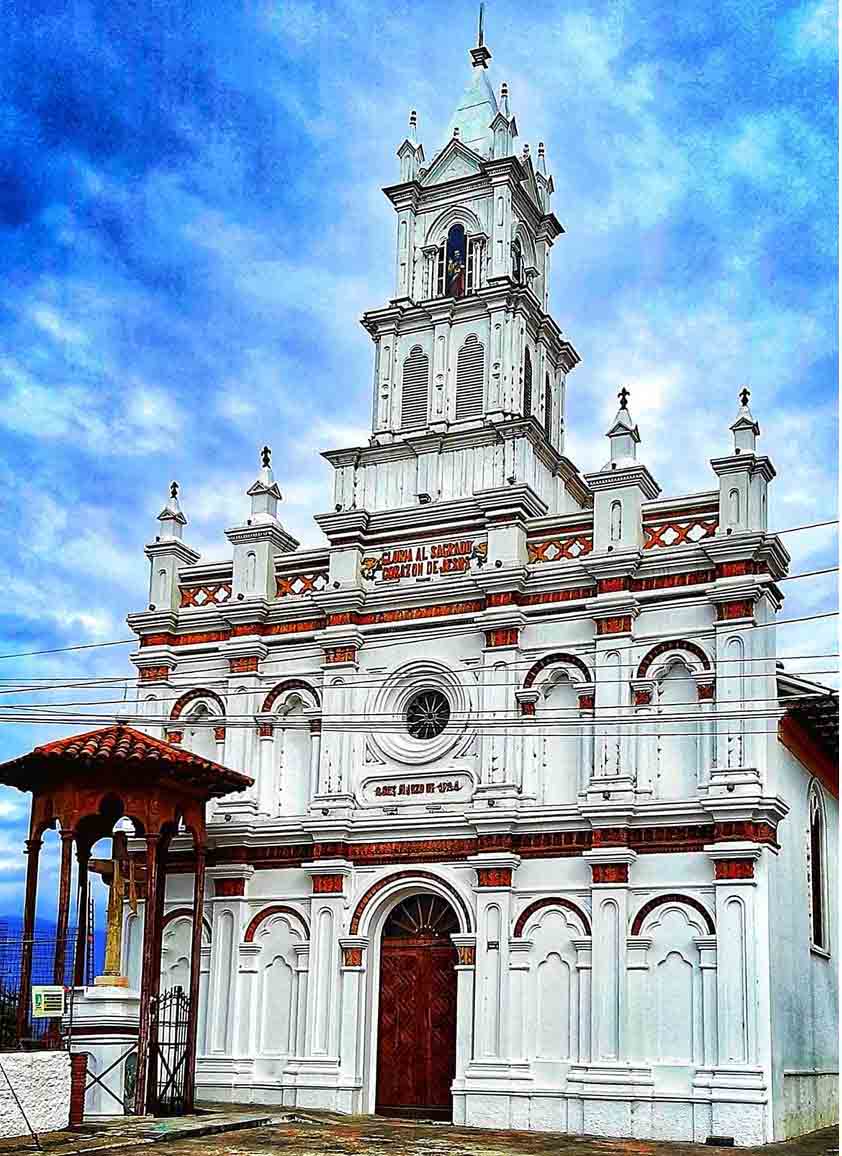 12. Museum of Aboriginal Cultures
If you are in the downtown of the city, this is an interesting spot.
More than 8 thousand archaeological pieces from aboriginal cultures and local tribes. Heritage and cultural values are protected and rescued here.
Museum specialized in Ecuadorian archeology and its objective is to work on teaching, valuing, maintaining, and protecting the local Cultural Heritage.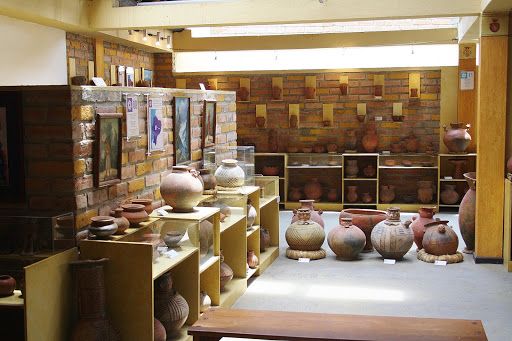 13. Botanical Garden of Cuenca
Nature!!! More than 4 hectares are destined to conserve part of the Andean ecosystems of this region. In this space, the existing flora in the Austro region is shown, through a route, which will simulate the vegetation that exists in the provinces of the south.
Nice spot to make you feel in contact with the local ecosystem and plant species from this area.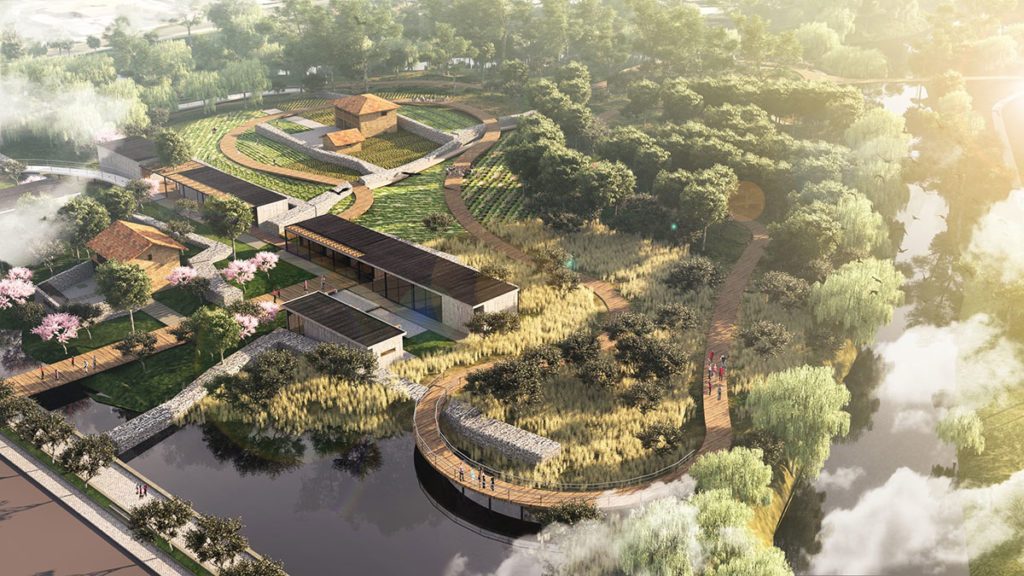 14. Remigio Crespo Museum
The history of this museum begins in 1947 and it was the only museum in the city for a while. Was created within a city heritage site and was the home of a patriarch of the letters from Cuenca in the first half of the 20th century.
It's Located in the Barranco Neighborhood and you can enjoy nice art crafts and history around the walls.
There you can find the first books of the council and an archeological collection with more than 30k pieces. History inside a gorgeous building!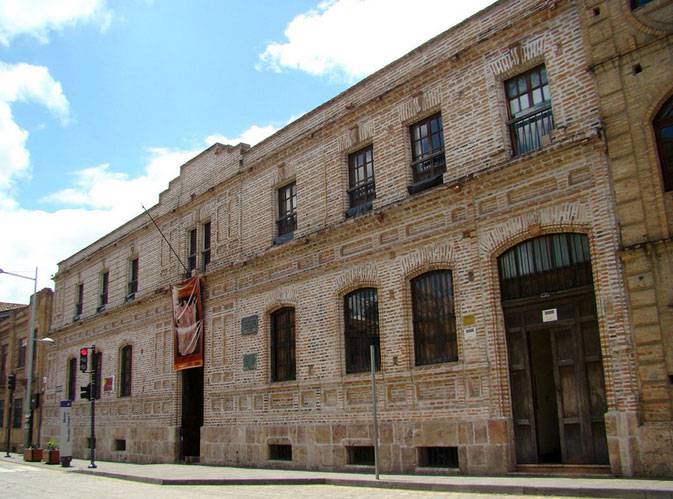 15. Hat Museum
Craft tradition! Did you know that the Panama hats are from Ecuador?
If you walk through every corner of this place you can understand the process of the creation of this craft.
You can see all the tools and a variety of unique designs of hats. This is the ideal place to get one of these beautiful crafts that will protect you from the sun on your trip to Galapagos.
Buy one to show it off in your country!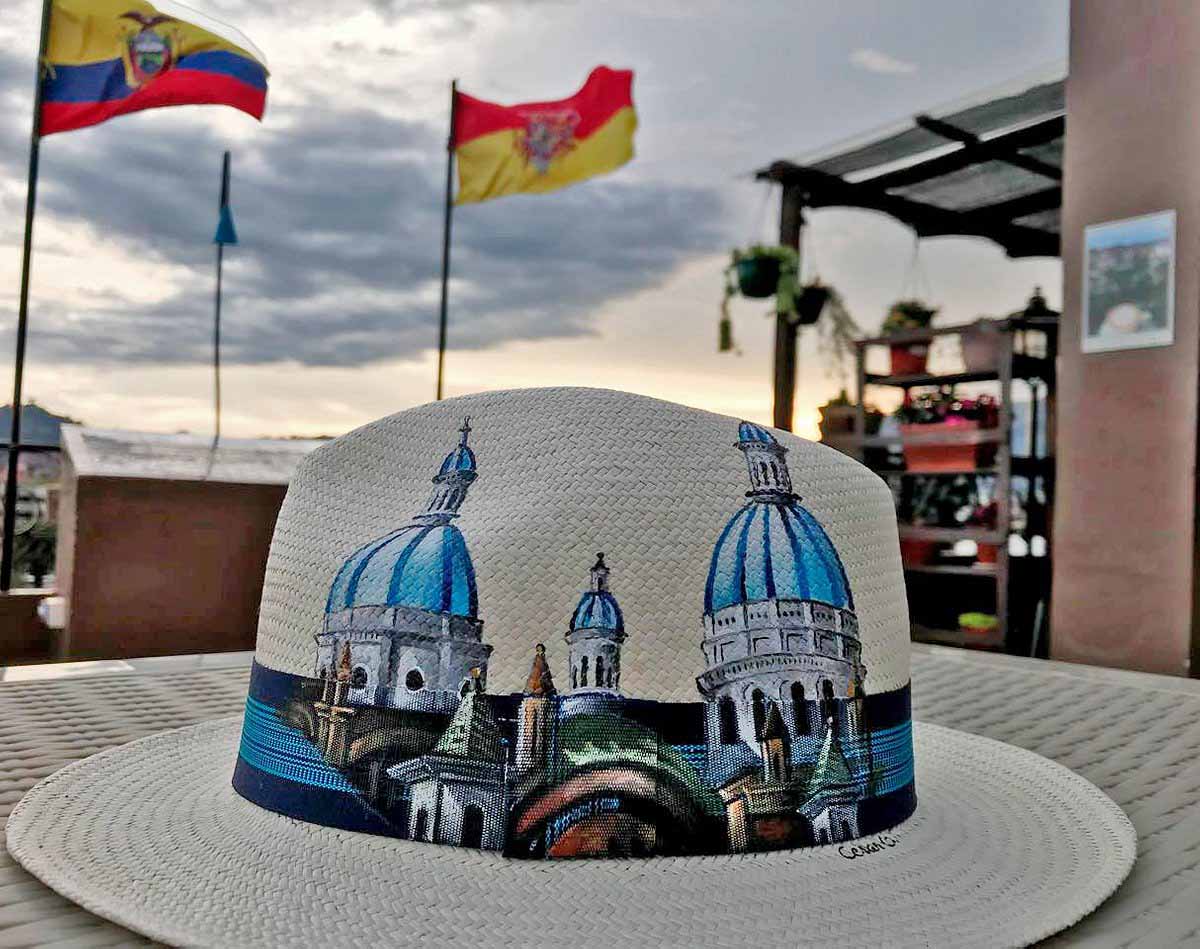 Without a doubt, Cuenca is a unique city, you can walk into the safe historic downtown and cherish their culture, architecture, and kind and polite people. Make sure to add Cuenca as part of your Ecuador tour plans.
You have several types of food and desserts to try, and for sure that you are going to fall in love with a lot.
Tips: There is a free walking tour that you can take and it's really complete. There is a bus station and domestic airport, both are really close to downtown, just a few minutes. There are more than one hundred hotels in the historic center and you have several options with colonial style, but you can find modern hotels too.