A quiet, calm, pristine and pure set of wonderful ecosystems, that is the essence of the Galapagos islands. It is no surprise that Darwin was able to study and develop his own theory of evolution while visiting the beautiful Galapagos islands. Truth is, the archipelago has more than 60 islets and it is accompanied by magnificent flora and fauna.
Travelling to the Galapagos is a once in a lifetime experience. Not only will you be surrounded by wonderful coral reef beaches with spectacular sceneries, but by a variety of endangered species all gathered in one place.
What if we could tell you that travelling to the Galapagos has never been so easy with this guide. This post has collected an exhaustive amount of data to make your trip to the Galapagos perfect and budget-friendly for all!
a.How to get there from abroad
In order to ensure everyone's safety and well being, the Galapagos local government has implemented its own regulations for all tourists entering the islands. Although these regulations must be met to ensure a successful entry, the truth is, these are not hard to fulfill and are in fact perfect to guarantee all of the travellers' safety.
Health declaration
Travel history
Pay the Ingala fee
b.Flying in
Ecuador has its doors open to tourists and is therefore ready to welcome anyone who would like to visit its wonderful places. There are many airlines that resumed their operations to Ecuador and their prices are quite good. We have therefore developed a table that summarizes the main airlines that offer flights from different continents, and an estimation of their suggested prices to make it easier for you.
Flying from

Airlines

Pricing

United States

Delta, United Airlines, JetBlue, Iberia, LATAM,

American Airlines, Copa Airlines, Spirit

From New York: Starting at 320usd

From Miami: Starting at 322 usd

From Atlanta: Starting at 314 usd

Europe

KLM, Iberia, LATAM

From Spain: 464 usd

From France: 505 usd

From Amsterdam: 558 usd

Latin America

Copa Airlines, LATAM, Avianca

From Mexico City: 298 usd

From Bogota: 211 usd

From Lima: 269 usd
Last Updated: January 2023
Unlike other tourist destinations, there are only two options to fly to the Galapagos. You may either take a flight from the capital city, Quito or Guayaquil. There are many options to buy a ticket flight, you may either do this at the airport or by booking it online with your favorite airline. Currently, the only airlines operating this route are Avianca and LATAM. When it comes to prices, these may change and this is why sometimes booking in advance might save you some extra bucks. Overall, prices range from 200 usd to 360 usd.
Since the Galapagos is located 594 miles away from mainland Ecuador, the flight is not that long and can easily be handled by all kinds of travelers.For those who plan to fly from Guayaquil, the flight lasts no more than two hours and for those who have decided to stay in Quito, theirs will take less than four hours.
Interesting enough, one could say that the adventure starts from the very first moment you board the plane. This is because, if you are travelling from Quito, you will be able to see the Andes underneath you. Not only will you see the highest active volcano in the world, the Cotopaxi, in front of you but you will be astonished by the surrounding craters and volcanoes that surround it such as the Antisana, Ruminahui, among others. The natural geographical contrast from the highlands and the coast is a remarkable and memorable experience!
c.Getting to the Galapagos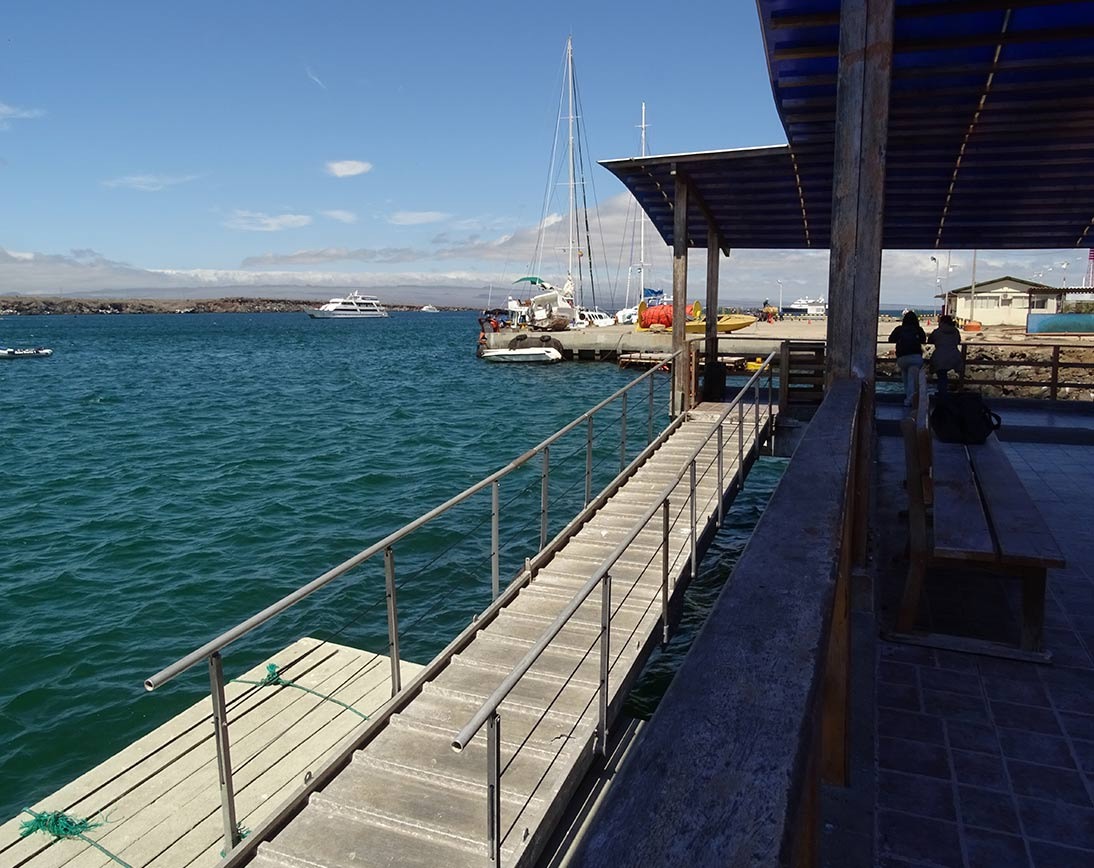 Once you have landed at Baltra airport, you will need to follow a few extra parameters. Since you will have your negative test result, a quick set of questions will be asked to you regarding your stay, travel purpose, health status, among others. Remember to have your TCT (transit control card) at all times as you will have to give it back to the migration office.
Following the customs control, you will be able to experience an unusual taxi service that will take you to the actual populated island. You see, the airport is located in Baltra and the residential island of Santa Cruz can only be reached by going across the deserted island and by boarding a water taxi. Exciting, right?
If you booked your trip beforehand with an agency, it is most likely that they will be waiting for you outside the airport to take you to your hotel or cruise. In the case where you have not booked a trip, then you will have to buy a two dollar bus ticket that will take you to the taxi dock. The buses will usually be full, but not cramped, so there is no need to worry about space nor social distancing. Although there is no air conditioning in the buses, the natural wind of the Galapagos will make it a pleasant 15 to 20 minute ride. Following this, you will take a water taxi or a ferry that will cost you two dollars.You will have helpers who will take care of your bags during the ferry trip, so you will be able to sit calmly while you enjoy the beautiful contrast of the clear blue water and the deserted island.
Detailed guide on how to get to the Galapagos Islands: Here
How to book a tour to the Galapagos Islands?
When it comes to booking a tour, the Galapagos are quite flexible and you should not stick to solely one option, because in the end, we all want to make the best out of this once in a lifetime trip. That is why, we picked two main ways in which anyone can book a tour: island hopping and cruises.
Check out all the options at our Galapagos Vacation Planner section.
If you are planning to stay on the islands, Island Hopping is your way to go. This concept consists of staying at one or two main islands, mainly San Cristobal or Santa Cruz and taking advantage of the day tour offered by the harbour. If you are planning to take this option, there are plenty of hostels with private and shared rooms. These usually start at 8 usd and can go up to 20 usd per night for a private room.
Apart from the lower cost options, Galapagos offers a variety of also luxurious, comfortable and wonderful high end hotels that fuse commodities with beautiful views and locations in the islands. These may range from 80 usd for a 3 star hotel, 150 usd for a 4 star hotel and 400 for a top 5 star lodge. Costs aside, when choosing where to stay, you should really try to narrow down what island it is that you want to see and explore. Nevertheless, the islands where you will find a larger variety pool would be San Cristobal and Santa Cruz. The benefits from staying at these hotels is that they will be keen to help you coordinate the day tours for the upcoming days and arrange all transportation, which you have to take into account as there are some hotels that are far up the hill and a bit far from the main city centre.
There are plenty of hostels and hotels in the Galapagos, these are few of the best:
| | | |
| --- | --- | --- |
| Island | Accomodation | Why should you stay here? |
| San Cristobal | Hostel: Los Algarrobos | Clean, cozy and super friendly staff! |
| San Cristobal | Hostel: Royal Galapagos Inn | Close to the city centre, yummy breakfast, spacious rooms. |
| Santa Cruz | Hostel: Galapagos native | Run by one of Galapagos first settlers, friendly and since they are natives, feel free to ask them anything you would like to know! |
| Isabela | Hostel: Hostel Loja | Super close to the city centre, run by a native family, cozy! |
| San Cristobal | 4 star hotel: Golden Bay | Luxurious rooms, excellent service and astounding location! |
| Santa Cruz | 4 star hotel: Finch Bay | Located right next to the Playa de los Alemanes, which means that you will get to see fauna right in front of you! Plus, beautiful rooms. |
| Santa Cruz | 5 star hotel: Galapagos Safari Camp | Located up in the highlands, the view is mesmerizing! Beautiful design and excellent, welcoming staff. |
Island Hopping Tours:
One of the beauties of the Galapagos is that there is so much to see! This means that finding daily tours is an excellent option to see the Galapagos by foot (theoretically speaking). When you are doing Island Hopping, you will be staying at one main island and then going into the amount of day tours that you would like to do. In other words, you kinda are your own itinerary boss. Nevertheless, there is one tiny factor that should be taken into account: daily tours get fully booked quickly! Therefore, if you would like to go on a specific tour or route at a certain time, we strongly recommend you to find a supplier and book it.
Day trips may range from 180 to 250 usd, it all depends on where you want to go, do and see. If you have a week's time, then we would estimate costs between 800-900 usd. Of course, this estimation takes into account the top routes and the must-see itineraries. Plus, these are the costs that you would expect to pay if you book in advance, which we strongly recommend to those who are short on time or just want to know what it is that they will be visiting. On the other hand, for those who are a bit more risk takers, there is always the option to go to the main city centre, near the harbour and you will find many last minute deals for day trips as well.
Top day tours for Island Hoppers:
With all that being said, this guide would not be complete if we would not recommend you what the best routes and places to see would be, right? As you might already know, the Galapagos is a place full of flora and fauna that can be found in every islet, island and beach.
Comment:
Although it is one of the smaller islands in the Galapagos, it is one of the most important since it makes up the archipelago and it's actually the oldest of the islands. Española Island is located at the south side of the archipelago, 22 miles from San Cristobal Island. Starting at Baquerizo Moreno Dock and after a two and a half hour trip you will arrive at the magical Española Island, considered the crown jewel of the Galapagos archipelago! Here you will enjoy a full day of activities. For this type of itinerary we suggest you board the Galapagos Hopper Catamaran, you will be received with a refreshing and delicious snack, and for lunch enjoy a three course meal.
For those who are interested in bird watching, we highly recommend visiting Punta Suarez located at the northeast of the Española. Even though it is uninhabited, it is home to albatrosses, blue footed boobies, the Galapagos turtledove, finches, and the famous Spanish mockingbird. For this bird watching hike we recommend wearing comfortable shoes (no sandals), and bring enough water for the two hour hike.
On the other hand if you are interested in visiting a beautiful white sand coral reef beach, then Gardner Bay, at the northeast side of Española, is the place you want to go. Marine iguanas, green sea turtles, Galapagos sharks, and schools of colorful fish are some of the species you will be able to spot while snorkeling.
2.Isla Lobos:
This is a must-do for anyone who is visiting San Cristobal. This day tour is perfect for those who like to see things quick and want to see some beautiful endemic birds feet away from them. Isla Lobos is located one hour away from San Cristobal. Once you get there, your guide will take you on a hike that should last no more than one hour. The hike is not hard at all, on the other hand it is quite easy with the right amount of trails and wildlife. Isla Lobos is the place where almost any local can guarantee that you will see the Frigate birds in front of you. Remember, if you are visiting during mating season, you are in for a treat as the male Frigates will inflate their necks and their beautiful vibrant red color will blow you away!
In addition to the birds, you will see another unique species to the Galapagos: marine iguanas. Unlike the land iguanas who may be green or yellow, they are black in color and they can be underwater for up to an hour. Fun fact: marine iguanas are a proof of Darwin's theory as they adapted biologically to be able to withstand that much time beneath water.
Once you are done hiking, which is usually after an hour, you will enjoy a hot lunch on the day trip boat. Make sure you do not stuff yourself with so much goodness, since the next stage of this trip is snorkeling! You will jump in the water alongside your guide and you will be able to see baby sea lions, and massive schools of fish next to you.
The last part of Isla Lobos, is the relaxing one. Following snorkeling, you will be taken to a private beach, coral reef sand and crystal clear blue water. Since there is no one else in there, you will have the beach to yourself and your group!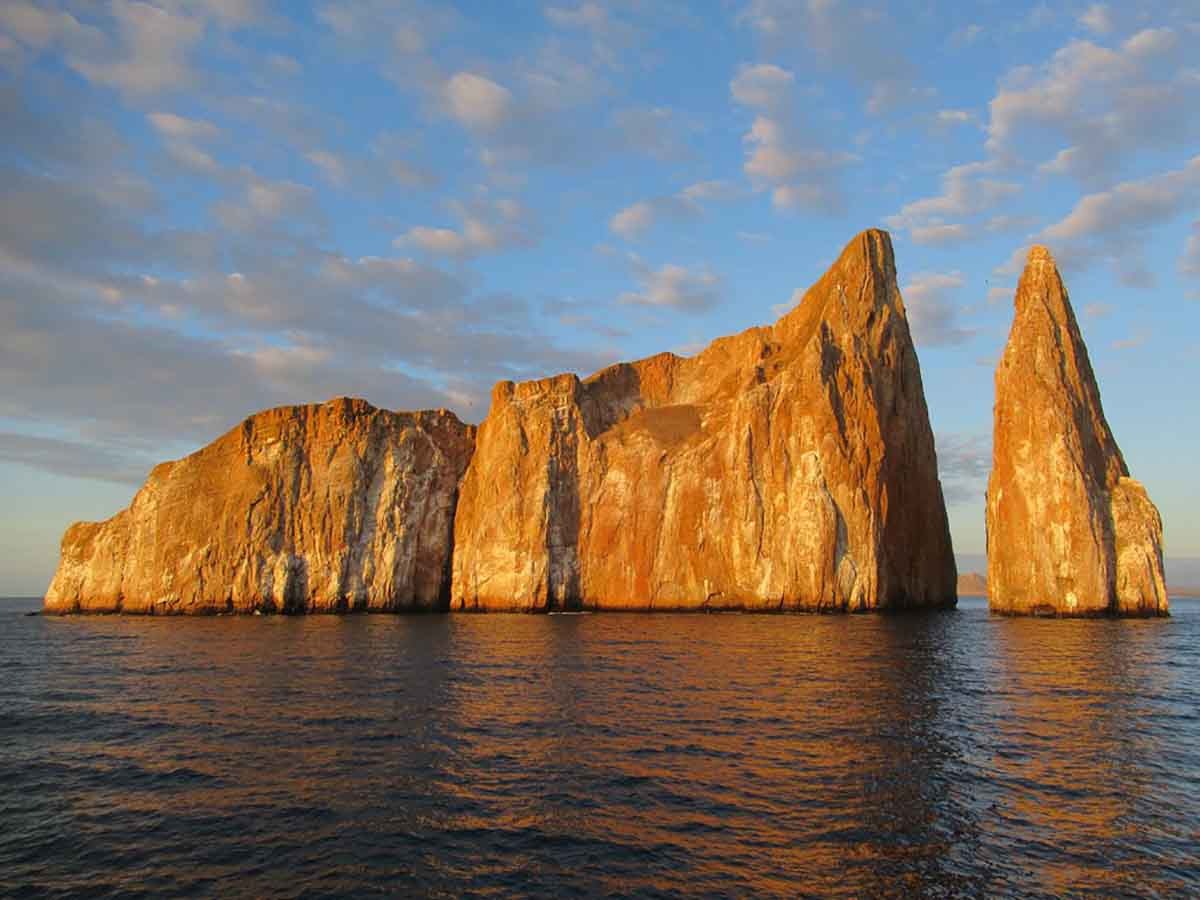 This tour is also amongst the most popular in San Cristobal. Kicker Rock is a rock that sticks out of the ocean. You have probably seen it in many postcards, and if not, here is a picture for you. The beauty behind this tour is that you can snorkel and see many species that are unique to this area. Plus, you will be able to swim alongside baby marine turtles, sea rays, and more!
1.For those divers: North Seymour, Bartolome and Gordon Rocks
North Seymour island is the perfect place to hike, swim and enjoy snorkeling. Not only will you be able to see boobies, gulls, hawks, green sea turtles, frigates, and more, but you will see them feet apart. Moreover, Bartolome island is one of the most attractive landscapes that you will see in the entire archipelago. If you ever wondered where this picture from your postcard came from, Bartolome is probably it. The beauty behind this island is that you will be hiking up the volcanic hill, surrounded by lava lizards and quite some birds, until you reach the top: an astounding and beautiful view from two different bays, two islands and the incredible contrast that rises from two water channels that give a pristine beauty and look to the island.
Named after an English nobleman, Lord Seymour, North Seymour is most famously known as the perfect scene to photograph the very photogenic and magnificent frigate birds, as well as the blue-footed boobies. This is due to the fact that Seymor is the nesting and breeding place for these birds, hence, making it the perfect place to see these species in their most natural habitat. For instance, you can catch a glimpse or perhaps two, of these large, black-feathered birds as they skim across water for their meal. And, let us not forget about the blue-footed boobies. You will be amused by their dance-like mating ritual, in which the male booby lifts its feet in succession, strutting them in front of the female booby, whistling and honking.
Two of the many possible dive sites you can visit on a day tour (especially if you are hoping to dive amongst hammerhead sharks!) are North Seymour and Gordon Rocks. Not only will you be able to see hammerhead sharks but also other Galapagos sharks, magnificent oceanic sunfish, giant sea turtles, stingrays, Galapagos eels, barracudas, and dazzling colorful reef fish. For the most part, these types of day tours will start with a pick up in the main town in Puerto Ayora,Santa Cruz.
Now, for those who are more experienced divers, we are sure you will be interested in diving in Gordon Rocks. In order to be able to dive here, and because there are really strong currents, you must have at least 20 to 25 logged dives. However, if you are not much of a diver, we also suggest a snorkeling day trip to Seymour. You will have an incredible experience without having to know how to dive.
2.Highlands: Giant Tortoises and Lava Caves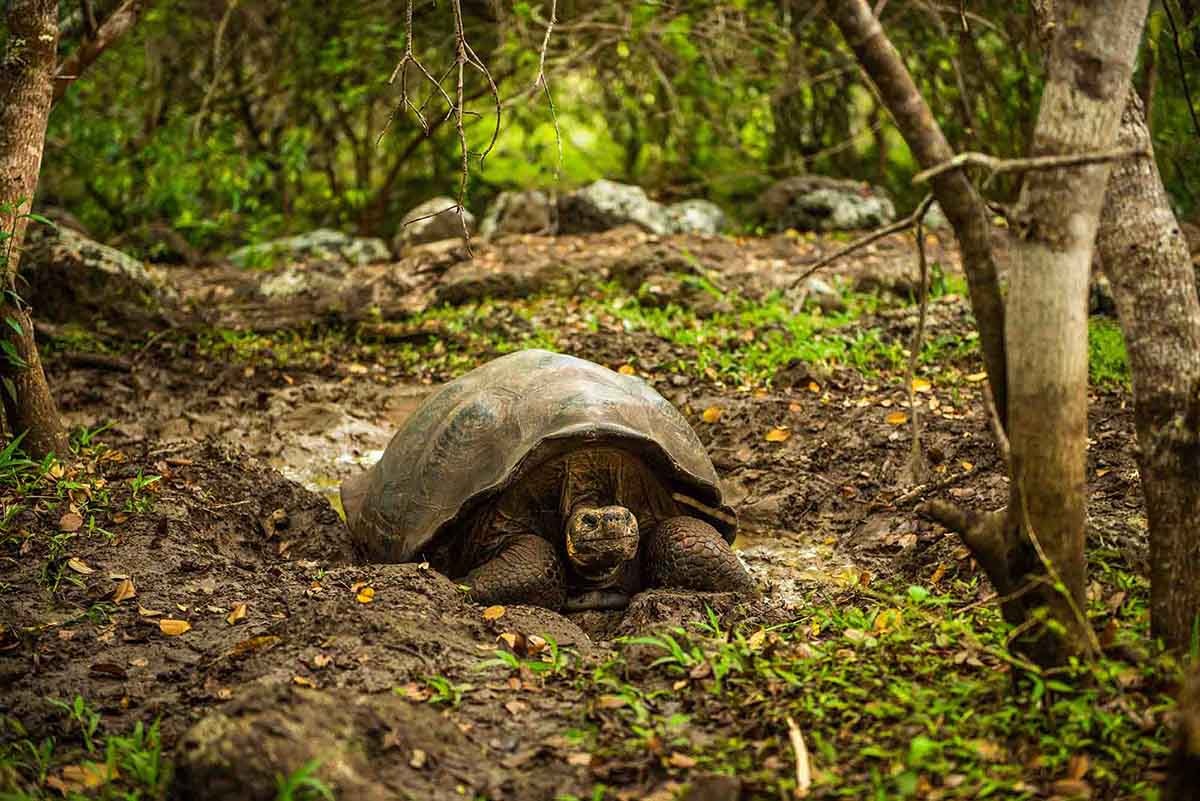 For a "dryer" experience, the highlands tour is one of the best and cheapest day tours to go on. It takes about one hour to get to the highlands of Santa Cruz from Puerto Ayora (the main town). One of the many spectacular species you will see in their natural habitat is giant tortoises! Of course, there is also the possibility to go visit the breeding centers in San Cristobal and Isabela island, but it will all be behind metal barriers and in a controlled environment.
Next on this day trip, you will also have the chance to descend to lava tunnels on Santa Cruz. There are many of these tunnels across the Galapagos, and trust us, you will not want to miss this movie-like adventure.
Another day trip option is paying a visit to Santa Fe Island. Here you will be able to have a swim with the famous gamesome sea lions! Fun fact: these curious creatures are one of the few marine mammals that can be considered residents in Galapagos, since most of the other marine mammals are migratory. While snorkeling you will also see sea turtles, reef sharks, and naturally massive schools of fish swimming by.
At the surface, you may spot numerous marine iguanas, they love to sunbathe on the rocks around the area. Truth be told, you will see marine iguanas of unique color, size and form on each island on the Galapagos.
1.Los Tuneles
If you choose to visit Isabela on a day tour, going to Los Tuneles is out of discussion. Los Tuneles (which translates to the tunnels in English) like it says on their name, were formed by lava platforms that collapsed into the sea. Clear waters surrounded by picturesque multicolored lava rocks might just be one of the most interesting landscapes you will ever see.
Once the tour begins you will be taken from Puerto Villamil to Cabo Rosa into the tunnels by boat, during this ride you will also have the opportunity to spot more of Galapagos wildlife! Upon arrival, you will take a short guided walk through the area which is of course encouraged, you will see blue-footed boobies wandering around the area. These peculiar birds are unique to the island and what's funny about them is that their courting mechanism is showing off their feet.
After the walk, a guided snorkeling tour is another must on this day trip at the tunnels. What is impressive about these tunnels, is that they are home to hundreds of marine species who use them as refuge from predators. Sea horses, white tip reef sharks, manta rays, and thousands of colorful fish are some of the animals that you will see while snorkeling.
2.Sierra Negra
A large volcano at the southeastern part of Isabella that goes by the name of Sierra Negra is one of the six volcanoes that form the island, and luckily another place you can go for a hike. At the island there are some hiking trails that will lead you to the volcanic crater, however, the weather is one factor that you have to consider, since there might be a slight chance of rain.
The whole trail is about 15 km long (4 hours) long, however, there is also an alternative trail if you wish to have a shorter walk. If you are lucky, apart from the volcanic landscape you will be able to see a variety of birds such as Galapagos hawks, Darwin finches, and mockingbirds.
3.Las Tintoreras
Las Tintoreras is another half-day where it is possible to snorkel near to the port of Isabela. This tour is highly requested by tourists and for this reason, we recommend an early visit. The most exciting part of this trip is seeing the sea turtles, sharks and marine iguanas swimming near the reef.
Cruising the Galapagos:
For those people who like to sleep at one place and wake up to another place, cruising is the way to go. Although island hopping is an excellent way to explore the Galapagos, cruises are advantageous, comfortable and they can also adapt to any liking and budget! When choosing what boat it is that would like to go on, there are a variety of options: from diving, first-class, boutique, and more.
What are the advantages of cruising?
No need to wake up at 5 am to go to day tours
There are many itineraries that take you to islands where day tour yachts simply can't
Excursions and activities are included
Meals are included and on board
You have the opportunity to wake up to a new island and new view
Some cruises have the option to snorkel and kayak
There are 16 passenger to 100 passenger boats
Where can I book a cruise to the Galapagos?
We offer a full Galapagos Cruise booking service
There are different ways to book a cruise. You can of course go to your local and favorite travel agent and plan your trip with them before you fly out of your hometown. Some options that we have checked ourselves are: . If you are already in mainland Ecuador and would like to book a trip there, you can do so in any city: Quito, Guayaquil, Cuenca and even Manta. And finally, if you are in Galapagos already and decided last minute that you would like to go on a cruise, you can also do so!
We have put together a filtered list with the people and agents that could help you book your cruise:
| | | |
| --- | --- | --- |
| Who? | Why? | How? |
| Latin Trails | With over 15 years in the market, they offer excellent trips that have been personally tested and hand picked by the family owner. Plus, they have two 16 passenger cruises with a variety of itineraries and also many options! | Check them out here |
| Voyagers Travel | Family run business with over a decade of experience offers a variety of itineraries that adapt to everyone! | Check Voyagers out here |
| Galapagos Petrel | Great service and they have a great variety of options for passengers | Check them out here |
| Galapagos Boutique Yachts | They have been for a very long time in the industry and are also the experts in many different routes and island hopping services | Click here to find out more |
| Galapagos Legend | A really nice cruise for those who like to join larger group activities and larger spaces. Service is impeccable! | Click here to check the cruise |
What itinerary should I choose?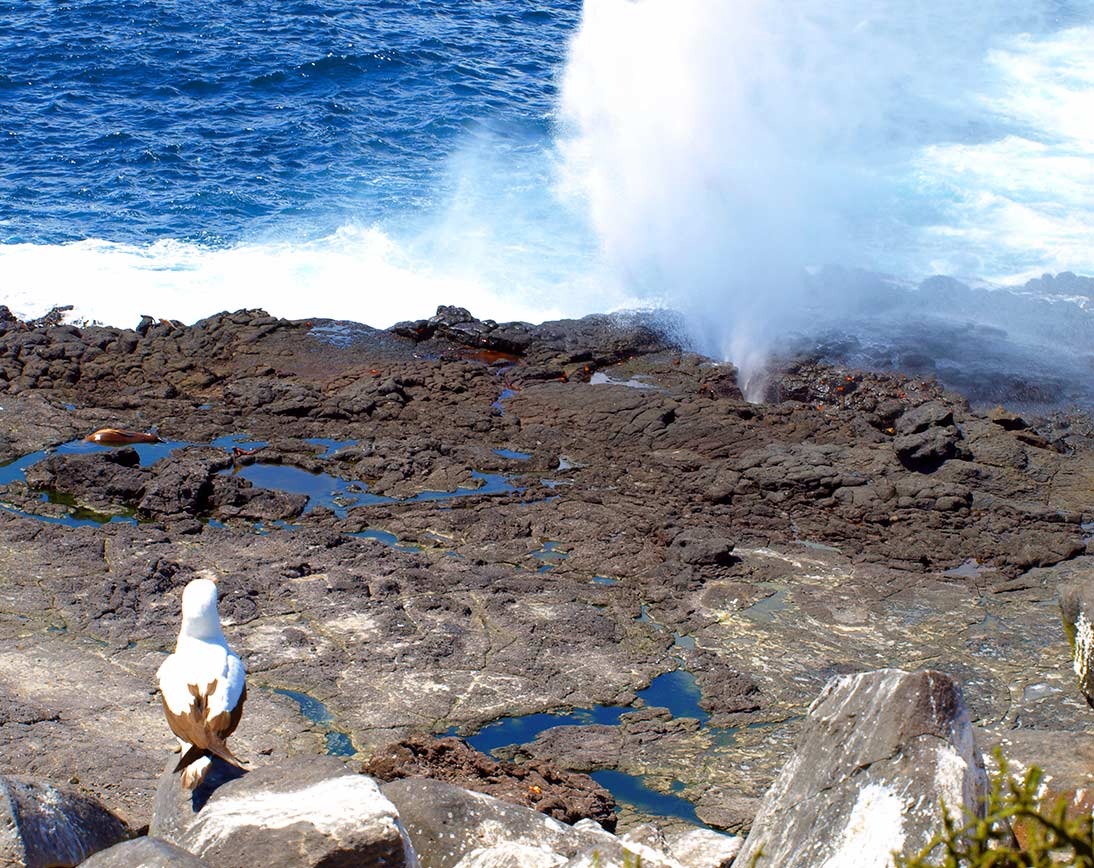 One of the most important tips when booking a trip is this one: do not book your cruise blindly. The reasons are simple, if you would like to make the most out of your trip, it is important for you to do some research. Why? There are more than 50 islets in the archipelago and you have to make sure that the itinerary that you purchase, actually visits the island that is on our go-to list. Plus, there are more than 200 different cruise routes available for you to choose, therefore informing yourself beforehand can surely come in handy.
All itineraries are wonderful, offering you majestic and wonderful wildlife and scenery. Nevertheless, there are many options that focus either on landscape, whereas others that focus more on fauna. That is why, determining your priorities for the itinerary is a must in order to select the perfect itinerary for you!
In addition, make sure you take into account the amount of time that you can spare to the Galapagos. There are itineraries that start at 4 days long and others that may last up to 9 days and even 15 days. If you would like to see a good option on itineraries, we really like the alternatives offered by Voyagers Travel. As a rule of thumb, the 4 day cruises usually include Española or Genovesa, or also the central islands. The 5 day cruises on the other hand will offer either Española or Genovesa. Finally, the 6-8 day cruises will include the western islands as well.
We have created a clear description for you to see the main routes and help you out a bit!
a. Northern Islands:
The main islands that you are very likely to visit are: Santa Cruz, North Seymour, Genovesa Island, South Plazas, Santa Fe and San Cristobal Island. The things we love about these sort of itineraries is the fact that you can walk right next to endemic land iguanas at Plazas island. Moreover, in Genovesa you will be able to wonder yourself and admire the Red Footed Booby colonies. If this does not astound you enough, then just wait until you visit North Seymour and observe feet away from the nesting grounds from Frigate birds. And, of course, let us not forget about the Giant Tortoises that you will be able to see in San Cristobal. A detailed itinerary can be found here.
b. Central Islands and Southern Islands:
An example itinerary would take you to islands such as Santa Cruz on the first day. South Plaza and North Seymour would be the following islands on day two. San Cristobal island would then usually be split into two days with Pitt Point and Witch hill first and Cerro Colorado and the Interpretation Center next. Finally, the last days would be spent in Española, Florena and Ballena Bay. The highlights for these itineraries are the sceneries such as the one from Pinnacle Rock with a beautiful contrast of lava rocks, as well as the scenery at South Plazas with cacti. Moreover, the amount of species you find here is also breathtaking such as the boobies at Pitt Point. Finally, the marine wildlife at Devil's crown, one of the most beautiful sites in the archipelago is worth sharing. Here is a detailed description.
c. Western Islands:
The places that are quite common to visit in these itineraries are: Santa Cruz, Fernandina, Isabela, Tagus Cove, Espinoza Point, Santiago, Rabida, Chinese Hat, among others. Unlike the itineraries from above, there are certain aspects worth highlighting here. You will be able to snorkel and swim alongside speedy Galapagos penguins and curious sea lions, both being friendly and wonderful animals. At Fernandina, you will be able to meet the endemic and famous flightless cormorant, a truly living example and proof of Charles Darwin's theory of evolution. At Urbina bay, you will be able to see land iguanas to the eye and be amazed by their contrast to marine iguanas. And, one of the personal highlights we found remarkable was Espumilla beach at Puerto Egas. The thing with this beach, which is located on the northern coast of Santiago, is the fact that during the last presence of the El Niño phenomenon, one of the two lagoons found in this site went under a process of sedimentation. This therefore caused the reappearance of a representative colony of flamingos. Not only is the presence of these flamingos incredible, but their pink and vivid color is then contrasted to the black beach found in Puerto Egas. The volcanic tuff deposits favored the formation of this special black sand beach. And, if this is not enough and you are a lover of colors and contrast, wait to visit Rabida. This island is unique due to the red color that paints all of the rocks and sands here. The volcanic material in this island is very porous and external factors such as rain, salty water, and sea breeze have acted as an oxidizing agent which led to this reddish color. Read a detailed itinerary here.
What should I look out to?
Before booking any sort of trip, it is always recommended to make sure you book through trusted partners and websites. There are many ways to check the legitimacy of a cruise: you may see them on TripAdvisor (although we did notice that the majority of the boats are not on TripAdvisor, some are). Moreover, make sure the itinerary you are booking takes you to those islands that you are interested in. Do take into account that sometimes finding the perfect mix, may not be as easy as it looks, that is when tour operators may be very helpful.
Make sure you read everything that is included in your cruise. There are some cruises that do not include all of the amenities that you expected at the beginning. Hence, checking beforehand is also a must.
Galapagos cruise booking cost checklist
We have developed the ultimate checklist that will help you identify key factors that make your booking cost friendly and other factors that might kick your booking up a nodge!
I want to save money!

I would like to kick it up a bit!

Itinerary duration

Accomodation

Itinerary type

More complex, visits islands that can't be reached by daily boats

Season

Holiday seasons like Christmas, New Year's Eve

Cruise class

Basic or sailboat
Expedition ships are also quite good and acclaimed

Extra amenities

Snorkeling and kayak equipment

Guide

Less experienced guide, one language

More experienced, speaks more than one language
Recommended Books and Readings:
One of the best ways to explore a place is to be aware and knowledgeable about that specific place. Once you have read and informed yourself about the destination, you will be able to see that place with different eyes. In the case of the Galapagos this is no exception! It is important to understand the importance of the islands, their history and their value. That is why we have carefully selected our top picks for you to read before, during or after you have visited the Galapagos islands.
Food
Although you may be distracted by all the things you can do in Galapagos, the cuisine is one you can't overlook. Having one of the most diverse ecosystems in the world, Galapagos seafood is not only fresh but also incredibly tasty.
Here are some of the dishes you will find available at different restaurants, kiosks, foods stalls and food trucks:
Ceviche
In the Galapagos one of the most popular dishes is the ceviche. Made with freshly caught shrimp, fish, crab, squid, octopus, oysters, spondylus, among others. This dish is refreshing, sweet, tangy and even spicy if aji is added.
Encebollado
This Ecuadorian pickled onion soup is one of the many seafood based soups to choose from when stopping for a bite. Sworn to be the cure for a hangover, this soup is commonly served as part of breakfast.
Plantain
Being one of the most delicious side dishes on the islands, plantains are served with almost everything and is considered to be a key ingredient for the locals. This sweet fruit is used both ripe and green, from making a bolon de verde to a couple of traditional soups.
Exotic fruits
Although fruits are not mainly grown on the islands, you will come across a wide selection that are shipped from mainland Ecuador. These include Naranjilla, guayaba, guanabana, babaco, and espino are some of the many you will be able to taste during your trip.
Canchalagua:
Seafood is an essential part of Ecuadorian gastronomy, especially in the Galapagos. It may be the case that you have heard about the Canchalagua, a mollusk formed by a shell in the shape of a heart which is only found in the Galapagos. With its mouth watering flavour, this dish is usually served with a portion of rice, plantain, chifles, and avocado.
Our top picks!
Santa Cruz - Il Giardino, Anker
San Cristóbal - Muyu Galápagos
Try the ceviche!
When to visit?
In the archipelago the wildlife spectacle happens all year round. Even though migration behavior does vary from species to species, it is important to know what it is you want to watch during your visit. There are certain questions you can use as a sort of guide to find out when it is that you can visit the Galapagos islands.
# 1 For those who are likely to get seasick during the trip
If you are prone to get seasick during boat rides, then the following suggestions are for you. Just so you know, the season with less wave action in the Galapagos is from Mid December to Mid May. This is because during this period the sea is usually calmer and quieter. As it may seem logical, this cannot be narrowed down to a period in time, the itinerary you choose also plays a part in this trip. We suggest you visit on a Southern or Central island itinerary, as this will reduce the chances of getting seasick in the Galapagos.
Some itineraries in areas with less ocean movement:


5 day Galapagos cruise south Islands on board the Seaman Journey catamaran
We also suggest you avoid long navigations, this would take islands like Genovesa, Fernandina and the West side of Isabela off your list. Why? Simple, these islands may be rocky and wavy which could cause a bit of dizziness.
On the other hand, if you do not suffer from being seasick, then you can flexibly choose your own itinerary. That is you can travel anywhere you want without being limited to a certain routine. However, we remind you that you have fewer crowds in September, the first 15 days of December, between mid January through mid February.
#2 For those who like sailboats
If you plan to go on a sailing boat, then you should consider visiting between August and October which are the windiest months in the archipelago, which will make the experience of boat sailing one worth sharing. For the most part of the year, the Galapagos are in the doldrums, meaning that there is no wind so you might want to take this into account.
A recommendation regarding sailboats could be the Mary Anne Sailboat
#3 For those who want to strike a bargain
As we usually say, there is no better time than to choose to travel today. Why is this? By being in a pandemic travel world, the earlier you travel, the better deals you will get. Plus, we know that things will change and will adapt to a new normal, and although we do not know when, this is the time to take advantage of the lowest prices you might get for an experience in the Galapagos.
High season pricing:
Spring break or Easter holiday, the months of May, June, July, mid October until Thanksgiving in November. Christmas and New Years departures.
Shoulder and average season pricing: This is the season where prices will not rise nor decrease, and are quite standard as a result. Mid January through mid February, two weeks before Easter and two weeks after, the last week of August, the first week of October, one week before Thanksgiving.
Low season pricing: It usually does not exist, but if you are willing to wait a bit and travel with uncertainty of now knowing exactly which boat you will be on, then you can usually find deals throughout September and the first 3 weeks of December. It is quite possible that every year, we get to see the prices of cruises reduced during these periods.
Check out our Galapagos Deals page for bargains.
#4 For those who want to join a family cruise?
The Galapagos are the perfect place for all sorts of travellers, and families of course, are no exception. Taking this into account, there is no secret regarding families that travel together during the summer, after their kids have written their exams and homework. It is also important to consider that kids like to meet other kids they can spend time with on their vacation. It is fun to make friends on a trip and with children there is no exception. Therefore, our recommendation is to include the months of June, July and August apart from the festives (Christmas and New years) for you to visit as this is the best time to find other kids on board a cruise in Galapagos.
There are many options for you to choose from and if the number of options overwhelms you, then you can always ask your agent to help you book a small boat that has other kids booked on it. Chances are higher if you decide on one of the slightly larger 48 – 100 passenger boats and of course taking a family friendly departure. A popular option for families is the Galapagos Legend.
#5 For those who would like to be in an adults-only boat
Some travelers prefer an adult only crowd, reasons vary from noise to just a preference towards an adult ambiance. Therefore, we recommend you to avoid the holiday months such as June, July and August or ask your travel agent to find you a departure that has no kids booked on it, because we know that travelling in August is also quite acclaimed.
For a more detailed description and information regarding Galapagos, Ecuador and many options by Voyagers Travel, please follow the link here.